The first impression you can make with your guests is your entryway.  This is the first part of your home they will see and sometimes the only part.  How many times did someone stop by to drop off something (like girl scout cookies 😉) or a neighbor come in to talk and you just stayed in the entry? This is quite possibly one of the most important areas of your home so let's get into the 5 must haves you need in your entryway to make a guest feel welcome.
The Front Porch
First things first, your front porch.  It doesn't matter how big or small you need to have two things on your front porch, a doormat and a wreath on the door.  They say welcome to our home.  In fact, my doormat even says Welcome!  I love wreaths, especially the ability to change them out for different seasons and holidays.  I did a whole post on wreaths for Fall!  This doesn't have to be expensive, you can DIY a wreath or buy one.  I usually go to Target for doormatmat.  Here are some of my favorites here:
This is by far my favorite wreath for the front door.  This is my staple year round.  Right now I have it on the inside of my front door because I DIY'd one for the front for Winter – that post is coming soon!  A great place to get wreaths is on Etsy or to make them yourself!
Welcome Mat – this is very similar to the one I have.
I love this one, it adds such a pretty pop of color!
Entryway Rug
Whether you have a big entryway or small or none at all, you can create a cozy space by using a rug.  A rug really defines the space so if you walk into your home directly into a room, a rug can anchor the entry and say welcome to our home.
You can spend a lot on a rug or a little.  It's up to you and your taste.  Please check your front door and make sure what kind of rug will fit under it.  We moved into our home and I cannot fit my rug under the door, there is less than a half inch clearance.  So I am on the hunt for a low profile or no pile rug.
Here is my favorite rug of all time.
This is the Catherine Rug from Ballard Designs.  I love this rug.  It's actually more muted in color than this picture.  I have one by our back sliding glass door and will be purchasing it for my dining room.  Unfortunately, it doesn't fit under my front door 😓.
Here are some others I have been crushing on, not just for my house because they are too thick, but just ones I love.

Entryway Bench or Chair
Someplace to sit and put your shoes on or off is necessary for an entryway.  I got my bench from the At Home store, and it serves two purposes…..one for our guests and one for the dog to keep an eye on the neighborhood.  Haha!  Isn't she a cutie!
Here is a similar one to the one I have.  It's a rectangle, not angled on the edges but otherwise almost identical.
Here is a great option for additional storage!
If you don't have room for a big bench put an accent chair there, it doesn't need to be big.  It just needs to be someplace to park your seat to get your shoes on.
Entryway Furniture
Now you might not think that a table is essential but I think it is.  A table is a place for someone to put their keys, purse or maybe a coffee cup while they take their coat off.  Our entryway table has a box on it (got it from my uncle who works at Harry and David), my kids keep their car keys there so if we need to move a car we don't have to hunt for keys.  We also have a basket that holds all the dog stuff, her leash, sweater, etc.  It's perfect because when we take her for a walk it's all right here.  I use it all the time to set my stuff down and take my coat off.
This is the one I have in my entryway.  It's from Wayfair and I love it!  I am thinking of getting another one except in the gray finish for behind my sofa.  Here are some others that I really like.
Moreno Console Table – This one is a little pricey but I just love the blue and the storage is awesome!
Entryway Decor
Speaking of taking your coat off, where are you going to put that coat?  On a coat hook of course!  I picked up a set of three at Target and they work perfectly.  My daughter uses them a lot but they are the perfect place for guests to hang their coat/jacket.
Here are some similar ones:
This one is perfect for a small space, it's used vertically instead of horizontally!  How cool is that?!
What to do if you have a very small space?
Okay so not everyone has a large entryway.  What you can do is put an area rug at the entryway, then put a table with a coat rack next to the door.  Or maybe a small bench with hooks above.  Here are some great options!
*Additional Tip!
Make it pretty!  This is a great space to make your first impression on your style.  It's also a great place to decorate for the holidays!  Here are a couple pics from my entryway during my Fall tour and Christmas seasons: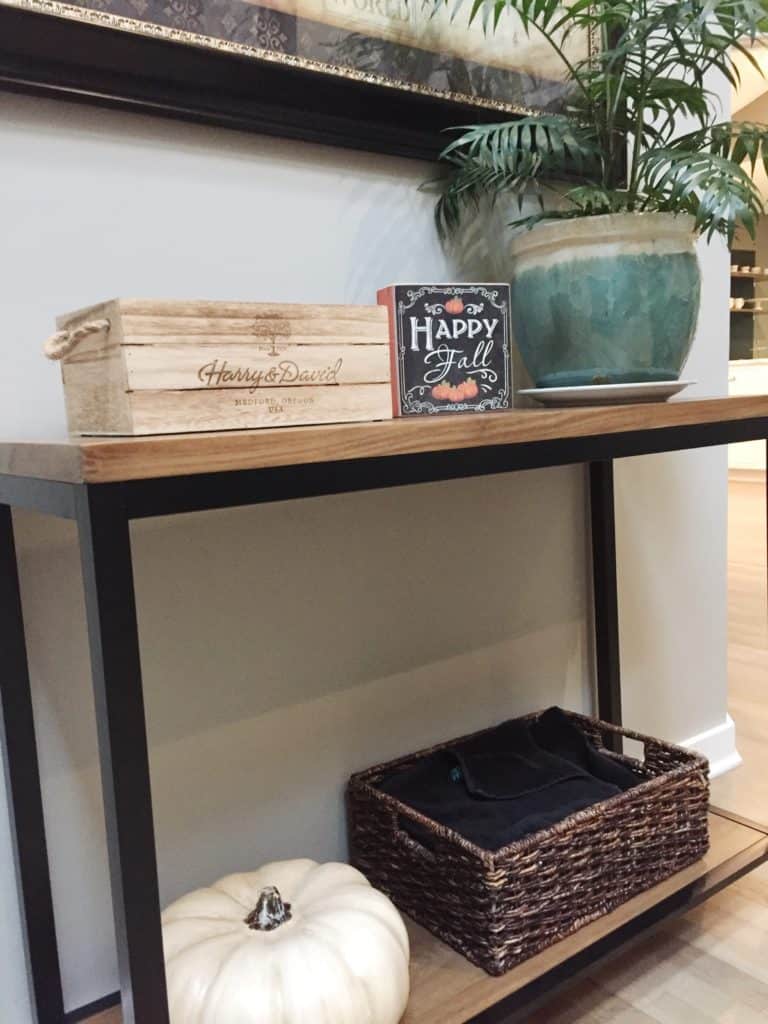 I hope you enjoyed this post and are able to create a welcoming entryway for your guests.  Don't forget that something that is functional doesn't mean it isn't pretty.  Function and style can go hand in hand!