You've all seen them, those pantry's where everything is in glass jars with cute little labels. All the cereal and pasta are in clear jars neatly aligned. Well all those containers cost money, and if you are anything like me you buy a lot of groceries. If I were to put everything into fancy containers that would cost me a fortune! Not going to happen. I have waaaaayyyy more important things to spend my money on than fancy jars for my pantry. I just re-organized my pantry and I feel like it works so much better for my family. So here are 5 easy tips to organize your pantry on a budget!
1. Pull everything out and check expiration dates!
Wow was I shocked how much stuff I had to throw away because it was, uh uh, 3 years expired! 😵
As you take each item out check the dates and throw away anything that is bad and anything that isn't put on the kitchen counter. As you can see our pantry was a mess and when I pulled everything out, well let's just say I made an even bigger mess! LOL
(Below is the before picture…..as you can see there is no visibility to what is in the back of the deep shelves.)
2. Sort everything into like items.
So put all your cans together, all your boxes, all the baking items….you get the drift. Once you are done you can see how much of each kind of food you have. When you put things back make sure you put like items together back on the shelves.
3. Use baskets or bins to collect small/lighter items.
For example, my top shelf was bread and snacks, aka chips. It was a disaster! I found hamburger buns smashed into pancakes and chip bags with only crumbs left. These are the types of things you want to collect into baskets or bins. Do not put a bunch of boxes or cans into baskets. They will be too heavy for you or your kids to pull out and get what they need out of. Some one will inevitably drop a can on their little piggies!!!!! 🐷 OUCH!! Cans and boxes can stand on their own and they should.
I know you're thinking, you said on a budget….so I used things I already had around the house. I had these 3 baskets I got at Tuesday Morning years ago and I only paid $10 a piece for them!!! They have come in handy so much I just love them. But I already had them and they fit perfectly in my deep pantry (it's about 30 inches deep!). You may need smaller baskets or bins. You can also use cardboard boxes. If you want to pretty them up paint them, use fabric to cover them or even let your little ones color over them. There is no need to go out and buy bins unless you want to. I will link at the bottom some great inexpensive options.
4. Before you put stuff back in wipe down the shelves.
How they get so dirty I will never know! Where I had the cans was the worst. UGH, after a good wipe down with fantastic and a paper towel they were sparkly again!
5. Put it all back in!
There is a good way and a bad way to do this. I started out with bread and snacks on the top shelf, boxed items on the second and cans on the third. As I was going through I discovered I had 11 cans of corn. Yes, that's right folks, 11 cans of corn. Who knew!!!!! To see all the way to the back of the pantry on the third shelf you had to get down on the floor almost. so I opted to put the boxed items on the top shelf then cans on the second. I organized the cans by type, all the corn together in a row, all the soups in a row, all the cooking soups (like the cream of ….) together, you get my drift. Channel your inner stock boy and make it look like a grocery store. And think…eye level.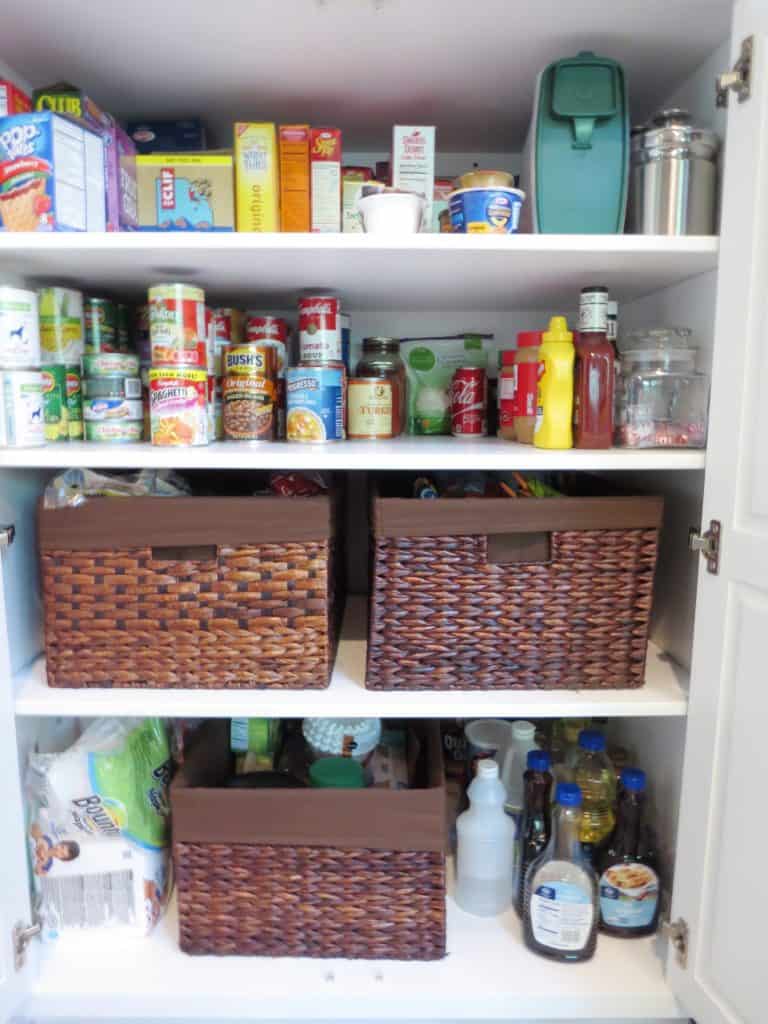 So then I put the baskets on the third shelf because you will be standing to look down into the basket…no need to get down on the floor. YEAH!!! And the bottom shelf holds a basket with drinks, coffee, tea, cocoa…..and the tall stuff like the oils and vinegar. Not to mention spare paper products.
There were a couple things that didn't make their way back into the pantry. They were lunch boxes, brown paper bags and plastic cutlery. I have plenty of other room for those so they didn't need to go back in. I hope you find a little inspiration here to clean your pantry. For me it's all about convenience, ease and functionality. There is no time in the mornings to be fumbling through a bunch of stuff to find a bun to make my sandwich on for lunch. Now that it's organized I hope to cut a minute or two off my morning routine! That means I get to sleep in later 😉
If you have any additional ideas on items around the house to use to organize your pantry, or any cupboard I would love to hear about it. Until then….let me find something else I can organize:)