Patterned floor tiles are so popular right now. I saw them in almost every house I went through in the last Parade of Homes. I am sharing the photos I took of them and resources on where you can get pattern floor tile for your bathroom.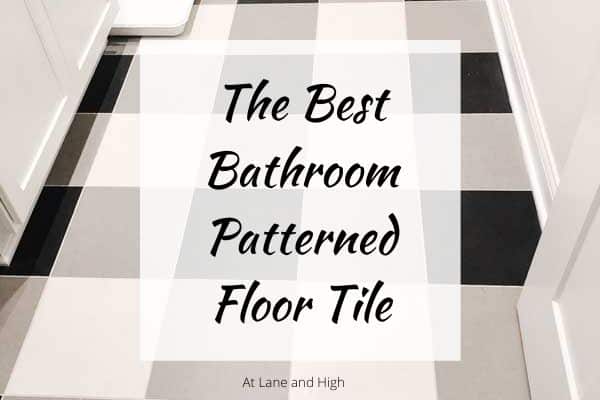 It doesn't matter if you have a farmhouse-style home or not, patterned floor tiles are so pretty and so popular! You can definitely use patterned tile in your home no matter what kind of style you love.
*This post contains affiliate links. See full disclosure for details.
Inspiration photos of Bathroom Patterned Floor Tiles
This is a really pretty patterned tile that I think represents Modern Farmhouse style well. It has a pretty pattern as well as a black and white pattern. I really like it. And that is my Mom by the way!
This patterned tile is very soft in design and really would work well in a traditional or transitional home, as well as one with more of a Victorian feel.
Hello Modern Farmhouse Style! I love this one and I think it really makes a statement!
This floor tile has a very cool look that I actually had to bend down and touch it! The floor looks like grasscloth. I really thought it was cool. This would look great in a modern or traditional home, and of course transitional as well.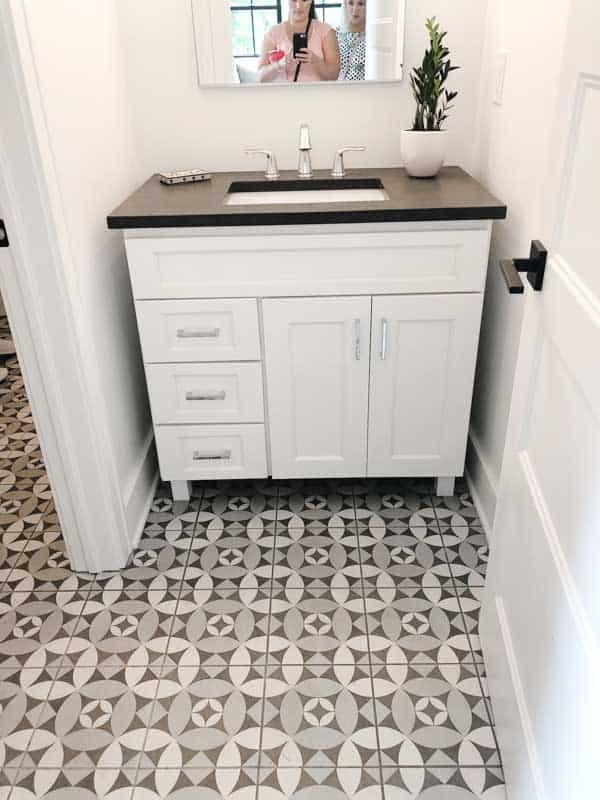 This one also is a good representative of Modern Farmhouse style. This one has white, light and dark gray in it. The geometric pattern gives a nod toward 60's style I think, don't you?
This one is one of my favorites. I love the pattern and the combo of black, white and dark gray. I also love that this bathroom tile would work in any style of home.
How to Determine How Many tiles You Need
You need to pull out your tape measure and grab a friend. Measure the length by the width of the space you will be putting the tile and multiply those two numbers together. That's the square feet of tile you will need.
Now add 10% more because some tiles might come cracked, you might break them or heaven forbid you might accidentally cut one wrong. This last one is the most likely condition for me!
Patterned Floor Tile you can Buy!
Did you know you can buy floor tile on Amazon? I did a little digging and they have soooo many cool tiles and you can have them delivered to your door, just like all the other lovely stuff you buy on Amazon!
Now when you look at the prices some are per box and some are per tile, just keep that in mind when you look at each item. To compare prices know how much square feet you need and calculate it from what's in a box or per tile.
This closely matches one of the tiles above and I think I could compliment any color scheme you have as well as any other stones you have in the room, such as countertops.
I love the large scale pattern on this one.
This tile is made of concrete and has a pretty tile that is mostly gray with white accents.
This one is also a concrete tile but has a more soft and subtle pattern. I love this one for a traditional or transitional home, even more modern. You can pair it with marble counters and a pretty soft gray cabinet. I think that would be so nice. Or you could get bold with the cabinet color and these soft tones would surely support them nicely!
If you are looking for something with a little color you might like this tile.
How cool is this tile?! I love the dark color, the geometric shape and the fact that the tile has texture to it. You could use this in any style and I am dreaming of it in my bathroom right now!
Related Bathroom Decorating Posts
How to Install Bathroom Wall Tiles
How to Inexpensively Install Shiplap for a Farmhouse Look
I really hope you gathered some great ideas for bathroom patterned floor tile. I just love the look and I think this style of tile is going to be around for a very long time.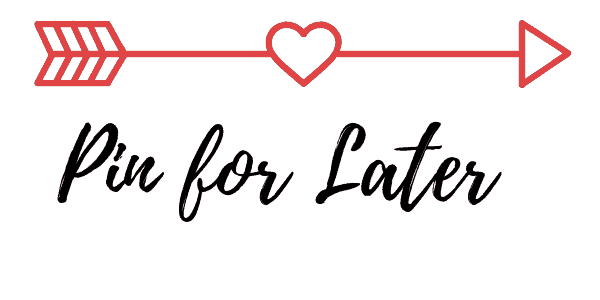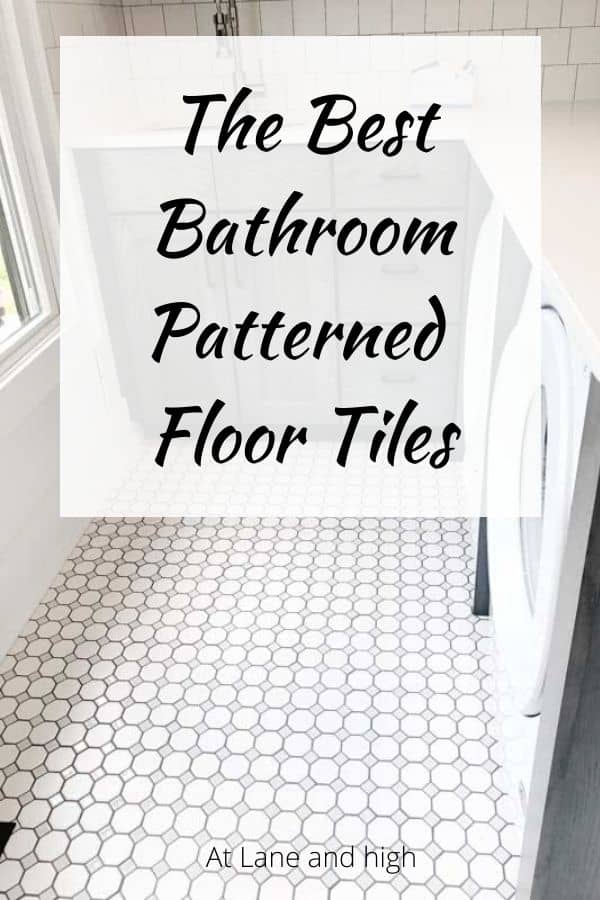 Sharing is caring!