I did a ton of research recently on beaded chandeliers and today I am sharing all my results.
I have been working on my master bedroom and one of the big things I needed to do was replace the dated ceiling fan (yes 1985 did call) and put in a light fixture.
It is so dark in that room with no overhead lighting. So I was looking for one that had at least 3 lights and put out some good light so I could see when folding dark socks.
Not going to lie, my husband went to work several times with one navy and one black sock on! OOPS!
*This post contains affiliate links. For more details see my full disclosure.
Beaded Chandeliers from Amazon
My first go-to for shopping is always Amazon, even more so since the pandemic. They offer just about anything you can think of and their light fixtures are really nice!
This beauty is definitely one of my favorites! It's made by Safavieh, which is a pretty well-known brand. This light fixture is 22 inches tall, not including the chain. It has 3 lights and comes in a variety of colors.
This one is just stunning! I love how the beads drape over and under one another. It is metal around the top and wood on the beads. This fixture stands 26 inches tall, not including the chain. It also comes in black and is larger than the white one.
This gorgeous thing is also from Safavieh but is a little different. This light stands 27 inches tall, not including the chain, and has a gray/light brown finish on the entire fixture. This one has 4 lights and believe it or not it comes with 4 LED bulbs! Jackpot!
This farmhouse-style chandelier is also one of my favorites. It's 25.6 inches tall, without the chain. It's made of metal and wood and the first one we have talked about that allows up to 60-watt bulbs.
If you are looking for white this one is a great option! It's 9 inches tall and 12.6 wide. It has a natural brown color to the fixture and the beads are white. What I like about it is it has 3 lights and allows 60-watt bulbs! Plus, the price is awesome!
Beaded Chandeliers from Wayfair
I also love shopping at Wayfair! They have great customer service, it is so easy to return products.
This beautiful chandelier is made of metal with wood beads and has 5 lights! Each bulb is allowed to go up to 60 watts! (No more mismatched socks for my husband!) I just think this one is very elegant.
This beaded chandelier is a little different. It doesn't have a ton of beads on it, just enough to give it a little step up in style. I like the classic design of this chandelier and think this one would be amazing over a dining table.
This chandelier has darker beads on it, as well as some crystal beads. It comes in 2 different sizes so you have a choice on what you get here. I love the different textures on this light fixture, from the metal to the wood beads to the crystal.
This unique empire-style chandelier has a little darker beads, more medium brown but they tie in nicely with the dark metal. I also like how the beads are around the metal on the outside.
This smaller chandelier is perfect for an entryway, a hallway, or even as a couple of pendants over an island. There are 3 lights on it but overall the light fixture is narrower. Its white beads and dark metal are very classic and timeless.
This light fixture is a little more feminine. The beads are all white and I love that they come in different sizes. This light fixture does come in a few different colors too if you want something a little different.
World Market Light Fixtures
Cost Plus World Market has some amazing light fixtures! I just love these chandeliers that I am sharing with you. My Mom is always saying she needs a few houses so she can decorate them, I need three houses for all the light fixtures I love!
Here is another drapey chandelier like the one from Amazon but this one has 4 lights and the metal at the top is gold. There is also another one from World Market that is a little larger, it's only available online. This fixture you can find in stores.
Semi-flush Mount and Flush Beaded Lights
If you are looking for something a little smaller, or a semi-flush mount then this one is a great option! I love the different color beads and the dark metal. Also, there are still 3 lights here so it may be little but it is mighty!
Honestly, this one almost ended up in my cart! I love the lighter beads and the finish on the metal frame. This one screams beachy to me! This chandelier is from the Kelly Clarkson line which so far, I am totally loving!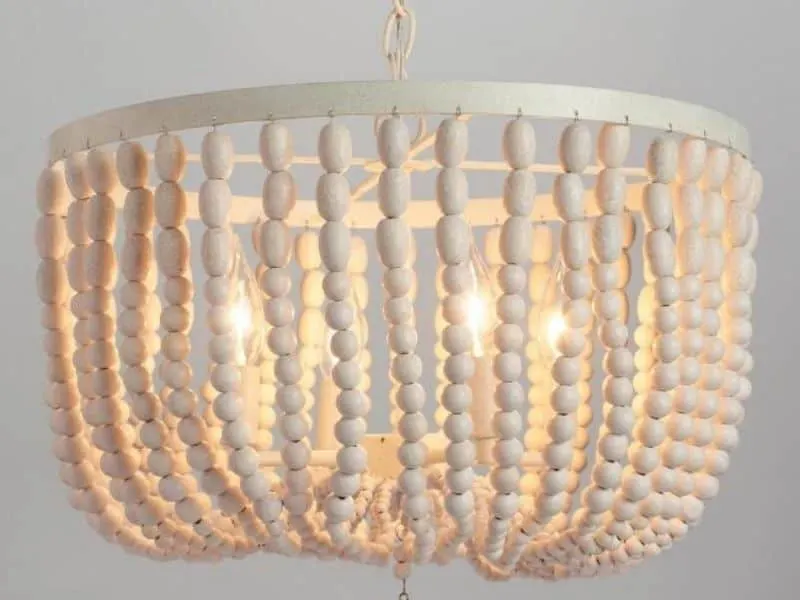 This is another one that I had in my cart. I love the lighter beads on it and the light-colored metal. This one also comes in a larger size but is only available online.
This semi-flush mount comes in two colors, this darker color as well as a lighter color. I think this is the perfect fixture for a smaller room or an entry/hallway.
This one is flush mount and is very similar to the previous semi-flush mount. It comes in two color finishes, this dark color, and a lighter gray. If you need a stylish light that cannot come down far from the ceiling this is a great choice!
This is a smaller version of the sweeping beaded chandeliers of earlier. This one is flush mount and so pretty!
Related Posts: