Happy New Year!  I can't believe how fast 2018 went, time flies when you are having fun!  I loved the year and I hope that 2019 is just as fun.  Today I am sharing the favorite posts of 2018 and a few things that I have planned for 2019.
On a personal note, 2018 was amazing.  I had a great year in my day job, my daughter went to Spain to study abroad, and my youngest continues to grow into a beautiful strong young woman.  She also got into all the colleges she applied to except one, which is very hard to get into.  I just couldn't be happier.
For the blog, I have gathered the top 5 posts of the year.  I have determined by looking at these posts and comparing them to everything I wrote about that Farmhouse Style still reigns supreme!  😊 But you don't want to hear me prattle on, let's get to the good stuff!
If at any time you want to pin any of these simply click the red pin it icon on the photo and you can pin for later.  Or you can pin directly from the posts, each photo and link will take you there.
Favorite Posts of 2018
Let's do a countdown, like the way they do the ball drop in Manhattan!  We will start with the 5th favorite and countdown from there.
Number 5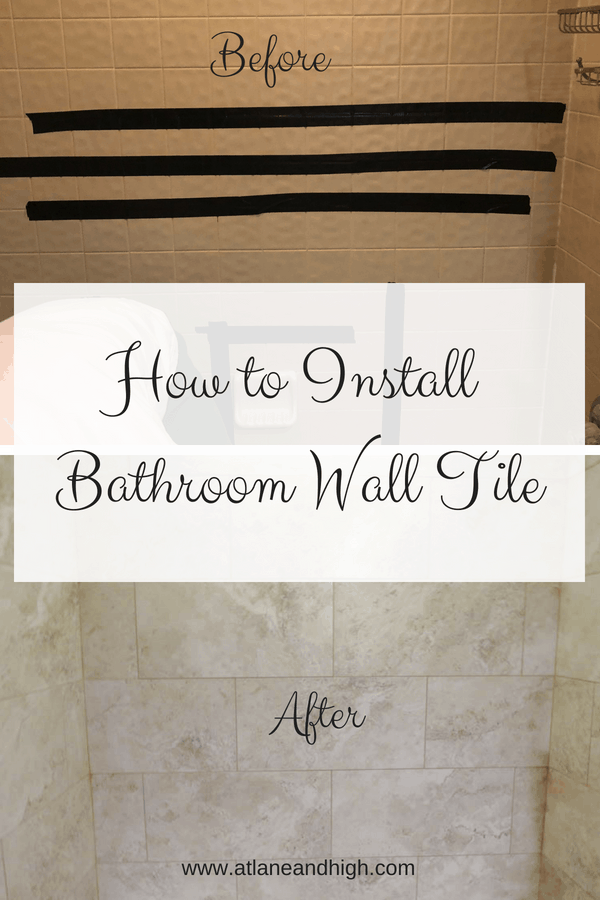 How to Install Bathroom Wall Tiles
In this post, I showed exactly the process my husband and I used to install tile to my daughter's shower, which literally had tiles falling off the wall!  We had to duct tape them together so water stopped getting behind the wall.  It was rough!  This was a huge project but I think I saved thousands of dollars on doing this myself.
Number 4
9 Inexpensive Ways to use Winter White to Home Decor
After Christmas sometimes there can be a let down in your decorating.  During the holidays there are so many sparkles and colors, it's nice to give the eye a rest.  Personally, I love to take my cues from nature.  In this post, I explain how to add white to your home decor and I have some examples of things you can purchase if you need to.
Number 3
Last January I participated in the $100 Room Challenge.  During this challenge, I transformed my dirty, dated laundry room into a gorgeous farmhouse style laundry room in one month for under $100.  It was difficult but the transformation was amazing!  I just have a laundry closet but I want to leave the doors open all the time for all my guests to see it's just so pretty!
Number 2
During the $100 Room Challenge where I transformed my laundry room, I added shiplap.  But instead of using the real thing, which would have made my laundry closet so small I don't know if I could fit the machines in it, I used an inexpensive alternative.  I also created a PDF of the directions which you can download and print to have on hand if you want to create your own shiplap wall!  For that PDF click here.
NUMBER 1
And for the top post for At Lane and High for 2018 it is ….. (drumrolllllll)
9 Ways to add Farmhouse Style to Your Home
Thanks to Chip and Jo Farmhouse Style is hot and I don't see it cooling off anytime soon.  In this post, I give you actionable tips to add Farmhouse Style to your home and also some examples to help you make it happen.  You don't need a farm to have a farmhouse style home.  You can do it anywhere, even if you live in a downtown condo overlooking a big city.  If you want it you can achieve it if you follow these simple steps.
What's ahead for 2019
Last year I did so many major DIY Projects.  In addition to the ones noted above I added a wood wall to my kids teen space, I refinished the steps, added board and batten to my stairwell AND my dining room.  These were pretty hard projects and my husband and I are looking for a break.
Number 1 on the TO-DO List
So for this year, I think we will be doing a lot of smaller projects.  Paint is number one on the agenda.
When we moved into this house I had just had ankle surgery and the house was freshly painted.  It is painted good colors, a little dark but it looked good and since I couldn't stand on two feet, the paint stayed.
Fast forward two and a half years, and several projects later, it's time to paint.  I am going to lighten up every room in this house!  It's going to be a big job on my main floor because the ceilings are vaulted, and this girl doesn't like heights! 😫 But it's time, and it will get done for sure.
Number 2 on the TO-DO List
Some other things that need to be done are lighting projects.  My family room needs a fan replaced with a large light fixture.  I would like to add a lantern to my entryway.  I also think that there are ceiling fixtures in my kid's rooms but that they have been drywalled over.  There is a light switch that goes to nothing.  I am going to have to do some detective work on that.
Number 3 on the TO-DO List
We are also working on some outside projects in preparation for my daughter's graduation party this Spring.  The pavers need cleaned and sand needs put in the cracks.  I also have some weedy bushes (yes that's the technical term 😂) from the backyard and plant some flowering plants.  Not my favorite jobs to do but ….. you know how things go.  It's got to get done!
Number 4 on the TO-DO List (maybe)
At some point, my master bath will be gutted and remodeled.  I don't know if that will happen this year, you know, needing a break and all that.  I already bought an antique cabinet I plan on painting for space.  You see, 1985 called and want their bathtub back.  It's a large hot tub like a tub with jets, a deck around and stairs to it.  It takes up half the bath!  We'll see if that happens.
Anyway, I want to thank you for making it to the end of the post.  If you want to check out any of these posts click on a link or photo.
You can also pin any of these posts for later just by clicking the red pin icon on each photo.
Happy New Year and Cheers to a wonderful 2019!