Sharing is caring!
I am so excited to be participating in the Holiday Home Tour 2017 with some other really amazing bloggers. We are showcasing part of our homes that we have decorated for the Holidays. Today I am sharing my Rustic Christmas Decorations in my Family Room with you. I hope you will check out the other blogger's homes as well, you really don't want to miss it. You can find them all at the bottom of this post.
*This post contains affiliate links. See disclosure for full details.
Let's start with my favorite part of the room, the mantle. I have a beautiful stone fireplace with a reclaimed beam as a mantle, truly this is what made me want to buy this house. It's just stunning and perfect for adding to the rustic Christmas decor. The mantle is over 10 feet long and rather chunky. So the decor that I place on it has to be large to be able to be seen, otherwise, it just gets swallowed up in the enormity of everything else.
I like to anchor the ends with a lantern and a candle holder. These require some big candles which I usually purchase from Target, they have great candles. The garland is very real looking, shhhh don't tell anyone it's fake! I purchased it at a local place called Morgan House. It was pricey (like $50!) but so worth it!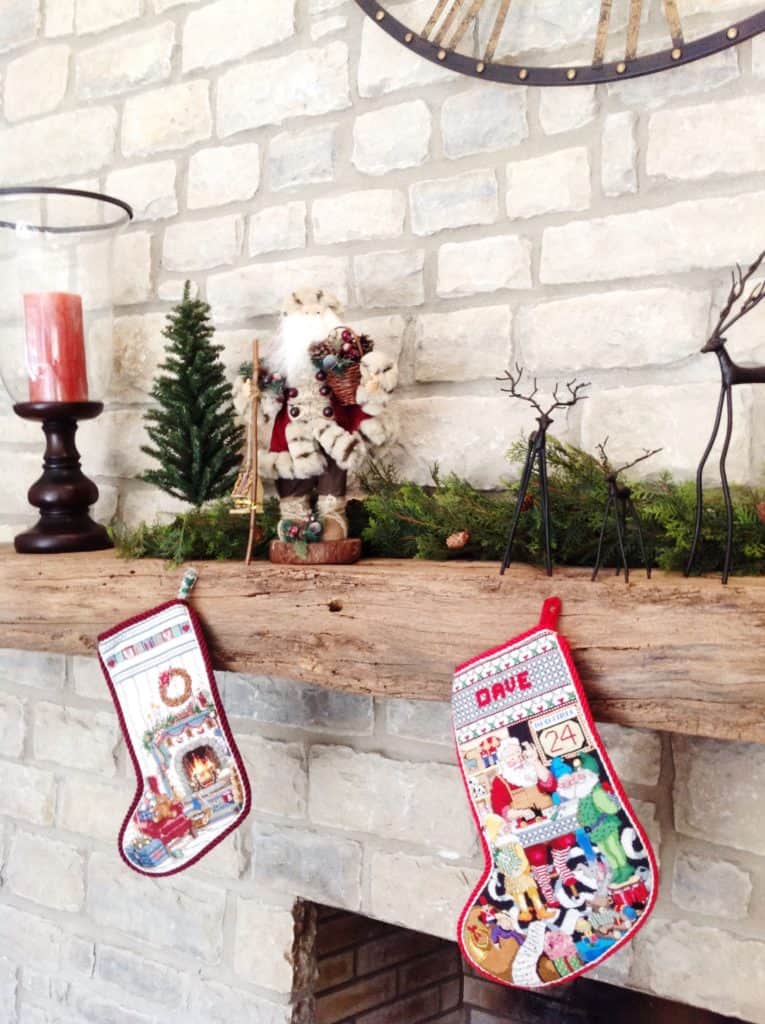 I have a thing for Santa's, they are everywhere in my home. Here are my two rustic Santa's, one of them came with his own tree. These are by far my favorite!
Then we have our reindeer. I love these little guys. If I had a choice on how to decorate other than with Santa's it would be with reindeer. In fact, after Christmas is over I leave these guys up all Winter. They are just too cute!
When I got married I was really into cross stitching. I use to crack out projects like no other. I created these two stockings, one for me and the other for my husband. Then came the kids….and having a needle and a pair of scissors on my lap just wasn't practical anymore. I keep saying I am going to create stockings for my kiddo's but it just hasn't gotten done yet. Definitely a project that weighs heavily on my mind this time of year.
Sources:
Garland | Santas (similar) here | Lantern | Clock | Reindeer(similar)
Moving around the room you can see the festive plaid pillows that I got at Pottery Barn. They are just perfect because my husband just loves plaid! I even pulled these puppies out of storage before Thanksgiving and he didn't give me any sass about it! You see, my husband has a stick rule about no Christmas decorations going up until after Thanksgiving. I tried to put the tree up last weekend and he vetoed it, said I had to at least wait until December! UGH!
Here is my little wooden tree. This guy is so special to me. He was given to us from my Mother In Law when she was downsizing and needed to purge some of her Christmas decorations. This tree stores flat and all you have to do is move the different branches and put little tiny decorations on them and puff, an amazing tree. I recently updated the tree skirt, got it from Target, and I just love the little Santa/Angel and Teddy Bear underneath.
Related Posts:
30+ Amazing Christmas Tree Decorating Ideas that are Inspirational
Merry and Bright Home Tour: Ideas on How to Decorate for Christmas
The Best Farmhouse Christmas Decor
Review of the 2017 Parade of Homes
Last but not least is my nativity scene. I just love Precious Moments. My wedding cake topper was Precious Moments. I just think they are so cute so I could not pass up this nativity scene. I really like the way it looks in this rustic barn setting, add to the charm of the other Rustic Christmas Decorations. You can buy the main scene and then the three kings and the 3 other animals as well.
You may notice something is missing. We have a tradition in our house, passed down from my husbands family, that baby Jesus doesn't go into the manger until Christmas morning. My kids alternate who does it every year and we take a picture of them doing it. It's a big deal for them, even at the ages of 20 and 17!
Precious Moments Come Let Us Adore Him 9 Piece Nativity Set 104000
">
Here are some final pictures of my home. I hope you enjoyed and please check out the other amazing ladies on this home tour! Next week I hope to share the rest of my home if the hubs lets me ever put up the tree!!!!!! LOL Until then, CHEERS!
Okay, so I had to throw a little Buckeye love in there! haha!!! Happy Holidays!
Shining on DesignHome with KekiWhat a Difference a Day MakesThe Project PileLisa Designs LifeThe Farmhouse AddictPearl Street DesignsEH DesignAn Eclectic Twist Momma CanThe Holtz HouseFranc & EliSemigloss DesignBeauty For AshesJenron DesignsAt Lane and High