Welcome back to another room on my house tour. If you are anything like me, my house is constantly changing whether it's buying furniture or doing a big DIY project. I don't have many rooms that are done where I could do a whole house tour….so I am doing it one room at a time as I feel I have something beautiful to share. I love my white kitchen! I have wanted white cabinets for so long and when I saw this kitchen a year ago I knew this was the perfect kitchen for me! So welcome to my home and my white kitchen. 😘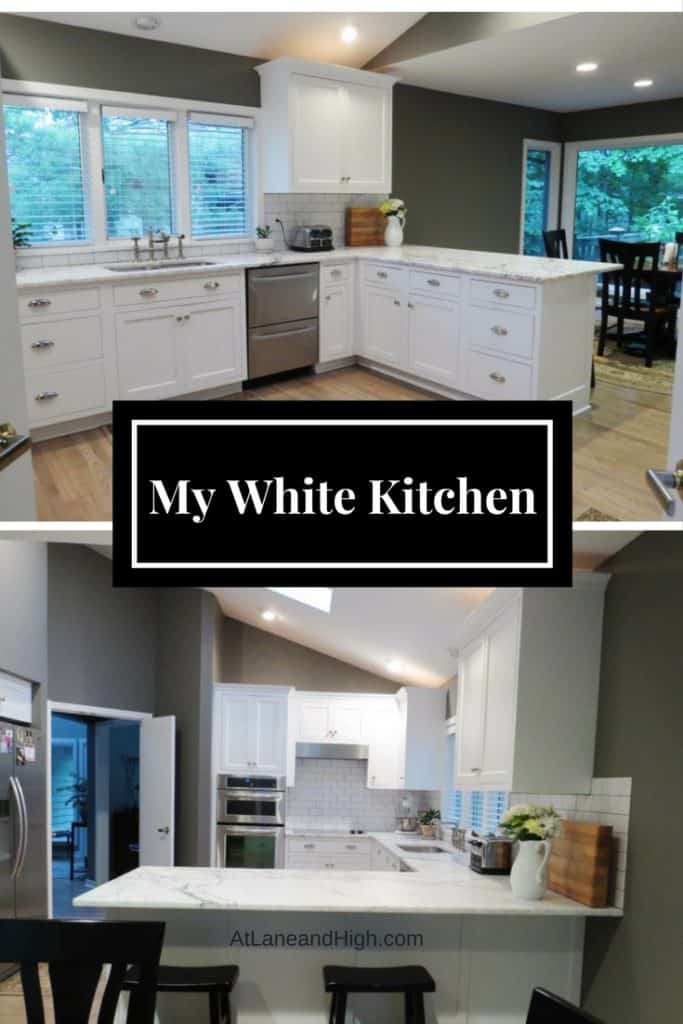 *This post contains affiliate links. For more details see my full disclosure.
My house was built in the mid 80's so we do not have natural gas. Everything is electric which is fine in the summer, the winter can get expensive. It was a mild winter here too, I am not looking forward to seeing that electric bill on a bad winter! AHH! We do have a fireplace, two actually. So maybe we can utilize them more. I would love to add gas but that would require a lot of work and before buying this home the previous owner put in a new furnace…so to replace a brand new electric furnace with gas seems silly. You can see I have an electric stove top. I will be honest, my last house had gas. Whenever I cooked the handles of my saucepans would get screaming hot. They don't do that on the electric stove. I like that a lot!
I do have wall ovens, one is a standard oven and the other is a convection oven/microwave. It's great! One problem I have though is that the microwave requires a shelf in order to use the convection oven side of it….the shelf was no where in the house when we moved in. I need to get all the model and part numbers and order a new one so we can have double ovens on Thanksgiving. That was a little bit of a shock last year.
I love the marble but I will say it scares me a little when it comes to stains. My teenage daughters just don't wipe anything up either, it drives me nuts!!! (my husband says, honey, that's not a drive it's a short putt 😂) I am very careful about any spills. The sink is fine, just like every other one I have ever had but I will say, I do long for a farmhouse sink. I wonder if there is any way I can have one put in? It would require some work with the marble counters, I don't know if that's possible with the counters already installed. Anyone know, please comment below and let me know!
This is my favorite part of the room, the peninsula. Our last house had an island so we have a tendency to call this the island still, but it's not. Geographically speaking it's a peninsula! LOL! It doesn't matter, we know what each other mean right?! Why is it my favorite part? I need a big space to prep food. I like to spread out when I work. I like to have all the ingredients there at my reach so that I am not running all over. So having this space clear for me to work is important.
I also love the natural light in this room. My house is tucked back into the trees and without sky lights a room can get pretty dark. This room not only has a skylight but it has these beautiful set of 3 windows. The windows above the sink are my favorite, I love them!!
I also love the view outside those windows, sometimes my nature friends come to visit me!!!
I have been thinking lately that maybe I should remove the blinds. The windows are high up and the view outside has trees and the corner of my neighbors house. It's not like there is a privacy issue, what do you think? With blinds or without? (If I remove the blinds I realllly need to clean my windows!!! 😣)
What do you think? Should I add some color to my white kitchen? I had my daughters Keurig there for a couple months this summer while she was home from college. It's red! It was nice but I kind of like the serenity of all the neutrals, with just the flowers bringing the color. And do you see the big blank wall over by my eating area? That is going to become a coffee station soon! Just another DIY project on the plan for my home. It's so fun to do things to your house and make it yours isn't it? I love making my spaces better.
I recently did a major reorganization of my pantry in my kitchen, you can read about that here. It wasn't easy, my pantry is very deep. I discovered that I had 11 cans of corn! LOL, who in this world needs 11 cans of corn 😂😂😂
I am working on getting a new rug for my foyer, the one I have I love but it doesn't fit under the front door when you open it! UGH!!!! Once I do I will share that space with you. There are some sneak peaks on Instagram of the foyer and for the powder room I shared. You can find my powder room here.