I have done the research and the results are in! Today I am sharing the Best Dutch Ovens of 2023.
To say the world has become a crazy place to live in is an understatement. Restaurants are open, then closed. Who can keep up! As a family we don't eat out all that much anyway so cooking at home isn't anything new for me.
What is it though that when you can't have something you want it all the more? That's how I feel about eating out, now I really want to.
I started scouring recipes and trying to find new things to make for dinner. Through this research, I not only found some great new things to make but I found that a lot of the recipes called for a Dutch Oven.
*This post contains affiliate links. For more details see my full disclosure.
What is a Dutch Oven?
Dutch Ovens are in a nutshell enameled cast iron pots. Think your favorite cast iron skillet, with a glass coating that has been fired on, in the shape of your favorite pot instead of a skillet.
Dutch Ovens are not only safe to cook on your stove but they are safe for the oven too! I know, mind blown!
This handy cooking devise can go from stove to oven to table. And that's one of the things that makes it so popular. It creates less dishes to clean up and because of it being cast iron it cooks evenly unlike your typical stove top pots.
How to care for a Dutch Oven?
Dutch Ovens aren't cheap so you want to make sure you take really good care of it.
First thing you need to do when purchasing a Dutch Oven is to make sure there are not chips, cracks or bubbles in the enamel coating. If there are you should return the product for another one.
You want to make sure you heat the pot slowly and cool down slowly. Rapid temperature changes will compromise the enamel and make it break down faster.
A Dutch Oven is heavy so you always want to make sure you lift your oven instead of sliding it. If you slide it you run the risk of scratching the surface your dutch oven is on.
You should always use a cooking spray or oil (or butter) to keep food from sticking and to make clean up much easier.
Do not use metal utensils on a Dutch Oven. No matter how careful you are it's just best to avoid metal so it doesn't scratch the enamel surface.
When cleaning you should stick with a rag or soft cloth and soap. Don't use a rough surface to clean because it can also run the risk of scratching the enamel surface.
My favorite tool to clean my dutch oven is my Scrub Daddy or Scrub Mommy. They are tough and really get the stuck on food particles.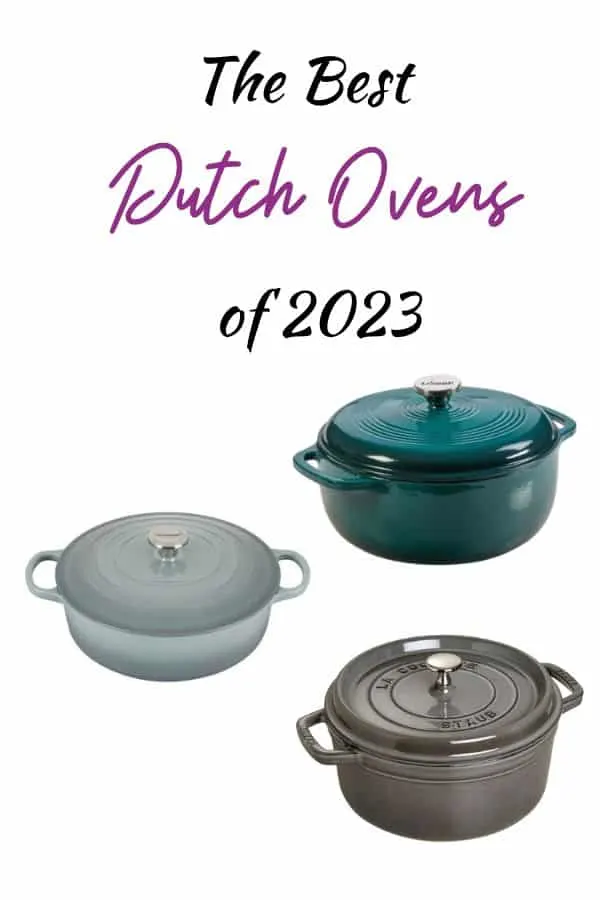 The Best Dutch Ovens
Okay, know that you know what a Dutch Oven is and how to clean one let's get into which ones are the best to purchase.
In all the research I did I found that 3 stood out in every review. The three top brands are Staub, Le Creuset, aned Lodge.
Le Creuset Dutch Oven
This might be the brand that you see most often. It's definitely the most popular and with good reason.
The Le Creuset Dutch Oven has the most variety in colors to choose from. You can also find this brand just about anywhere!
Le Creuset has a flat bottom and high sides which promotes more even cooking. Because fo the flat bottom you can sear or brown more food at one time.
This Dutch Oven is oven safe up to 500 degrees. There have been some issues with the lid handle but Le Creuset does have a good warranty and will replace if necessary.
The biggest negative with Le Creuset is the cost. Depending on the size you get you will be paying big bucks. If you have the money this is a great option and you won't be disappointed with the purchase.
Staub Dutch Oven
Staub is another company from France. They aren't as well known as their Le Creuset counterparts but boast that they sell to both homeowners as well as restaurants.
Staub Dutch Ovens are also flat on the bottom similar to Le Creuset but they have shorter sides. Because of the different shape, they boast that if you need to have multiple items in the oven you can fit them better because of the shape of their dutch oven.
Not as many choices in color as their Le Creuset friend but the inside of the Staub Dutch Oven is black. So if you end up with any stains from cooking you won't see them in the Staub like you will in the others with light-colored interiors.
The pot of the Staub is oven safe to 900 degrees! The lid only goes to 500 degrees though.
Like Le Creuset, the Staub Dutch Ovens are very pricey.
Lodge Dutch Ovens
Lodge is a well known American company that has been making cast iron for many decades. (It is worth noting that while they are an American company some of their products are made in China.).
Lodge is available at many major retailers, I picked up my cast iron skillet at my local Kroger.
Lodge Dutch Ovens have a curved bottom which is a little more appealing visually but makes searing meat a little more difficult.
This product comes in a variety of colors, not quite as many as Le Creuset but still several options available.
Lifetime warranty
The Lodge Dutch Oven has a double enamel coating inside and out so good for all kinds of cooking – retains heat well and evenly.
Both the pot and handle are oven safe up to 500 degrees. The handle is metal so no issues with melting like the Le Creuset can have.
The biggest pro for the Lodge Dutch Oven is the price. It's a fraction of the cost of the other two mentioned here. Most of these products are less than $100 where the other two are mostly all above $200!
Here is my dutch oven on my stove. I just love the color!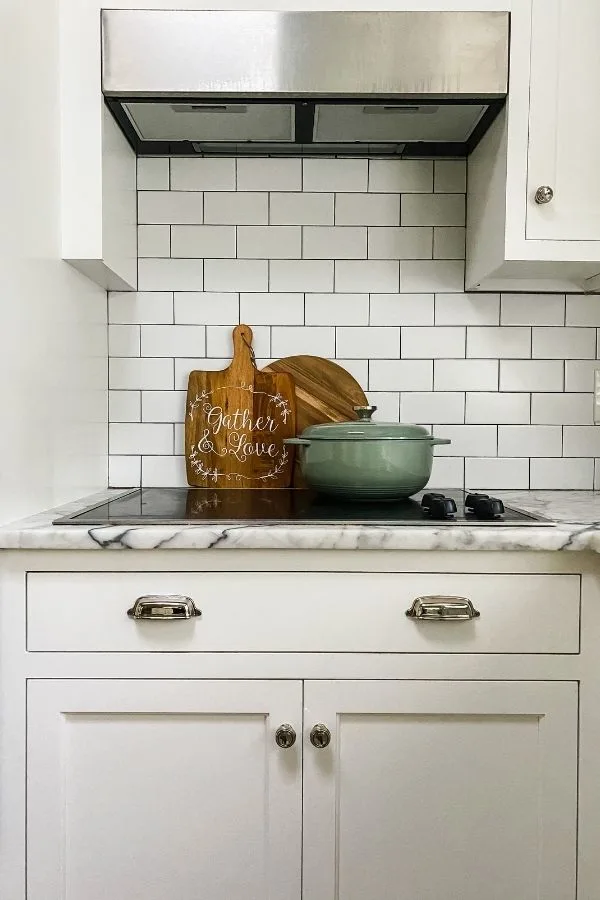 Who Wins the Title of Best Dutch Oven?
The overall winner is the Lodge Dutch Oven. All three products have wonderful reviews on cooking evenly and cleaning up well. The big difference is the price, you just can't beat the cost of the Lodge. With mostly the same results it just doesn't make sense to spend an extra couple hundred dollars on the other brands.
Where to Buy the Lodge Dutch Oven?
The easiest place to purchase Lodge is either directly from their website or from Amazon. Another online store you can go to and purchase Lodge is on Wayfair.
If you want to go to a brick and mortar store check out Cabella's. They have a great selection. Sometimes you can find Lodge in your local grocery stores, many a specialty store. I picked mine up in Cincinnati at Jungle Jim's which is considered an international grocery store. They have foods from all over and I saw a display of Lodge and decided to pull the trigger and get it! I don't regret it for a minute.
Favorite things to make in my Lodge Dutch Oven
I have to say that in all my research for new recipes I found a food blogger who I absolutely love! Her website is Natasha's Kitchen and I found her from her facebook page and all the adorable videos she does.
My most favorite thing I have made is Natasha's spagetti and meatballs. I grew up in North Jersey and my best friend's mother is first generation Italian. This recipe from Natasha is the closest thing I have found that reminds me of Mrs. Morello's meat sauce. It's like going home!
You can make anything in a Dutch Oven. I plan to make many soups this winter! The way a Dutch Oven cooks so evenly makes food so much better than cooking in a traditional pot.
Related Posts: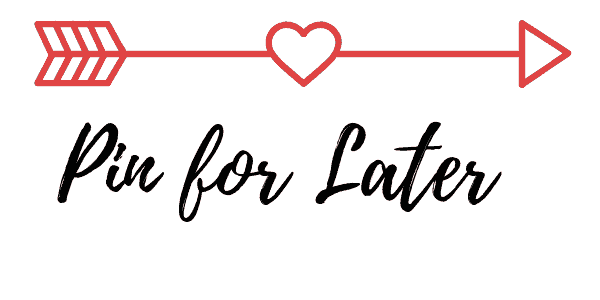 I hope this helped you find the Best Dutch Oven for you. Honestly, you can't go wrong with any of these three, the food you will make for your family will undoubtedly be amazing! Happy cooking!