We have a rule in my house (mostly instilled by my husband) that no Christmas decor goes up until after Thanksgiving.  Thanksgiving happens to be our favorite holiday.  The day after Thanksgiving means it's time to break out those bins and make a complete mess taking down the Fall decor and bringing in the Christmas decor.  I think my two favorite times of the year to decorate are Christmas and the Fall Season.  Whenever I decorate I find that there are some changes that need to be made, new pillows or a new centerpiece.  Farmhouse Christmas decor is so popular right now and I don't have much.  Most of my decor has been collected over many years so this year I am going for a cohesive look, here are some of my favorite finds for The Best Farmhouse Christmas Decor.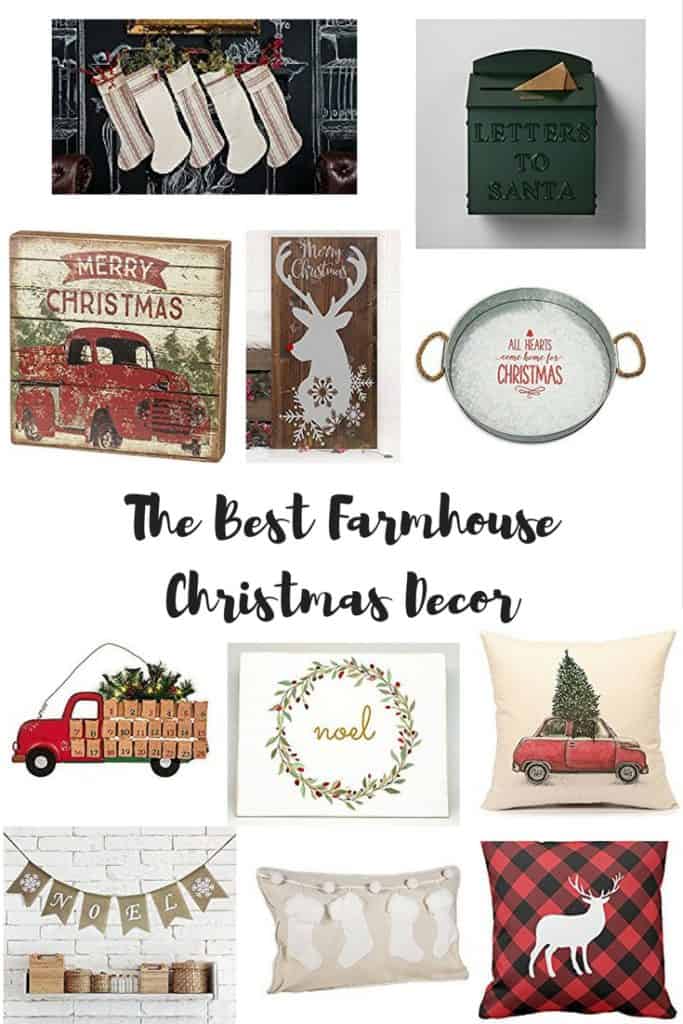 *This post contains affiliate links.
The Best Farmhouse Christmas Decor for the Family Room
Lets start with the room that most of us spend the majority of our time in during the holidays, the family room or den.  I know that's where my family as the Christmas tree and we spend a lot of time watching Christmas movies.  Pst…don't tell anyone but we have been getting into the Hallmark movies so much over that last few years.  My daughter says, they all end the same and I say YES!  That's why I love them, all happy endings! 😊
The Best Farmhouse Christmas Decor for the Dining Room
I am all over the dining room decorating, because I am currently redoing my dining room.  So far you can check out my plan here for the room and my first DIY project where I refinished my dining room table.  So yes, bring on the dining room Christmas decor!
Related Posts:
The Best Farmhouse Dining Room Decor
Top 10 Places to Shop for Inexpensive Home Decor
The Best Farmhouse Christmas Throw Pillows
I seriously found sooooo many pillows that I gave them their own category!  Who knew how many were out there.  I will be honest, my house is seriously lacking in throw pillows.  These are great because most of them are less than $15!  They can be used in the family room, bedrooms, put in baskets in the entry or even on an entry bench.  Pillows are so versitle!
So here is another installment of Friday Favorites!  It seems to be an every other week thing and I think that's okay.  If you want to see more ideas for the holidays please let me know in the comments.  If you have a great Farmhouse Christmas decor item that you purchased this year I would love to hear about it and even see a picture!  Now that Thanksgiving is over I am all over Farmhouse Christmas decor!  Happy Decorating!