I know I say this every year but WOW, where did the time go? It's been a crazy ride this year. I started this little blog in May and it's been a wild ride ever since. Let's go through the top posts for 2017 and what's new for 2018.
So the blog came to be on May 14, 2017! That's a big day for me. I had thought about starting a blog for several years and I finally hit that publish button. You wouldn't realize how scary that moment really is. Putting yourself out there isn't easy but I am so glad I did it. I have met some of the best people in the world through blogging these last few months. One other thing I have noticed is that I get more projects done now, because I have a deadline for when I need to blog about them! Haha, who knew that blogging would make me so productive, lol.
Top Posts for 2017
Here are the top 5 posts from 2017 and some photo's from each post.
My Top Ten Favorite Places to Shop for Home Decor
I will tell you hands down that Kirkland's has been and will be my favorite store to shop for home decor. I have recently been shopping more at Home Goods because they opened one closer to home, not sure if that's good or bad!
Review of the 2017 Parade of Homes
This is one of my favorite things to do every year. My Mom and I go every year. This year there was a home that was decorated with all Magnolia products 😍😍😍 I was completely in love!
This is a challenge I participated in last September and I am getting ready to do it again in January. This was soooo much fun and I learned so much. I created a Fixer Upper Coffee Bar in my Breakfast nook. It turned out so good I think Joanna Gaines would be proud!
This was a biggie for me. Long story short, my dog developed a medical issue where she had trouble going potty and started having accidents in the house. Mainly on the kids family room carpet in the basement. The carpet is super ugly so I decided to stain the concrete instead of replacing the carpet. You know, teenagers and food over carpet is a disaster waiting to happen. (Seriously, they are like toddlers sometimes!)
The Best Farmhouse Christmas Decor
Getting ready for Christmeas I was really inspired by all the gorgeous Farmhouse Decor out there. So I gathered my Favorites and shared them in this post.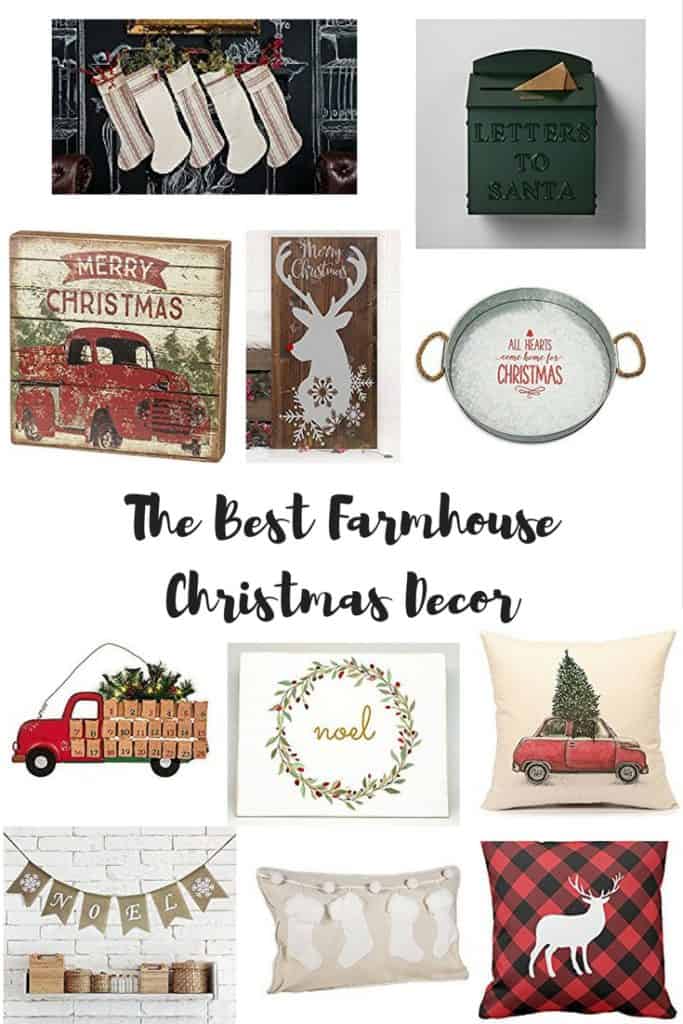 What's New for 2018
So what's the plan for 2018, keep on going! I want to be more organized and post more regularly. I got a gorgeous planner for Christmas to help keep me on track, thanks honey! We are kicking the year off with a bang for another round of the $100 Room Challenge. This time I am redoing my laundry room, stay tuned to see the transformation.
We also plan on ripping up the carpet on the stars and redoing them. If you check out this post on the Basement flooring plan you will see I got a little sidetracked. I have ADHD when it comes to DIY, I get started on a project then get distracted by another, does anyone else do this? Yeah, I think it's just me 🙃
The big one that we are working on is our dining room. I refinished the dining room table, am about to finish painting the chairs, that's coming soon. We have board and batten to add and a buffet to refinish….and then there is the piano. I am not sure what I am doing there but we get there once we get everything else done.
My husband recently brought up replacing our shower. You see, it leaks and we have to go all the way downstairs to shower in my oldest daughters bathroom. It's not a huge deal but it is a pain. We had someone come in to give us a quote and they want $5K to redo just a corner 3 foot shower!!!!! That is insane so now we are thinking of DIY'ing it. That will probably be the biggest project of the year if we do it. We'll see!
Do you have any projects coming up for the year? I would love to hear about them in the comment section below! Don't forget to subscribe to the newsletter to see how all this stuff turns out! HAPPY NEW YEAR!