Today I have some gorgeous modern horizontal fence ideas that will make you the envy of your neighbors!
They say that good fences make good neighbors but I think fences can be way more than that. Fences are perfect for adding privacy to your outdoor space. They make an architectural statement.
Fences obviously can keep your pet inside your home but they also can keep strangers from coming inside your yard. Home security is very important.
Another purpose for fences can be to mark your property line. You can put a fence around your garden to keep unwanted friends out. Also, you can make an outdoor shower which would certainly need a fence around it for privacy.
*This post contains affiliate links. For more details see my full disclosure.
What kind of wood should you use for a horizontal fence?
There are several species of wood that can be used for a horizontal fence. Cedar is often used in outdoor projects because it contains natural oils which are a deterrent to bugs. It's also rot-resistant making it a longer-lasting product.
Cedar is also the most inexpensive option so if you have a more limited budget this would be the best choice.
Cypress is also rot-resistant and contains oils to deter pests. Unfortunately, this is a pricier option because Cypress grows south of the US and can be expensive due to shipping.
Redwood is the most expensive option but it's the most aesthetically appealing. It also is rot-resistant and contains oils that deter pests.
The priciest option but also the one option that needs zero maintenance is a composite wood material. It's very similar to composite wood decking but made for fencing. You have to do no maintenance on this product, no stain or sealing required. You are going to pay for it up front, but it might be worth it!
Is it cheaper to do a horizontal fence?
No, it's actually more expensive to do a horizontal fence. The reason is the wood used needs to be of a higher quality to ensure that the boards don't sag. No one wants saggy boards.
Modern Horizontal Fence Ideas
Horizontal fences can be used for all sorts of great reasons. Let's get into some of them and take a look at some pictures of what they can look like.
Privacy
Privacy fences are great when trying to keep prying eyes out of your space. If you have a hot tub or outdoor shower then having a privacy fence is a great idea to keep prying eyes out.
This company actually builds these privacy enclosures and installs them for you.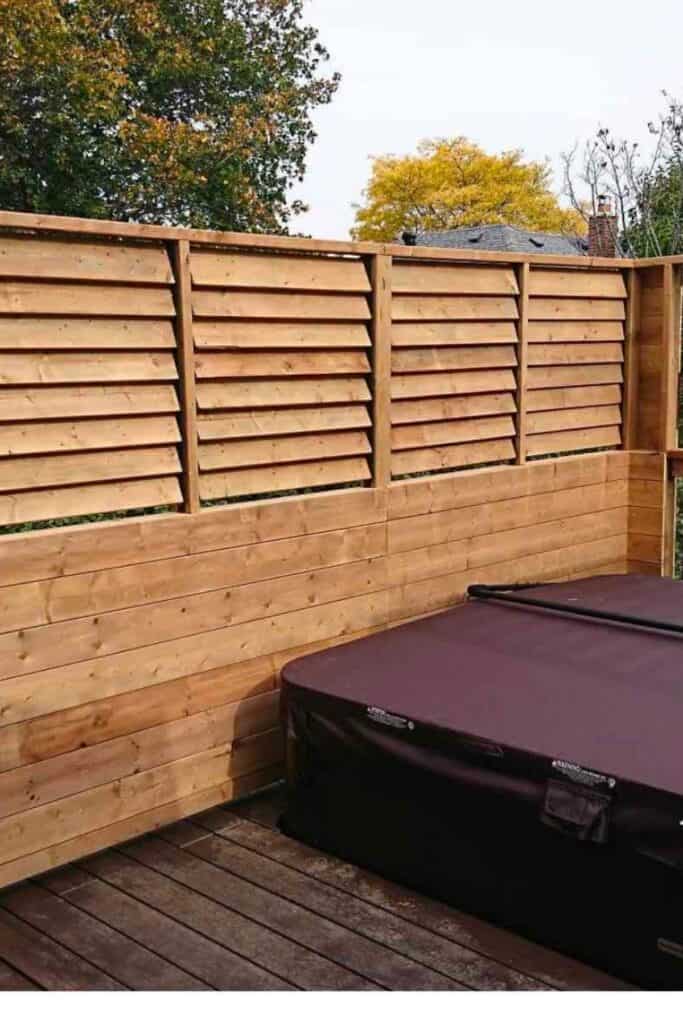 You can also get a pre-fab enclosure for your outdoor shower.
Sometimes you just want your yard to have a tall privacy fence or even a medium height privacy fence. Here are some great examples of them.
I like the idea of putting a horizontal fence around a patio for added privacy.
Here the fence boards have been attached on each side with space in between. This allows for better airflow but still gives you the privacy needed.
Fences to Keep Pets Inside the Yard
The most traditional reason for needing a fence is to keep your pet from running away. Just because the reason is utilitarian there is no reason why your fence can't be attractive too!
You can most certainly get a privacy fence to keep your pet in but you don't have to. Here are some great horizontal fences that will work.
This fence is perfect for keeping your dog inside (and your kids) but allows for airflow, visibility, and socializing.
Metal and Wood Horizontal Fences
One way to add something unique to your fence is to mix it with metal. I love the wood horizontal boards with metal posts. Metal works great for stability but the different material really adds architectural interest. Plus mixing metal and wood makes for a very modern design.
Stone and Wood Horizontal Fences
Similar to the metal and wood having stone pillars as supports are really appealing to the eye.
Sloped Yards
If you have a sloped yard it is still possible to have a horizontal fence. Here you can see that the fence steps down the slope like stairs.
Unique Horizontal Fence Ideas
Creating that architectural moment or incorporating your fence into the landscape are some great ways to make your fence unique and special to you. Here are some amazing images of unique horizontal fences that are only limited by your imagination.
I love this fence with the use of different wood widths and the spacing in different places. This adds such interest to what can be a very boring space.
I love a living wall. Adding plants to a horizontal fence is great for giving something that can be very hard a soft touch, bring life to it. This is a very modern look. The great thing is that mother nature can keep these plants alive for you!
You can also add a unique pattern to your horizontal fence. Many times you can buy these panels already made and just install them.
How to finish your Horizontal Fence.
Once you install your fence there are several ways you can finish it off. Make sure you give your fence about a month to dry before treating it with anything.
Paint is one choice. Keep in mind that some paint colors will do better outside than others. White will show lots of things and might not be a great choice. You also need to make sure you choose a paint that is for outdoor use.
Stain is very commonly used on fences. You can purchase stains in a variety of colors, just make sure you choose the outdoor stain and not indoor.
If you love the look of the bare wood then all you need to do is apply a clear coat. This will keep your wood looking new.
Where to Buy
You can build your horizontal fence yourself or have someone do it. Another option is to buy pre-fabricated panels and attach them to posts.
You can get these panels at your local Home Depot or Lowes but Wayfair also sells them, and they have a ton more options to choose from. Etsy is also a place that has some great options. Here are a few of my favorites.

I hope you have some great ideas for your yard and how to incorporate a horizontal fence. They are great at making a statement and you will be the envy of all your neighbors!
More great outdoor ideas: