If you are looking for patriotic outdoor decor then take a look at what I did to my deck for the Fourth of July! This could be put up before Memorial Day and left up all the way through July 4th.
If you are having a party or small get together for a patriotic holiday I have some ideas that you might want to check out to take your gathering to the next level!
*This post contains affiliate links. For more details see my full disclosure.
Patriotic Outdoor Decor
The first thing I did was hang a bunting. I purchased it years and years ago but I finally feel like I found the perfect place to hang it. On the outside wall above the couch is the perfect place.
On the couch, I added some DIY No Sew Pillows in red, white, and blue. This was the first time I did anything no sew and I found it to be so easy! I will be making many more pillow covers using this method. For more details check out my tutorial on no sew pillows here.
Next to the couch on the floor are my DIY Firecrackers! I did this project using things I had around my house. I love these types of projects, digging into the scrap pile and creating something awesome for no money. It's very satisfying! Check out the tutorial for that here.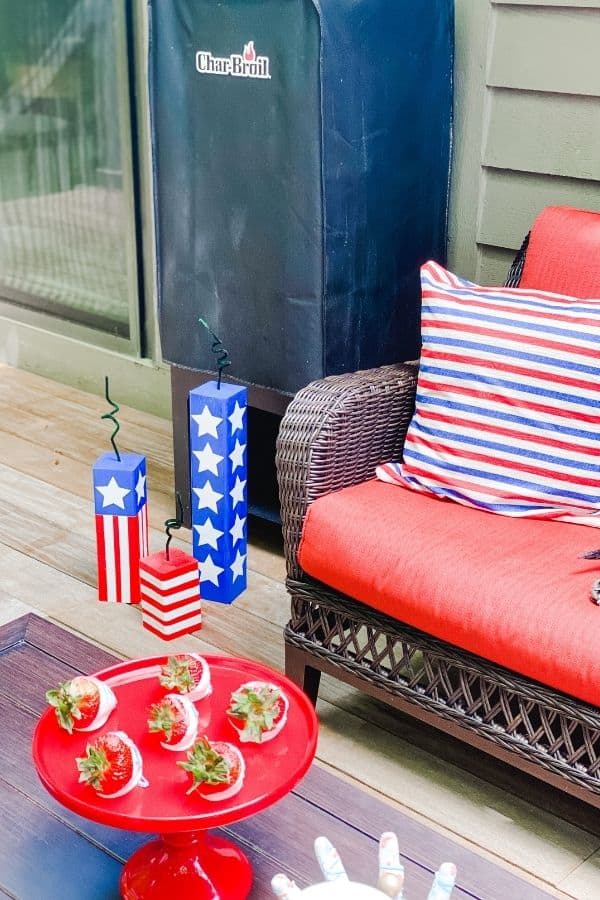 On the table, you will see my farmhouse signs created I created using scrap wood and my Cricut machine. Along with this cute Marine nutcracker which I got my husband for Christmas a few years ago. He was a Marine just before going to college.
I broke out my patriotic dishes and made some fun food for a gathering. Using melts from JoAnn I made white chocolate covered strawberries and drizzled a little tinted red and blue over them.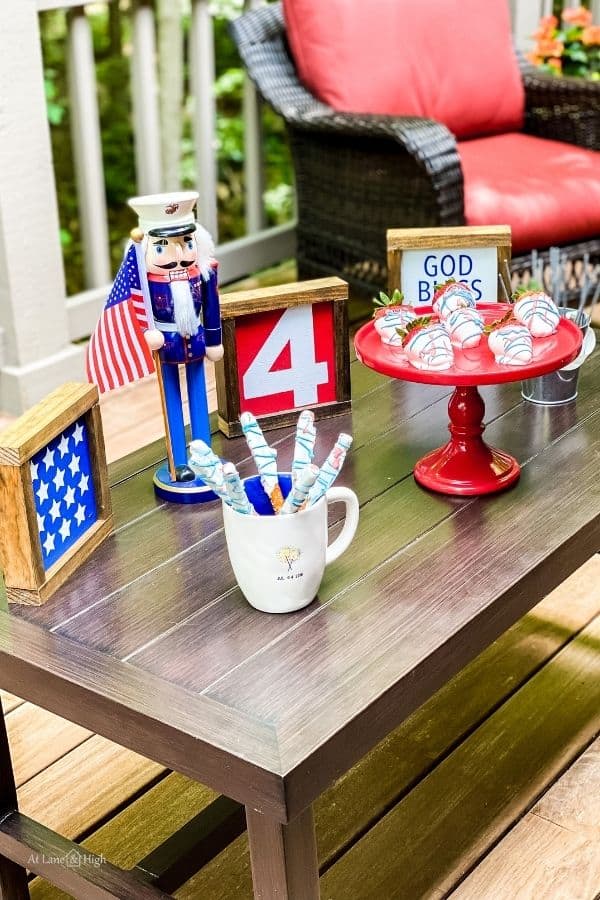 I did the same thing on the pretzel rods. Something about salty and sweet!
And lastly, I put out some sparklers for the kids (or 20 somethings)!
And that's it! I loved creating this space and my family enjoyed eating the food! Time to break out the burgers and dogs and get my party on!
Other Patriotic Decor:
Cheap and Easy July 4th Decorating Ideas
DIY Wooden American Flag You Can Hang All Year Long