I am so excited to share these simple DIY Wood Firecrackers with you. I made them with all leftover materials I had in my house! Can't get much cheaper than that!
There are a lot of options with this project. You can customize the size, wood, and paint colors. I had a leftover 4×4 post from another project as well as spray paint from my Wooden American Flag.
*This post contains affiliate links. For more details see my full disclosure.
DIY Wood Firecrackers
I didn't spend a dime on this project. I used all leftover materials. This is one of my favorite type of project, FREE!
Materials:
Tools:
Directions
The first thing you need to do is determine the different heights of your firecrackers. I decided to go with 6 inches, 12 inches, and 18 inches. Once you decide what to go with cut your post to the appropriate lengths.
In a well-ventilated area set up space to spray paint. The tall piece I went all blue, the small piece I painted all white. On the middle piece, I taped off the top third and painted it blue.
As you can see I am working on a few projects for the Fourth of July.
Once the paint dried I taped off the blue part of the middle piece and spray painted the other 2/3 white.
For the stripes, I used one-inch painter's tape and taped off where I wanted the white stripes to be and spray-painted the rest red. For the middle piece, I went with vertical stripes and for the smaller piece, I went with horizontal.
Make sure you paint the top of the wood as well.
Once you have all your stripes painted it's time to add your stars. There are a couple of ways you can do this. On my wooden American Flag, I bought a stamp to create the stars. That stamp was too small for what I wanted here.
I used my Cricut machine to cut white vinyl stars out. I measured the wood and sized the star appropriately in Design Space. If you don't have white vinyl or enough of it, you can choose another color and instead of sticking the stars to the wood, you can use it as a stencil to spray paint the star on.
Adding the Fuse
I molded a pipe cleaner into a spiral. Then I picked a drill bit that is the closest to the size of the pipe cleaner. In the center of the top of each piece of wood drill a hole about an inch to an inch and a half.
Stick the pipe cleaner down in! You might need to add some glue to the end to get it to stay, especially if you plan to use them outside in a windy area.
The Finished DIY Wood Firecrackers
And that's it! Super easy, the hardest part for me was waiting for the rain to stop to do my spray painting outside!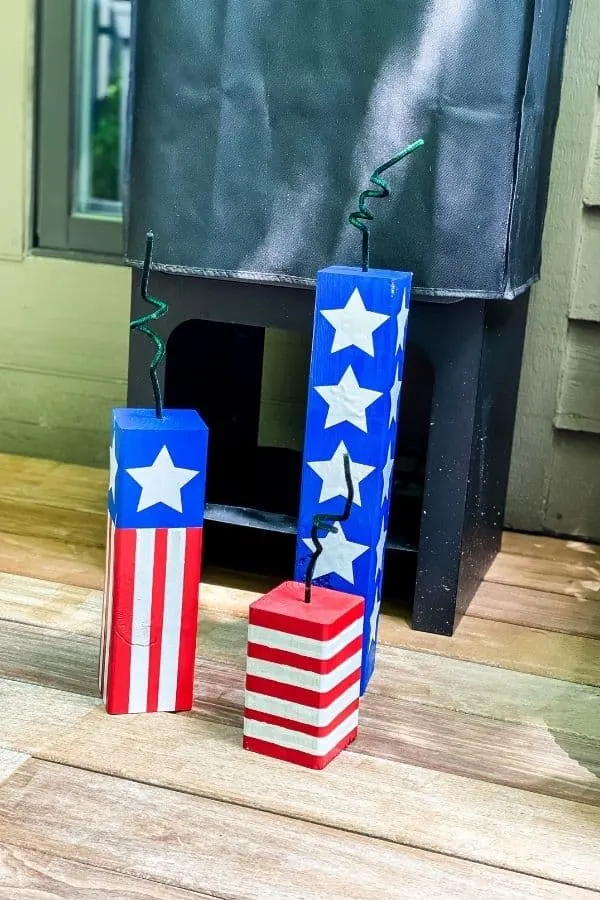 Other July 4th posts: