Benjamin Moore Quiet Moments is a calming blue/green paint color that will look good in any home. it's one of Benjamin Moore's most popular colors and I will share all the details on why.
Blue/green paint colors are so calming. They have just the right touch of the ocean to them to make you feel like you have been transported to the beach.
Quiet Moments is just that, a quiet moment in your home for you to gain some calm.
*This post contains affiliate links. For more details see my full disclosure.
Is Benjamin Moore Quiet Moments blue or green?
Quiet Moments is a light blue-gray paint color with subtle undertones of green. It is considered a neutral which makes it a perfect backdrop to your other decor.
Depending on the light and decor in the room you can see more blue come out and other times more green.
In a bathroom that has lots of white fixtures you will see more blue come through. But in a room that has wood tones and other colors in the fabrics the green can come out more.
Quiet Moments is considered a light color with an LRV of 61, but it is still dark enough to have really nice depth of color.
Is Benjamin Moore Quiet Moments warm or cool?
Quiet Moments is definitely a cool-toned paint color with the blues that it has in it.
How to know if a paint color is right for you?
The best way to judge if a color is good for you then you will want to put a swatch on the wall and look at it over a few days. Look at it in different lights and decide if you really like it.
You can do this by getting a sample from the paint store and using a brush put it up on the walls, but then you are left with a can that you can't do anything with. Those samples are used with poor quality paint and aren't meant for use on your walls permanently.
I recommend going with Samplize. They are a company that will send you a 12X12 peel and stick swatch of a paint color that you can stick to the wall. When you are done just peel it off and throw it away.
It's easy and much less messy!
What color compliments Quiet Moments?
Cloud Cover and Gray Mountain go really well with Quiet Moments. Cloud Cover is a warm white color and Gray Mountain has a strong purple undertone. They both go really well with Quiet Moments.
Another great combination is to pair it with White Heron and Mysterious. White Heron is also a warm white and when they are paired with Mysterious they are gorgeous together. Personally I am in love with Mysterious!
Similar Colors to Quiet Moments
There are a ton of colors that are similar to Quiet Moments. Here are some that Benjamin Moore suggest that are close to QM.
Below we will go into some others that are similar and also very popular.
Are Quiet Moments and Smokey Green the same color?
These colors are very similar but as you can see there is more gray in Quiet Moments and that gives the color more of a neutral feel. There is definitely more green in Smokey Green.
Benjamin Moore Quiet Moments vs Sea Salt
Sea Salt by Sherwin Williams is one of my favorite colors! As you can see though it also has more green in it where Quiet Moments has more of the blue/gray feel.
Benjamin Moore Quiet Moments vs Healing Aloa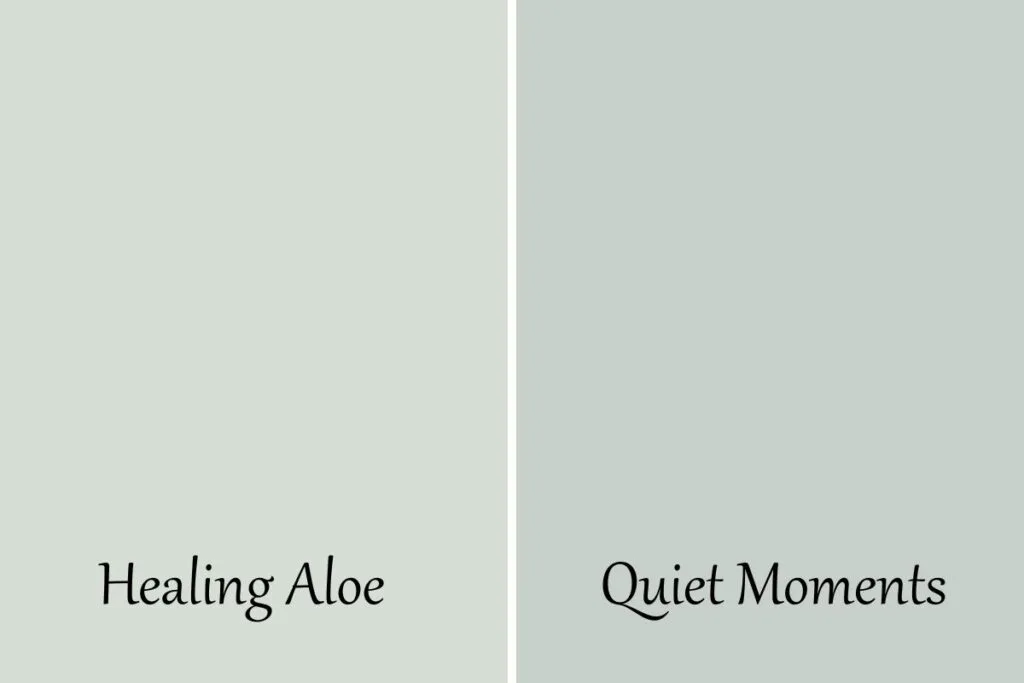 Healing aloe is a gorgeous blue-green color but put right next to Quiet Moments really brings out the blue in QM. Having the neutral gray base also keeps the color more grounded as a neutral.
Benjamin Moore Quiet Moments vs Beach Glass
I would say these are almost the same color but Beach Glass is darker. They both have gray in them as well as blue and green undertones.
Benjamin Moore Quiet Moments vs Tranquility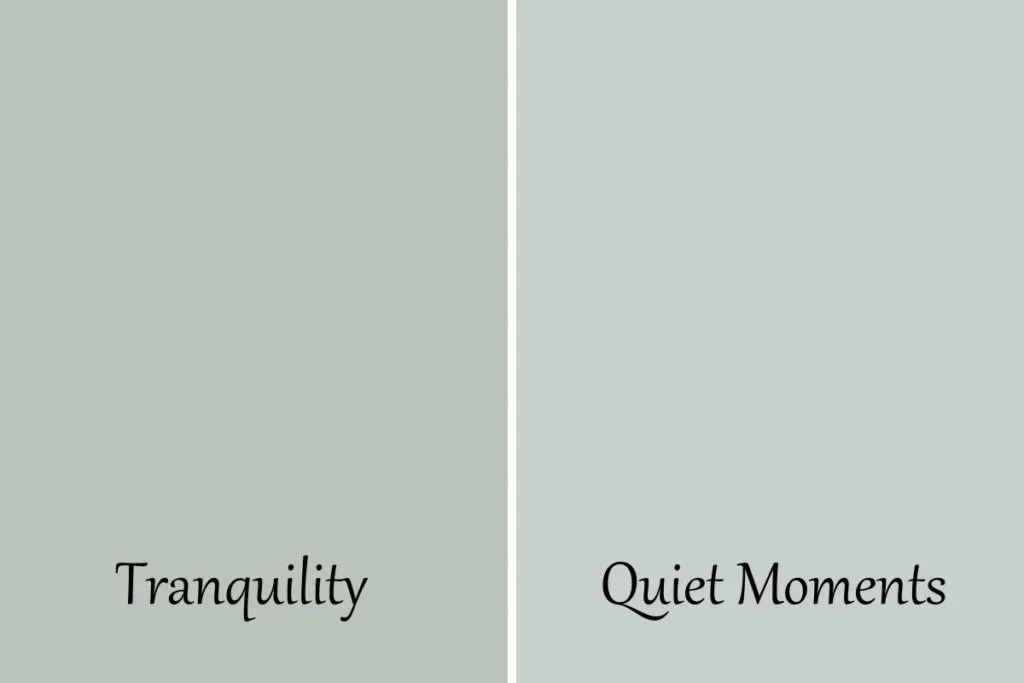 I would say these colors differ in that Tranquility is more of a gray-green and Quiet Moments is more of a gray-blue. They both have green and blue undertones but they come forward differently.
Benjamin Moore Quiet Moments Whole Home Color Palette
Get this free whole home color palette for Benjamin Moore Quiet Moments and you will also be part of the At Lane and High Community! You will receive weekly newsletters on new posts and you can unsubscribe anytime.
Benjamin Moore Quiet Moments in Real Homes
I love the way the paint color looks in this room. There are lots of other neutrals but adding the pops of blue really bring out the blue in the paint color.
Here the color really popls off the wall with all the whites! I also love how nicely it goes with the different wood tones in the room.
It's a fabulous idea to use this color as a focal wall. It really brings your eye over to that nook and begs someone to come have a seat and relax a bit.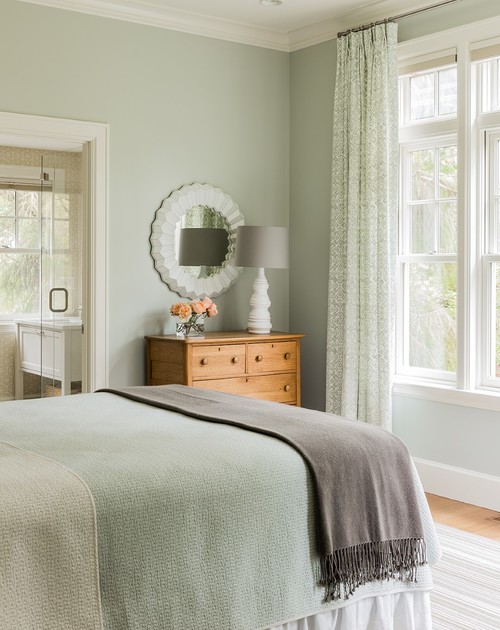 In this bedroom you can really see how the green in the bedding and drapery bring out the green undertones in the paint color! I just love when a color can be a chameleon. You can really make it special and unique to your home.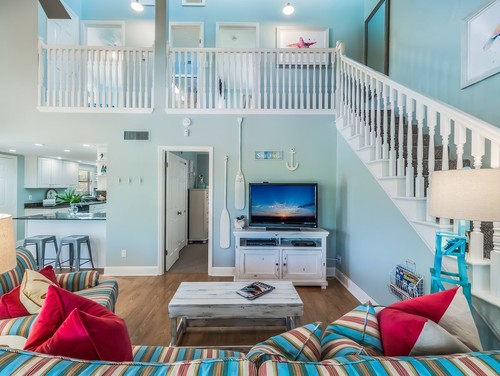 Just the opposite is happening here. You can see the blues in the fabrics are really bringing out the blue in the paint color. This is a perfect coastal home ready for some relax and chill time!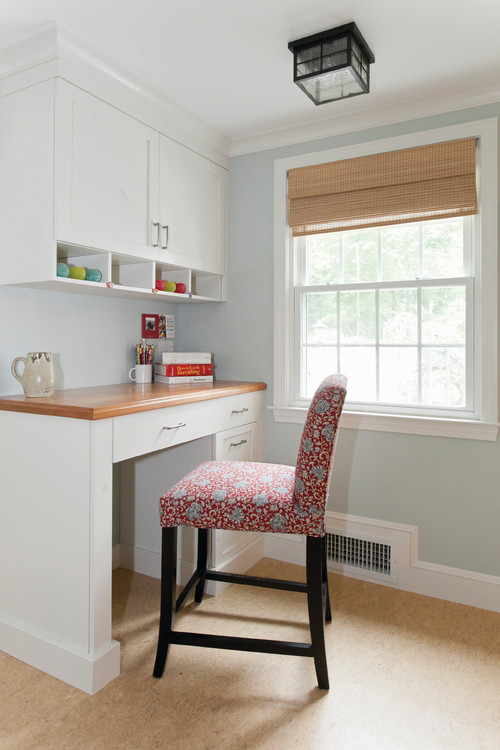 In this home office the paint color really takes a back seat and is much more subdued. You hardly even notice it with all the other things going on.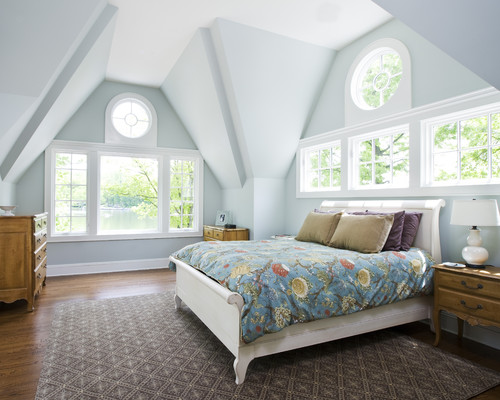 The medium-dark hardwood floors go so well with this color. You really can use it with any wood tone and it will look amazing.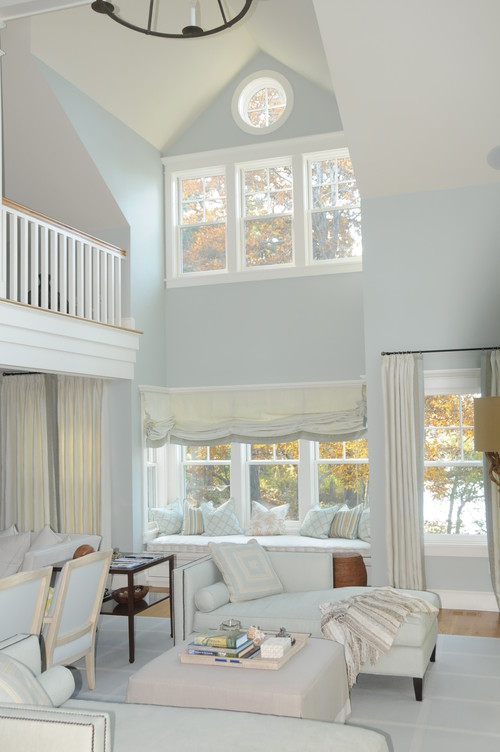 This home feels almost monochromatic with the light blues and whites. It's very relaxing because of that but the subtle color gives just the right amount of interest.
Other paint colors you might like: