If you are looking for a pewter color for your home then look no further! I have all the best pewter paint colors for your home from Sherwin Williams and Benjamin Moore. You will also get answers to the most burning questions about pewter.
Pewter paint colors are so popular right now and for good reason. They range from light to dark and warm to cool! They are so versatile that there is most definitely a perfect pewter color for you.
*This post contains affiliate links. For more details see my full disclosure.
What color is Pewter?
I went to the encyclopedia Brittanica and they define pewter as a metal. It dates back 2000 years to Roman times and was a metal that was commonly used in silverware.
The metal pewter contained 70 percent tin and 30 percent lead. Modern day pewter doesn't contain lead so it's safe for vessels for drinking.
Now the reason you are here isn't to get information on the metal but in the color. But the original metal varied greatly in color, which is where we derive the color pewter.
Depending on the amount of lead in the pewter and the age of the metal can greatly determine the color of the metal. So you will see that pewter can be a range of colors and each one is very unique.
Is Pewter warm or cool?
Pewter ranges so much in color that some of the colors can be warm and some can be cool. So it really matters which color specifically you are thinking of.
Is Pewter a light or dark gray?
Again, Pewter can range in color so much that it can be light or dark. Pewter is definitely in the gray family and it can be new (which would represent a new metal) or it can be dark (which would represent a metal that has darkened with age).
How to know if a paint color is right for you?
The best way to judge if a color is good for you then you will want to put a swatch on the wall and look at it over a few days. Look at it in different lights and decide if you really like it.
You can do this by getting a sample from the paint store and using a brush to put it up on the walls, but then you are left with a can that you can't do anything with. Those samples are used with poor-quality paint and aren't meant for use on your walls permanently.
I recommend going with Samplize. They are a company that will send you a 12X12 peel-and-stick swatch of a paint color that you can stick to the wall. When you are done just peel it off and throw it away.
It's easy and much less messy!
Best Pewter Paint Colors
I typically shop at two stores for paint, Benjamin Moore and Sherwin Williams. I love the color selection from both places but I will say I prefer Sherwin Williams paint to all other. If you love Home Depot or Lowe's they can most of the time color match any of the colors from BM and SW. So the options are really endless.
Best Benjamin Moore Pewter Paint Colors
Revere Pewter
Revere Pewter is a mid-light toned gray paint color with an LRV of 55.1.
It is considered a warm-toned paint color with undertones of beige and yellow. Because it has beige undertones it is considered a greige paint color.
Revere Pewter was once the go-to paint color by Realtors for people to paint their homes when they are selling. It's still a great color but the go-to colors are lighter now to get that bright and airy look.
Pewter
Pewter is probably closest to what a traditional pewter color would be. It's a mid-toned gray paint color with blue undertones. Because of the blue undertones, it is cooler than others.
Pewter has an LRV of 33 so if you are looking for something that will brighten a room this would not be the one. Check out Light Pewter for that.
Light Pewter
Light Pewter has an LRV of 68.39 which makes it a bright color. This one is the best one to brighten up your space.
While Pewter is cool-toned, Light Pewter is warm-toned. It has some beige in it which pulls it over to the warm side. This beige makes this color a gorgeous greige paint color.
Dark Pewter
Dark Pewter is a gorgeous paint color that has an LRV of 8.92. I just love the depth of color this one has.
The undertones are blue and green which makes it more cool-toned. If you are looking for a dramatic color this one is a great choice! It will work great for any style home.
Vintage Pewter
Vintage Pewter is a mid-toned color with an LRV of 34.5. It isn't bright but has a depth of color that will give character to a room without making it feel like a cave.
It has some beige in it which keeps it warm and yes, it is considered a greige paint color.
Antique Pewter
Antique Pewter (which is different from Vintage, LOL) has an LRV of 24.15. As you can see by looking at the two colors they look totally different even though their names are similar.
Antique Pewter has decidedly green undertones but they stay on the warm side of things. They will wrap your room in a cozy hug that will create a warm and welcoming space.
Best Sherwin Williams Pewter Paint Colors
Pewter Cast
Pewter Cast is a mid-toned with an LRV of 31. It is a gray paint color that has slight blue undertones, making it a cool paint color.
Pewter Cast is a muted gray paint color that will bring style to any room no matter what your design style is.
Warm Pewter
Warm Pewter is similar to Pewter Cast in that it is a muted gray paint color and it also has a similar LRV. It sits at 42, so it's a bit brighter but it's not the one I would choose to brighten my space.
The big difference between the two is that Warm Pewter is on the warm side whereas Pewter Cast is cool.
Pewter Green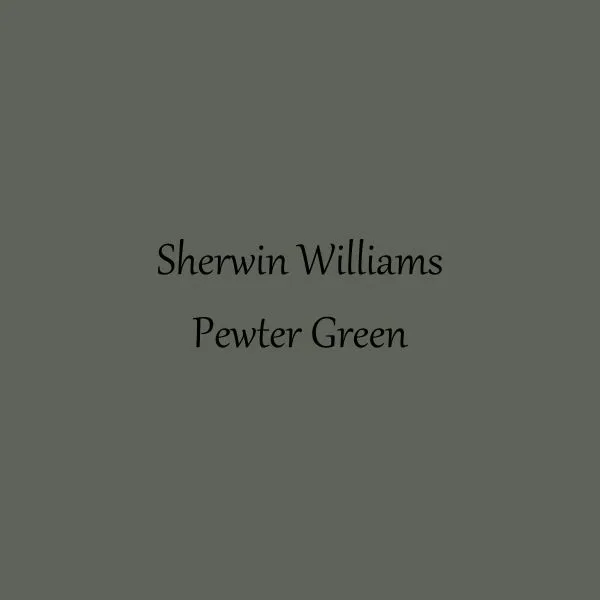 Pewter Green is a gorgeous green/gray color that really I need to add to my favorite list of green paint colors. It has an LRV of 12 so it's definitely on the darker side.
Green paint colors have become very on-trend lately and this color would definitely be one of them. The fact that it has gray in it makes it more muted and perfect for just about any space.
Roycroft Pewter
Here is another color that is just gorgeous. It's also a dark color with an LRV of 13 but this one is more gray than green. It's a charcoal gray with green undertones. The green undertones in this instance create more of a cool mood than a warm one.
This would be a great color for a bedroom, dining room, or even a nursery.
Library Pewter
This is a unique pewter color because it has a ton of brown in it. But because it has some gray and black the color doesn't go too warm. The gray and black keep it more neutral.
Library Pewter has an LRV of 17 which makes it a dark color but not as much as the previous two.
Pewter Tankard
This gorgeous color was used in the 2012 HGTV Dream Home in Utah! I try every year to win that dream home but no luck yet!
This color has an LRV of 33 which makes it mid-toned but slightly on the darker side. It is considered a greige because it has beige undertones but I also see a touch of green.
What colors go well with pewter?
As you can see from all the colors above the range in hues, undertones, and brightness varies greatly with pewter. Therefore not every color will go with every color listed here. But here are some general options that will go with most of the colors listed above.
Pewter shades tend to be more neutral so they will go really well with just about anything. I really like to pair it with a white color that is a brighter more crisp white. Sherwin Williams Highly Reflective White and Extra White are great options. From Benjamin Moore, I would take a look at Chantilly Lace and Decorators White.
On the other end of the spectrum, dark colors pair really well with pewter. You can take a look at my post on the best black paint colors for great options there.
I would also suggest a darker green color that has a bit of gray in it. Some good options would be Sherwin Williams Basil, Studio Blue Green, and Benjamin Moore Backwoods.
Tips on Choosing the right pewter paint color for your home.
I said it earlier, the best way to know if a paint color is right for you is to test it in your home. Always make sure you look at the color in different lights of the day both in natural light as well as artificial lighting.
Also make sure you compare this color in your home with some of the fixed elements such as flooring, cabinetry, and some of your large furniture pieces. You will be able to see how it looks in your home at different times of the day.
Other paint posts you might like: