I just love talking about dark and moody paint colors and today we will be diving into Sherwin Williams Grizzle Gray!
Just the name of this paint color draws me in. It's gray but it has some grizzle to it? That sounds very interesting and I want to know more!
*This post contains affiliate links. For more details see my full disclosure.
What color is SW Grizzle Gray?
Grizzle Gray is considered a dark gray paint color. Most colors in this range of grays are called charcoal and GG definitely qualifies but it also has some unique qualities to it that make it stand out from other charcoals.
The LRV of Grizzle Gray is 13. That means that it's dark and the perfect color to use in your home if you are looking for a little contrast or drama.
What does LRV mean? It's a scale from 0-100 with 0 being the darkest black and 100 being the brightest white. Sitting at 13 means it's pretty dark but not the darkest you can buy.
What are the undertones of Grizzle Gray?
Grizzle Gray has green undertones. These green undertones lean more towards being blue-green so you won't see any warm olive undertones in this color.
Is Grizzle Gray warm or cool?
This color is a cool-toned color. The slight blue undertones keep the green from pulling warm. It's a gorgeous gray color but I highly suggest testing a paint sample in your home to make sure it's right for you.
How to know if a paint color is right for you?
The best way to judge if a color is good for you then you will want to put a swatch on the wall and look at it over a few days. Look at it in different lights and decide if you really like it.
You can do this by getting a sample from the paint store and using a brush to put it up on the walls, but then you are left with a can that you can't do anything with. Those samples are used with poor-quality paint and aren't meant for use on your walls permanently.
I recommend going with Samplize. They are a company that will send you a 12X12 peel-and-stick swatch of a paint color that you can stick to the wall. When you are done just peel it off and throw it away.
It's easy and much less messy!
What are the best white trim colors to go with Grizzle Gray?
There are two colors I think you should try. One is Nebulous White and the other is Highly Reflective White.
Highly Reflective White is the brightest white that Sherwin Williams has. It's incredibly popular mostly because it goes with just about any other color out there.
Nebulous White is a cool-toned white color with slightly gray undertones which makes it a great match for Grizzle Gray.
Sherwin Williams Grizzle Gray coordinating colors
There are a ton of great colors you can pair with Grizzle Gray. I like to stick with lighter cool toned gray colors, medium toned greige colors, and warm beiges or tan. It also looks fabulous with a dark red!
Here are a few of my favorites:
Sherwin Williams Lullaby
Sherwin Williams Crabby Apple
Benjamin Moore Classic Gray
Sherwin Williams Natural Tan
Sherwin Williams Grizzle Gray vs. Peppercorn
The biggest difference here are undertones and LRV.
Grizzle Gray has an LRV of 13 and Peppercorn sits at 10. When you look at them side by side you can see that 3 points on the scale makes a huge difference.
Peppercorn is considered a cool-toned paint color as well but it has more blue undertones whereas Grizzle Gray pulls more green.
Sherwin Williams Grizzle Gray vs. Benjamin Moore Kendall Charcoal
Kendall Charcoal is a earthy dark gray paint color that has slight brown undertones. Both colors are steeped in nature and both are cool gray paint colors.
Kendall Charcoal has an LRV of 12.96 so they are very close in the amount of light they reflect.
The main difference between these two colors is the undertones. One pulls slightly green while the other pulls more brown. Both are gorgeous colors.
Sherwin Williams Grizzle Gray Whole Home Color Palette
Get this free whole home color palette for Sherwin Williams Grizzle Gray and you will also be part of the At Lane and High Community! You will receive weekly newsletters on new posts and you can unsubscribe anytime.
Where to Use Grizzle Gray
Here are some great examples of where to use Grizzle Gray in your home.
Grizzle Gray Exterior
This house is painted in Grizzle Gray and you can see that in straight natural light the color doesn't come off as dark is it does when used inside the home. It also looks great with the greenery in the landscaping.
This home is absolutely gorgeous! I love the big porch, perfect for decorating for different seasons.
Here you can see how well Grizzle Gray looks with a dark red. The door really pops!
Grizzle Gray Cabinets
Grizzle Gray is perfect for cabinetry in a kitchen or bathroom. I love how it looks here on the island. Having a dark color on the island with lighter perimeter cabinets really anchors the room.
Grizzle Gray Accent Wall
I love a good accent wall and this one has it all! The darker color as well as the architecture. And the color looks great with the wood tones, neutral furnishings and other wall colors.
Grizzle Gray Bathroom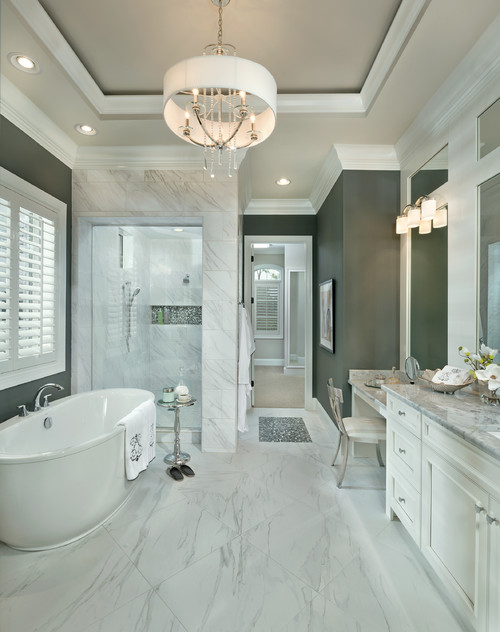 Being a cool-toned paint color Grizzle Gray is a perfect color for a bathroom, especially one like this with lots of whites. I just love how the color pairs with the marble on the counters, floor, and shower.
Grizzle Gray Bedroom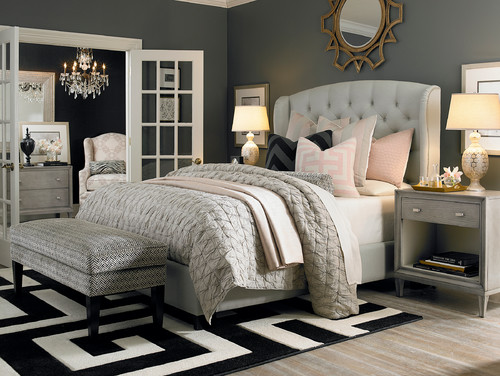 This gorgeous bedroom has Grizzle Gray on the walls. It creates a dreamy atmosphere that you just feel like curling up in bed and reading or taking a nap.
Dark and moody bedroom walls are very popular and this color will be a great one to use to achieve this look.
Other Gray Paint Colors You Might Like: