One of the best gray paint colors is Sherwin Williams Network Gray! We will dive into all the details on why this is such a great color and where you should use it.
We talk about grays a lot here and it's because they are just so popular. From cool blue-grays to warm greiges, gray is the most popular paint color on the market.
Network Gray isn't one of Sherwin Williams' most popular gray paint colors but after reading this today and seeing the photos I bet you will want to use this color somewhere in your home!
*This post contains affiliate links. For more details see my full disclosure.
What Color is Sherwin Williams Network Gray?
Network Gray is part of the Living Well-Unplug color collection. This makes a lot of sense because it is one of those colors that offers a ton of comfort. It creates a relaxing space where you feel like you can really unplug from the rigors of daily life.
Network Gray is a medium gray color with an LRV of 37. This isn't the right color if you want to brighten a room but it's perfect for those wanting more depth of color.
What Are The Undertones For Network Gray?
Network Gray has decidedly blue undertones. Most people will look at the paint chip and say that it's definitely gray but once you get it on the walls you will see that it has a more cool feel to it and that's because of the blue undertones.
Now typically blue undertones either pull a little green or a little purple but in this case Network Gray does not. It's a true neutral gray with blue undertones.
An example of a color that has more hints of green would be Revere Pewter. And one that has hints of purple would be Agreeable Gray.
If you are painting your room by yourself then you need to check out my must-have paint supplies to paint like a pro!
How to know if a paint color is right for you?
The best way to judge if a color is good for you then you will want to put a swatch on the wall and look at it over a few days. Look at it in different lights and decide if you really like it.
You can do this by getting a sample from the paint store and using a brush put it up on the walls, but then you are left with a can that you can't do anything with. Those samples are used with poor-quality paint and aren't meant for use on your walls permanently.
I recommend going with Samplize. They are a company that will send you a 12X12 peel and stick swatch of a paint color that you can stick to the wall. When you are done just peel it off and throw it away.
It's easy and much less messy!
Where Should Network Gray Be Used?
If you have a room that gets ample natural light then Network Gray would be perfect in that space. It plays really well with other paint colors because of it's neutrality.
Network Gray loves other wood tones. Whether you have dark hardwood floors or honey oak cabinets, Network Gray is a great color choice to pair with them.
If you want to soften the color a bit then use it in a south-facing room. The warm light coming in through the windows will add just the right amount of softness to the color.
Now the other question is where should you not use this color? I think that the obvious answer is in a darker room or space that gets no natural light. Such as a hallway or basement. Try to stick with spaces that have lots of windows so the color doesn't make the room feel too much like a cave.
If you can't decide what paint color to go with then samples are the way to go. Check out my post on the right way to test paint samples in your home!
What is the Best White Color to Pair with Sherwin Williams Network Gray?
There are so many amazing white paint colors on the market and they have just as many specific nuances to them as the gray family does. What's great about Network Gray is that it's so neutral it goes really well with just about all of them!
If I had to choose I would probably go with one of these whites to pair with Network Gray:
Sherwin Williams Highly Reflective White
Sherwin Williams Extra White
What Paint Colors Go Well with Sherwin Williams Network Gray?
Pretty much anything goes well with Network Gray but according to Sherwin Williams, there are a few that they recommend. They are Gossamer Veil, Mineral Gray, and Site White.
Here are them all side by side so you can see exactly what they look like together.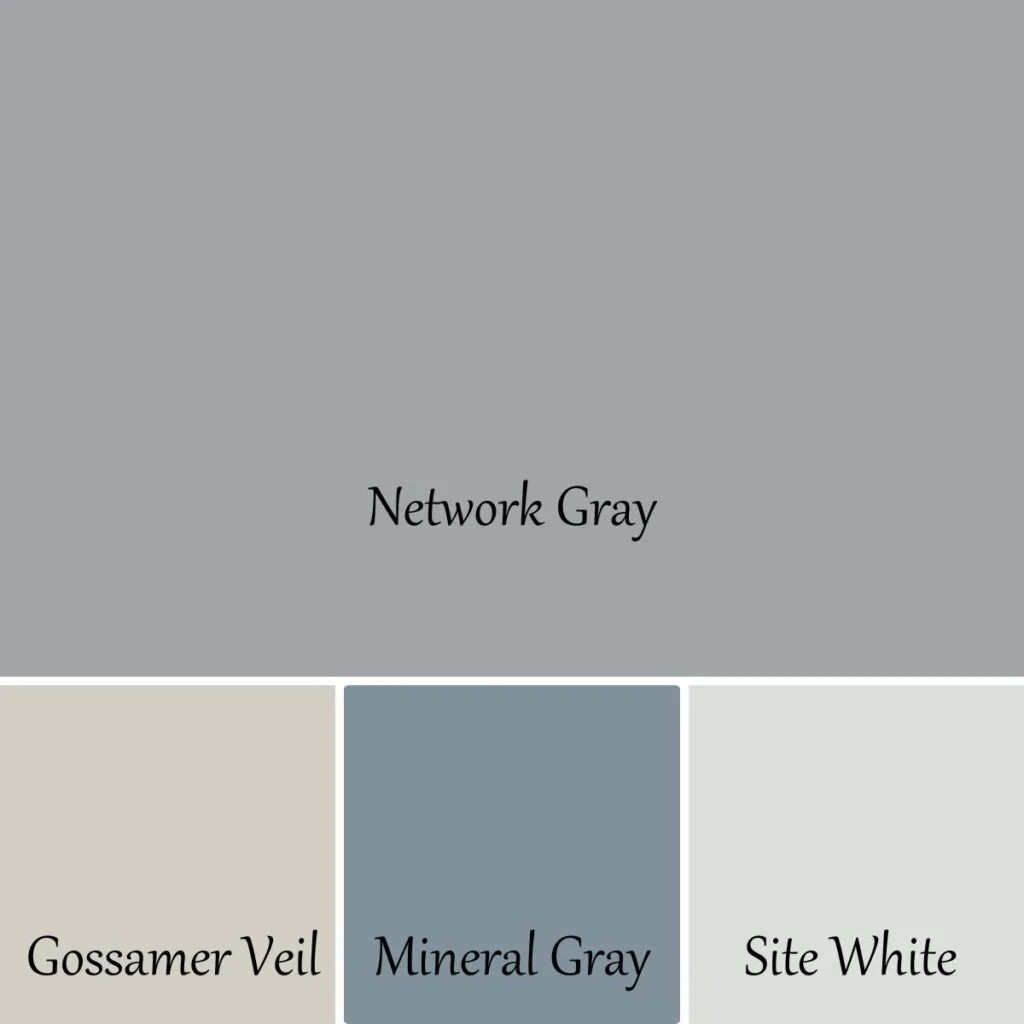 What are some colors that are similar to Network Gray?
Here are a couple that are very similar: African Gray and Online. There is also one that is very close but just a bit lighter and that one is called Gray Screen.
Here you can see them all together and how closely they are related to one another.
Sherwin Williams Network Gray Whole Home Color Palette
Get this free whole home color palette for Sherwin Williams Network Gray and you will also be part of the At Lane and High Community! You will receive weekly newsletters on new posts and you can unsubscribe anytime.
Sherwin Williams Network Gray in Real Homes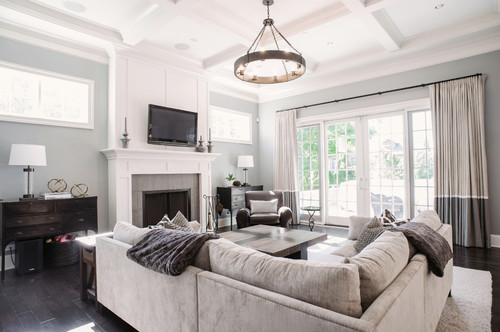 This family room is gorgeous with its tall ceilings, ample windows with a lot of natural light and gorgeous furnishings. I love Network Gray here because the color is softened by all the light coming in the windows. I also adore the use of coffered ceilings in a space like this.
In this family room the white wainscoting really balances the mid-toned gray paint color and keeps the room from being too dark with the hardwood floors. I love the accents of yellow here too! Gray and yellow have always been a fabulous color combination.
I really like Network Gray on the exterior of the home. In this photo and the next you will see how gorgeous it is!
This is a perfect example of how to use this color on the exterior of the home. Paired with the white trim the color just pops. I love the dark wood door too. What a great example of how nicely the color goes with wood tones.
This picture is a little fuzzy but you can see how nice Network Gray works in a bedroom. The medium toned color looks great with all the whites and metallics in the space. All the reflective surfaces really help bounce light around so the color doesn't make it too dark in there.
Other Gray Paint Colors to Check Out: