White paint colors have become so popular in decor. It used to be considered stark and institutional but we have so many beautiful white colors that will make your home feel cozy and warm.
White trim has been popular for decades but we are seeing many people painting their walls white as well. White walls and white trim. is definitely something you can do. You can also do painted trim. Let's break it all down.
*This post may contain affiliate links. For more detail see my full disclosure.
Wood Trim vs. Painted White Trim
Ah, the age-old argument of do I paint my wood trim white.
Personally, my take on that argument is to do whatever makes you happy.
Don't do what future homeowners of your home might want.
Don't do what someone you have never met tells you on Facebook.
Do what makes you happy.
White Trim vs. Colored Trim
This is one I do have an opinion on. I am not a fan of colored trim. I think you can make white walls and white trim different without having to paint trim a different color.
Let me ask you a few questions:
Have you ever seen a room in a magazine with colored trim?
Do they use colored trim on the designed homes on HGTV , such as the HGTV dream home?
Have you ever seen colored trim at a show home or a model home?
The answer to all of these questions for me is no. High-end designers don't do this so therefore maybe we shouldn't either.
BUT, if YOU love the look of colored trim then don't let me stop you from doing this. Decorating our own homes is our self-expression so if you love it then do it!
White Walls and White Trim
So if you don't do colored trim what do you do if you have white walls?
Use slightly different color whites. Some whites pull cool and some warm. You can use them to contrast with each other. Or use a pure white on the trim with a creamy white on the walls. The possibilities are endless there.
Here is an example of using two different color whites in a room.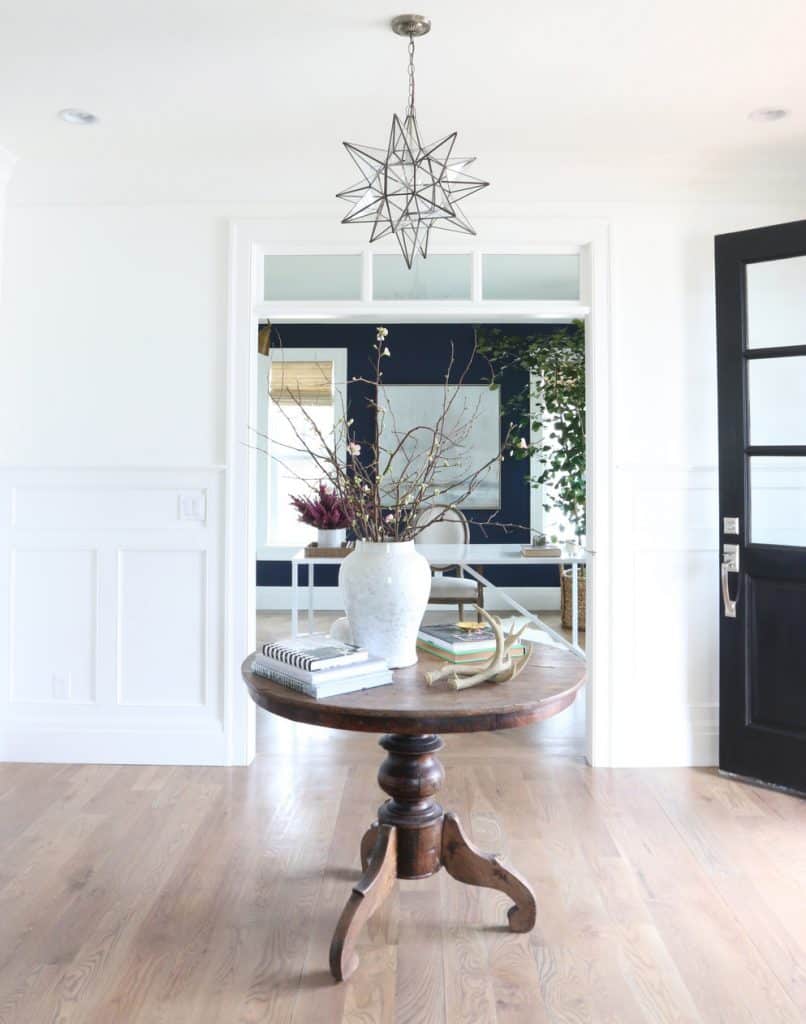 How to know which color to choose?
If you want to check out paint colors in your home without buying a sample of paint, check out Samplize.
This company will send you a 12×12 inch peel and stick paint sample for your wall so you can see what it looks like in all the different lights of your home. When you are done just peel it off! Super easy and no damage to the wall. Check out Samplize here.
You can also purchase paint decks that have all the colors from Sherwin Williams and Benjamin Moore right from Amazon!
The Best White Paint Colors
My Mom and I recently attended the Parade of Homes in our area. She mentioned that she was seeing a lot of white walls. White painted walls have become very on-trend.
Sherwin Williams Alabaster
Alabaster was actually Sherwin William's Color of the Year in 2016! It pairs nicely with dark colors, such as Urban Bronze and Gray Area. Sherwin Williams says the color sets the tone for healing, calm and restfulness so would be great in a bedroom.
Alabaster has decidedly yellow undertones which makes it a warm white paint color. It also has an LRV of 82.

For more details on Sherwin Williams Alabaster, check out the post I wrote dedicated just to that color.
Sherwin Williams Creamy
Creamy is a great neutral color. It does have a bit of yellow in it so if you hate yellow you should not go with this color. Creamy also has a very high LRV (81) so if you are looking to brighten a room this would be a great option!
Sherwin Williams Dover White
Dover White is another very popular color for trim. It tends to pull a little more orange than yellow but as far as neutrals go, this is the perfect warm white color. Dover White has an LRV of 82.
Benjamin Moore White Dove
This is probably the most popular color to use on trim. It has a touch of gray in it so it's a very soft white, not a stark white. White Dove also has an LRV of 85, so it's a bit lighter than the ones we have already discussed.
If you are interested in learning more about White Dove then check out the post I wrote that is dedicated just to that color.
Benjamin Moore Decorators White
Decorators White is more of a white that leans on the cooler side. If you are using greige paint colors then I wouldn't pair the color with Decorators White. This pairs nicely with paint colors on the cooler side.
Decorators White has an LRV of 84.61, so will definitely brighten any room.

If you are interested in learning more about Decorator's White check out the post I wrote dedicated just to that color.
Benjamin Moore Simply White
Simply white is the opposite of Decorators White, it pairs nicely with warm tones and looks beautiful in any room. It has slight undertones of yellow.
With an LRV of 91 this is by far one of the brightest paint colors you can find.

If you are interested in learning more about Simply White check out my post dedicated just to that color.
Sherwin Williams Pure White
Pure White is a very pretty creamy white paint color. It has yellow undertones but there is also a touch of gray in it that mutes that yellow. It is a bright paint color sitting at 84 on the LRV spectrum.

If you are interested in learning more about Pure White check out my post dedicated just to that color.
Sherwin Williams Shoji White
Shoji White is a bit darker than the others here. It might even fall under the category of greige. It is a warm white paint color with an LRV of 74.
Benjamin Moore Chantilly Lace
Chantilly Lace is the lightest and brightest with an LRV of 92! That is one bright paint color. It's very delicate and cool with slight blue undertones. But as far as whites go this one is probably the most neutral of them all.
Benjamin Moore Paper White
I am very partial to this one because I just painted almost my whole first floor this color! It's a very light white with blue/green undertones but why I chose it is because it also has gray in it. So next to the very white trim there is a subtle color difference which is exactly what my husband wanted.

Sherwin Williams Extra White
Extra White is a very bright white with an LRV of 86! This color is very neutral, meaning it doesn't show a lot of undertones. It does fall on the cooler side but isn't a stark white at all.

Sherwin Williams Eider White
Eider White has an LRV of 73 which makes it a little darker than some of the whites we have discussed. It has a lot of gray in it with a touch of purple in the undertones. That means you should be careful with this color. Make sure you hit up Samplize for a swatch and make sure you love it before you paint your walls this color.
Sherwin Williams Snowbound
Last but not least we have Snowbound. It is much brighter with an LRV of 83! Snowbound is a great neutral white, it has hints of purple and pink undertones which pulls it both warm and cool. I know, it's so confusing! But this color will adjust to whatever you pair with it. It's like a chameleon.
The Best Warm White Paint Colors
Let's recap which are the best warm white paint colors.
Sherwin Williams Pure White
Sherwin Williams Alabaster
Benjamin Moore Simply WhiteSherwin Williams Shoji White
Benjamin Moore White Dove
Sherwin Williams Dover White
Sherwin Williams Creamy
The Best Cool White Paint Colors
Let's recap which are the best cool white paint colors:
Benjamin Moore Chantilly Lace
Benjamin Moore Paper White
Sherwin Williams Extra White
Sherwin Williams Eider White
Benjamin Moore Decorator's White
Sherwin Williams Snowbound – we will put it here but it really can go either way
Related Paint Color Ideas Posts