Benjamin Moore Decorator's White is one of the most popular white paint colors available. It's so pretty and goes with so many different decor styles you simply won't go wrong.
Light, bright, and airy has been the most popular way of decorating for a few years now. People want spaces to be bright and light-filled. They don't want dark at all.
Going white on the walls used to be considered boring or sterile. That is not the case anymore. Choosing white for wall color is a great backdrop to showcase your amazing decor.
*This post contains affiliate links. For more details see my full disclosure.
Benjamin Moore Decorator's White
There are as many shades of white as there are of gray. Today we will go through all the details of Decorator's White so you can decide if it's a good option for your home.
If you want more colors to look at I have several other whites linked at the bottom of this post.
What Color is Decorator's White? Is it warm or cool?
Decorator's White is not a true white paint color. It's a slightly off-white color that leans a little more on the cool side.
You will find that Decorator's white comes off very cool if you have a north-facing room, but it softens a bit in the warm south-facing rooms and isn't as cool.
What are the Undertones of Decorator's White?
Decorator's White has slight gray undertones. And that's what makes this color so versatile.
If you have been around awhile and read some of my other gray paint color posts, you know gray typically has blue, green, or purple undertones. So if Decorator's White has gray undertones then it will have one of those three colors in it as well.
For this color the one that typically sneaks out is purple. You won't see a purple color on the walls but what you might see in certain light is a slight hint of purple which comes from the undertone.
What is the LRV of Decorator's White?
The LRV of Decorator's White is 84.6. Remember that LRV is a scale from 0-100 that measures the amount of light a paint color reflects. The higher the number the whiter the color.
While 84.6 is a pretty high number it isn't as high as true white paint colors. This paint color has a slight off-white look which brings the LRV down slightly.
Don't get me wrong though, this is still a very bright paint color, it's just not as bright as true white paint colors.
How to Know if Benjamin Moore Decorator's White is for you?
You can go to any paint store and get a sample paint can. You can paint a swatch on the wall and look at it over several days to see if it's for you.
But then you are left with a sample paint can you can't do anything with and a mess on the wall. I highly recommend using Samplize instead.
Samplize is a company that will send you a 12X12 inch peel and stick paint sample that you can put on the wall, look at over a few days then when you are done, peel it off the wall and toss it.
No mess, no fuss just easy peasy.
What colors look good with Decorator's White?
Decorator's White is a great paint color that looks good with just about any color. But here are the colors that would be best to use with Decorator's White:
Cool-toned Gray Paint colors will look amazing with Decorator's White because of it's gray undertones. Make sure you check out my Best Cool-Toned Gray Paint Colors post for some great options.
True white paint colors will look amazing with this co. or. If you were to use Decorator's White on the wall with a truer white on the trim would really be a great choice.
Purple paint colors will be amazing because of the hint of purple in Decorator's White.
Blue paint colors will pair really nice with Decorator's White because of the coolness in the white color.
Here are some great examples of colors that go well with Decorator's White.
Benjamin Moore Decorator's White Whole Home Color Palette
Get this free whole home color palette for Benjamin Moore Decorator's White and you will also be part of the At Lane and High Community! You will receive weekly newsletters on new posts and you can unsubscribe anytime.
Benjamin Moore Decorator's White in real homes.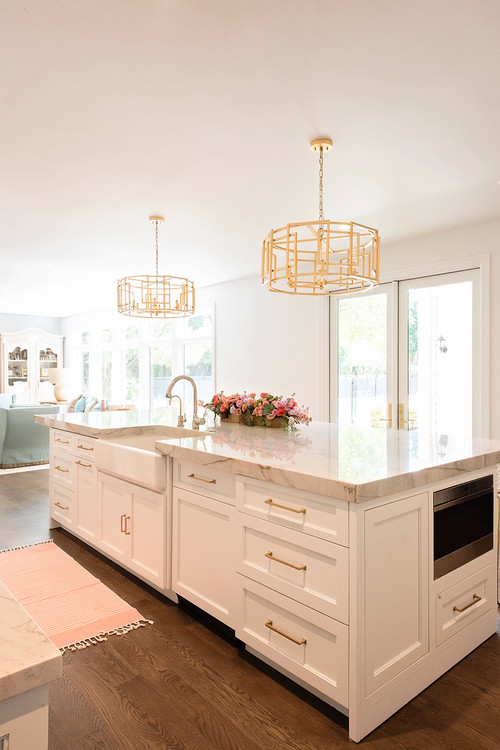 This kitchen by Paper Moon Painting is a lovely example of how Decorator's White can be warm and inviting. Even though it's a cool white in this room it feels very warm. Don't you just want to sit down for a spot of tea?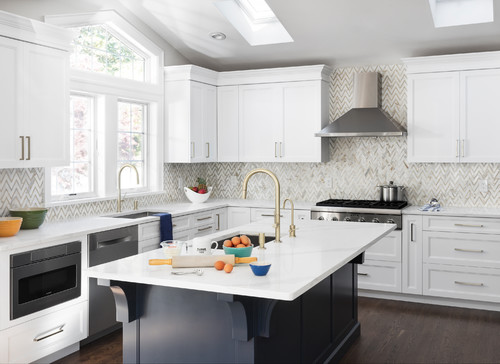 I love everything about this kitchen by Think Chic Interiors. The cabinets are painted in Decorator's White and the island is done in Hale Navy. These colors look amazing together because they both fall on the cool side of the spectrum. This backsplash is amazing too!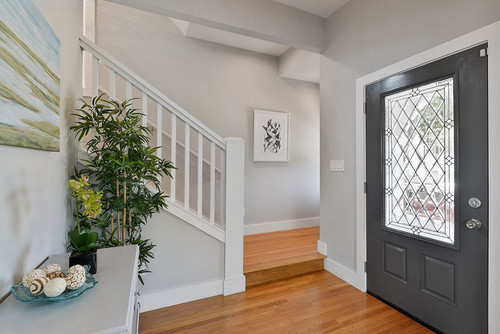 This entry way by Alina Druga Interiors shows how Decorator's White can look on trim next to a light gray wall color. Doesn't it just pop, especially next to the dark door.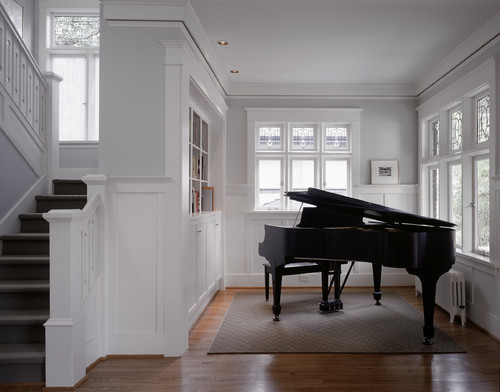 Here is another example of Decorator's White used on trim, but in this case there is a lot more trimwork. This beautiful music room is done by Sherri Olson Architecture.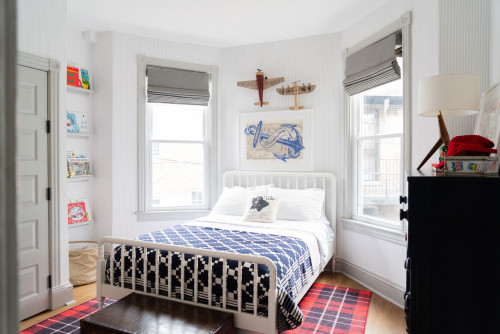 Here is a great example of Decorator's White used on the walls. Here you will see how Residents Understood used a darker color on the trim and a lighter color on the walls! This is a beautiful boys room.
More white paint color posts:
I hope you have lots of information and inspiration to see if Decorator's White is for you. Don't forget to check out the other white paint color posts too!