I am very excited to share with you my daughter's Young Adult Bedroom Reveal! This project took a while but it's finally done. I have all the details for you here!
There were several steps to this project which is why it took so long. I would complete a step and then do something else. The only thing left to do in this room is replacing the flooring, but that's going to be an all over the basement thing.
I have a lot of photos to share with you so lets get right to it!
*This post contains affiliate links. For more details see my full disclosure.
Young Adult Bedroom Reveal
The Before
Here is the room in it's before status. This wall of photos around my daughter's computer is super cool! It was a perfect display of all her high school and college friends.
Now that she is graduated she wanted to do something a little different, more grown up.
For a long time during college, she had a huge thing for LED signs. She had them up in her college apartment and at home.
She also added a strip of LED lights on the wall just by the ceiling. Do not let your kids do this! I will explain more in a bit.
Yes, my daughter has two closets. She is a bit of a clothes horse and we did a huge closet organization project a few years ago to organize it all.
These shelves and mirror are from IKEA. She absolutely loves them and changes up the decor seasonally.
The thing I hate most about this room is the paint color, it's the most god-awful muddy gray/brown. It was already on the walls when we bought the house. I have been on a mission to rid the house of this horrible color.
The Biggest Change – Paint
Away goes the horrible color! As you can see the walls were a little beat up. The prep work for this project was so much worse than the actual painting!
This is why you don't let your kids put up strips of led lights. When we removed them they took the paint and some dryway off too. See the line of spackle? I was not a happy camper!
On three of the walls we used Sherwin Williams Pure White. It's a gorgeous white color with a touch of gray.
I ended up having to do three coats to cover the ugly brown. I am just happy to see it go.
On the headboard wall, my daughter wanted a sage green. Sage is super popular right now in home decor. We chose Sherwin Williams Geyser Steam.
The Young Adult Bedroom Finished
Here is the finished product! As you can see we kept the larger items the same. The bedding is the same, the desk, mirror, shelves and window treatments.
The biggest change came in paint color, the headboard, the wall art, and accessories.
Gone went the old IMac that she never used anymore and in came a nice mirror so she can get off the floor when doing her makeup!
We also mounted the tv she purchased. It actually telescopes out from the wall and can be angled so she can lay in bed and watch tv.
Don't you just love the little fridge too! That's her cosmetics fridge;). She also made the wall art in her lucky and favorite numbers.
The only thing different about this wall, other than accessories, is the diploma and certificate on the wall. I also made this peg board for her to hang a jacket or purse on.
And then there is the headboard wall. I absolutely love this paint color! It's so pretty!
I also built this wood headboard. It was one of the easiest projects I have done and I think it turned out amazing!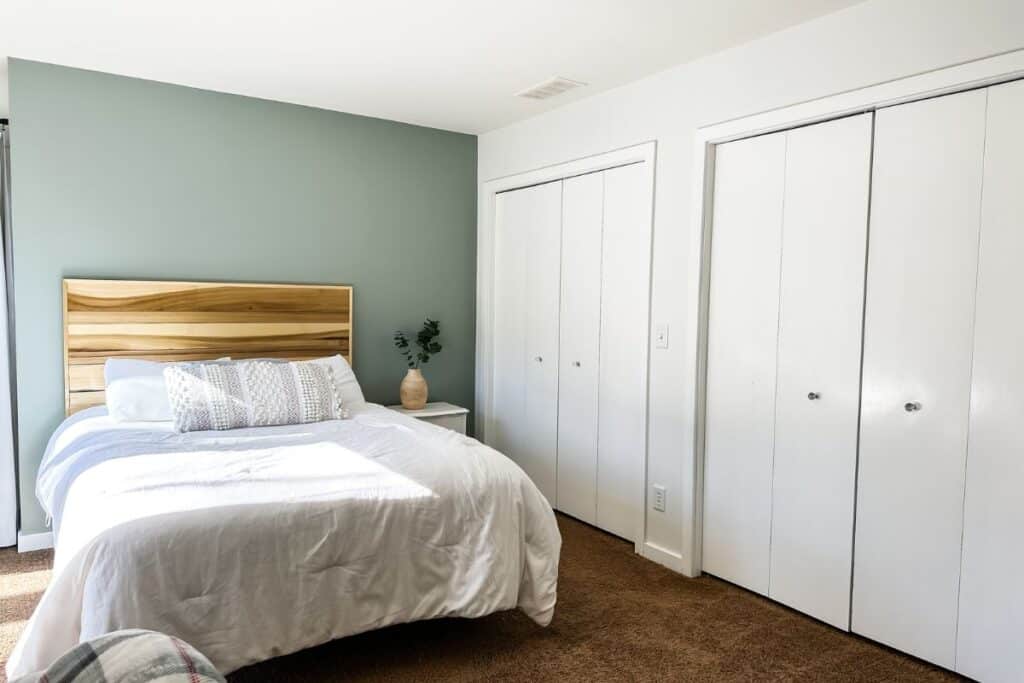 Let's talk about the elephant in the room…the carpet. I know its awful and I have plans this winter to get rid of all of it in the basement. That's basically three bedroom floors that need to be done.
I didn't want to wait on that to reveal this gorgeous bedroom. When the floors are done I will share another photo…I guess it's to be continued!
My daughter really loves her room and spends a lot of time in there. I think this one she will stay like this for a long time!
Other bedroom projects: