Chantilly Lace by Benjamin Moore is a bright white paint color. It's very often used on trim, doors, and cabinetry as well as walls. Today we will go over all the details of this gorgeous color.
Chantilly Lace is one of Benjamin Moore's most popular white colors. White walls have always been a classic look but have become very popular in recent years. What's great is they look great in any design style.
When you go to a paint store you will notice that each color has an associated number. BM Chantilly Lace has two numbers, OC-65 and 2121-70. Why does it have two numbers? Because it's part of two paint collections.
Chantilly Lace belongs to the Off-White Collection and the Color Preview Collection. The makeup of each color is identical so if you go to the store you can use either number to tell them which you want. They are the same.
*This post contains affiliate links. For more details see my full disclosure.
Is Chantilly Lace the whitest white?
The whitest white is a tough one. All whites are not created equal. If you compare whites side by side you will notice slight differences between them. Chantilly Lace is just about as close as you can get to a true white though.
What is Chantilly Lace's LRV?
LRV is a sliding scale from 0-100 with 0 being black and 100 the brightest white. Chantilly Lace sits at 92.2 which makes it a really bright white.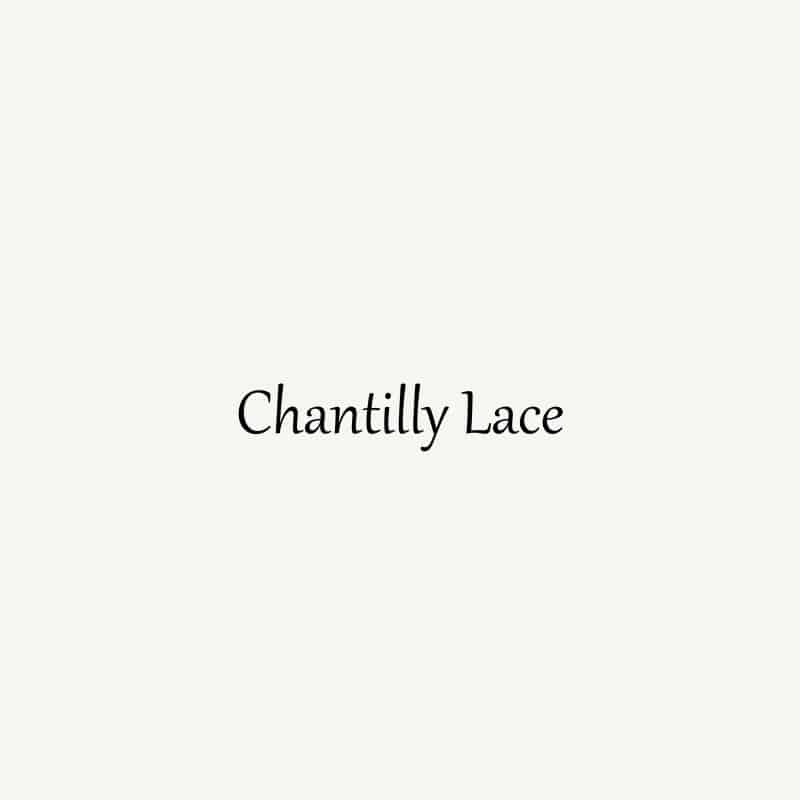 How to know if a paint color is right for you?
The best way to judge if a color is good for you then you will want to put a swatch on the wall and look at it over a few days. Look at it in different lights and decide if you really like it.
You can do this by getting a sample from the paint store and using a brush put it up on the walls, but then you are left with a can that you can't do anything with. Those samples are used with poor quality paint and aren't meant for use on your walls permanently.
I recommend going with Samplize. They are a company that will send you a 12X12 peel and stick swatch of a paint color that you can stick to the wall. When you are done just peel it off and throw it away.
It's easy and much less messy!
What undertones does Chantilly Lace have?
The undertones of Chantilly Lace are very slight. It's honestly one of the most neutral whites you will find.
There is a slight yellow undertone which gives the color a soft feel without looking yellow. In southern exposure rooms, you will see a warm glow but never yellow.
What's great about the yellow undertones in Chantilly Lace is that it keeps this color from being a stark white and feeling cold. This color will warm your room up nicely without feeling like institutional
Is it warm or cool-toned?
This color is so neutral it's really hard to say whether it's warm or cool. Since it doesn't have blue or green undertones it's doesn't fall on the cool side.
Since it has slight yellow undertones it does make it warmer but the yellow is so slight this color really reads as a true neutral white. This is probably why it's such a popular color for Benjamin Moore.
What color should trim be?
If you paint your walls Benjamin Moore Chantilly Lace what color should you paint your trim? This is a great question.
If you want it all to be white then I would paint the trim the same color as the walls. Go with Chantilly Lace for walls and trim.
If you want something a little different you could paint the trim a light gray to give it a little more contrast. Whichever you decide is completely up to you.
Comparing other whites with Benjamin Moore Chantilly Lace
Choosing the right white paint color can honestly make you crazy. You have heard of 50 shades of gray, well the same thing could be said of whites.
As I said, the best way to compare whites is to hold them up next to one another. This will give you a very good idea as to the undertones and differences in each white paint color.
These are the most popular whites from both Sherwin Williams and Benjamin Moore and the ones I see most commonly used.
Chantilly Lace vs. Simply White
Chantilly Lace and Simply White are very similar. Simply White has a 91 LRV and slight yellow undertones. Pretty much the same numbers as Chantilly Lace.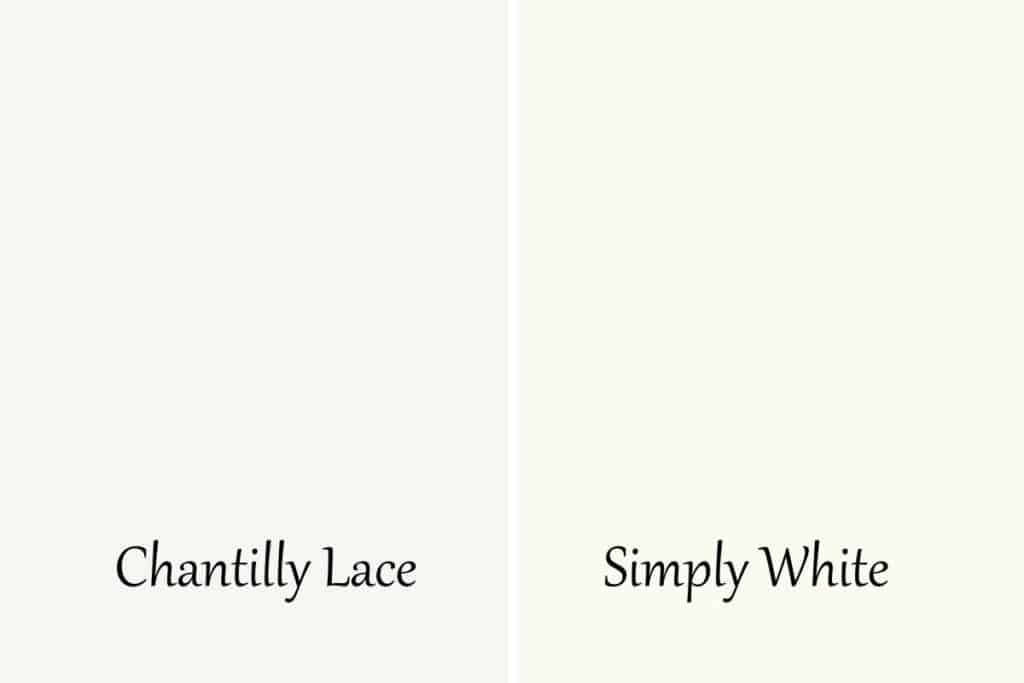 Chantilly Lace vs. White Dove
White Dove has a touch of gray and maybe a little green in it. It has an LRV of 85 which makes it a little less bright than Chantilly Lace.
Chantilly Lace vs. Alabaster
Alabaster has much more yellow in it than Chantilly Lace and is decidedly warm-toned. Chantilly Lace has much less and it's definitely more of a neutral white.
Chantilly Lace vs. Highly Reflective White
No I didn't put the same color side by side, LOL. These colors do look almost identical but you can see a slight difference. Highly Reflective White is made by Sherwin Williams and is the complementary color to Chantilly Lace.
Real Life Examples of Benjamin Moore Chantilly Lace
This bathroom remodel by Driven by Decor is just gorgeous. It's light and bright with not only the paint colors but the amount of natural light it receives. The white is warmed up by the gorgeous wood tones.
What a welcoming entryway by Juniper Home with the gorgeous white walls, natural wood tones and beautiful accessories.
What little girl wouldn't love this bedroom by Making Home Pretty. The white walls blend really well with the other whites in the room as well as the blues, yellows, and pinks in the mural.
Happy Housie has such a gorgeous entryway with Chantilly Lace on this Board and Batten wall. I just love the way it pairs with the tile entryway and wood tones in the door and floors.
I hope you feel like you have a good grasp of this gorgeous white paint color. There is no doubt that there is good reason for it to be one of Benjamin Moores most popular whites. I think this is a great one to give a try in your home.
Other White Paint Colors to check out: