Sherwin Williams Accessible Beige is not your typical builder beige. I know you are wondering why we are discussing a beige color, isn't that so 90's? That builder beige is definitely outdated but this is the new and improved beige that you really need to take a look at.
After that 90's beige was deemed outdated the paint world went full on gray. Gray became the neutral that everyone loves and has been that way for a long time.
At first, the shift was toward the cool end of the gray spectrum but as time has gone on the pendulum has swung back toward the warmer side. Greige is the marriage of gray and beige and while this is definitely a beige color it falls on the greige spectrum.
*This post contains affiliate links. For more details see my full disclosure.
Sherwin Williams Accessible Beige
Accessible Beige is a warm paint color that has a lot of gray in it. You could call it a greige paint color because of the combo of the beige and gray colors in it, but it definitely falls on the beige side of the coin.
In north and east-facing rooms, or rooms with ample natural light, the color is grayer while conversely more of a greige in south and west-facing rooms.
Let's talk about the Light Reflective Value (aka LRV). Remember that the LRV of a paint color is how much light the color reflects around the room. The LRV of Accessible Beige is 58. It's a mid-light toned color that will do a good job of brightening a space.
Does Accessible Beige go with wood tones?
Yes, Accessible Beige pairs really well with different wood tones. If you have the honey oak tones in your woodwork or kitchen cabinets this color will work really well with that.
Is it a warm or cool-toned color?
Accessible Beige is definitely a warm-toned paint color. Most beiges have a lot of yellow undertones, but not AB. This paint color, while leaning grayer, doesn't have a lot of yellow. In some lights, you will catch a touch of green undertones.
Because it doesn't have a lot of yellow it's not really a true beige, that's why you can call it a greige.
How to know which paint color is right for your home?
You can purchase paint samples at the store and paint a swatch on your wall. But then you are left with a jar of paint that you can't use for anything else (the paint quality of the samples is not good). Another option is Samplize.
Samplize is a company that will send you a peel and stick 12×12 inch vinyl sticker you can put on your wall. You can look at it over the course of a couple of days and even try it in different rooms. Then when you are done you can just throw it in the trash.
There is no mess and no waste! I highly recommend Samplize.
Best trim colors to pair with AB?
Because Accessible Beige is a warm color I like to pair it with other warm whites. Sherwin Williams's most popular warm white is Alabaster. This is a great paint color for trim and cabinets. Here it is next to AB, you can see how nicely they look together.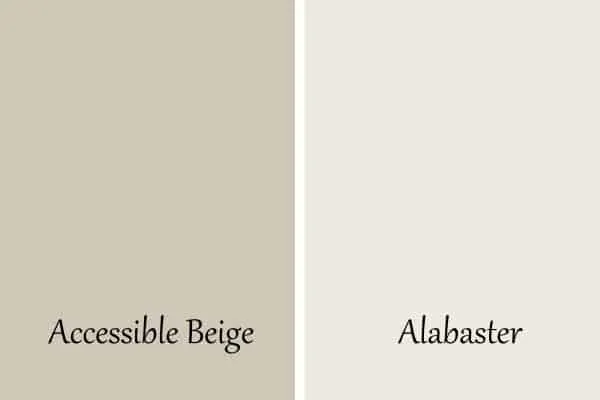 Another option is Sherwin Williams Pure White. It's more of a neutral white with a slight creaminess to it. If you want more contrast this might be a perfect choice.
Complementary colors
Accessible Beige and Agreeable Gray are like kissing cousins. They are so very similar but also very different. They both land on the greige spectrum but Agreeable Gray is definitely a gray whereas Accessible Beige is a beige.
If you are looking for a dark paint color to go with AB I would go with Urban Bronze. It happens to be Sherwin Williams 2021 Paint Color of the year but it's also a stunning dark brown with a lot of gray in it. I have this color on my front door and it's absolutely gorgeous.
Sherwin Williams Accessible Beige Whole Home Color Palette
Get this free whole home color palette for Sherwin Williams Accessible Beige and you will also be part of the At Lane and High Community! You will receive weekly newsletters on new posts and you can unsubscribe anytime.
Where can you use AB?
The simple answer is everywhere! Honestly, this paint color is so neutral that it looks good in any room.
I love how the black furniture and the white wainscoting contrast with the beige paint color. This is so pretty!
Here you can see Accessible Beige used on the wainscot and how wonderful it looks with the wood vanity.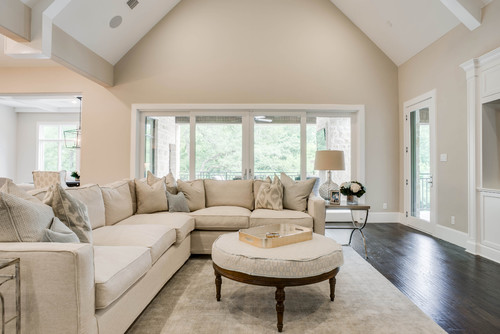 This is a perfect example of a neutral family room from Westlake New Construction. The paint color perfectly goes with the beige on the sofa. With the dark brown floors, this room is so cozy and warm.
I love this example of using Accessible Beige in a bedroom, in this case, a nursery. It's the perfect backdrop for the gray-brown furniture and other neutral accessories in the room.
Other interesting paint posts: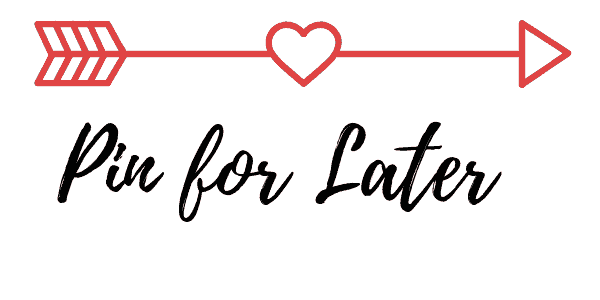 I hope you have learned everything you need to know about Sherwin Williams Accessible Beige. As I said before, this isn't your mother's beige. This is the updated version that will look beautiful in your home.