Benjamin Moore Edgecomb Gray is one of BM's most popular paint colors. It is a beautiful neutral gray paint color that goes very well with almost any kind of decor. It is a wonderful blend of beige and gray which makes it one of the most perfect greiges.
Neutral paint colors have been popular for a very long time now. Back in the 90's and early 2000's beige was king. Then the pendulum swung towards gray, and it swung hard!
Late 2000's early teen's cool-toned grays were all the rage but as usually happens, the pendulum swung back. A mixture of beige and gray is now the most popular type of neutral paint color and Edgecomb Gray fits the bill perfectly.
*This post contains affiliate links. For more details see my full disclosure.
What undertones does Benjamin Moore Edgecomb Gray have?
I like to dive right into the undertones, because that's what makes up a paint color. These undertones will give you different colors in different lights and can vary with what decor you pair them with.
I mentioned it earlier, Edgecomb Gray is a greige which means it has both beige and gray in it. Most greiges have green undertones and Edgecomb Gray does have them but it also has touches of pink. When paired with red decor, this can pull that pink out.
Edgecomb Gray is similar to Benjamin Moore Classic Gray in this respect, it's kind of a chameleon. It can look beige in some lights and gray in others. It looks it's best when used in a well lit space with tons of natural light.
The LRV of Edgecomb Gray is 63, so this is considered a light paint color. Compare it to Classic Gray, which is a very similar paint color, it is a bit darker. Classic Gray has an LRV of almost 75!
LRV, just a reminder if you are new to the blog, stands for Light Reflective Value. This is a scale from 0-100 and measures how much light a color reflects. Zero being the blackest black and 100 being the whitest white.
How to know if EG is right for you.
When you look at these photos you are seeing them through your screen, be it your mobile device or computer. These colors can look a little different in real life and can look different in one home versus another.
You can go to the paint store and get a small sample can of paint and put it on your wall but that is messy and you are stuck with this extra paint that you can't use. I really can't recommend enough a company called Samplize.
Samplize will mail you a 12 by 12 inch of peel and stick paint sample that you can put on your wall and look at it over a few days, in different lights. Then when you decide you can peel it off and toss it! No fuss, no mess.
What colors go well with Edgecomb Gray?
A great light paint color that pairs really well with Edgecomb Gray is White Dove. This would be a great color for trim with the walls EG.
For a darker gray, for maybe an accent wall or a piece of furniture, Chelsea Gray coordinates really well with EG.
I love navy paint colors and Hale Navy looks really good with EG. Honestly, Hale Navy looks good with almost every paint color.
For a really dark color I love Kendall Charcoal. It's a very dark gray, not quite a black, or of an oil rubbed bronze look. And looks amazing with EG.
What Colors are Simmiliar to Edgecomb Gray?
Edgecomb Gray vs. Pale Oak
Right off the bat you can see that Pale Oak is much lighter. It also has a bit more yellow in it. They are both beautiful colors and I think they look really well against one another.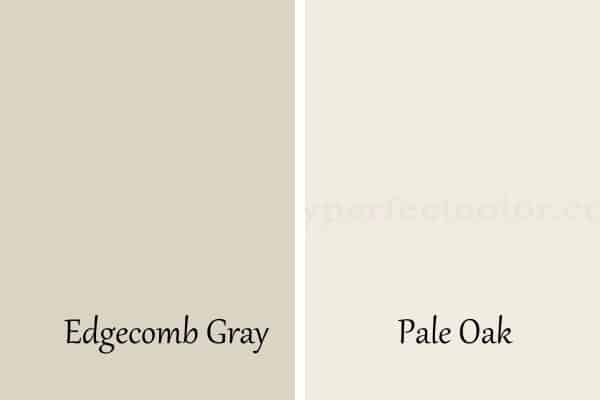 Edgecomb Gray vs. Revere Pewter
A decade ago the go to color for selling your home was Revere Pewter! That has changed and I think it's because Revere Pewter is a bit darker color than what is popular now.
Revere Pewter has an LRV of 55, which Edgecomb Gray's is 63! That is a decent amount brighter when you look at them in a room. Here is a side by side.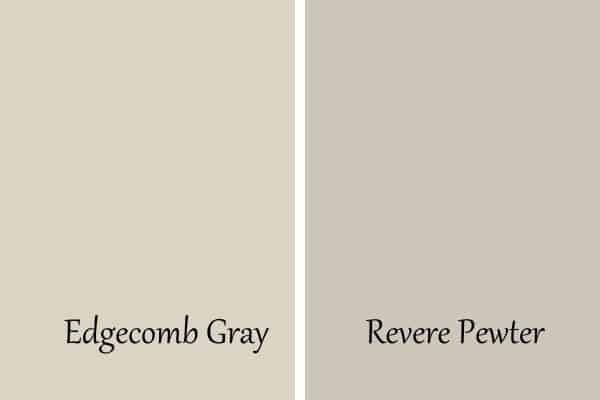 Don't get me wrong, I love Revere Pewter and I think it can look amazing in the right space. Right now light, bright and airy is the feeling people want in their homes and I think you can achieve that more easily with a color like Edgecomb Gray.
Edgecomb Gray vs. Agreeable Gray
Both of these paint colors are considered greige paint colors but as you can see, Edgecomb Gray has more green undertones and Agreeable Gray has more purple undertones.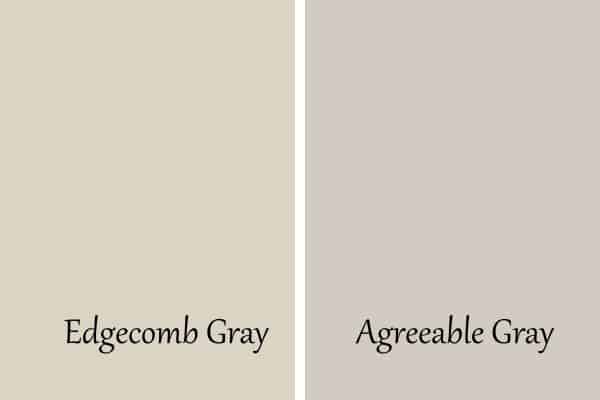 Real Life Photos of EG
Let's take a look at this paint color in real life.
Edgecomb Gray in a Bedroom
I just love all the windows in this bedroom. When you have this much natural light Edgecomb Gray shines! Super pretty details on the ceiling too.
EG on the Exterior
If I ever have a home near the ocean I imagine this is exactly what it will look like. The paint color on the exterior is just enough color without stealing the show. And you can see how beautifully Edgecomb gray pairs with the beiges in the stone.
EG in a Family Room
If you love neutral decor then I am guess this family room really speaks to you! There is something that is so calming about neutrals and you can see in this example how EG goes with both the beiges, whites, and grays.
EG in a Dining Room
So Much Better With Age decided to paint inside the picture frame molding with Edgecomb Gray. It goes really well with the browns in the wood floors and contrasts so nicely with the white on the walls around it.
EG in an Entryway
Young House Love used it in their entryway and I love this example because you can see how it looks in a space without a ton of natural light. You can see the green undertones coming forward here but it doesn't look green. I also thing this color goes really well with the color of the wood floors.
More Paint Color Posts You Might Want To Check Out: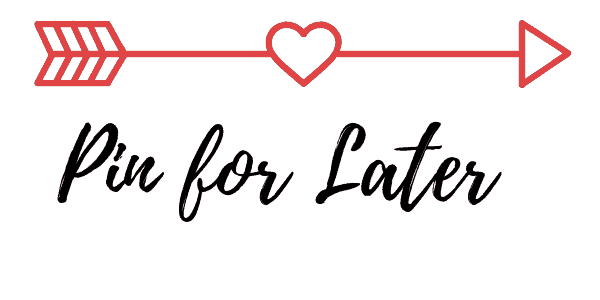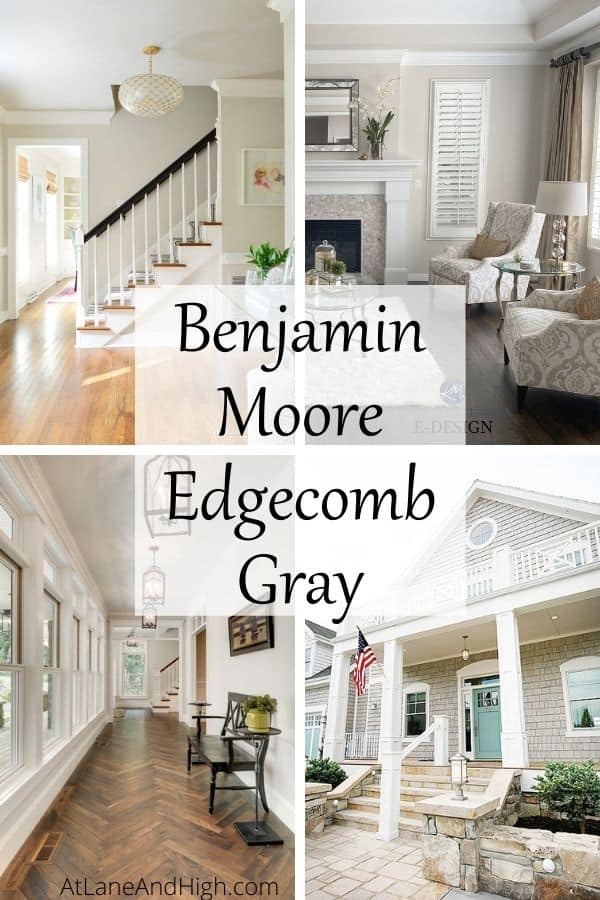 I hope you learned something today about Benjamin Moore Edgecomb Gray. It is a beautiful greige paint color that is really very popular right now.