We talk a lot about paint colors here and today we are dipping our toes into the waters of dark greige paint colors!
Greige paint colors are so pretty. They are updated but have the warmth that will wrap you up in a big hug.
What color is Greige?
Greige as a word is the combination of gray and beige. It's a warm color of gray with beige undertones.
Don't get this confused with a beige with gray undertones, that color would be a taupe. When you add gray undertones to a color you get a more mellow color, something that is more muted.
That is not the case with greige. You have a gray color with beige undertones and it creates a warm and cozy feeling.
Is Greige Still Popular in 2023?
Absolutely it is! According to designers, this color is holding strong, if not stronger, than it has in recent years. It's like wrapping your home in a giant hug.
The only time I wouldn't use this color is if it comes across muddy. Some homes with certain light a greige color can look muddy. This happened with my home. If that is the case try a color that has cooler undertones. A blue-gray paint color.
*This post contains affiliate links. For more details see my full disclosure.
How to know if a paint color is right for you?
The best way to judge if a color is good for you then you will want to put a swatch on the wall and look at it over a few days. Look at it in different lights and decide if you really like it.
You can do this by getting a sample from the paint store and using a brush to put it up on the walls, but then you are left with a can that you can't do anything with. Those samples are used with poor-quality paint and aren't meant for use on your walls permanently.
I recommend going with Samplize. They are a company that will send you a 12X12 peel-and-stick swatch of a paint color that you can stick to the wall. When you are done just peel it off and throw it away.
It's easy and much less messy!
Sherwin Williams Amazing Gray

Amazing gray is considered a true gray because it can have a tendency to go both warm or cool. It is one shade darker than Worldly Gray. Both colors have a slight undertone of green.
Get a sample of Amazing Gray from Samplize!
Sherwin Williams Dorian Gray

This greige paint color is a little on the darker side but very moody and romantic. It has a pull towards purple but still on the warm side.
Get a sample of Dorian Gray from Samplize!
Sherwin Williams Mink

Mink is a gorgeous darker color that could be considered a taupe or a greige. It has definite purple undertones to it but still acts as a neutral.
Get a sample of Mink from Samplize!
Sherwin Williams Urbane Bronze

The unique thing about Urbane Bronze is that it has both bronze and brown undertones. It has an LRV of 8 which makes it probably the darkest mentioned here today.
Using this color on all the walls is probably not the best idea, it will make it too cave-like. I would use it as an accent wall or on doors (I used it on my front door and love it). It also looks great on furniture or the exterior of a home.
Get a sample of Urbane Bronze from Samplize!
Sherwin Williams Mega Greige

This is a fabulous color that is two shades darker than Agreeable Gray on the paint chip. Agreeable Gray is probably one of my favorites because it goes with just about any type of wood color.
I used it in my Real Estate client's house where there were honey oak cabinets and trim. We did an accent wall in Mega Greige and it looked beautiful!
Mega Greige has an LRV of 37 which makes it a medium-dark color. I probably wouldn't use it for a full room but it's great as an accent wall!
Get a sample of Mega Greige from Samplize!
Behr Greige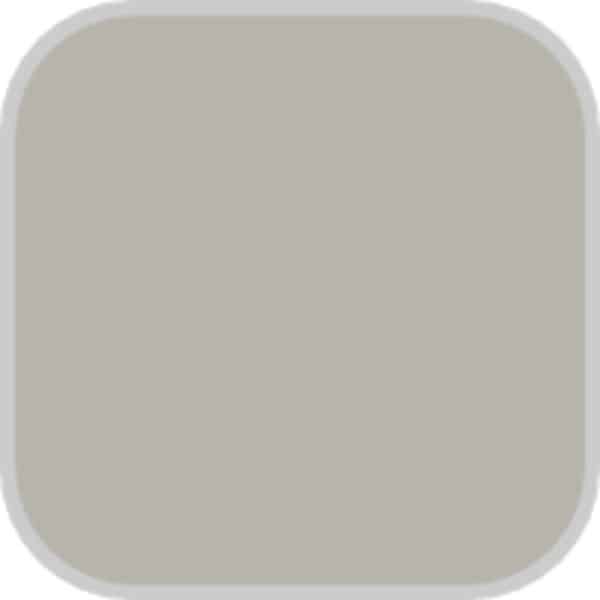 One thing to keep in mind when choosing a paint color is the LRV. This stands for Light Reflective Value and is a scale from 0-100, 0 being the darkest black and 100 being the brightest white.
Greige has an LRV of 46. This means it's in the mid-toned range. It's not super light but not super dark either. This color has a great depth of color and really stands as the name says, it's a perfect greige.
Other Greige Paint Color Posts: