Sherwin Williams Snowbound is a warm white paint color that will give you the white paint color you look without looking too stark. It's gorgeous! Let's take a more in-depth look.
*This post contains affiliate links. For more details see my full disclosure.
Snowbound Undertones
Snowbound is very unique because it can look different depending on the light. It's a warm white so if you have a south-facing room or a room that gets a lot of light towards the end of the day then it will definitely have a warmer tone, and feel a little more yellow.
However, if you have more northern light it can look less yellow, and more white. It also has some violet or pink undertones and those will come out in these more stark lights.
So you definitely want to keep that in mind when you are taking a look at this color. The type of light you have in a space really makes a big difference with this color.
The LRV of Sherwin Williams Snowbound
LRV stands for Light Reflective Value. It's a scale from 0-100 which measures the amount of light reflected by a paint color. Zero being the darkest black and 100 being the brightest white.
Snowbound has an LRV of 83 which makes it a bright paint color. It's not as bright as some other bright whites.
This color will brighten a room but won't leave it feeling stark because it does have that slight depth of color. You just need to make sure that the undertones are what you want with them being violet/pink and it being a warm color.
How to know if a paint color is right for you?
The best way to judge if a color is good for you then you will want to put a swatch on the wall and look at it over a few days. Look at it in different lights and decide if you really like it.
You can do this by getting a sample from the paint store and using a brush to put it up on the walls, but then you are left with a can that you can't do anything with. Those samples are used with poor-quality paint and aren't meant for use on your walls permanently.
I recommend going with Samplize. They are a company that will send you a 12X12 peel-and-stick swatch of a paint color that you can stick to the wall. When you are done just peel it off and throw it away.
It's easy and much less messy!
What is the best white to pair with Sherwin Williams Snowbound?
With this being a bright white paint color it's always a good to use it on the walls as well as trim. It blends really well.
If you are looking for more of a contrast then I would go with a more stark white. Stay away from other warm white colors.
I personally like Sherwin Williams Highly Reflective White to go with Snowbound or Benjamin Moore Chantilly Lace.
What colors go best with Sherwin Williams Snowbound?
Sherwin Williams recommends pairing Snowbound with Colonnade Gray and Autumn Orchid. Really the best thing to do is go with colors that have similar undertones of violet/pink. Think warm grays and taupes.
Snowbound also goes really well with dark grays and true whites. But you can also pair it with grays that have blue undertones, this will balance out the violet/pink.
Snowbound Whole Home Color Palette!
Snowbound in Real Homes
This room has a gorgeous look. Many might think that using this much white can make a room feel stark and institutional but because this is a warm white it doesn't have that effect.
I love the way it looks with the light wood floors, the darker coffee table, and the pop of pink in the flowers. It also looks great with the gold chandelier and gold hardware on the cabinets.
Maison de Pax used Snowbound on this renovation and it turned out perfect! In this room, the violet/pink undertones are now showing at all. It looks amazing with the light wood floors and it contrasts well with the black doors, door knobs, and stairwell.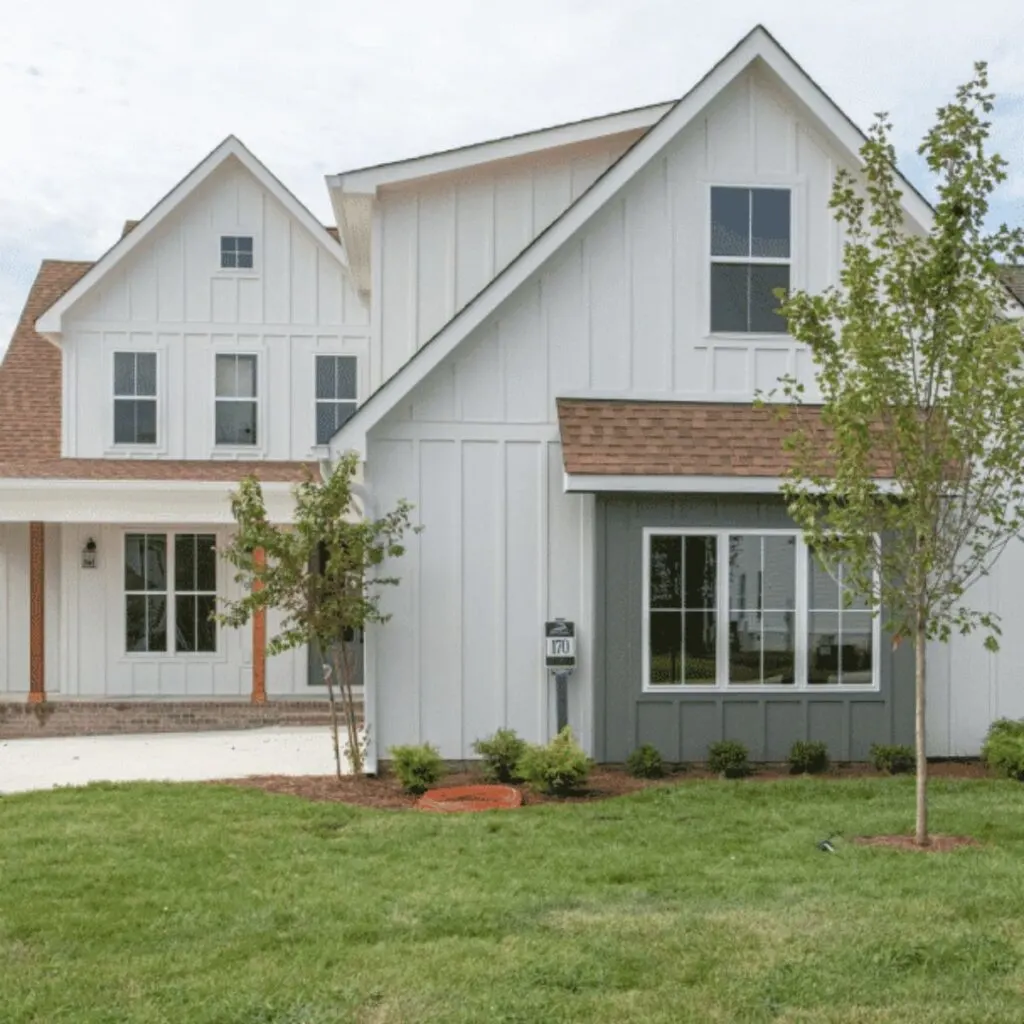 Using Snowbound on the exterior is a great option. It's a soft white that pairs really well with the dark gray and warm wood tones.
This family room is gorgeous. You can really see how the paint color is a bright white but not stark at all. It's a soft warm white that looks great with all the natural light!
I also love how it looks with the cool blue-gray window treatments. It's a great example of how you can pair a warm color with a cool.
Sherwin Williams Snowbound vs Alabaster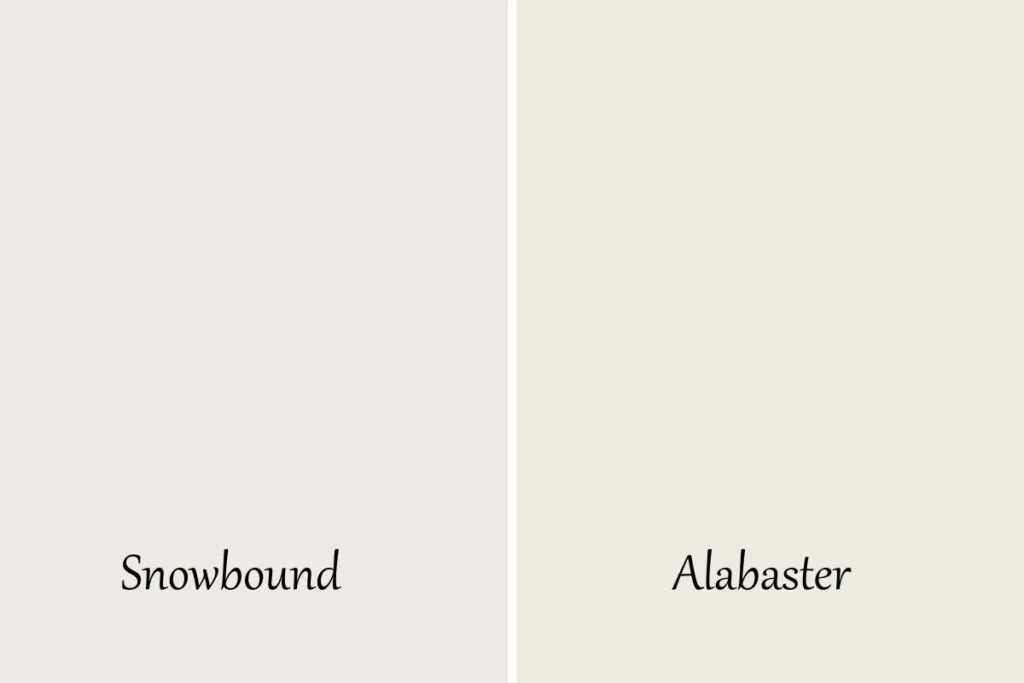 These colors are very similar but as you can see from the image they have subtle differences, mostly in the undertones.
Alabaster is definitely warmer, and has yellow undertones whereas Snowbound has more of violet/pink undertones.
Sherwin Williams Snowbound vs Pure White
While you might think these colors are similar when you put them next to one another you can see they are very different. Pure White has more green undertones and leans more cool than Snowbound.
Sherwin Williams Snowbound vs Benjamin Moore White Dove
As you can see from this side by side the undertones in Snowbound and White Dove are very different. You can see they contrast from one another.
White Dove has more yellow/green undertones and Snowbound has more Violet/Pink. They are definitely very different white paint colors.
Other White Paint Colors You might Like: