Are you looking for the perfect white? Today I am going to go into all the details on Aesthetic White by Sherwin Williams so you can decide if it's right for you!
Aesthetic White is a gorgeous paint color that isn't super popular right now but I think you will see the trend move towards warmer colors which this color is.
What Color is Aesthetic White by Sherwin Williams?
Aesthetic White is a gorgeous off-white paint color that leans slightly towards beige. This isn't the 90s version of beige.
This color is light and bright which is so popular right now. What you will see is that this warm white has a bit more depth of color than other off-whites and it really is simply gorgeous.
Aesthetic White Undertones
By looking at the color you can definitely tell this color leans pink. But it also has a slight touch of gray in it which, if you have been around this blog a while, you know having gray in the undertones keeps the other undertones from being too strong.
What is really going to determine how much pink shows up is the room you paint it in, as well as the other colors you pair it with.
In a south-facing room the warmth with really come through but in a north-facing room the color will look a touch greige. Those gray undertones will show up a bit more.
Sherwin Williams Aesthetic White LRV
LRV stands for Light Reflective Value. It is a scale that measures the amount of light a paint color reflects. Zero is the darkest black while 100 is the brightest white.
Aesthetic White has an LRV of 73 which makes it a really bright color. If you paint your room this color it will definitely brighten it.
How to know if a paint color is right for you?
The best way to judge if a color is good for you then you will want to put a swatch on the wall and look at it over a few days. Look at it in different lights and decide if you really like it.
You can do this by getting a sample from the paint store and using a brush to put it up on the walls, but then you are left with a can that you can't do anything with. Those samples are used with poor-quality paint and aren't meant for use on your walls permanently.
I recommend going with Samplize. They are a company that will send you a 12X12 peel-and-stick swatch of a paint color that you can stick to the wall. When you are done just peel it off and throw it away.
It's easy and much less messy!
Aesthetic White Coordinating Colors
Aesthetic White pairs really well with grays and greiges. I also really like it with blues and greens. And of course blue-greens.
Here are a few of my favorites to pair Aesthetic White with:
Sherwin Williams Amazing Gray
What is the best white trim color to pair with Aesthetic White?
When it comes to a white to pair with Aesthetic White you should definitely stick with something that is more white than off-white. I really like Highly Reflective White and maybe Pure White.
Pure White is good but it's a little bit off-white. In a room with lots of natural light, it will be okay. In a darker room, I would stick with Highly Reflective White.
Aesthetic White compared to other colors
Aesthetic White vs. Pure White
Pure White is a brighter color than Aesthetic White and it's undertones are a bit different. It has more of a yellow base where AW has more of a pink base. And Pure White is definitely considered an off white while Aesthetic White can almost be considered a beige.
Get a sample of Pure White and Aesthetic White from Samplhttps://www.jdoqocy.com/click-100844070-15471872ize!
Aesthetic White vs. White Duck
These two colors are very close. They are both off-white colors that lean very much towards beige. The big difference is White Duck has yellow undertones and Aesthetic White leans pink.
Get a sample of White Duck and Aesthetic White from Samplize!
Aesthetic White vs. Agreeable Gray
Agreeable Gray is darker than Aesthetic White and has more gray undertones. It's considered a greige while Aesthetic White could possibly lean that way it's more on the beige side.
Get a sample of Agreeable Gray and Aesthetic White from Samplize!
Aesthetic White vs. Accessible Beige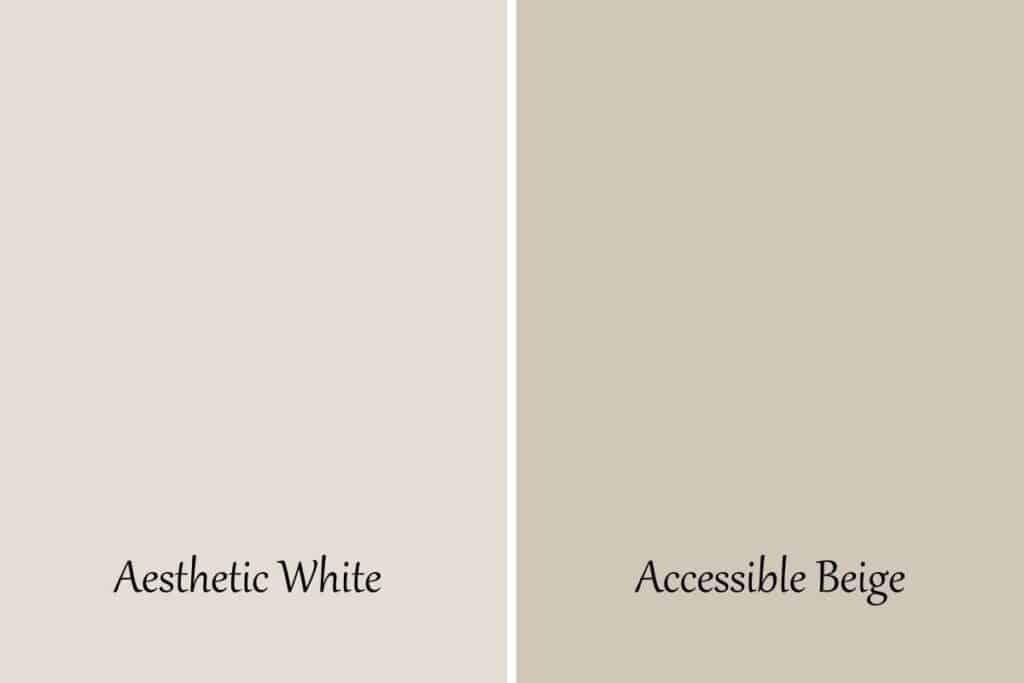 Accessible Beige is just that, a beige. It has yellow and slight green undertones. Aesthetic White leans a bit beige but is more of an off-white. It is lighter and brighter than Accessible Beige.
Get a sample of Accessible Beige and Aesthetic White from Samplize!
Aesthetic White vs. Shoji White
These two colors have almost the same LRV so they are both night and bright. Shoji White has a touch more yellow in it's undertones whereas Aesthetic White has a bit more pink.
Get a sample of Shoji White and Aesthetic White from Samplize!
Aesthetic White vs. Alabaster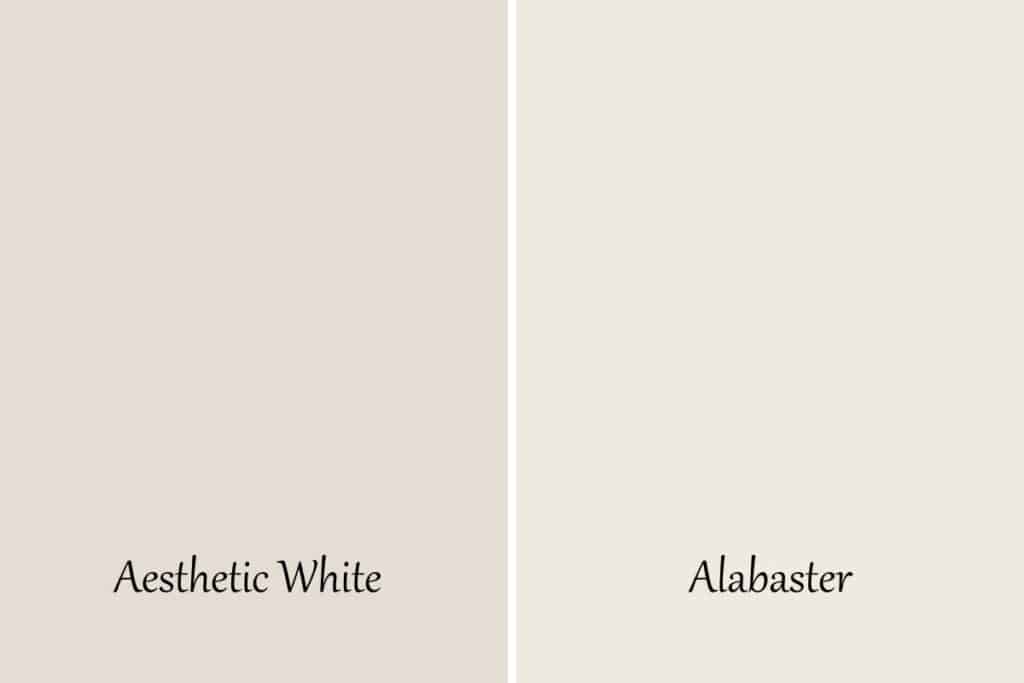 Alabaster is a brighter white than Aesthetic White and the undertones are a bit different. It is creamier, with more of a yellow base while Aesthetic White has more pink.
Get a sample of Alabaster and Aesthetic White from Samplize!
Aesthetic White by Sherwin Williams in Real Homes
See how Aesthetic White really warms up this bathroom full of hard fixtures. It is like wrapping you up in a warm hug.
This house is simply stunning. Aesthetic White looks amazing on the exterior of a home. It goes really well with the warm woods and black accents as well as the greens in the landscaping.
This kitchen, another room of hard fixtures, is warmed up by the color. It looks great with the black counters and cabinet doors.
This paint color has such a high LRV you can really see how it brightens a space like a family room. It's great for a space with an open floor plan because you can use it everywhere and it all feels very cohesive.
Other Off-White Paint Colors You Might Like: