Gray paint colors have taken the world by storm in the last 10-15 years. They aren't all the same though, you've heard of 50 shades of gray right?! Today we will dive into one of the most popular gray paint colors which is Benjamin Moore Revere Pewter.
At one point in time, Benjamin Moore Revere Pewter was the most popular paint color available. It was known as "the" color to use if you want to sell your house fast and for top dollar.
Revere Pewter is still very wildly popular, I just think Sherwin Williams and other retailers have stepped up their game to bring some amazing colors as well. This is great because now we have more colors to choose from as consumers!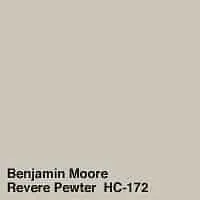 *This post contains affiliate links. For more details see my full disclosure.
The Basics of Revere Pewter
Revere Pewter is a paint color created by Benjamin Moore and its number is HC-172.
Revere Pewter has an LRV of 55.1 which makes it a light to mid-toned gray color. LRV stands for Light Reflective Value and it's based on a scale of 0-100, 100 being the brightest color that reflects the most light. As you can imagine, having an LRV of 55.1 makes it pretty much a middle of the road color when reflecting light.
Is Revere Pewter a Gray or Beige?
Good question and the answer is YES! Benjamin Moore Revere Pewter is considered both a gray and a beige, which is nicknamed greige.
Greige paint colors are by far the most popular right now. The undertones in the paint give it this color. It's like gray wrapped in a great big hug.
Revere Pewter Undertones
The fact that Revere Pewter is a greige means that it's a gray color that pulls more on the warm side rather than cool. It's the yellow undertones that give it that warm feel.
When a color pulls warmer that means that it has more beige/yellow color in it. You will not see the yellow in this color. What you will see sometimes is more beige than gray, depending on the amount of natural light and type of artificial light you use.
When used in rooms that get a lot of natural light Revere Pewter can look more gray and much lighter. In rooms without a lot of natural light the paint color can look more beige. Hence the name greige!
However in some instances, Benjamin Moore Revere Pewter can have some green undertones which can make the color look a little muddy. When paired with greenery or green furniture, and certain artificial lighting you will see this happen.
How to Know if Revere Pewter is Right for You!
I always suggest getting a sample of the paint color and looking at how the color looks in the room in all the different lights of the day. You can get a sample can from the paint store but then you are left with a can of paint and nothing to do with it. They add up, trust me.
A great option is Samplize. They will send you a 12×12 inch sample of your paint color and it sticks to the wall and is easily removable. This is a great alternative!
Paint Colors Similar to Revere Pewter
Revere Pewter has a lot of friends that look similar to it but when you put them up against one another you can really see the difference. Again, that 50 shades of gray reference!
Revere Pewter vs. Agreeable Gray
Agreeable Gray is a paint color from Sherwin Williams and it is very similar to Revere Pewter. The biggest difference is in the LRV number, Agreeable Gray is brighter at a 60 compared to Revere Pewter at 55.
Revere Pewter can tend to pull a little bit green while Agreeable Gray is more a true greige. I have an entire article on Agreeable Gray that you can check out here.
Accessible Beige vs. Revere Pewter
This is another good one to compare. Accessible Beige is not a gray color but is very close to the family and compliments well with the greiges.
They both have a slight green undertone but Accessible Beige is definitely a little brighter with an LRV of 58. Remember Revere Pewter is at a 55.
The Best Places to Use Benjamin Moore Revere Pewter
You can use this color in any room. It is a nice color that goes with just about everything. It can tend to be a little darker in a room that doesn't get a lot of natural light so I think a room that is well lit with natural light is the best choice.
Benjamin Moore Revere Pewter Whole Home Color Palette
Get this free whole home color palette for Benjamin Moore Revere Pewter and you will also be part of the At Lane and High Community! You will receive weekly newsletters on new posts and you can unsubscribe anytime.
Revere Pewter in the Bedroom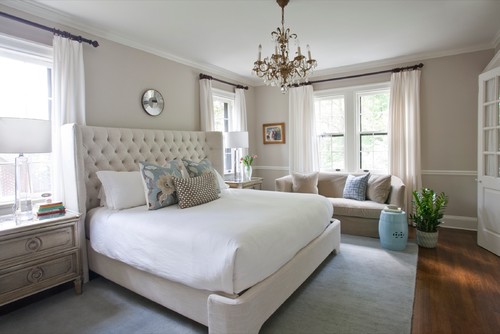 This room is so gorgeous. I love the bed so much. Regarding the paint color, you can really see how light it is on the wall on the left where the light hits it and how much darker it is on the right where the light doesn't.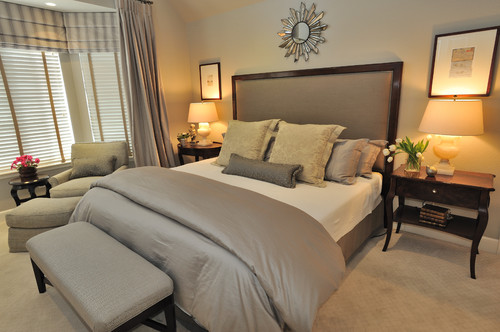 This room is a tribute to neutrals. It's so calming. You can see how artificial light affects Revere Pewter in this bedroom photo.
Revere Pewter in the Living Room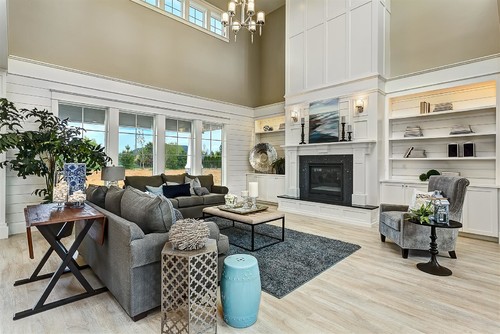 This living room has all the most amazing feels! I love the balance between the white trim work and the paint color. This beauty won all kinds of awards at its Parade of Homes and I can see why.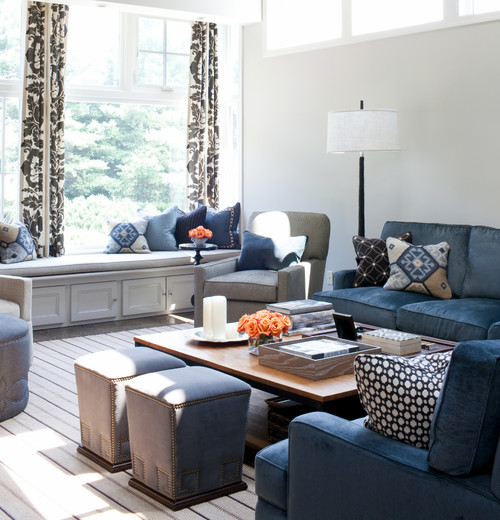 The paint color here is stunning! What I love about Revere Pewter is you can pair it with cool-toned colors and it still looks amazing. Here the blues in the upholstered furniture and throw pillows are decidedly cool.
Revere Pewter in the Bathroom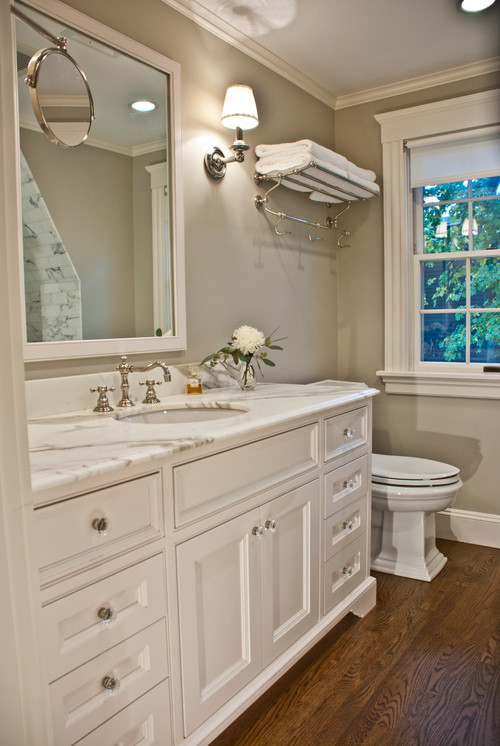 This room has awesome natural light, gorgeous dark wood floors, and lots of white. The warm paint color as well as the floors do an amazing job of taking a room that is usually very stark and hard and makes it softer.
This room has marble countertops and look how wonderfully the paint color coordinates with it. By the way, this is my dream bathroom!
Revere Pewter in the Dining Room
I love the modern farmhouse look here. One of the things I particularly love is how Revere Pewter pairs so nicely with the different wood tones in the room. It also looks great with all the white and black accents.
Revere Pewter in the Entryway/Halls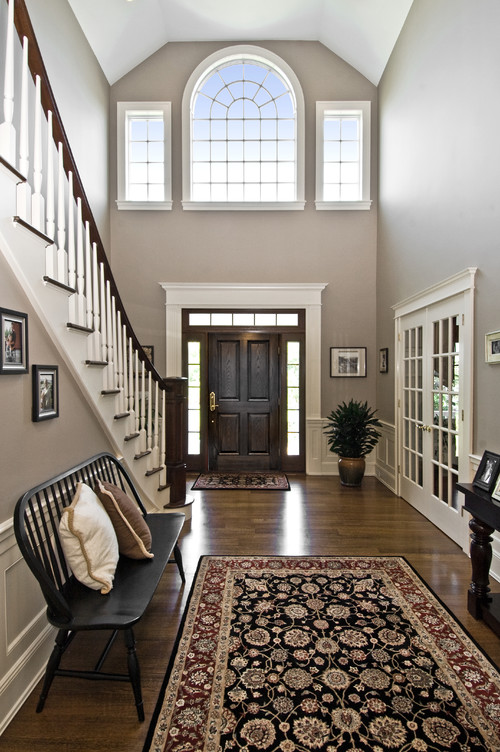 This gorgeous entryway has Revere Pewter on the walls. It looks a little darker even though there is ample natural light and I think it's because the furnishings are all dark, some even black. I think the paint color really provides a natural welcome to guests.
Revere Pewter on the Exterior
The exterior of a home obviously gets all the natural light. So when you use a mid-toned color it really comes off much lighter than when used on the inside of the home.
The Best White to Pair with Revere Pewter
I also have an article on white paint colors! This is more geared towards trim but you can see that some of the colors tend to pull a little warmer than others. Here are the ones I would suggest to pair with Revere Pewter
Coordinating Colors That Go Well With Revere Pewter
My favorite thing to do to find coordinating paint colors (other than trolling Pinterest) is to go to the paint manufacturers' website and see what they suggest.
In this case, Benjamin Moore says that it pairs nicely with Fog Mist, Copley Gray, Shadow Gray, and Amherst Gray. Here they are pictured together.
Notice that most of these colors are warm except for one, Shadow Gray. This cool-toned color pairs really well with the warm-toned ones.
Tips on Painting a Room Yourself
I love painting rooms because it makes such an amazing impact, in one day and for the least amount of money! Here are the tools you will need in order to paint a room on your own. Many of them are reusable!
Blue painters tape (at least 2 inches thick)
Paint and a can opener (and maybe a stir stick)
Prep work makes the dream work, yes I totally just made that up and it is totally cheesy! But it's true!!! If you do the prep work well then the finished product will be as amazing as you picture in your head.
Tape off ceilings, baseboards, and anything else on the wall that is fixed and you don't want to paint over.
Make sure you have a high-quality paintbrush! This is important because cheap ones tend to shed bristles and you really don't want that.
Use the paintbrush on the edges to get a crisp line and the roller on the open wall space. It will go faster than you think.
You might have to do 2 coats to get the best coverage. I almost always do at least 2 coats. If you are doing a dark color you might have to do 3!
Remove the painter's tape as soon as you are done and then step back and admire your hard work!
Painting Guide
For a step-by-step tutorial on exactly how to do all of this with a materials checklist click here or on the image below and I will email you a copy of my Painting Guide.
Related Paint Color Posts:
Revere Pewter Recap
It's no wonder why this paint color has been so popular. It goes really well with many wood tones, other gray colors, and beiges.
I think that since this paint color is a bit darker that's why it's not as popular as it once was. It's still a great color but it is a little darker. Bright and airy seems to be the look that most people are looking for these days.
Revere Pewter is a warm gray paint color that has yellow undertones. It has a lot of beige in it as well which qualifies it as a greige paint color.
Revere Pewter is a mid-toned greige paint color. It has an LRV of 55.1 which puts it in the middle of the LRV scale.
Revere Pewter is a great paint color that can be used in any room of your home. It was once the go-to paint color for selling your home since that top spot has been taken by Agreeable Gray.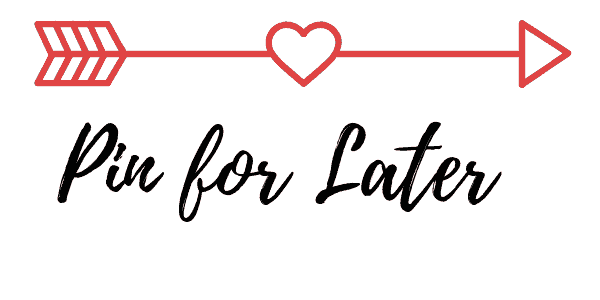 I hope you feel you know more about Benjamin Moore Revere Pewter. It still is one of the most popular paint color choices and definitely is worth considering for your home.