I have tested 18 different wood stains and am here today to share with you the best wood stains for poplar!
Poplar is a gorgeous species of wood. It's probably up there as one of my favorites to work with. I used poplar on my herringbone headboard for my master bedroom and it's just gorgeous.
Poplar comes in many different variations of color which is why it is so unique. If you take a look at my headboard you will see that even though it is stained each board has its own character to it.
Poplar is a lighter color wood that is very similar to white oak but it is much easier to find and a ton cheaper. You can typically find poplar at most big box stores.
While I am sharing all the colors with you today and my favorites at the end you do not have to stain poplar at all. It is a gorgeous color wood and it really doesn't need any color added.
Each photo you will see has not been altered in any way except for me to add text so you know which color is which. I took the photos in the sunshine on a white background so nothing would alter the undertones in the wood stain.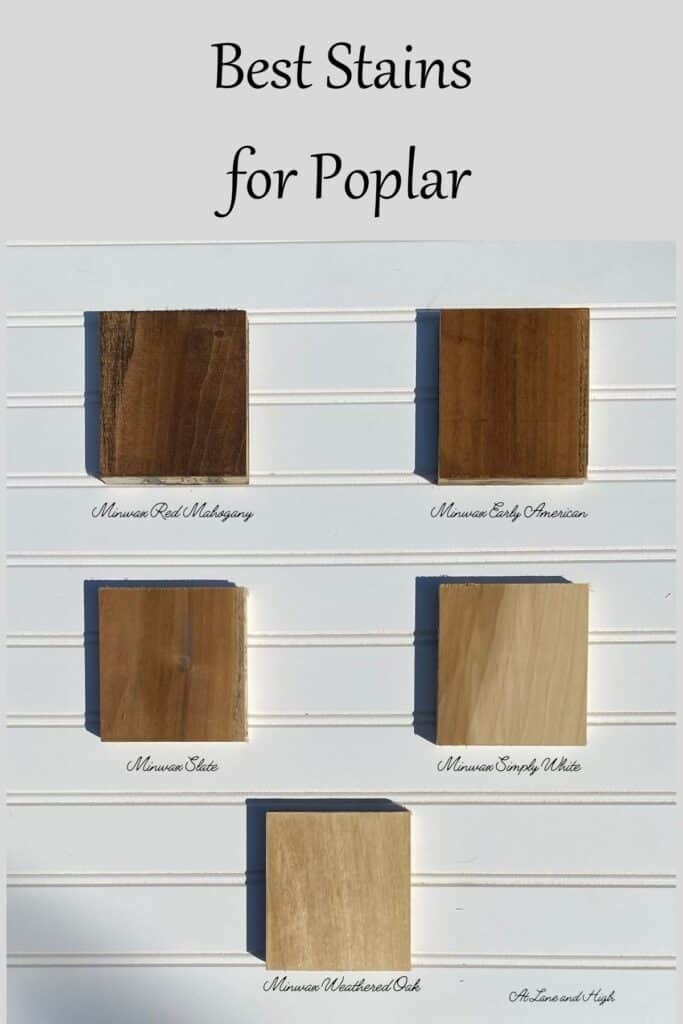 *This post contains affiliate links. For more details see my full disclosure.
The Best Gray Wood Stains for Poplar
Here are all the colors I used that have a gray color. I really like a couple of them but if you liked the look of my herringbone headboard then that color was called Color Wash. It's different than regular stain and you can purchase it from Walmart or order online from the manufacturer.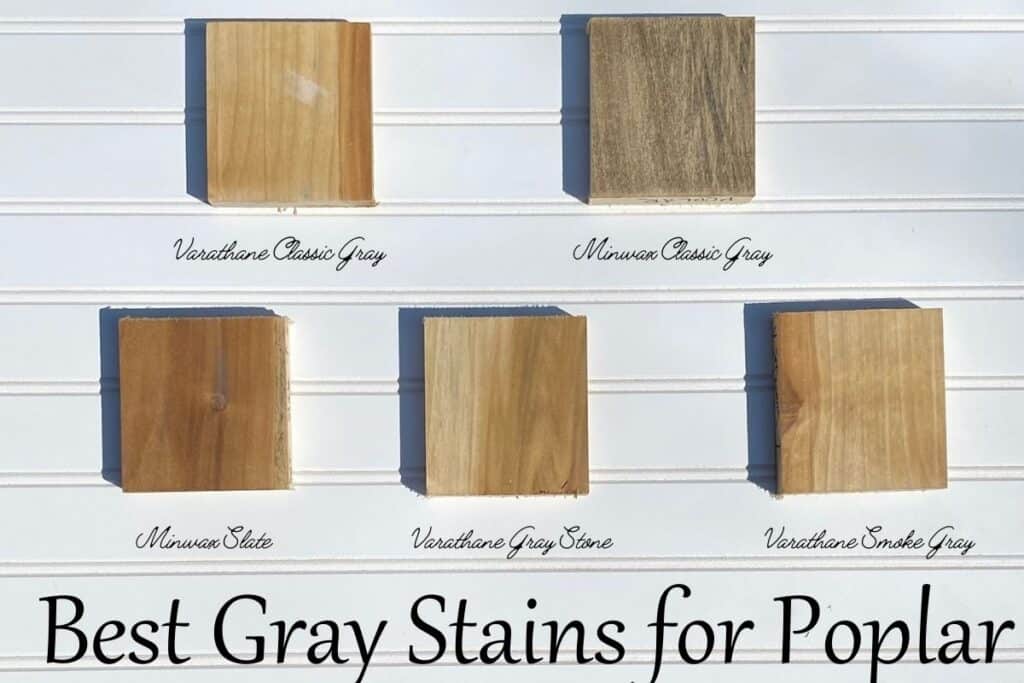 Neither of the Classic Gray colors really did it for me. The one from Varathane barely did anything and the one from Minwax showed up almost black in color.
Slate, Gray Stone, and Smoke Gray were three that I really liked. Personally Slate and Gray Stone are my favorites if you want to go with a gray color on poplar.
Best Black Stains for Poplar
Since poplar is a lighter wood the black stains didn't really come out totally black however they did have much more pigment than they did on the stain examples from Pine.
If you want more of the black look then the obvious choice here would be Varathane Classic Black. I have to say the Ebony colors are really pretty on poplar. But if you want black they aren't dark enough.
Best White Stains for Poplar
Unless you go with a white wash I think using white stain on poplar is redundant because the wood itself is such a light almost white color wood. But I wanted to give you all the facts so here are the results.
Best Light Stains for Poplar
If you want your poplar to be light but the color of the wood is too light for you then one of these stains might be what you are looking for.
Weathered Oak is the lightest but Provincial is a really pretty color on poplar. One might say it's more of a medium-toned color rather than light.
Best Mid-Dark Stains for Poplar
Here is where things got interesting! I was so shocked at how dark poplar got with some of these colors.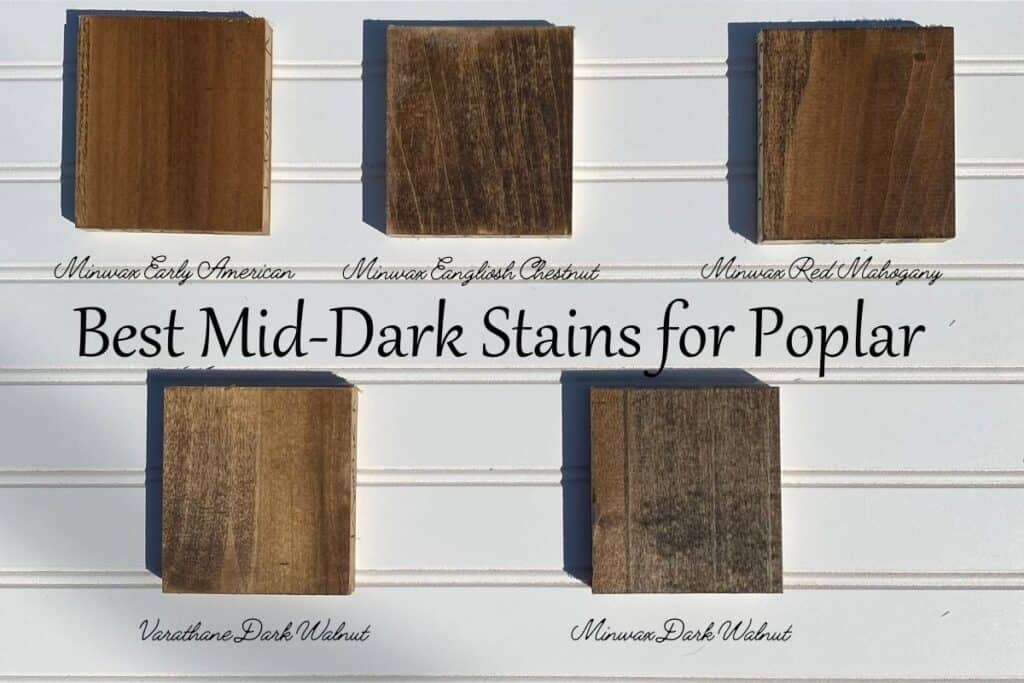 As you can see some of these colors got a little splotchy so I definitely recommend adding a wood conditioner before applying stain to your final project.
I really like the Red Mahogany on poplar but Early American blew me away!
The Best Wood Stains for Poplar
Here you have it! My favorite wood stains for poplar all in one place.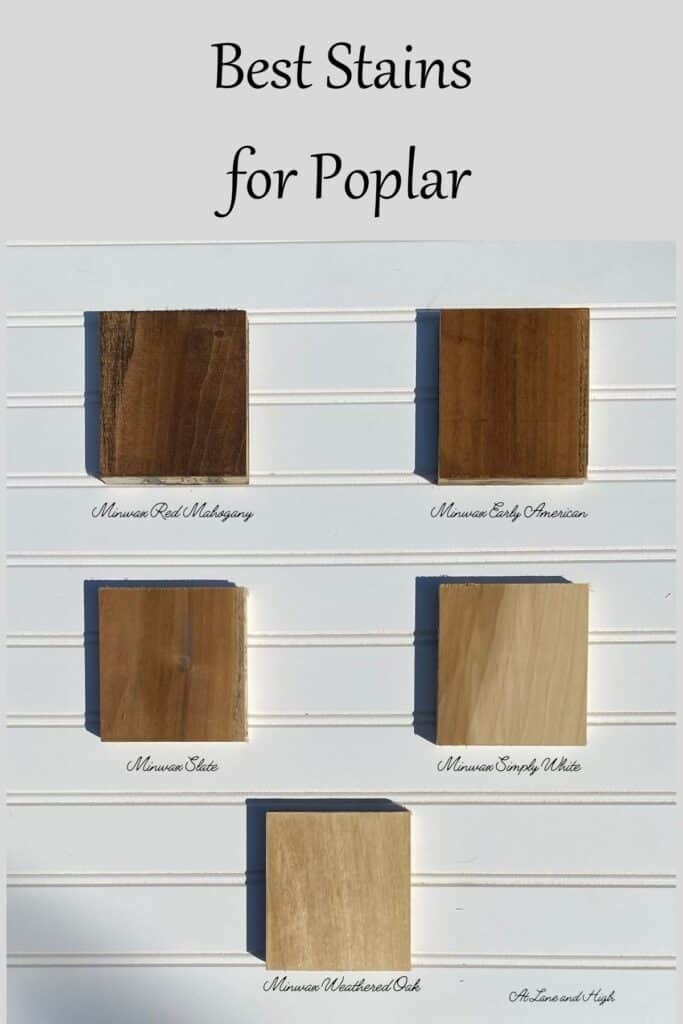 From dark to light these are my favorite color wood stains for poplar. I will say though, I think if I wanted dark wood I probably would go with oak or pine instead of poplar.
I choose poplar for its color and wood grain and believe it's so beautiful on its own.
Frequently Asked Questions about Poplar:
What stains better poplar or pine?
Both will stain very nicely however poplar doesn't have knots in it as pine does. It's because of this that most manufacturers use poplar for cabinetry projects.
Does poplar take stain well?
Yes, poplar does take stain really well but I definitely recommend starting off with a wood conditioner.
The wood conditioner will open the pores of the wood and prepare it for stain so it has a more smooth finish and not splotchy like you see in some of the photos above.
What is the best way to finish poplar?
There are many types of finish products on the market. I like to use polyurethane for projects with darker stain colors and polyacrylic for projects with lighter stain colors.
Polyurethane has a great hard finish but with lighter colors, it can yellow the color a bit. That's why for those I go with polycrylic.
How do you prepare poplar for stain?
I always sand my wood down to a very smooth finish then remove all the dust. Apply wood conditioner and following the manufacturer's instructions for the dry time I then apply stain.
Other Stain Posts You Might Like: