Today I am sharing the best wood stains for red oak! I have 20 different colors and photos of how each color looks on red oak so you can choose the right stain color for you!
Red Oak is very similar to Oak but it has a bit more red in it (obviously right). The stain colors will come out similar but there will be some very subtle differences to the final product.
If you have been around the blog for a while and read any of my paint posts you will know that undertones really determine how a color will look and the same can be said for stain colors. The undertones here are in the wood and the stain colors look different on different types of wood.
*This post contains affiliate links. For more details see my full disclosure.
The Best Light Stain Colors for Red Oak
I feel like Oak is one of the best types of wood for different stain colors. If you want a light color you can get it, a dark one too.
For the light stain colors, I really like all the options below. You can get a super light one and one that is a touch darker. It's really all in what you are looking for.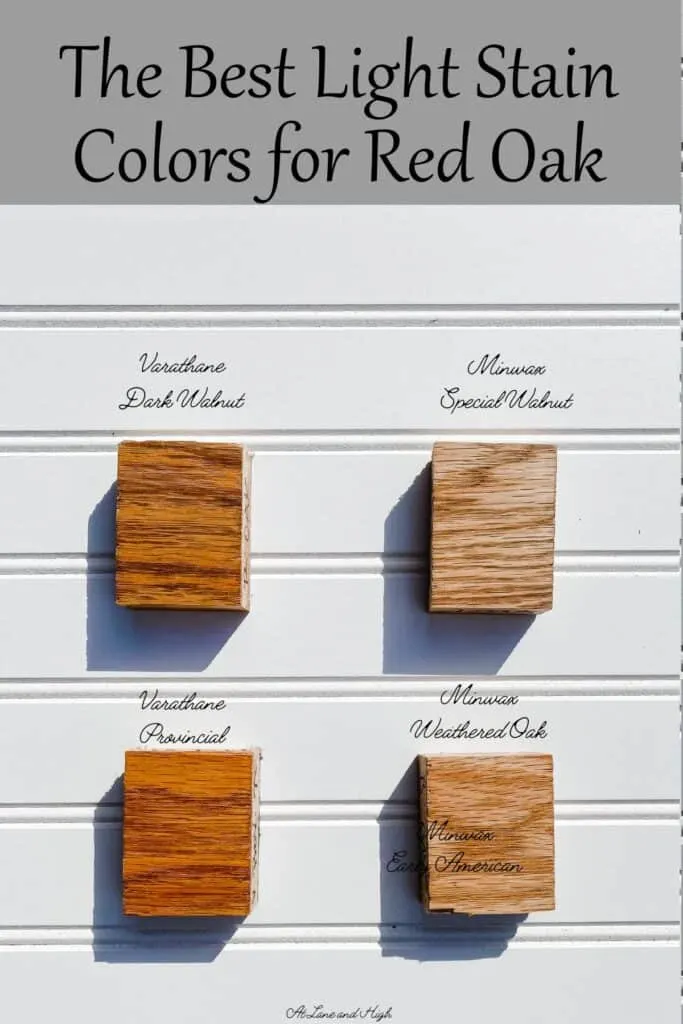 The Best Medium Stain Colors for Red Oak
Red Oak really shines with the medium stain colors. There is just a depth of color here that you don't see in something like pine.
Again I think these are all really nice options here. And I notice a mistake in my photo, it's Minwax Red Mahogany, not Varathane. I corrected it in the link below.
The Best Dark Stain Colors for Red Oak
These dark colors are just stunning! Jacobean is probably my favorite stain color but Minwax Dark Walnut is a close second! But Espresso is just as gorgeous, just a touch lighter than the other two.
The Best Black Stain Colors for Red Oak
Varathane Classic Black is the only one I really can see a good amount of black in. I think the red in the oak really cancels out the black in the other two. You just don't see it as much.
The Best Gray Stain Colors for Red Oak
Red Oak isn't my favorite material for trying to get a gray stained look. As you can see below, none of these really take on a decent gray hew.
The Best White Stain Colors for Red Oak
I definitely like Varathane Antique White better than Minwax Simply White. (Again I made a stupid mistake and got the name mixed up on my image.)
You can really see splotches of white in the Antique White. If you really like this just make sure you use a good wood conditioner and you shouldn't get the splotchiness that I got.
The Best Wood Stains for Red Oak
Okay, here are my favorites of all the colors. For Red Oak, I definitely like the light, medium, and dark tones best. They come out simply gorgeous!
I would love to know which one (or ones) is your favorite! Please let me know in the comments below.
Other Stain Color Posts:
The Best Wood Stains for Red Oak