It's hard to know which of the gray wood stains is best for your project. Today I have five different colors used on six different types of wood so you can pick the right one every time.
Building furniture and refinishing furniture is a great affordable way to have what you want for a cheaper price. Choosing the right stain color can be a little nerve-racking though. Don't worry! I have your back!
Today I am showcasing these stain colors and how they look on the different types of wood that you will see at most big box stores.
*This post contains affiliate links. For more details see my full disclosure.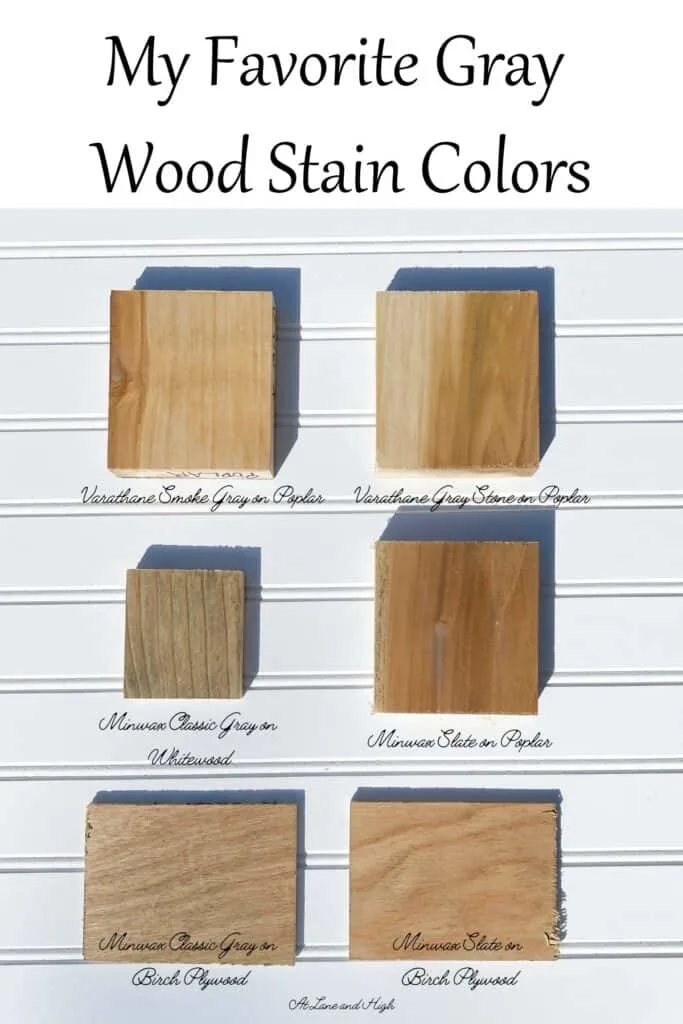 The Best Gray Wood Stain Colors
Below is a breakdown of each stain color and how it looks on six different species of wood. This will give you a good idea of how each will look in your home.
These photos are taken in direct sunlight, as you can tell by the shadows. I like doing this in direct sunlight because when you use them inside the amount of natural light, the type of light bulbs and the colors in your home decor can affect the way a color looks.
I didn't want my home to influence how these will look so I am doing my photos outside so you can get a true look at what they look like.
Minwax Slate
If you have read any of my other stain posts you will notice that I tend to lean toward Minwax over Varathane. They just have more pigment in the stain colors.
That being said, Slate didn't do much for me. The only one that I really felt like there was gray in the color of was on poplar. The others didn't really read as gray to me.
Minwax Gray Stone
Gray Stone is a lot like Slate, not much of a change in color to me. I like the way poplar looks with the gray stain colors but other than that I am now seeing much yet.
Varathane Classic Gray
If you are looking at these photos and wondering where is the gray you are not alone. Still not seeing much gray color in these woods. Hang in there with me, it's coming!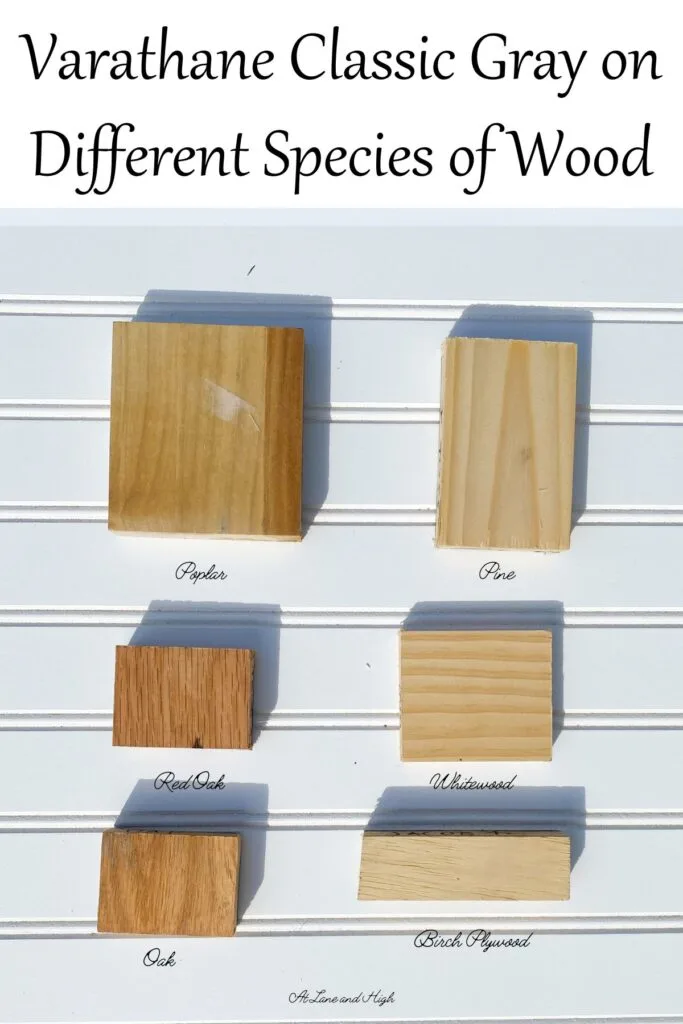 Minwax Classic Gray
This is by far my favorite gray stain color. I feel like if you are staining wood with a gray stain you want to see at least a little bit of gray. You get that with Minwax Classic Gray.
I used this color on my reclaimed wood wall and it turned out gorgeous!
You can really see the color in poplar, whitewood, and pine. They are strong with the grays. The others show more subdued gray tones.
Varathane Smoke Gray
Smoke Gray was similar to Varathane Classic Gray, with not much to show.
Best Gray Wood Stains
Well, I believe we have a winner. Can you guess which one it is?
One way to get a stronger deep color is to give the wood two or three coats of stain. You must wait in between the coats for the stain to dry before doing another coat.
Make sure you check out these other stain color posts!