You don't need to spend tons of money on old wood to create a reclaimed wood wall that looks old. Today I am sharing all the steps you can do to create a reclaimed wood wall.
I recently finished my latest edition of the $100 Room Challenge and the big feature was my reclaimed wood wall. It was by far the big moment of the room.
*This post contains affiliate links. Please see the full disclosure for details.
I had a lot of problems with this wall, none of which had to do with actually doing the wall. Between the weather and cars breaking down, it sure was difficult. You can read the full details here. But in the end, I think it turned out amazing and you will find it wasn't all that hard to do.
Step 1 – Determine how much wood you will need.
First figure out what type of wood you will use. Some people use pallets, I personally am not a big fan.
There are certain codes you have to look for on pallets to make sure they don't have chemicals on them which would be bad to have in your home. That sort of freaks me out so I don't use pallets.
I decided to use 1X6 boards, you could use 1X4's or 1X8's depending on the space you are doing. The taller the ceilings you have maybe you might want to use the bigger boards if it's smaller then 1X4's might look better. I have 8-foot ceilings so I went with 1X6.
Decide what length you will get too. Menards is where I bought the wood and they came in 10 or 12-foot lengths. I went with the 10.
Measure the height and multiply by width and that's how many square feet you need. If you use two boards at 10 feet that is 10 square feet.
Please don't forget that the wood says it's 6 inches but they really measure about 5 3/4 so I always buy at least one more board…just in case. It would be awful to get all the way done and be short one board.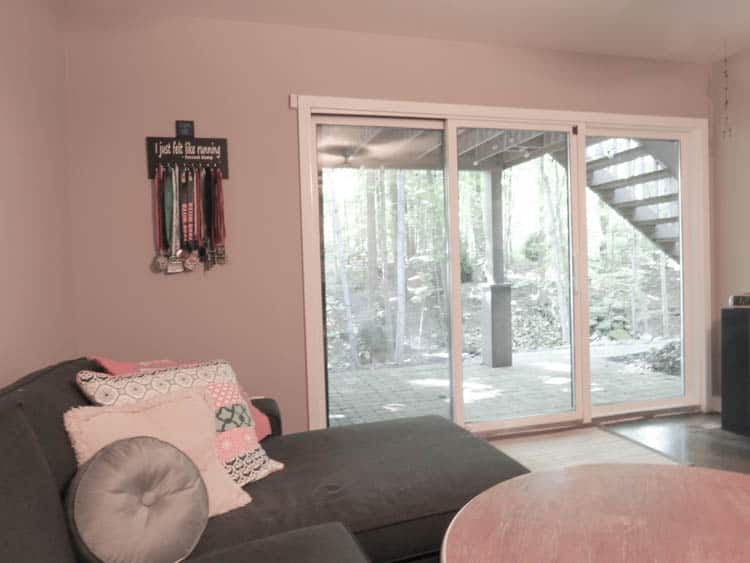 This is the wall I intend to use reclaimed wood on.
Step 2 – Stain your wood
I had 4 colors of stain, Red Mahogany, Special Walnut, Gray, and Jacobean all by Minwax. I decided to use all the colors, going a little more heavily on the Gray.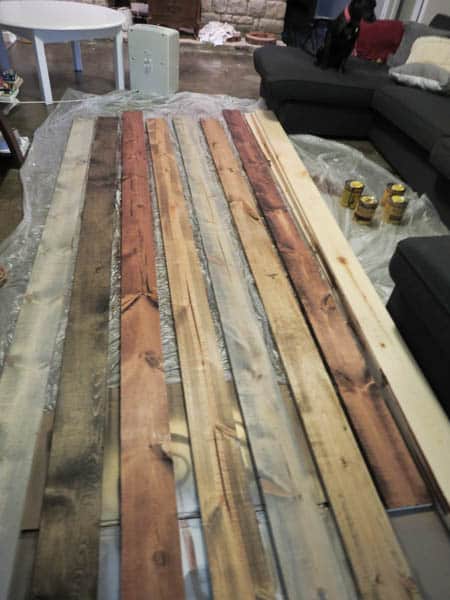 *tip – Leaving the stain on longer leads to a deeper color. Doing multiple coats leads to a deeper color.
Once I finished staining all the wood I looked at it on the floor and didn't like what I saw. I saw way too many colors of striking differences.
So I did a gray coat over every single board and miraculously the boards all went together now cohesively. They all have different undertones but the finished product is all gray.
(Sorry, I forgot to take a picture of it after I added the gray! 😫)
Step 3 – Nail the wood to the wall
First, you need a stud finder to mark all the studs. Once you have found them and marked them you have a choice. You can add furring strips to the studs and attached your wood to the furring strips or you can do what I did and nail the wood straight into the studs.
I originally was going to use the furring strips but decided that the wood would stick out too far around the baseboards and sliding door, and it would be a real pain to make it look right. So I didn't use them.
Now take your wood and cut to various lengths, this adds interest and creates the reclaimed look.
Nail the wood to the marks you made where the studs are.
Since I had a smaller wall to work with I decided to be very careful with my cuts. I made some various lengths and did the part above the door then as I got down the side of the door I measured and made sure that none of the joints ever where the same as the row above and the row above that.
You should try to vary the colors of the wood I used as well, making sure not to have two of the same next to or on top of each other.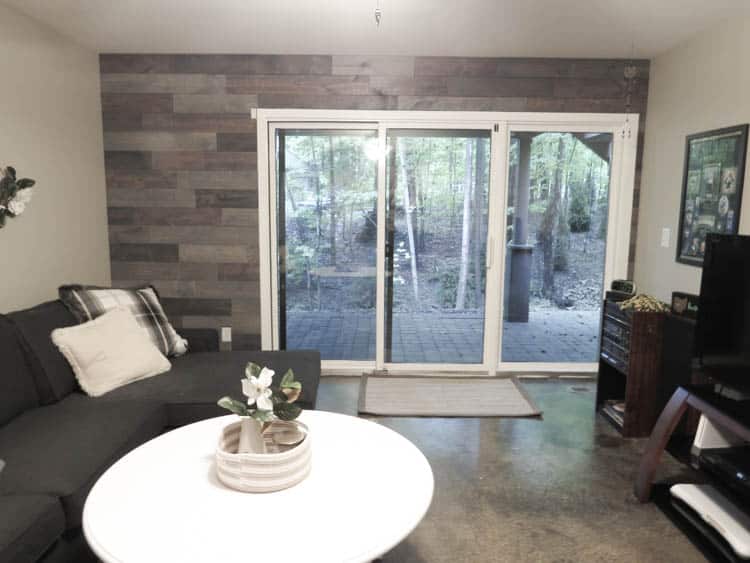 I cut around the outlet and security system with my jigsaw. You will see that there is now bare, unstained wood showing. After I was done I went back with a q-tip and gray stain and covered all that up.
Tools I used for the Reclaimed Wood Wall
Yes, I broke out all the tools for this project but only because I now have them. Before I had them I still did these projects, I just used other things….like hacksaws and good old ingenuity.
You can also ask a friend or neighbor to borrow a tool so you don't have to buy it. Stores like Home Depot also rent some tools.
Jig Saw – to cut around the outlet and security system
Miter Saw – to make the various lengths of wood
Table Saw – to rip the boards down above the sliding door – the space was about 4 inches and the wood was almost 6
Compressor and Nail Gun – to nail the wood to the wall
Stud finder – and no matter what your husband says, it's not him! 😂
Various Stains and Rags – to create the reclaimed wood look
Here is the final product and I am super happy with it. I also did a shiplap wall in my laundry room. The reclaimed wood wall cost me about $55 because I already had all the stain. The shiplap wall was only about $60. It's so easy to add architectural details without breaking the bank.
As you can see Lilly is not impressed! LOL
Here is Lilly giving me the side-eye. She hates to have her picture taken, will never actually look at me when I have the camera out! And at this point, she was tired of me taking pictures, kept getting in my way. Haha, dogs are awesome right!
Other posts from the $100 Room Challenge: