Benjamin Moore Balboa Mist is one of the top-selling neutral paint colors for this manufacturer. It's no wonder why! This is a gorgeous paint color and we will go into great detail as to why it's so popular.
What I love most about this color is that it really ties together all the different elements of the home. From rustic hardwood floors to crisp white trim and all the different hard surfaces in a kitchen or bathroom, this color brings them all together and lets them shine.
*This post contains affiliate links. For more details see my full disclosure.
What color is Balboa Mist?
Balboa Mist OC-27 is a beautiful creamy color that sits between a gray and a beige. It is in Benjamin Moore's off-white collection.
The LRV of Balboa Mist is 67.37 which makes it a fairly bright paint color, but not nearly as bright as some others in the off-white collection. This color has a little more depth while still being fairly bright.
If you aren't familiar with the term LRV it stands for Light Reflective Value and is a scale from 0-100. Zero being the blackest black and 100 being the brightest white. Anything over 60/65 is considered a bright color and this is where Balboa Mist falls.
Balboa Mist Undertones
Balboa Mist is a gray paint color that pulls towards beige. That makes it a greige paint color. Typically beiges have yellow undertones and you will see with this color that is the case, but the gray neutralizes. So you won't have yellow walls if you choose this color.
What is really interesting about this color is that in certain rooms, depending on the lighting, you can see slight hints of a purple undertone. In north-facing rooms where the lighting is more white (think high on the lumens scale) you will see a bit of this undertone coming through.
Is Balboa Mist Warm or Cool?
Because Balboa Mist has yellow undertones and is considered a greige paint color it falls on the warm side of the spectrum. There are other greiges from Benjamin Moore that are warmer. For Balboa Mist it all depends on what type of natural light a room receives.
In rooms that have the cooler north-facing light, Balboa Mist will pull more gray therefore toning down the warmth in the paint color.
In rooms that have the warmer south-facing light, Balboa Mist will pull more beige therefore enhancing the warmth in the paint color.
How to know if a paint color is right for you?
The best way to judge if a color is good for you then you will want to put a swatch on the wall and look at it over a few days. Look at it in different lights and decide if you really like it.
You can do this by getting a sample from the paint store and using a brush put it up on the walls, but then you are left with a can that you can't do anything with. Those samples are used with poor quality paint and aren't meant for use on your walls permanently.
I recommend going with Samplize. They are a company that will send you a 12X12 peel and stick swatch of a paint color that you can stick to the wall. When you are done just peel it off and throw it away.
It's easy and much less messy!
Coordinating Paint Colors for Benjamin Moore Balboa Mist
Benjamin Moore is really great about helping you out with coordinating paint colors for their different shades of paint. In this case they have two sets of 3 colors that go really well together.
The first recommended pairing is Balboa Mist with Cloud Cover and Rock Gray. Cloud Cover is a warm off white color and Rock Gray is a cooler, darker gray color. As you can see in the image below they go very well together.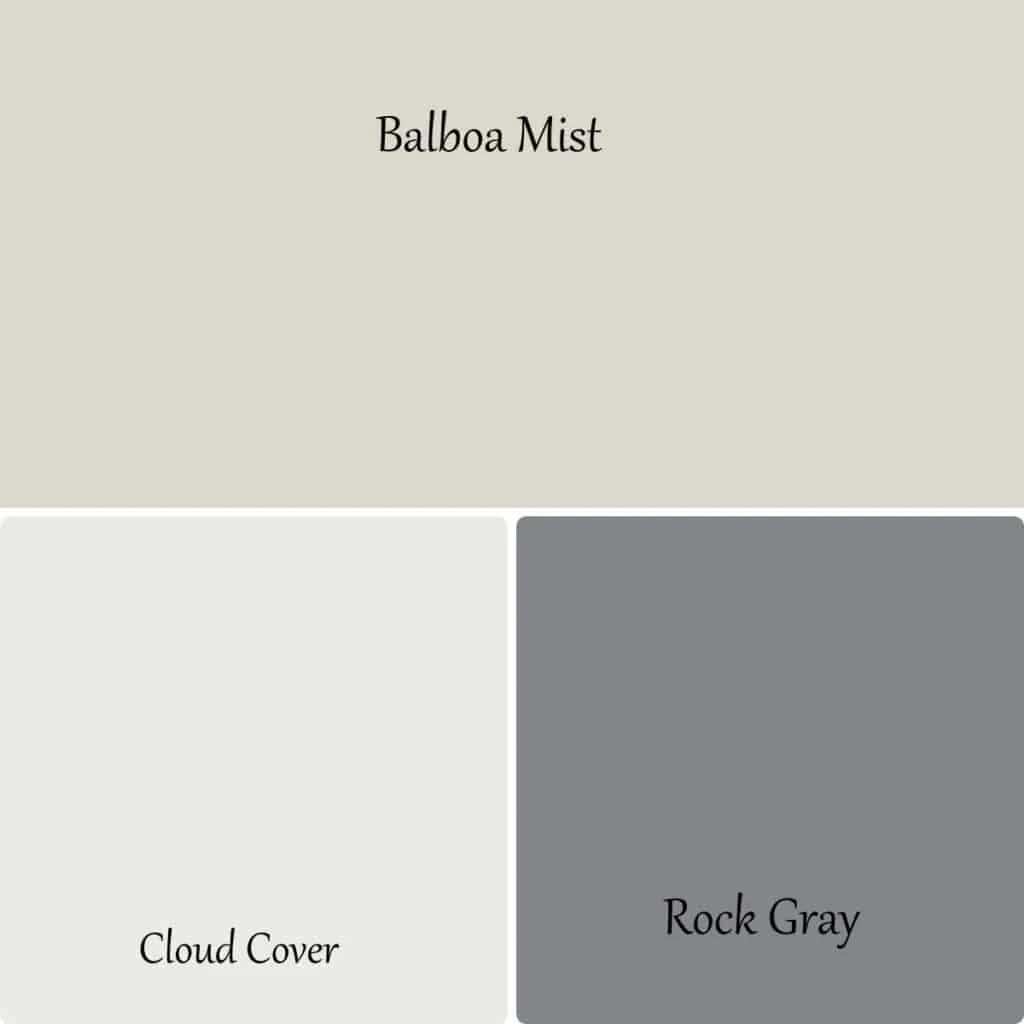 The second recommendation is to pair Balboa Mist with Flint and Barista. Flint is a stunning dark gray-blue paint color, leaning more gray than blue. Barista is a gorgeous dark maroon color and as you can see below they go together amazingly well.
The Best White Paint Color to Pair with Balboa Mist
The best whites to go with Balboa Mist in my opinion are Chantilly Lace or Oxford White. Chantilly Lace is a brighter, white color and will give a nice contrast to the greige Balboa Mist.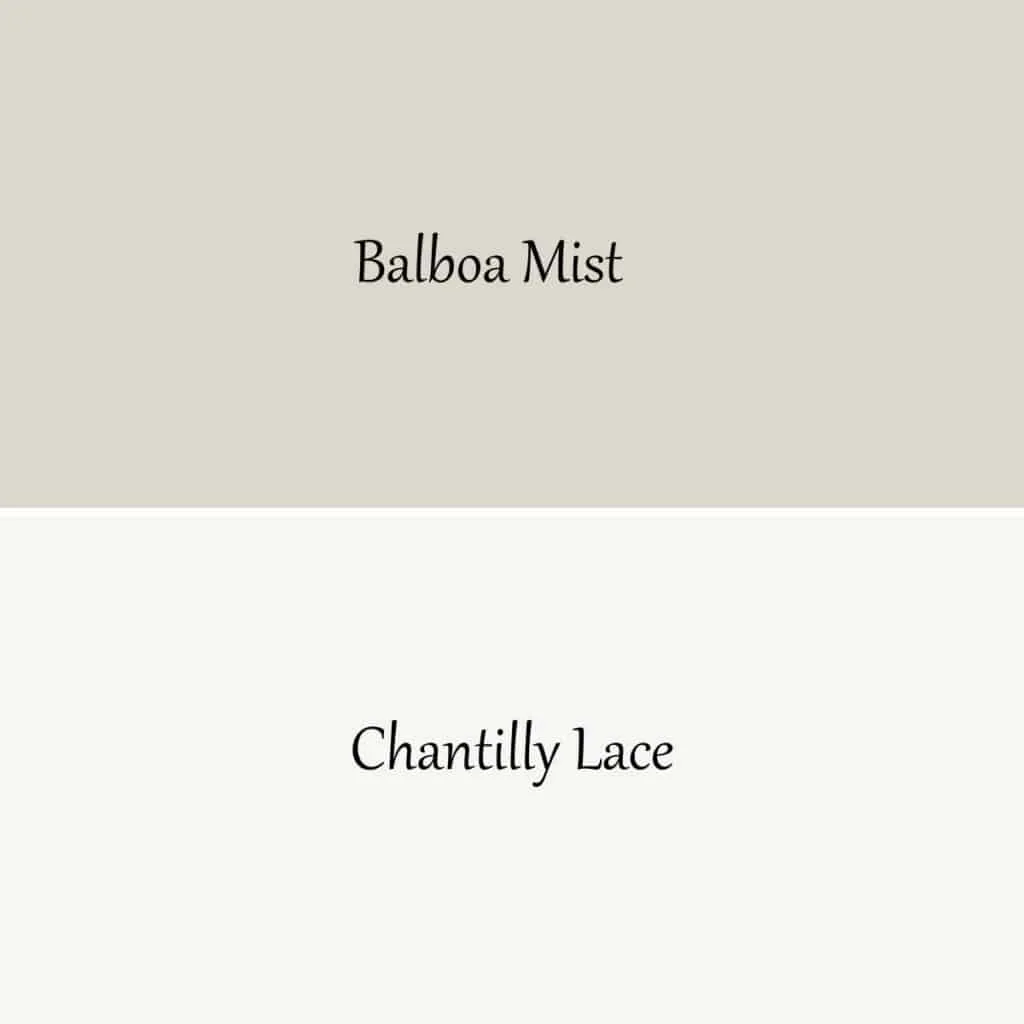 Oxford White however is a softer white and will blend more than contrast with BM.
Benjamin Moore Balboa Mist Whole Home Color Palette
Get this free whole home color palette for Benjamin Moore Balboa Mist and you will also be part of the At Lane and High Community! You will receive weekly newsletters on new posts and you can unsubscribe anytime.
Real-Life Examples of Benjamin Moore Balboa Mist
This bedroom from Havenly is a great example of the calming effects a neutral space can have. The neutral walls, neutral fabrics, and light hardwood floors really lend themselves to calm.
I also love the added touches of greenery through the space. Plants always give that natural touch and leave a person feeling calmer.
This gorgeous bathroom from Kylie M. Interiors illustrates how the light can affect the color of Balboa Mist. With all the natural light beaming in through that window the color on the walls looks decidedly more gray than beige.
With that pull towards gray the homeowner added the cooler touches of blue and teal which go very nicely with the paint color.
In this family room, you have the opposite effect. The lack of ample natural light makes the paint color pull more beige. The crisp white ceiling, trim and shiplap make that stand out more.
I love how they paired the color with the neutral upholstery. This leaves the star of the show in the accessories. Well done Marnie Custom Homes!
I think the staircase here is the star of the show, it's simply gorgeous! The perfect way to allow an architectural detail to be the star is to make the walls be the perfect neutral backdrop and this is what we have here.
SPACE Architects and Planners did a wonderful job of letting the staircase and details in the floor stand out by allowing everything else to fade away. Even the use of an acrylic table so it just disappears does the trick!
Benjamin Moore Balboa Mist Recap and Final Thoughts
Let's recap what we have learned about Balboa Mist:
It's a gray paint color that falls in the greige family.
It has beige undertones with touches of yellow but the gray neutralizes and tones that yellow down.
In north-facing rooms, a slight purple undertone can peak through.
It has an LRV of 67.37 which makes it a pretty bright paint color.
My final thoughts on this color are it's really important to know what kind of natural light you receive in a room to determine if it's right for you. If you want a more gray color then make sure the room gets lots of natural light, especially on the northern side of your home. If you want a warmer, beige tone then less natural light or a south-facing room is best.
Light bulbs can also influence this. It's all about lumens and the higher the lumens the more light natural daylight you will see.
If you are going for a neutral backdrop or a neutral monochrome feel for a room then this color will do really well with both beige furnishings and gray.
In the end, I don't think you can really go wrong with this color. It has so many great attributes that I believe you will love the end result.
More paint color reviews you might like: