Sherwin Williams Greek Villa is a gorgeous off-white paint color that is sure to add much personality to your home.
Off-white paint colors don't get enough love in my opinion. They aren't white but they aren't any other color either. They can look very different in each home so it's important to really know everything you can about the color before you choose it.
We will go into all the details and at the end of the post, I am sharing some real home pictures of Greek Villa.
*This post contains affiliate links. For more details see my full disclosure.
What are the undertones of Greek Villa?
Greek Villa is a white that has beige undertones. If it were a gray we would call it a greige but we don't have any fancy word for white and beige.
There are also yellow undertones but they are kept in check by the beige. You won't feel like your walls are yellow if you use this color, the beige keeps that from happening.
I s Greek Villa warm or cool?
Greek Villa is a warm white paint color. The yellow and beige undertones make it that way.
Really this color is like a warm hug. It's so creamy and dreamy!
What is its LRV?
What is LRV you ask? Well if you read many of my other paint posts I always share the LRV. It stands for Light Reflective Value and is a scale from 0-100. Zero is the blackest black and 100 is the brightest white.
Greek Villa is a very bright color with an LRV of 84. That's pretty high. If you are looking to brighten up your home this one will do the trick.
Is Greek Villa a warm white?
Yes, Greek Villa is a warm white paint color that is very creamy. It will brighten your home white also making it feel cozy and warm.
Does Greek Villa look too yellow?
No Greek Villa will not look too yellow. Thankfully it has these amazing beige undertones too that keep the color from going too far yellow.
Now light bulbs can make a huge difference when choosing a paint color. If you have very warm light bulbs which cast a yellow hue that will change the look of Greek Villa in your home. Frankly, it will change any color you choose.
How to know if a paint color is right for you?
The best way to judge if a color is good for you then you will want to put a swatch on the wall and look at it over a few days. Look at it in different lights and decide if you really like it.
You can do this by getting a sample from the paint store and using a brush to put it up on the walls, but then you are left with a can that you can't do anything with. Those samples are used with poor-quality paint and aren't meant for use on your walls permanently.
I recommend going with Samplize. They are a company that will send you a 12X12 peel-and-stick swatch of a paint color that you can stick to the wall. When you are done just peel it off and throw it away.
It's easy and much less messy!
How does lighting affect Greek Villa?
The type of light bulbs you use can affect the look of Greek Villa but also the amount of natural light and what way the room faces.
In north-facing rooms the light tends to be cooler and lighter colors will feel a little bit washed out. Darker colors look best in this type of light.
In south-facing rooms the light is bright and warmer. This is a great room to bring out warm tones in a color.
East-facing rooms obviously get strong light in the morning and none in the evening. Warm colors are great in these types of situations.
West-facing rooms are the opposite of the east and are similar in color. I suggest warm tones for these rooms in morning use.
What is the best trim color to pair with Greek Villa?
Usually, I have a list of great white colors to go with a paint color but today I encourage you to use Greek Villa not only on your walls but also on your trim.
Why on earth would you want to do this? Well, it's such a light color that using it in both places would look amazing and also would make your room seem larger and taller.
When using the same color on the walls and the trim the trick is to use a different sheen for each. For example, on the walls go with a flat or satin then on the trim use a semi-gloss.
Now if you really want to go with a different color on the trim I think a good choice would be Pure White. It's a warm white, although not as warm as Greek Villa.
What are some good coordinating colors?
Dark, bold colors look amazing with Greek Villa. Sherwin Williams suggests using it with Illusive Green and In The Navy.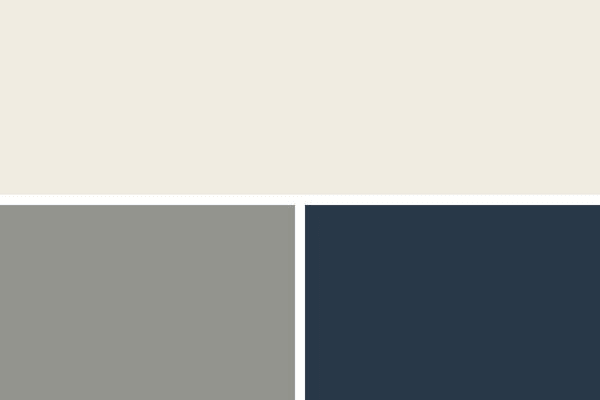 Other amazing colors that it would look good with are:
Faded Flaxflower
Gibraltar
Sensible Hue
Reflection
Festoon Aqua
What are some similar colors?
Greek Villa vs Alabaster
Both of these colors have beige undertones but Alabaster also has a bit of gray. Also Alabaster has an LRV of 82 while Greek Villa sits at 84, so Greek villa is a tad brighter.
Greek Villa vs Pure White
You can tell by this side by side that they are both warm white colors. Pure White has a touch of gray to it which keeps it from being as warm as Greek Villa is. They both have the same LRV so either one will work if you are looking for a color to brighten your space.
Greek Villa vs Swiss Coffee
These colors are very similar as you can see below. They differ in LRV by .07, Swiss Coffee is just a smidge darker….and I mean a smidge. They are both warm white colors with yellow and beige undertones.
Greek Villa vs Benjamin Moore White Dove
White Dove is one of Benjamin Moore most popular white paint colors. It's a touch brighter with an LRV of 85.38. As you can see from the comparison below Greek Villa has more beige in it, while White Dove tends to lean towards the yellow/green undertones.
Sherwin Williams Greek Villa Whole Home Color Palette
Get this free whole home color palette for Sherwin Williams Greek Villa and you will also be part of the At Lane and High Community! You will receive weekly newsletters on new posts and you can unsubscribe anytime.
Sherwin Williams Greek Villa in Real Homes
This gorgeous home is done in all neutrals which makes it such a calming home. I love how Greek Villa looks here. It's white without being stark white and blends really well with the other neutrals.
Greek Villa is the perfect backdrop to the linens in this room. The addition to some other warm colors makes it cozy. A great place to get a good night's sleep.
This kitchen is so gorgeous, almost so nice it's hard to mess it up with cooking. I love how Greek Villa on the cabinets look with gold hardware. And with the white subway tile backsplash.
The exterior of this tudor style home is painted with Greek Villa. I love how it looks with the taupe door and wood accents. And doesn't it look amazing with that beautiful sky?!
Other Paint Posts You Might Like: