Benjamin Moore Swiss Coffee is a very popular warm creamy white paint color. I have all the details on this paint color as well as examples of it in real homes.
If you have been researching white paint colors then you have realized that there are a ton of choices! You can go with warm whites, cool whites, neutrals, and more. My aunt recently told me she had no idea there were so many shades of white!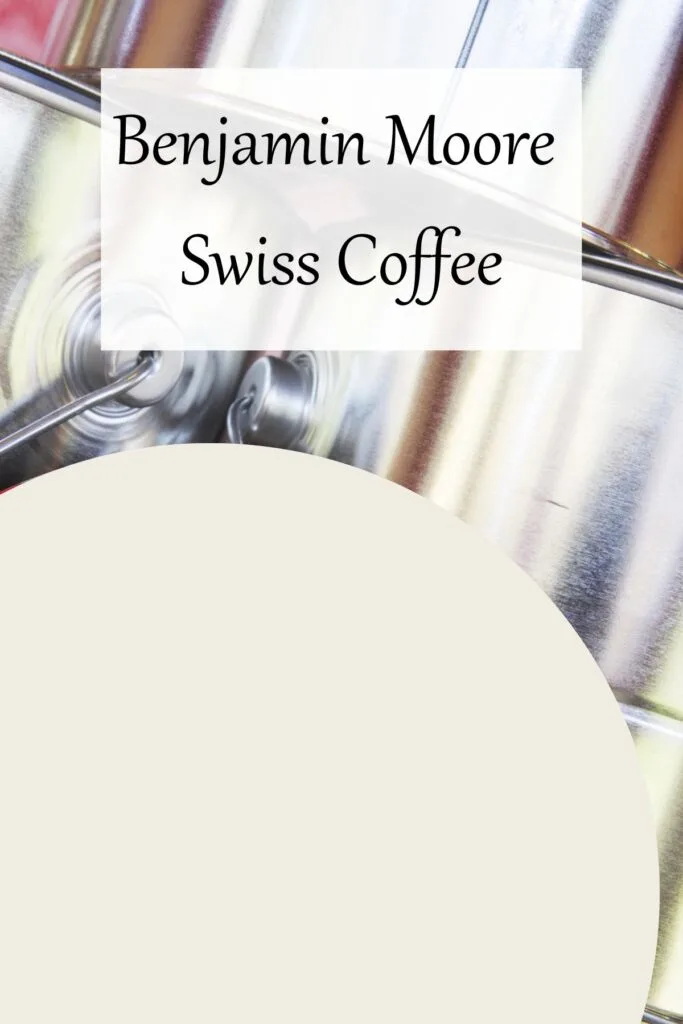 *This post contains affiliate links. For more details see my full disclosure.
Benjamin Moore Swiss Coffee Undertones
Swiss Coffee is one of the most popular whites that Benjamin Moore has and a big reason is the undertones.
Just about every paint color has some type of undertones. It's really hard to get a white that is a true white paint color.
The undertones of Swiss Coffee are yellow, green, and a touch of gray. The combination of yellow and green give it the creaminess but the touch of gray keep it from being too yellow.
Lighting can really make an impact on what undertones come through in a paint color. Whether a room gets enough natural light or what type of light bulbs you use are very important.
That being said the LRV of Swiss Coffee is 83.93 which makes it a very light paint color. It reflects a ton of light so it's a good choice for those of you wanting to make a room feel brighter.
Is Swiss Coffee Warm or Cool?
Because Swiss Coffee has those yellow and green undertones it definitely pulls on the warm side of the spectrum. But with the touch of gray it doesn't read as a yellow paint color.
The gray keeps the color from being too warm but allows it to be the perfect creamy warm shade of white. Honestly, it's like being wrapped in a big hug.
How to know if a paint color is right for you?
The best way to judge if a color is good for you then you will want to put a swatch on the wall and look at it over a few days. Look at it in different lights and decide if you really like it.
You can do this by getting a sample from the paint store and using a brush put it up on the walls, but then you are left with a can that you can't do anything with. Those samples are used with poor quality paint and aren't meant for use on your walls permanently.
I recommend going with Samplize. They are a company that will send you a 12X12 peel and stick swatch of a paint color that you can stick to the wall. When you are done just peel it off and throw it away.
It's easy and much less messy!
What colors go well with Swiss Coffee?
Benjamin Moore says that Swiss Coffee goes really well with four different colors.
One color combo is Swiss Coffee with Nightfall and Mt. Rainier Gray. You can see how nicely the warm tones of Swiss Coffee pair with the cooler tones of Nightfall and Mt. Rainier Gray.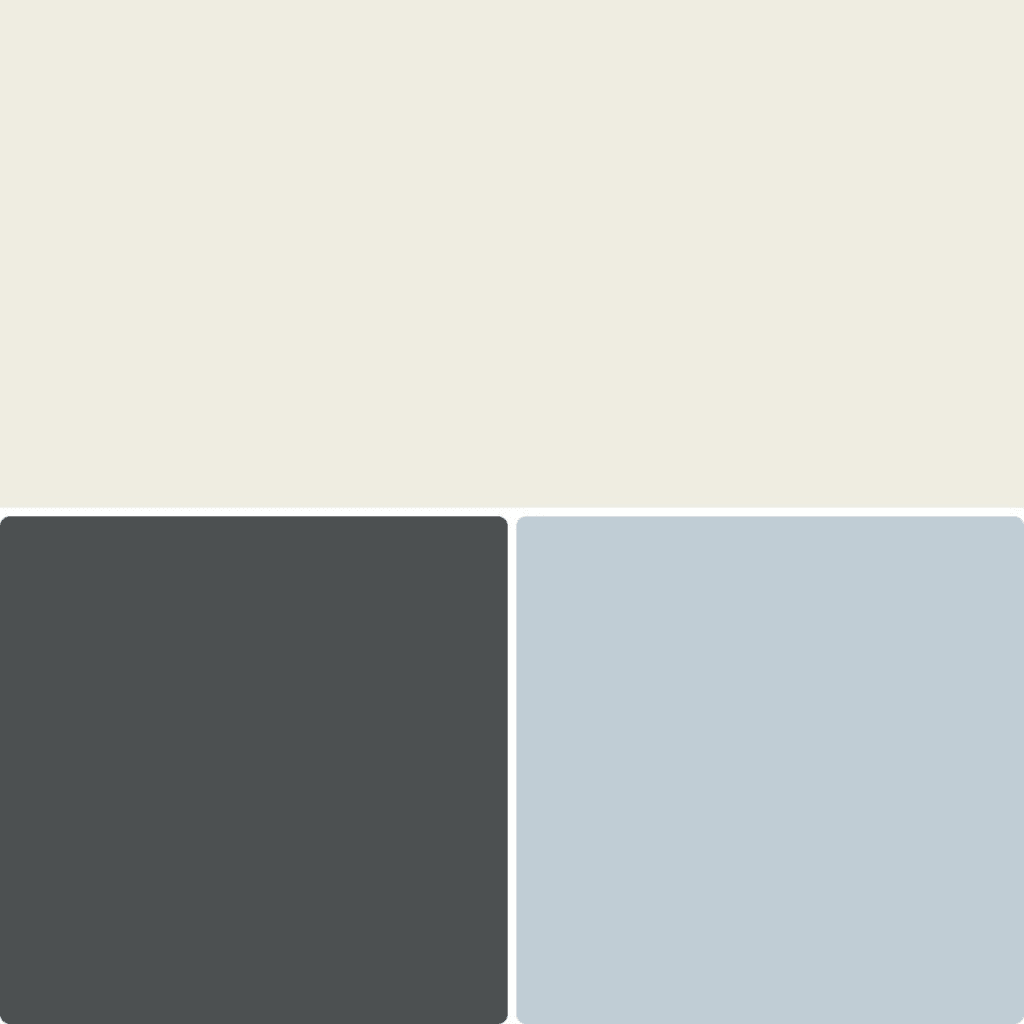 The other color combo they recommend is Swiss Coffee with Nickel and Senora Gray. Nickel is a cooler tone but Senora Gray is very warm. All three go really well together.
Benjamin Moore Swiss Coffee Whole Home Color Palette
Get this free whole home color palette for Benjamin Moore Swiss Coffee and you will also be part of the At Lane and High Community! You will receive weekly newsletters on new posts and you can unsubscribe anytime.
Benjamin Moore Swiss Coffee in Real Rooms
Studio McGee used Swiss Coffee at a 75% strength for these cabinets. I think they are just stunning! I love the use of gold hardware and how well the paint color goes with the dark hardwood floors.
What's also really amazing is how this warm-toned paint color goes so nicely with the cool marble.
Designing Vibes used Swiss Coffee in this spa and I think it's a perfect choice! What better way to create a cozy warm hug, perfect for relaxing, in a spa.
Studio McGee obviously loves this paint color and it's obvious why. This living room is painted in Swiss Coffee and it gives such a calming effect.
Using all neutrals in a home creates the feel of relaxation and that's exactly what they have achieved here. Carrying the paint color from the kitchen through the living room really helps create a cohesive look.
Final Thoughts on Benjamin Moore Swiss Coffee
If you are looking for an off-white paint color that provides the perfect balance of light and creaminess then look no further. Swiss Coffee lights up a room while wrapping you in a big hug.
You can use it on walls, trim, cabinetry, and more! The color is perfect for just about anywhere.
Other Paint Colors You Might Like: