Choosing the right Front Door Paint Colors can really help to take your curb appeal to the next level. It breathes a fresh new life into your home and as people drive by your home they will notice your home. But what color should you choose? Don't worry, today I have gathered the most beautiful paint colors for your front door to help you narrow down the best color for your home.
It's amazing how changing the color of your front door can have such a big impact on the entire look of your home. And it's not a hard DIY to do! In fact, it's probably one of the easiest paint jobs you can do. Also, it's one of the cheapest! Who doesn't love that right?!
*This post contains affiliate links. For more details see my full disclosure.
What is the Best Paint Color for a Front Door?
That's purely subjective. There are some guidelines you can use though to make the choice a little easier.
The first thing you can do is look at the style of your home. If you live by the coast and have a very beachy home then a coastal color might work great.
If you have a craftsman, historically they are 3 different paint shades, two for the body and one for the trim. They are usually a shade of beige/tan, green/blue, and red/yellow.
Victorian homes historically are dark and saturated colors with the trim being an opposing color.
We can go on and on about what style of home you have and what colors are typical for that style but in the end, it's completely up to you which color you choose. I suggest going to Pinterest and Instagram and searching for front door colors. Save a few and when you feel like you have enough narrow it down to what will look good on your home.
How To Choose a Front Door Color.
Once you have it narrowed down to a few get yourself a paint sample. I highly recommend going to Samplize for this. They will send you a 12X12 inch peel and stick sample of your paint colors that you can put on the door and look at it over a couple of days and then make the final decision.
Why do I like Samplize? Because you aren't stuck with a paint sample can after and nothing to do with it. Because its easy and there is no mess, nothing to clean up. When you are done just toss the sample in the trash!
*This post contains affiliate links. For more details see my full disclosure.
Does the front door have to match the shutters on the house?
The answer is no, it doesn't. Can it? Of course! But there is no hard and fast rule that says the front door and the shutters have to match.
In more traditional style homes the front door, garage door, and shutters typically match in color. But more modern homes will have a paint color on the front door that is different.
What kind of paint do I use to paint a front door?
The best paint sheen to use on a front door is semi-gloss. The front door is exposed to the elements of nature and sometimes gets hit with rain, snow, and (my least favorite) bugs. You need a paint sheen that is easy to clean.
You can also use exterior paint on your front door. Just make sure that it's easy to clean and waterproof.
Front Door Paint Colors
Blue Front Door Paint Colors
Using blue on your front door is a great choice. You can go for a lighter blue to really make it pop and have character, or a darker blue if you have brick or stone.
Benjamin Moore Wythe Blue is a very popular paint color for your front door. Chatfield Court uses it on her front door and it looks great with the stone that she has on her front porch.
Valspar Pitch Cobalt is stunning here and goes really well with brick homes. My friend Carrie at Lovely Etc. has this on her front door and it feels very Americana to me.
A Life Unfolding used Sherwin Williams Indigo here on this door next to mid-toned gray paint color on the siding. I love how all the trim around the door is white, it really makes the door pop and gives it separation from the siding.
Modern Masters Serene looks beautiful on this lighter-colored home. The siding on Practically Functional's home is a light gray and the trim is a crisp white. The serene paint color really gives a craftsman vibe (mostly because of the door style) but you could also use it for a home that is more nautical or coastal.
I am in love with Behr Teal Motif and how Love My Simple Home used it. This paint color makes me think of the coast. I was in Wilmington, NC to visit my daughter when she and her husband were stationed at Camp Lejeune and every home was a different shade of bright colors. This color would look great on a home that is on the ocean or a lake.
Benjamin Moore Hale Navy and Sherwin Williams Naval would be other great options. They are very dark navy colors that would pair well with brick or stone.
Black Front Door Paint Colors
Black looks really well on white houses as well as tan/beige. If an exterior has black siding then going with a black front door is a great way to achieve continuity.
Sherwin Williams Tricorn Black looks amazing on this light brick home. There is a lot of contrast and this makes the door really stand out. A perfect choice by Craftivity Designs.
Sherwin Williams Inkwell also looks amazing on a red brick home. Tag and Tibby did a great job of pulling that darker brick color out and pairing it with dark planters on the porch. The black door really brings it all together.
For my front door, I painted it Sherwin Williams Urban Bronze. I originally painted it a light color but then the bugs all decided to die on it, which was totally gross. So I went dark to sort of match the trim around the windows and I love how it turned out.
Yellow Front Doors
Bring a little sunshine in your life by painting your front door a beautiful shade of yellow!
Behr Jackfruit looks so good on this dark gray home by DIY With My Guy! I have always loved the color combo of gray and yellow so to see it on a large scale like this is just beautiful!
Neutral Front Door Colors
If you have a bold color on the siding then you might want to tone it down a little with the door color. When I think of neutrals I think of beiges, tans, grays, and whites.
House on Longwood Lane used Behr Sierra and it looks really pretty on this white home. The dramatic part of this home is the arches and the peaks so by keeping the door color-neutral you don't have elements competing with each other. Plus I love that the trim is another contrasting neutral.
Red Front Door Paint Colors
Let's spice things up a little by using red as a front door color!
Benjamin Moore Caliente looks amazing with a black and white color palette. It really adds warmth where the combo of black and white can feel very cold.
Green Front Door Paint Colors
Green is a very serene color and looks great with so many other colors!
Benjamin Moore Green Meadow looks so good with a neutral color siding. Green has become insanely popular in home decor and you cannot go wrong with using this color on your front door!
Pink Front Door Paint Colors
Behr Noble Blush is a beautiful paint color for a front door. Blush paint colors are the modern version of pink and are very popular. You can see how nice it looks against a painted white brick home. Pink also pairs really well with green so adding landscaping to it will be perfect!
What Color Should the Trim Around the Door be?
That's a really great question! I would say that a popular color to use on door trim would be white. This way the door pops and there is a separation between the door and siding colors.
Another option is to use the same color as the rest of the house trim. In fact, this would probably be the most preferred method.
What tools do you need to paint a front door?
If you are interested in doing some DIY painting then you should check out my post on my go-to tools for painting. For a front door, there are a few different things I suggest you use.
More Paint Color Posts: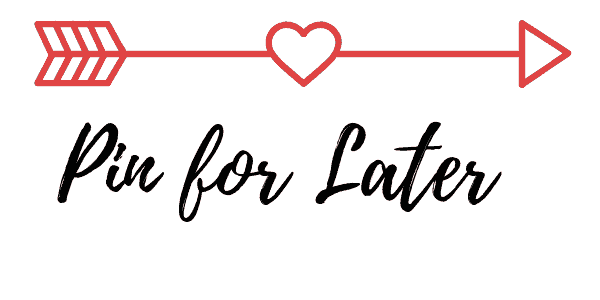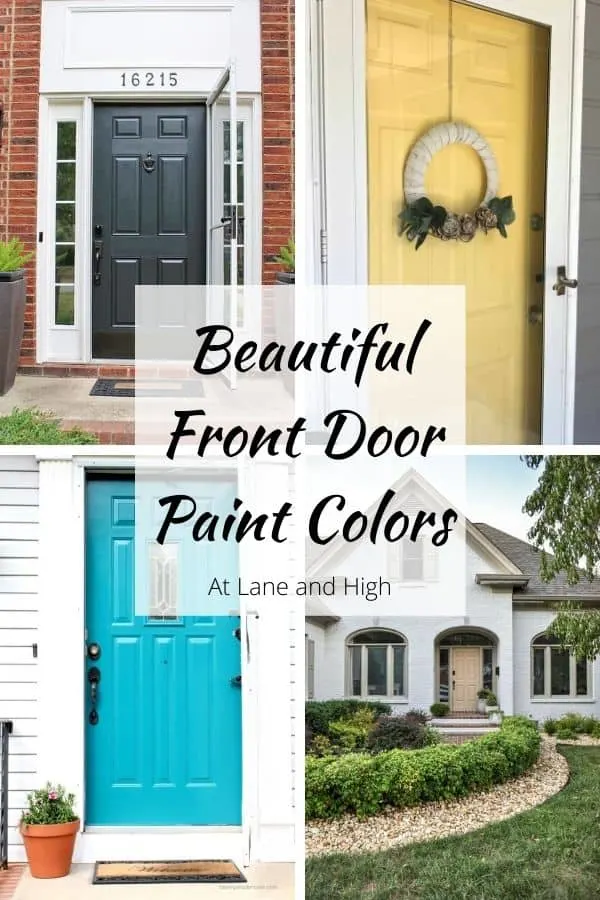 I hope you feel inspired by these front door paint colors to give something new and fun a try on your own home! The little cost can bring a big impact!