Sherwin Williams Urbane Bronze is a gorgeous paint color and was the 2021 paint color of the year for Sherwin Williams! It's a darker, more bold paint color which is very on-trend right now.
It completely makes sense that Urban Bronze would be the paint color of the year. It's a gorgeous bold color that can be used almost anywhere!
*This post contains affiliate links. For more details see my full disclosure.
What color is Urbane Bronze? Is it Gray or Brown?
Here is what Sherwin Williams has to say about their color:
As in nature, Urbane Bronze SW 7048 (245-C7) is at its best when balanced with its environs. "Layering texture and tone is key," says Sherwin-Williams Director of Color Marketing Sue Wadden.

Sherwin Williams
Urbane Bronze is a gray paint color with brown undertones. Actually, the browns are more of a bronzy tone, hence the name Urbane Bronze.
It's on the same paint color trip as Worldly Gray and Amazing Gray which are both gorgeous greige paint colors.
How to know if a paint color is right for you?
The best way to judge if a color is good for you then you will want to put a swatch on the wall and look at it over a few days. Look at it in different lights and decide if you really like it.
You can do this by getting a sample from the paint store and using a brush put it up on the walls, but then you are left with a can that you can't do anything with. Those samples are used with poor quality paint and aren't meant for use on your walls permanently.
I recommend going with Samplize. They are a company that will send you a 12X12 peel and stick swatch of a paint color that you can stick to the wall. When you are done just peel it off and throw it away.
It's easy and much less messy!
Sherwin Williams Urbane Bronze Undertones
Urbane Bronze having bronze and brown undertones is a greige paint color which means it is a warm-toned gray that looks a bit beige.
However, because its LRV is 8 it is a very dark color. LRV stands for Light Reflective Value. It's a scale from 0-100 with 0 being black and 100 being the whitest white.
What colors go well with Urbane Bronze?
According to Sherwin Williams "shades of beige, parchment, mushroom and ochre comfortable contrast with" Urban Bronze. Modern Gray and Messanger Bag are two they recommend pairing with Urbane Bronze.
While Urbane Bronze is a bold and saturated color it pairs really well with other colors and can be used whenever and wherever. You can pair it with other neutrals or bring in some color. Green paint colors go really well with this color.
Lighter wood tones are a great contrast to the dark color of Urbane Bronze. Darker woods coordinate well but the contrast of lighter ones really makes a statement.
Wrought iron, as well as golds, are really good choices for metals in hardware to be used with Urbane Bronze.
What white paint color goes well with Urbane Bronze?
The best whites to use with Urbane Bronze are Extra White and Shoji White.
Extra White is a bright white paint color with neutral undertones. It's a great color to use on trim and ceilings which will make Urbane Bronze stand out.
Shoji White is a creamy color that is a cross between cream and greige which makes it a great choice for Urbane Bronze.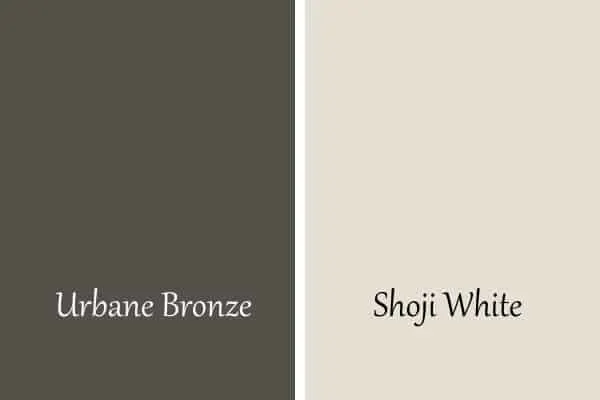 Where can I use Urbane Bronze?
You can use Urbane Bronze anywhere. Personally, I used it on my front door, it blended really well with the trim colors on my windows.
I have seen it used on exteriors, cabinetry, as well as interior walls. If you are looking for a dark and moody look for a room this would be a perfect color to try.
Dark exteriors are very trendy right now too. I think having dark siding is a gorgeous look and Urbane Bronze is a great choice!
Sherwin Williams Urbane Bronze Whole Home Color Palette
Get this free whole home color palette for Sherwin Williams Urbane Bronze and you will also be part of the At Lane and High Community! You will receive weekly newsletters on new posts and you can unsubscribe anytime.
Real-life examples of Urbane Bronze.
Brick and Batten has a gorgeous home and used Urbane Bronze on the exterior. I love how well it looks with the black shutters and roof. It also goes really well with the grays in the stone steps and greens in the landscaping.
You will notice that it doesn't look as dark in the bright light of day. But when used inside the home it looks much darker.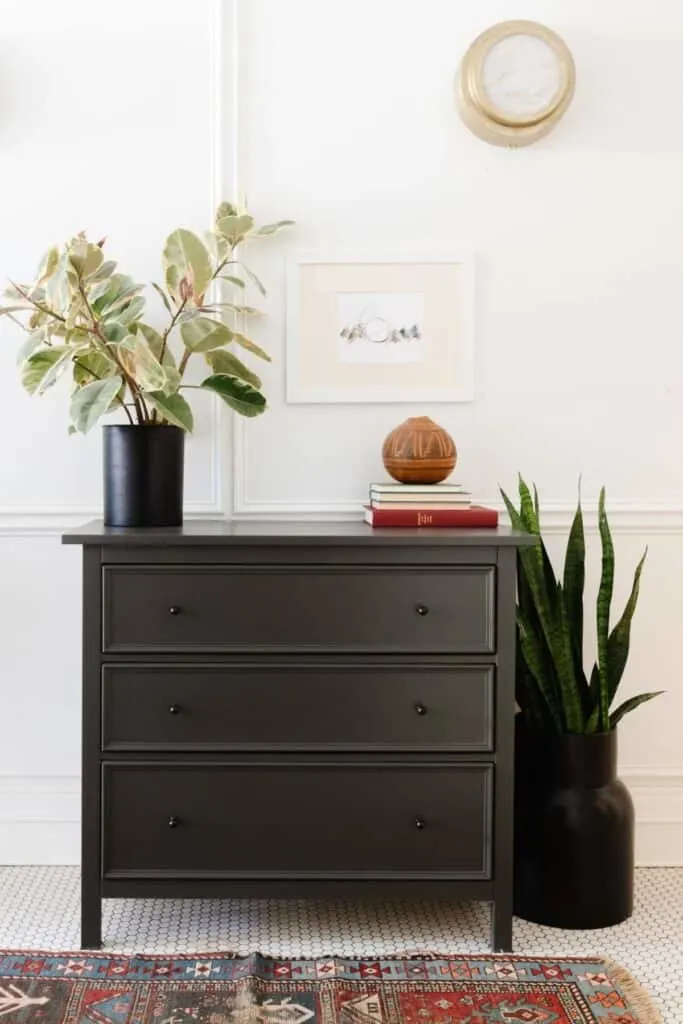 Vintage Revivals did an amazing job flipping this dresser. It's simply gorgeous in Urbane Bronze and really pops with the white wall background and white tile floors.
Dark and moody bedrooms are very on-trend right now and Urbane Bronze is a great choice to use. I just love how well it pairs with the light wood tones and neutral fabrics. They all go really well together.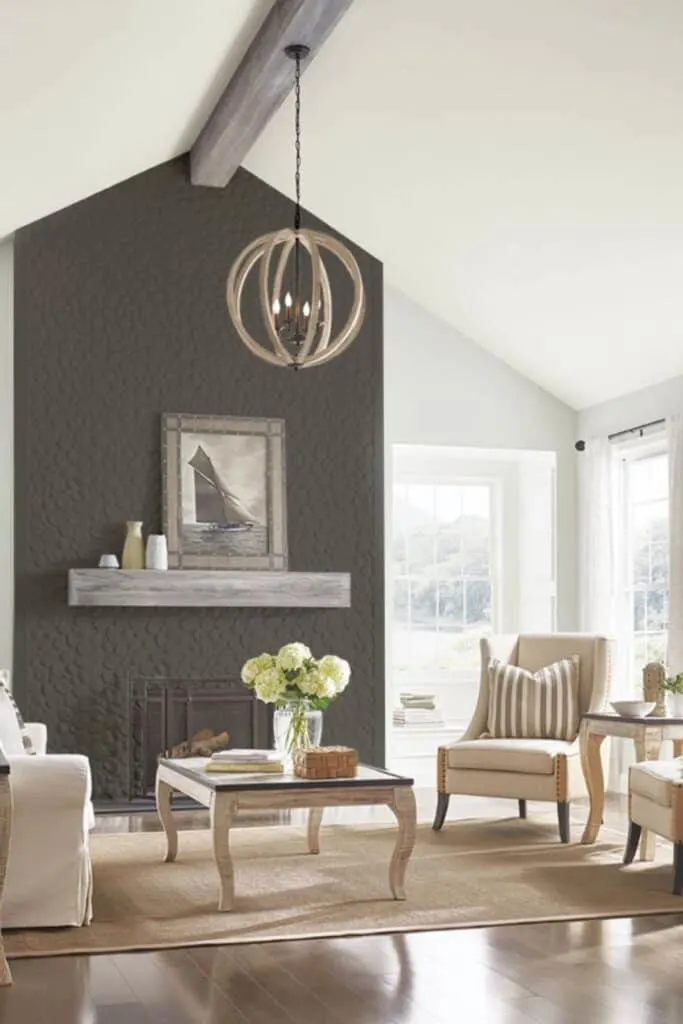 Using Urbane Bronze as an accent color is a great choice! This fireplace is definitely the star of the show and that's all because of this amazing color. And notice how well it goes with the gray wood tones in the mantel!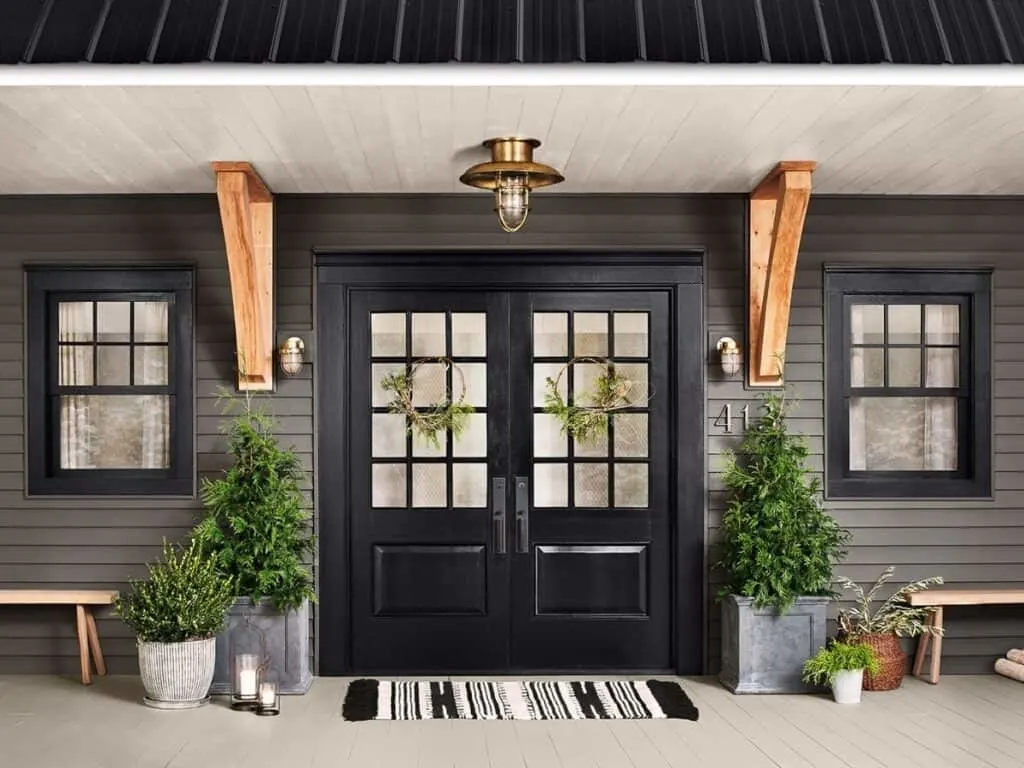 Another photo where Urbane Bronze is used on the exterior. If you love the cabin look or have a cabin in the woods then this is the perfect color for you to use!
Final Thoughts
Urbane Bronze is a gorgeous warm-toned color that goes really well with other colors and wood tones. You can use this color on just about any surface and it will look good. I have it on my front door and plan to use it on my garage door (as soon as the weather warms up enough to paint).
You can't go wrong with Sherwin Williams Urbane Bronze.
Other Paint Colors You Might Be Interested in: