Blush paint colors are much more sophisticated than the old pink colors from the '80s. They have really become popular over the last 5 years and you won't believe the places you can use a beautiful blush paint color.
I am so excited to bring you another roundup of amazing paint colors. Today we are all blush about sharing our favorites (see what I did there, lol).
Pink paint colors aren't just for kids' bedrooms anymore. Pink is the new neutral! White and beige aren't the only neutrals out there these days. Any paint color that goes well with others and works as the perfect backdrop for artwork and accessories is a neutral.
Most people when they think of painting a room pink they totally cringe. That baby pink or even bubble gum pink of the '80s, when painted on all the walls can be extremely overwhelming. And no one wants to walk into a room and immediately be like whoa, and cover their eyes.
I have been doing a ton of research on this topic because my youngest daughter (who will be 21 in a few weeks!) wants an accent wall in her room of blush. Of course, that meant I had to go through a zillion colors until I found the right one.
What color is blush?
Blush pink is not your typical pink. Blushes are more muted than their more vivid friends, the pink. Because they are more muted they are considered a neutral and pair really nicely with other colors.
Blushes can also be seen in more peachy tones or even colors with more purple in them.
Pink colors typically have red and orange undertones. Blush colors also have these undertones but they are more muted than traditional pink colors.
What does that mean? They have a bit of gray in them which mutes the red and orange, giving them a beautiful hint of pink with much more depth than your traditional pink paint color.
Is blush warm-toned or cool-toned?
Most of the time blush paint colors are warm-toned. They usually have red or yellow undertones, some will even look orange ( you know red and yellow make orange).
However, on occasion you might have a blush that has purple in it, giving it a mauve feel. (and no I am not thinking of the 80's wallpaper my Mom had in our home right now…). When it has that purple in it then it falls more on the cool side of the spectrum.
Where can you use blush?
Blush paint colors can be used really anywhere in the home, they aren't just for kids' bedrooms anymore. Another misconception is that guys don't do pink. Pink is very sophisticated and can work really well in a masculine space.
Some popular places are on accent walls. That is what I plan to do with my daughter's bedroom.
On interior and exterior doors is also another popular place. Especially in coastal towns, a blush front door can really pop! This door not only has amazing detail but the gorgeous blush color really pops with all the white.
Be creative when it comes to your paint colors and try using blush on the ceiling! It adds a really special touch to a room and can be a statement for sure! A nursery is a great place to use a blush paint color but how about on a ceiling like Maison de Pax did!
Or use them on all four walls for a saturated look. Blush can be just stunning on the walls as a neutral. Summer Adams uses a lot of pink in her decor and this stunning glam office is just one example of how you can use blush paint colors on all four walls in a room.
How to know which blush paint color is right for you.
When you decide you want to paint a room blush I highly suggest taking to the internet and looking at a lot of pictures. Pinterest is a great place to go for inspiration and I have a board dedicated just for paint colors that you can check out.
Narrow things down and head to the paint store and grab some paint chips. Using blue painter's tape pin them up on the wall in the room you plan to paint. Narrow it down to a few of your favorites and then you need to get a paint sample.
The best thing you can do when you are searching for a paint color is to get a sample. You can get a sample can from the paint store but you don't use hardly any of it then you are left with this can of paint. Nothing you can do with it.
I highly suggest getting a sample from Samplize. They will send you a 12X12 inch peel and stick sample of your paint color. You put it up on the wall, look at it over the course of a few days, and choose which one is right for you.
When you are done just peel it off the wall and toss it. Easy peasy and no mess whatsoever!
Best Blush Paint Colors From Benjamin Moore
Let's get into the best blush paint colors from Benjamin Moore. Sherwin Williams and Benjamin Moore are my go-to paint stores. Their paint is very high quality and the coverage is amazing!
Rose Blush
Rose Blush is part of the Classic Color Collection. It has an LRV of 61.74 which makes it a light paint color, but only just. This color has decidedly red undertones to it.
Rose Silk
Rose Silk is very similar to Rose Blush but it has a touch more purple to it even though it firmly has red undertones. It is also slightly darker than Rose Blush with an LRV of 58.09, making it more of a mid-range paint color.
Sugarcane
Sugarcane is one of my. favorites on this list. It falls more on the peach side rather than pink. Maybe that's why I like it so much, it's a little different. It has an LRV of 74.15 which makes it one of the lighter blush colors we will talk about.
Gobi Desert
Gobi Desert is a unique blush with red and yellow undertones. It decidedly looks almost like it has some beige in it, making it a strong neutral paint color. It has an LRV of 57, making it a mid range paint color.
Ballerina Pink
Ballerina Pink is one of the lighter blush paint colors. It has an LRV of 79.87 which puts it on the very light side of the spectrum. This color has red undertones with hints of purple making it more of a cool-toned blush.
Pink Cloud
If you are looking for a paint color that has just a hint of color in the blush family then Pink Cloud is it. It's got an LRV of 87.97 which makes it the lightest one we will discuss. This one is also another of my favorites, it tends to lean towards the pech side rather than pink.
Heather Pink
Heather Pink is a beautiful dusty rose color that is in the mid-toned range. It has an LRV of 58.12. This paint color has such a strong depth of color which makes it so gorgeous!
Warm Blush
Warm Blush has strong yellow undertones which makes it a little different than the others we have discussed. With an LRV of 81.51 which puts it on the lighter side of things.
Pale Cherry Blossom
Pale Cherry Blossom has an LRV of 62.43 making it a light/medium toned blush paint color. It has red undertones with hints of yellow making it a warm blush.
Need Paint Decks?
Best Blush Paint Colors from Sherwin Williams
I love Sherwin Williams paint. Their Super Paint is my favorite line that they have. The quality is really good and the coverage is amazing! My husband doesn't want me to buy anything else now.
Mellow Coral
Mellow Coral is just like it sounds. It leans heavily towards the coral/peach side of pink and has a strong depth of color. With an LRV of 52 there is no wonder how amazing this color looks on the wall.
Pink Shadow
Pink Shadow is a warm blush paint color that has red undertones with a touch of yellow. The LRV is 58 which puts it on the mid-toned scale but as you can see is a beautiful muted pink/purple.
Intimate White
Intimate White is a very light blush paint color with an LRV of 77. If you want a hint of color then this might be the one for you. It has more yellow undertones than red and leans a little more towards the peachy side.
Fading Rose
Fading Rose definitely has a lot of purple in it. It's a beautiful mid-toned blush color with an LRV of 55. It is cool-toned but has much more depth of color than some of the other blushes we have discussed here today.
Appleblossom
Appleblossom is similar to Fading Rose but instead of leaning purple it definitely has more red in it. It lies almost in the middle of the LRV spectrum with a number of 51.
Innocense
I really like Innocense. It has a bit of red in it but it's brighter than some of the other mid-toned blush colors. It has an LRV of 68 which makes it pretty light and will bounce around lots of light.
Faint Coral
Faint Coral has an LRV of 75, which makes it a very light paint color. It has a touch of peachy coral to it which gives it a gorgeous paint color.
Blushing
Orange undertones are prevalent in this stunning paint color. It definitely has some peach to it, which we have already established makes me very happy.
Malted Milk
Malted Milk has less pink in it and more beige. It's very muted and will act as a great backdrop wall color to some amazing decor.
Cosmic Blush
Cosmic Blush sits decidedly on the pink side with just a touch of gray. It's the baby pink of the 21st century if you will. This is a light blush with just enough depth of color to create a gorgeous statement in a room.
What colors go well with blush?
Since blush is considered a neutral it goes really well with just about any color. The one big tip I have for people who aren't used to picking colors for their home is to stick with like tones.
For example, if you have a cool-toned blush then choose a cool-toned color to go with it. If you choose a warm-toned color pair it with a warm-toned color. Like goes really well with like but you can cross tones. If you don't have a lot of experience then pick like toned colors.
Here are some really great combos that you can use in your home.
Blush and White
Here you can see that Blush Rose, which is a warm-toned blush, goes really well with Extra White. Extra White is very neutral but tends to pull towards the warmer side. These two colors go really well together, as would lots of blush colors with white.
Blush and Gray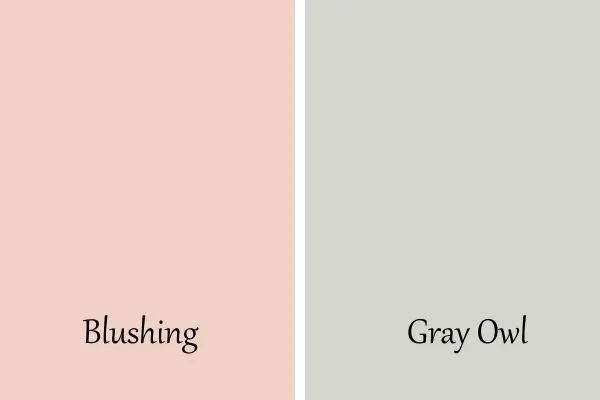 Here you can see how well blush colors go with grays. Blushing is more of a coral blush and looks amazing with Gray Owl.
Blush and Dark Colors
Blush and navy go really well together as you can see from this example of Apple Blossom and Hale Navy. I love the combo of light and dark.
Here is another example of light and dark with Apple Blossom and Tarrytown Green. Green has become extremely popular in the last couple of years so to pair it with a sophisticated color like blush is a fabulous combo!
Painting a Room Yourself?
If you are planning on painting a room all by yourself then good for you! I hate paying for something that I can easily do myself and painting definitely falls into my DIY category.
There are a few things you will need to paint a room yourself. Check out my full post to get the list of my go-to paint supplies. Here are a few of my GOAT favs.
This is the exact paintbrush I use for all my projects. I do a lot of painting and this guy typically lasts me a couple of years.
This paint roller will last forever. I have two and I can't even remember the last time I bought either of them.
These are the exact roller covers I use. It's really important to get good quality roller covers otherwise you end up with pieces of the all over your walls. Cheap ones break down and leave a bit of themselves on your walls which will be there forever. Not good at all.
A few other things you will need are a paint tray, painter's tape, and a drop cloth.
And don't forget about Samplize. They are the best paint sample source out there with the best selection. They can send you a sample in a few short days and you can be painting by the weekend.
Other Paint Color Posts: