Navy is considered the new neutral and today I will be sharing the best navy paint colors you can use in any room in your home.
Navy has always been a popular color but recently it's become very trendy. From accent walls to cabinetry, navy has become the go-to color of many interior designers and home stylists.
*This post contains affiliate links. For more details see my full disclosure.
How to Pick the Right Navy Paint Color
Before we get into all the beautiful colors let's talk a little bit about how to pick the right color for your home.
First, you need to determine how dark of a color you want. The LRV (light reflective value) is a scale from 0-100 that determines how much light a paint color reflects. The lower the number the darker the paint color. So consider this when deciding on what color to choose.
The best thing you can do is to get a paint sample and put it on the wall. Look at it over a couple of days in different lights to determine which is right for you.
You can get a sample can from the paint store but then you are left with a can of paint and nothing to do with it. I highly recommend Samplize.
Samplize is a company that will send you a 12×12 inch peel and stick sample that you can put on the wall and when you are done with it you just throw it away. Super simple and no mess. Also, no leftover can to deal with.
Best Navy Paint Colors
Now that we know how to pick the right color let's get into the details on which navy paint colors are the best out there on the market.
And if you are interested I have a post dedicated to how to decorate with navy so you can use it in your home.
Benjamin Moore Hale Navy
Hale Navy might be one of the most popular navy paint colors. It has slight purple undertones but really chows more of a true navy. It's a popular color that has been used on doors, cabinetry, furniture, as well as walls. You can't go wrong with Hale Navy.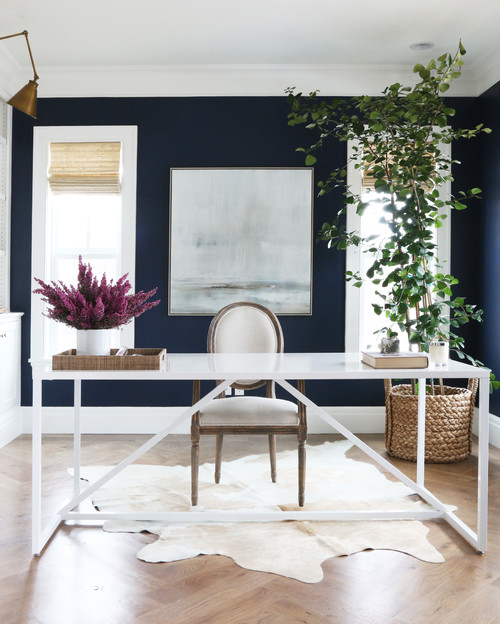 I just love the way Studio McGee paired the navy color with the wood floors and white trim.
Sherwin Williams Naval
Naval is the Hale Navy of the Sherwin Wiliams paint line. It's a dark navy blue with slight purple undertones. This color has not much, if any, gray in it. It's a great navy color!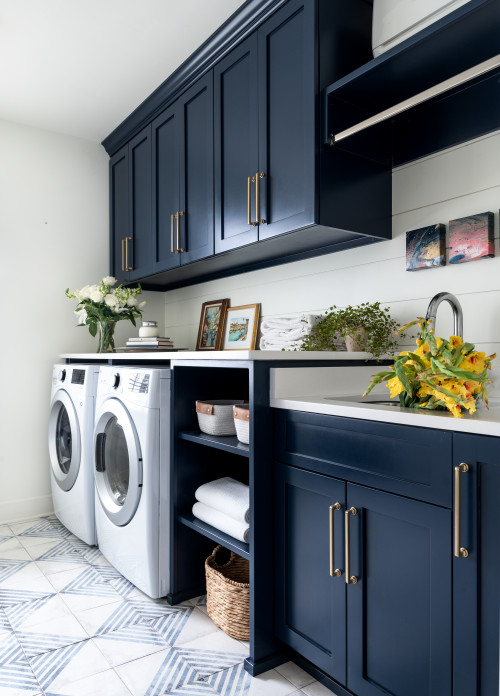 Now this is a laundry room I can spend some time in! I just love the colors here. Photo by The Kingston Group.
Benjamin Moore Deep Royal
Deep Royal is a very regal paint color, as is inferred by its name. It is a true blue navy with no discernable undertones but is very dark. If you are looking for a dark true blue this might be the one for you.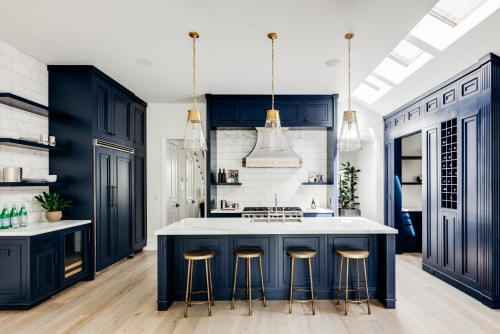 Amber-Tru Construction created a gorgeous kitchen with all blue cabinetry. This is a perfect example of how to use a dark color without making a room dark.
Benjamin Moore Old Navy
The name of this paint color just cracks me up. I love it! And I love the color. This is a true blue paint color, with no purple or green undertones here.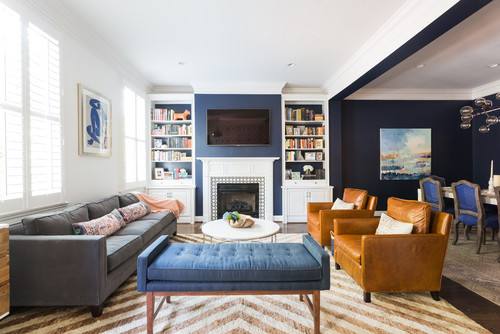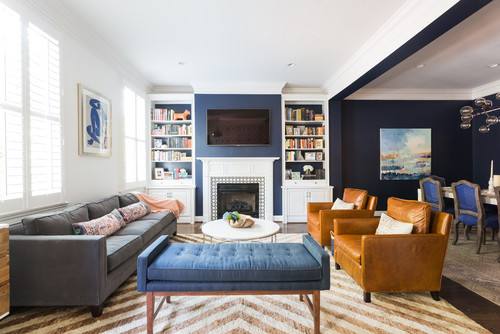 " target="_blank" rel="noreferrer noopener">Resident's Understood created this gorgeous focal wall using Benjamin Moore Old Navy.
Benjamin Moore Gentleman's Gray
Gray? Nah, this is not a gray. This is a navy blue paint color. There is no gray in this paint color. This navy color has slight purple undertones but I think it pulls more true blue.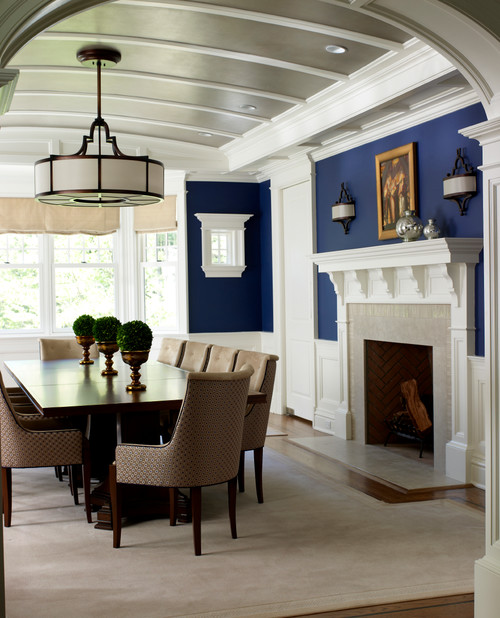 This gorgeous dining room by Michael Smith Architects has Gentleman's Gray and beautiful white trim color. You can see how well Navy pairs with different wood tones.
Sherwin Williams Salty Dog
Here is another one that I just love the name of, hush puppies anyone. This is a great navy paint color that has touches of green undertones.
Next Level Interiors knocked it out of the park on this one. The whites and creams paired with the navy and black is just stunning!
Benjmain Moore Newburyport Blue
Newport Blue sits one spot below Hale Navy on the paint deck. This means that it is slightly lighter than Hale Navy. So if HN is a bit darker than what you are looking for give Newport Blue a try!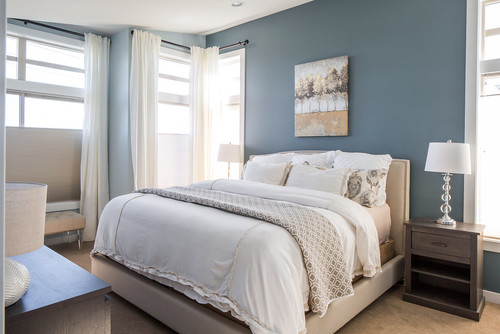 This bedroom by K. Peterson Design is gorgeous! I love having a darker color on bedroom walls. It really makes the space cozy and relaxing.
Sherwin Wiliams Cyberspace
Cyberspace is a lot like Hale Navy but has a bit more gray in it. So if Hale Navy isn't quite right then Cyberspace might be a great option. It pairs really well with other grays so if you wanted to use it as an accent wall or cabinet color that would be amazing!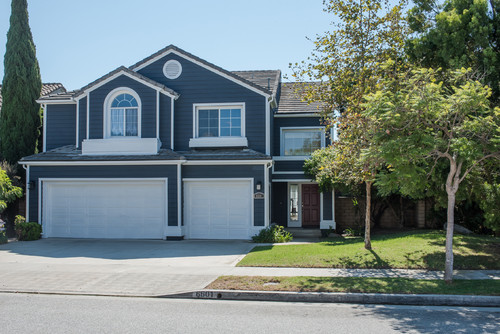 This is a great example of Cyberspace on the exterior. Isn't it gorgeous?!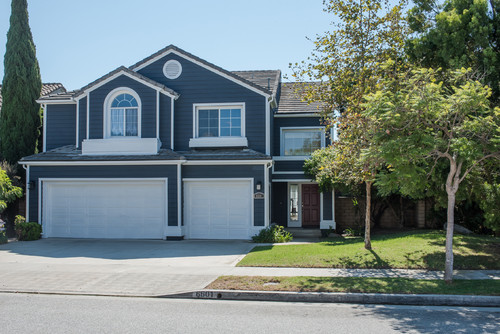 " target="_blank" rel="noreferrer noopener">BDR, Inc. paired Cyberspace with Sherwin Williams Extra White to create a gorgeous home exterior.
Sherwin Williams In The Navy
In the Navy is a tried and true Navy paint color. It doesn't have any undertones to speak of. With an LRV of 4, it is a very dark paint color.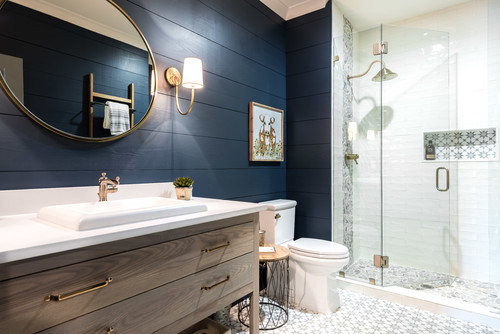 Who said shiplap has to be white?! This bathroom by Hart and Lock Design is stunning with the dark blue shiplap, paired with the wood vanity.
Other Paint Color Reviews: