Most people think of whites, beiges, and grays when they think of neutral colors but did you know that Navy Blue can be a neutral too?! Today I am going to show you how to decorate with navy blue so you see how it's a neutral but also a great color too!
Navy blue is a classic color that can be incorporated into almost any design style. Navy is a great backdrop for other colors but it also can stand very well on its own.
The color navy also adds sophistication to a space as well as elegance. You just can't go wrong when choosing navy as an interior or exterior paint color.
*This post contains affiliate links. For more details see my full disclosure.
Decorating with Navy Blue
There are some great advantages to decorating with navy blue. These are the reasons that you just can't go wrong when choosing a navy color.
Navy goes very well with all the most trending paint colors, such as gray. While it is a cool-toned paint color it goes really well with both cool and warm-toned grays, especially greiges.
Navy goes very well with both dark hardwood floors as well as light hardwood floors. This makes it a great color choice for just about any home.
When used on cabinetry navy blue goes very well with almost any color hardware. In particular, it goes well with the classic silver or brushed nickel hardware but also with the trending gold colors.
Lastly, navy looks just amazing when paired with crisp white on trim and moldings. It really makes the navy color pop.
Not only does navy give you a sophisticated look but if you are going for a nautical or coastal theme there is no better color to use than a navy blue.
How to Decorate with Navy Blue
Use Navy as a Paint Color
The most obvious way to decorate with navy is to use it as paint on the walls. Now navy is such a dark color the best way to use it is as an accent wall or in a room that gets a lot of natural light.
I have a post dedicated 100% to the best navy paint colors which you can check out if you are considering painting a room, or accent wall, a navy color. But here are a couple of my die-hard loves.
The first one is Benjamin Moore Hale Navy. This is my absolute favorite navy paint color. To me it epitomizes the classic color that I associate with a true navy.
I love how well Hale Navy pairs with the crisp whites in the bedding as well as the warm tones in the wood.
My other favorite navy is by Sherwin Williams and it's called Naval. This color is similar to Hale Navy but not quite the same.
How to Pick the Right Navy Paint Color
Before we get into all the beautiful colors let's talk a little bit about how to pick the right color for your home.
First, you need to determine how dark of a color you want. The LRV (light reflective value) is a scale from 0-100 that determines how much light a paint color reflects. The lower the number the darker the paint color. So consider this when deciding on what color to choose.
The best thing you can do is to get a paint sample and put it on the wall. Look at it over a couple of days in different lights to determine which is right for you.
You can get a sample can from the paint store but then you are left with a can of paint and nothing to do with it. I highly recommend Samplize.
Samplize is a company that will send you a 12×12 inch peel and stick sample that you can put on the wall and when you are done with it you just throw it away. Super simple and no mess. Also, no leftover can to deal with.
Use Navy on Cabinetry
As you can see here Hale Navy just pops next to the bright whites in the bathroom but also goes really well with the mid-toned hardwood floors.
Using it on cabinetry is perfect especially because it pairs so well with whites and woods. But mostly because it doesn't matter what color hardware you choose navy looks amazing with them all!
Select Navy Appliances
Okay, I can hear you thinking what?! Navy appliances are different and dramatic and so beautiful! By using a different color in appliances you are setting your kitchen apart from others and making your space memorable.
Here are some amazing images for you to get an idea of how a navy appliance can look in a kitchen.
See how well this navy stove looks when paired with all white cabinetry! It stands out and looks amazing. Not to mention very expensive!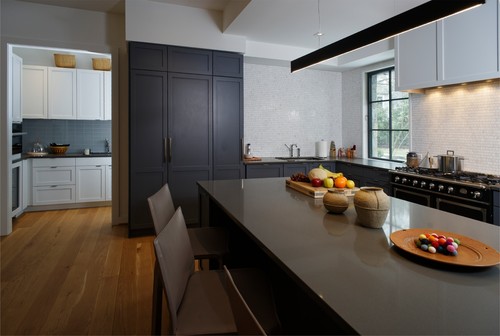 This kitchen is stunning. In this example, they used the colored appliances to blend in with the cabinetry so they disappear as opposed to standing out. Very ingenious idea!
Decorate with Navy Blue under your feet
By using navy in an area rug you ground your space with the darker color as well as give it personality and pizzaz! Navy area rugs also go really well with just about any floor color so you really can't go wrong.
Here are a few from Amazon that you can't go wrong with!
If you are interested in checking out other online stores for area rugs then you might want to go to my post on the best place to buy rugs online.
Using Navy in Furniture
Choosing furniture pieces that are navy is another way to bring sophistication into your space without making your room very dark. This console table from Amazon is an excellent example.
This sofa is also another example of using navy in furniture. It's from Amazon as well. Did you know Amazon sold sofas? I didn't and now I am super excited about it!
One of my favorite ways to add navy to furniture is to do it by getting a piece off Craigslist, Facebook Marketplace, or a local antique shop and give it a coat of paint. This is a cheap and fun way to inject a bit of color into your furniture.
Navy Widow Treatments
What better way to keep the sun out, and the privacy in, than to add window treatments. By creating a look with navy curtains you can add sophistication and style to your room and a little pop of color!

Decorate with Navy Decor and Accessories
The best way to add navy to your home is by using it in home decor and accessories. I love to change out pillows for the seasons and my favorite color to use in the summer is navy. It gives a sort of nautical feel to my home.

Adding to that using navy throw blankets is a great accessory. I love dark-colored throws because I have a dog that loves to curl up in my blankets and this really helps not show her dog hair.

I also love to decorate my walls with different accent pieces in navy colors. Here are a few really great options that you can use to update your home in navy.

Here are some other great accessories that are navy that you can add to your home for a sophisticated look.

I hope you have found some great ideas on how to incorporate navy blue into your home design! I have fallen in love with blue and use it in many places in my home.
Other home decor posts you might like: