In honor of the new opening of the Ikea in Columbus, Ohio I would like to share with you my daughters Ikea desk. We bought this last winter at the Ikea in Cincinnati Ohio. It's a large desk, almost 6 feet in length!!! The top was so long it didn't fit nicely into the bed of my husbands truck. It had to be angled and I was a complete basket case driving back!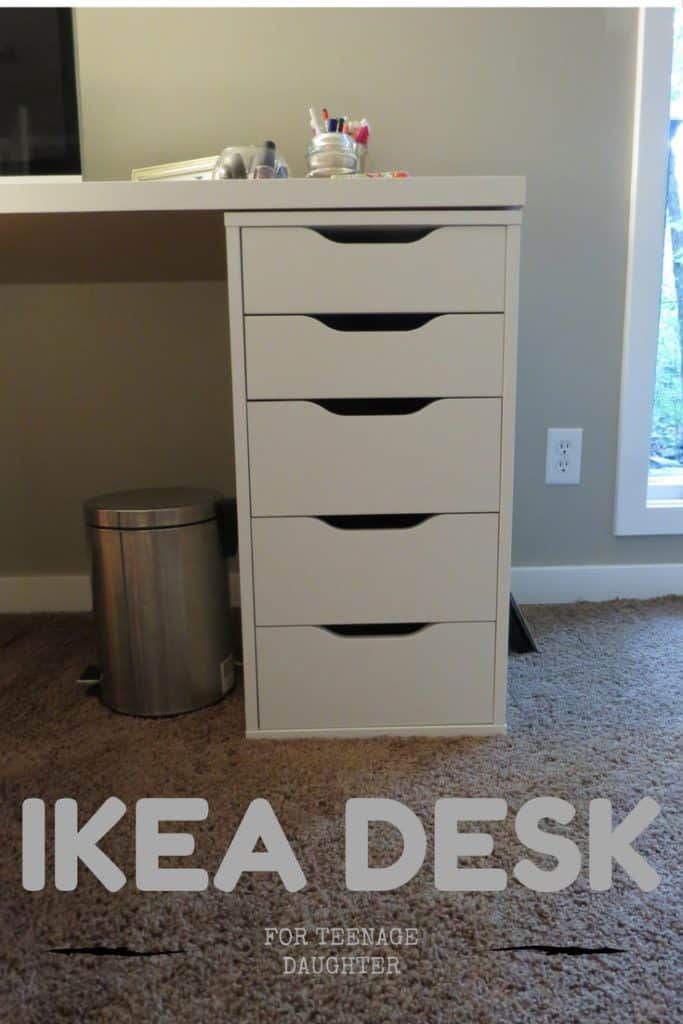 *This post contains affiliate links. For more details see my full disclosure.
This desk has 2 Alex drawers that anchor the ends of the desk with a post in the middle for support. If you are wondering if the post gets in the way it doesn't at all. Like I said, this desk measures almost 6 feet so finding space for it is difficult, especially in a kids bedroom. She is one lucky teenage girl, she has a great sized room with 2 closets (yes ladies I said two!!!!). Her goal is to get rid of all dressers and have all her clothes in the closet with only the desk, bed and nightstands in the room as furniture. She had to move out a set of shelves in order to fit the desk in right now, but all the stuff that was displayed on the shelves neatly fits in the drawers or on the desk top. Here are a few pictures of the top.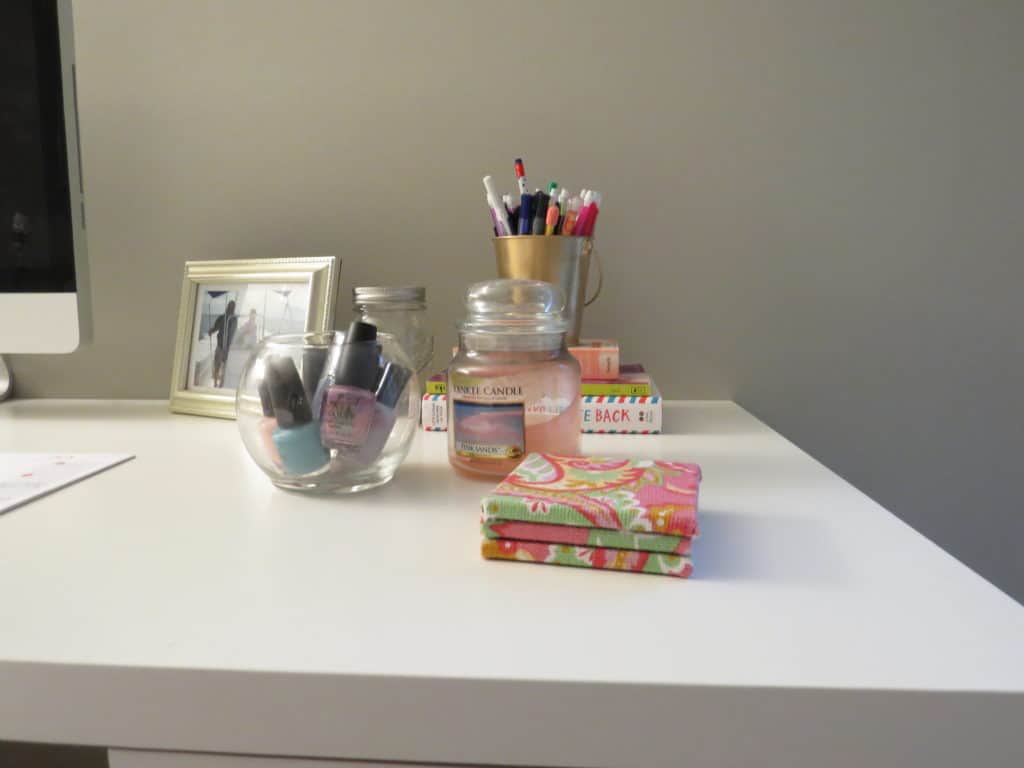 As you can see she uses the desk for not only homework/computer (aka Netflix) purposes but she also uses it as her vanity. I cannot recommend this desk enough! It was so easy to put together. It came with a lot of parts, and took a couple hours to put together because we were taking our time, but went very smoothly. She and I were able to do it ourselves, no need for help from the hubs. I am very jealous of this desk, it just holds so much and is so pretty! I may just have to get one for myself.
If you don't have the room for this large version they do have a shorter one that has one Alex drawer unit in it instead of two. You can find it here.
I am so excited to head over to Ikea, it's only 15 minutes away now instead of 2 hours!!!! Think of all the stuff I can buy!!!! My husband is real excited about it, hahahaha.
Below you can find links to all the decor on her desk, or something simmilar to what is there just in case you gotta have it! When you get a moment please check out my post here on how to decorate your office to have style but also function. Have a fabulous day!
Desk top: here
Alex 6 drawers: here
Table leg: here
Yankee Candle: here
nail polish jar similar: here
apothecary jar similar: here
Gold frame similar: here
Make up Mirror similar: here
Pallet holder similar: here
Gold spray paint: here
Jergens hand lotion: here
Mason jars: here
Morphe brushes: here
Naked pallets: here
Books (my daughter calls these her pretty books that's why she displays them): here, here and here
IMac: here