Finally it's done! From the moment we walked through this house when shopping for a new home I knew that this ugly brown carpet had to go. I didn't want to just replace with carpet, I have 2 teenagers and they are as messy as toddlers! We were looking for something durable and beautiful, but also something that would not break the bank. In the local Parade of Homes many of the houses had stained concrete basement floors and I fell in love with the idea. I researched different products and decided to go with Rust-oleum's Epoxy Shield product line. Let's go into the details on how to stain concrete floors.
If you didn't see my original post on my basement carpet you can find it here. This is phase one of the process of my basement floor redo.
*This post contains affiliate links.
STEP ONE – Remove carpet
The first thing you want to do is pull up the carpet you are replacing. Before you start check with your local trash company and find out what dimensions the carpet rolls need to be, for example my trash company said no more than 4 feet long and 2 feet thick. Make sure you have a new, sharp utility blade and start cutting in long strips, roll them up and tape the rolls closed with duct tape. Continue until you have all the carpet up then do the same thing with the padding. To remove tack strips take a pry bar and hammer the straight end under the nails, you don't need to pry. The nails should come out of the concrete with the vibrations of the pounding. Definitely wear safety goggles! I didn't put my goggles in this picture but I highly recommend them. Sometimes those nails go flying in the air so make sure you protect your eyes.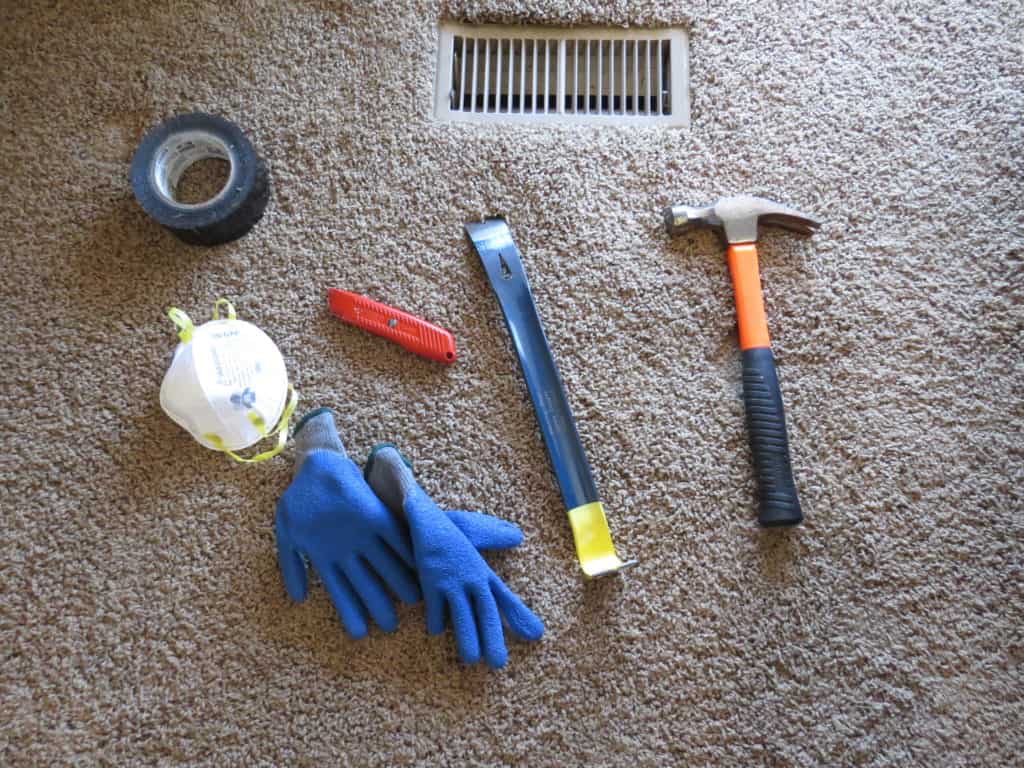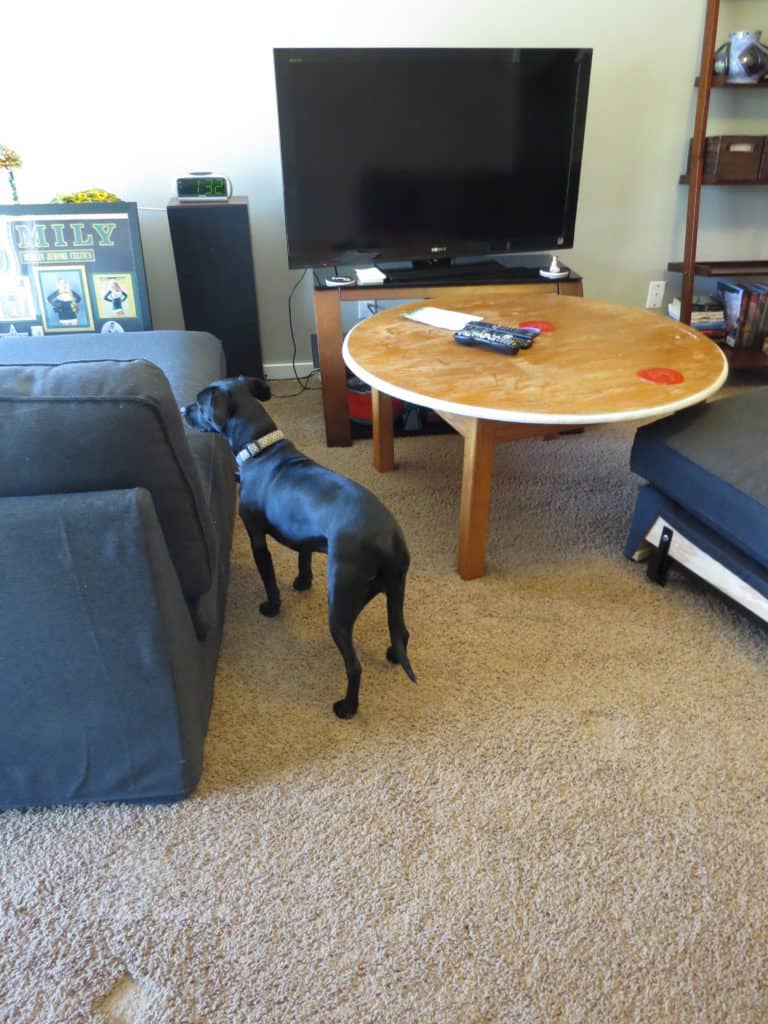 The Picture above shows the old brown carpet, and the culprit who decided to ruin it! HAHA! I can't be mad at her though, she's too cute and such a good cuddler!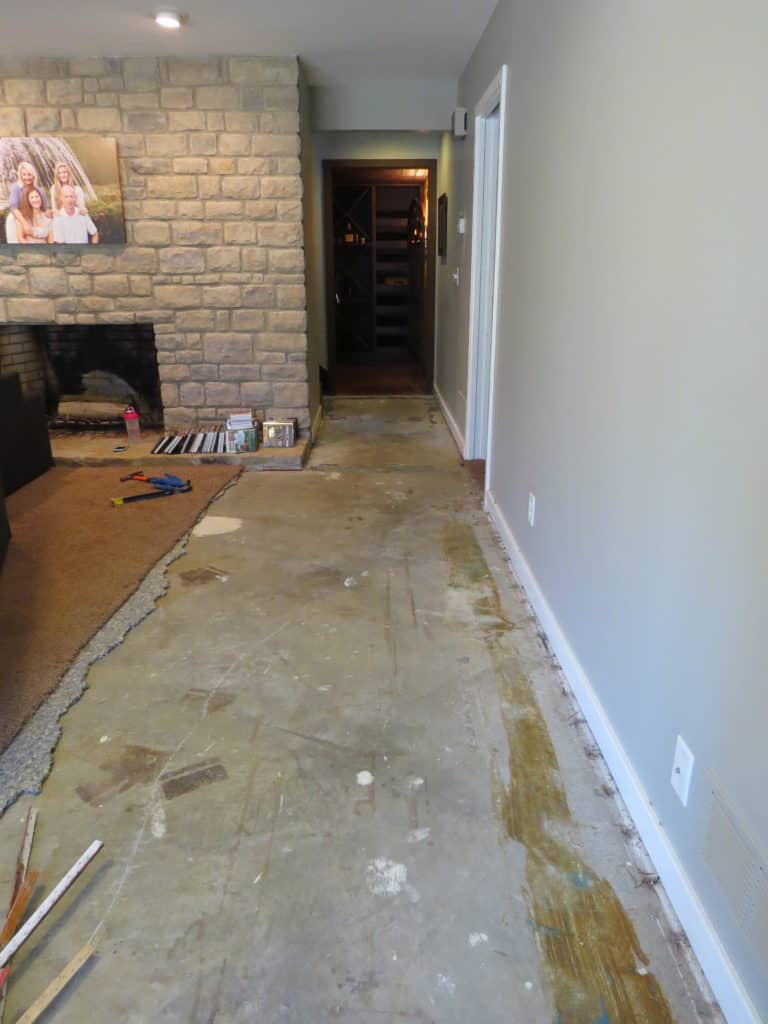 The work in progress above….one down many to go!
STEP TWO -Remove carpet pad glue and Patch holes as my least favorite step.
Make sure you have heavy duty gloves and I used this this adhesive remover. It was no joke! Follow the directions on the product you use but make sure you have your skin protected and good ventilation. The smell was pretty bad I won't lie, and a couple times I got a drop on my skin…..not fun. But I will say this stuff worked like magic! I was able to pour it down, spread it with a cheap paintbrush and after 30 minutes it scrapped right up. I used a scraper that I had from an old wallpapering kit (from the 80's 😳, please no judging 😂)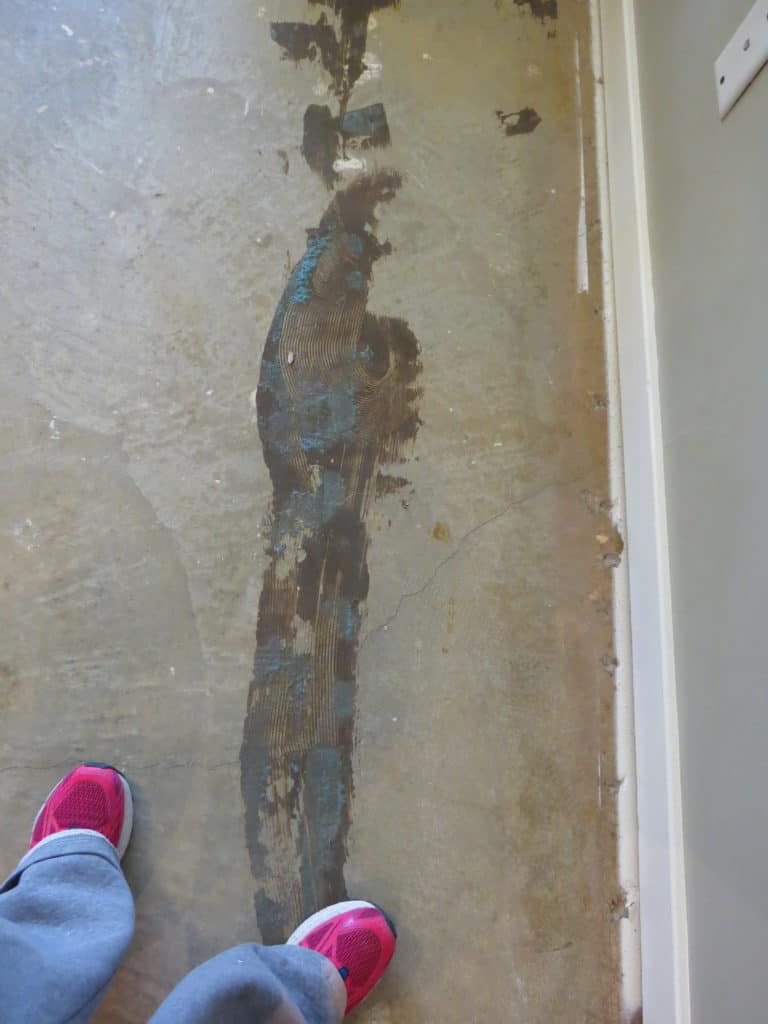 Above you can see the glue that I had to get up and the holes along the baseboard that I needed to fill.
Next I used Rust-oleum's concrete patch to fill in all those holes left by the tack strips and a couple large holes that were in the middle of the room.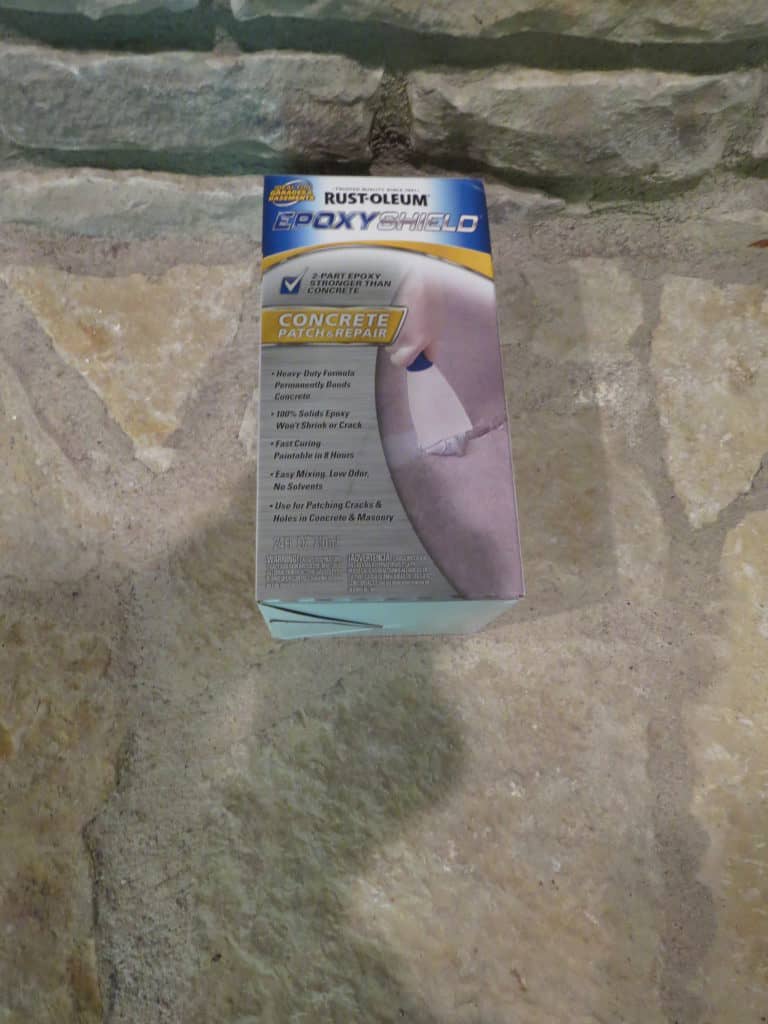 STEP THREE – Etch the concrete
This step is necessary only if you have concrete floors that have never been painted or stained before. If they have then you don't need to do this step. First clean the floor! Make sure there is no debris, no leftover residue from the adhesive remover. This step takes time. What you do is mix the etch in a watering can with water and work in small sections. Wet the floor with a mop, spread the etching solution, then using a stiff bristled broom scrub. You will see bubbling, that's good! It's working!!!! Once it's done bubbling mop it up and move to the next section. When you are done mop the floor three more times…..yep that's what I said….three more times!
Rustoleum Epoxy Shield Etching Powder
STEP FOUR – Stain the concrete
You made it!!!! This is the fun step because you see results! Mix the activator with the color you chose and the non slip material. Stir for a couple minutes, or whatever the package says to activate everything. As always follow the directions on the product. Again, work in small sections with a roller on an extension pole. Put a bag on the roller and rubber band it, this creates texture and it should have been included in the kit. Make sure you work quickly! This product only lasts about 90 minutes after activating and then it gets really thick, take my word for it. I was pushing that 90 minute mark hard. Make sure you wear gloves on this step as well, protect that skin!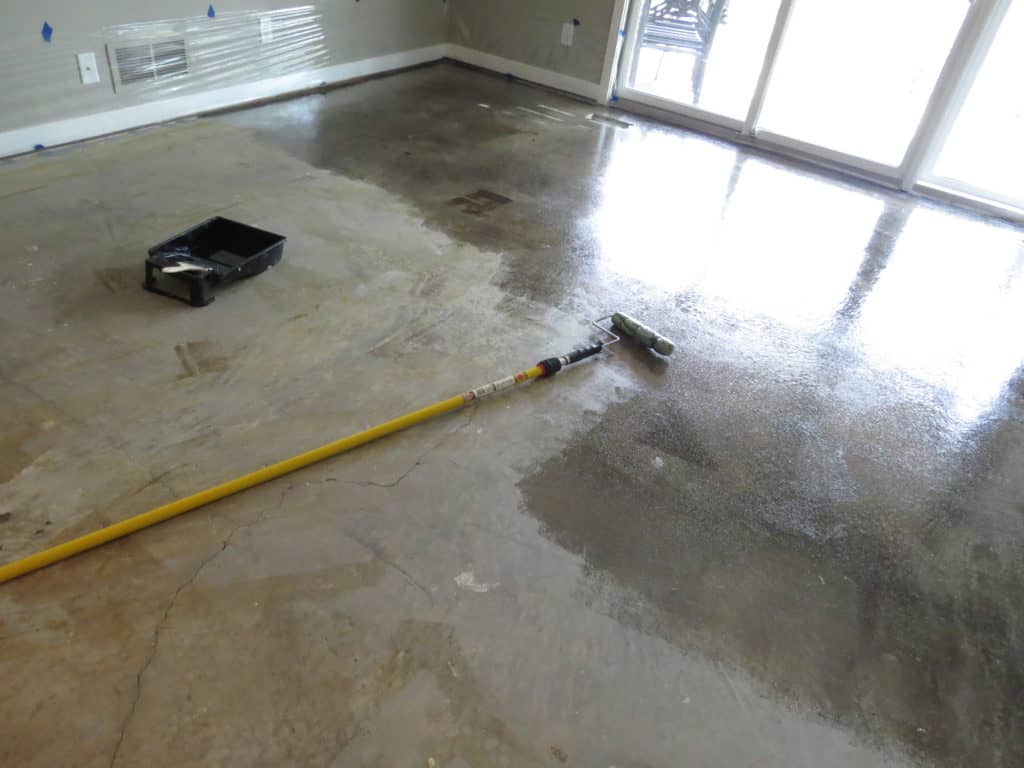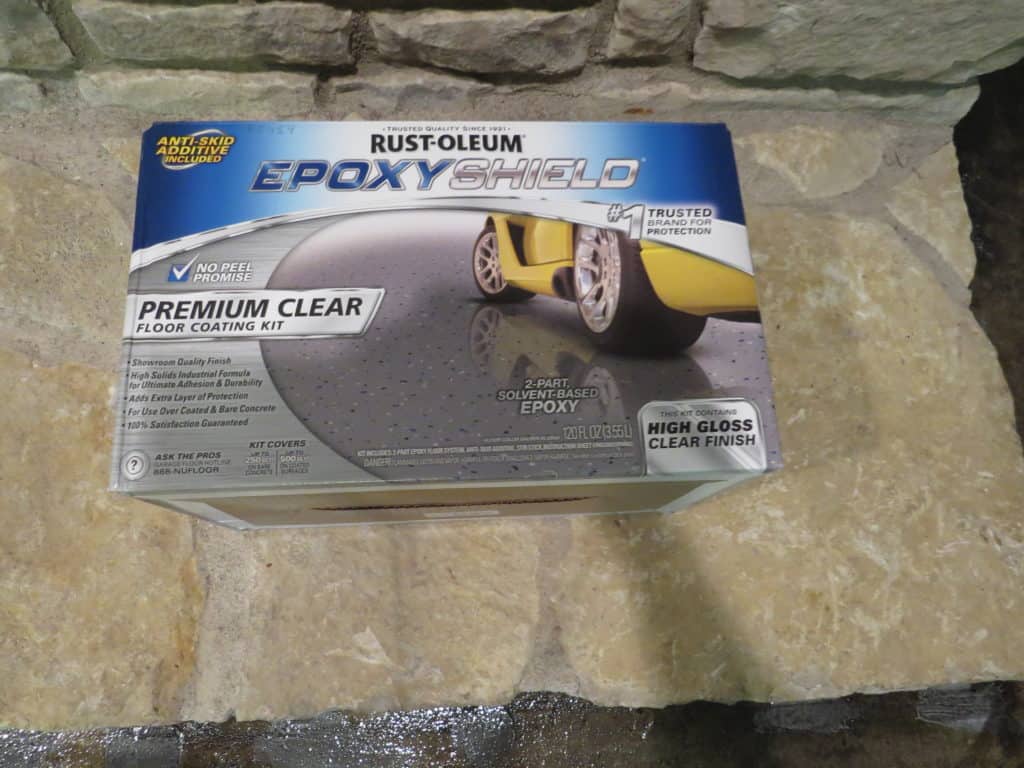 Rust-Oleums concrete stain additive in Charcoal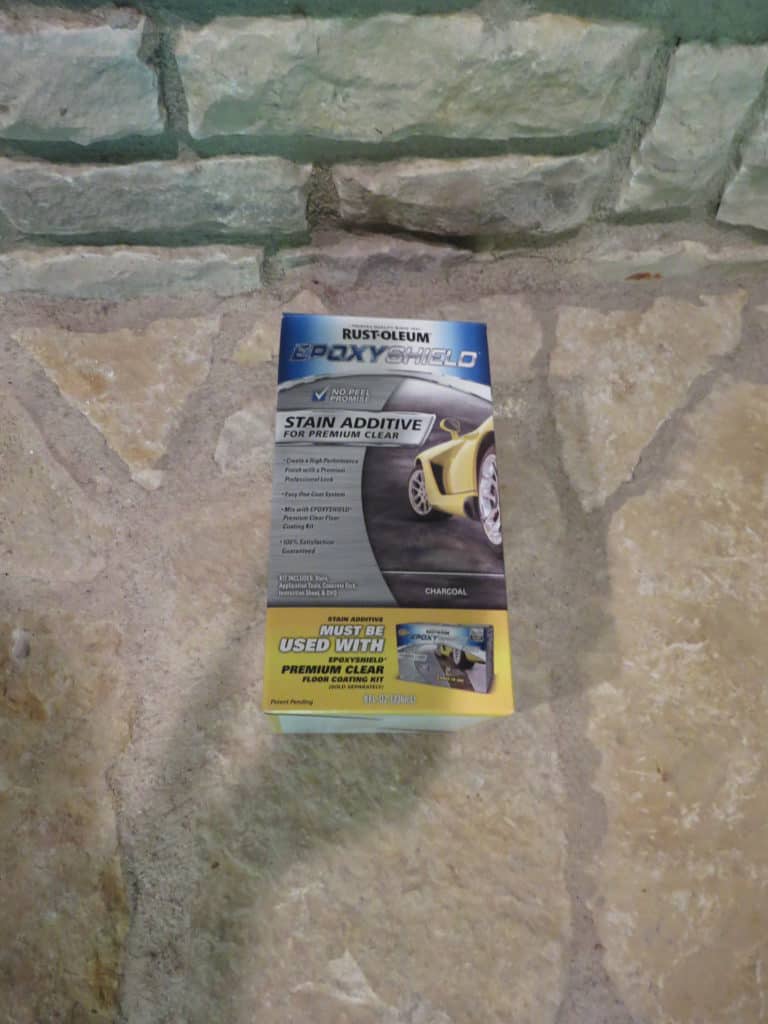 ADDITIONAL TIPS AND TRICKS
I used plastic sheeting on the bottom foot of the walls to protect them during the etching and staining process. Boy was I very happy I did this because I splashed a lot of water up on the walls.
Next I installed new thresholds where the concrete meets the carpet (the ugly brown carpet I am working on getting rid of)! This was not easy, drilling into the concrete! I will say that I had to get my husband to help and there might have been a bad word or two spoken . But we got it!!!!
Shoe molding, this was important to install because there was a gap where the carpet use to be of about 3/4″. I was lazy, I didn't want to take it off and install it a little lower because then I would have this 3/4″ strip of wall where there was no paint, had never been painted. That would have been tough to deal with so I searched for quarter round that would fit. The only place that had it larger than 3/4″ was Menards. When I got there and saw it the quarter round was HUGE! It would have looked terrible so I chose a more traditional molding that was 1 1/4″ tall with 3/4″ deep. It' looks soooo good! I love it.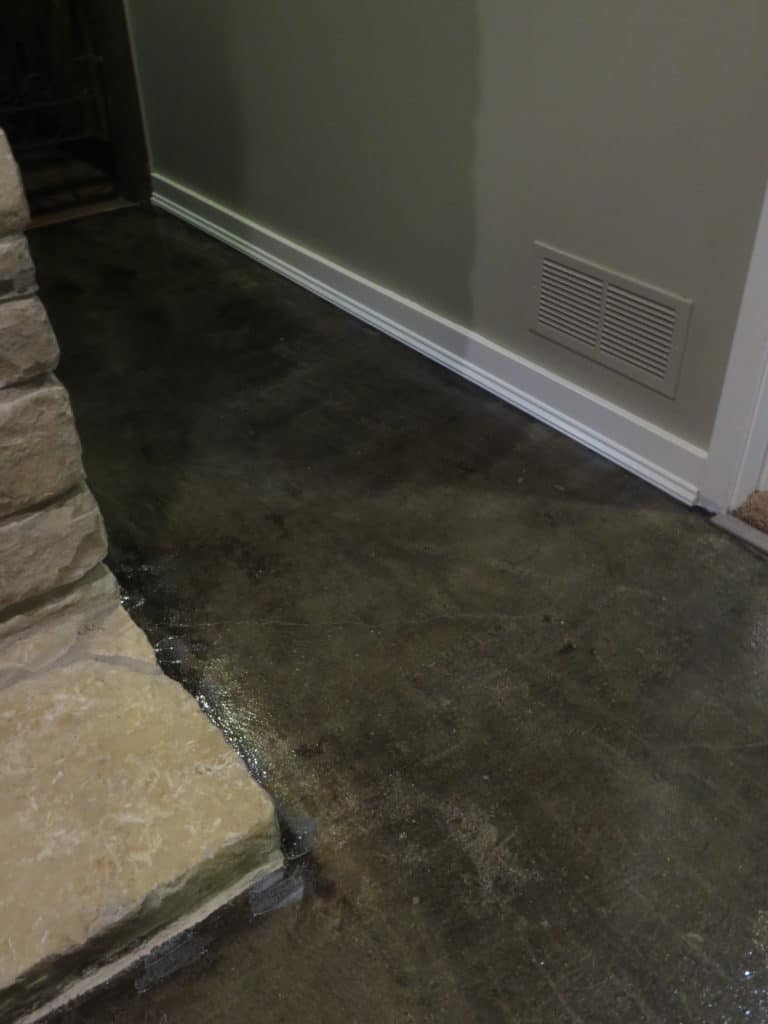 People ask me if they can stain their concrete floors in their garage and the answer is yes! Totally! I am thinking of doing the same. What I am proud to say is this basement floor project cost me less than $250 with the additional molding and thresholds included. That's a lot better than hiring a professional who would charge me thousands! And I think it looks pretty good and I am pretty darn proud of what I have done!
Another floor reno that I did last year was re-tiling my laundry room. For that tutorial you can go here. Thanks so much for stopping by and sharing in my crazy DIY adventures. 😊