Inject new life into your old outdated floors with these beautiful and cheap flooring ideas.
Updating your floors doesn't have to break the bank. There are many different alternatives that you can do to update your look but not go broke in the process.
Probably the most popular DIY flooring change can be done with paint. You will see I have several options using paint. Just like painting walls is the cheapest way to make a big change to a space, painting floors is also very cost-effective and can make a huge impact on a room.
*This post contains affiliate links. For more details see my full disclosure.
Cheap DIY Flooring Ideas
Updating flooring makes a huge impact on the look and feel of your home. Today I have gathered some really creative flooring ideas. There is surely one of them that will fit your skills and budget so you too can have a beautiful home.
Painted Wood Floors
If your wood floors are in bad shape or severely outdated and you don't have the budget to refinish or replace them then painting might be an option for you.
Heather from Heathered Nest painted her wood floors and has a tutorial on how to do it without sanding! Isn't that incredible, no sanding is needed.
Painted Stairs
Stairs are probably the most highly trafficked floor space in your home. They can get beat up pretty quickly. What can you do about that, paint them!
Heather at Heathered Nest did this painted staircase and I love how it turned out. What I really like is how she painted a stair runner down the center.
Painted Plywood
If you remove your old flooring and you have just plywood underneath there is a way to make that plywood pretty. Try using paint!
My friend Carrie over at Lovely Etc. made over her porch floor using paint. She also added a very pretty stencil and the floors went from drab to fab!
Painted Linoleum
If you have an old linoleum floor that needs some life breathed back into it then give paint a try!
Angie from Postcards from the Ridge painted her linoleum floors in a bathroom. She also added a stencil and gave the floors an updated look with minimal cost.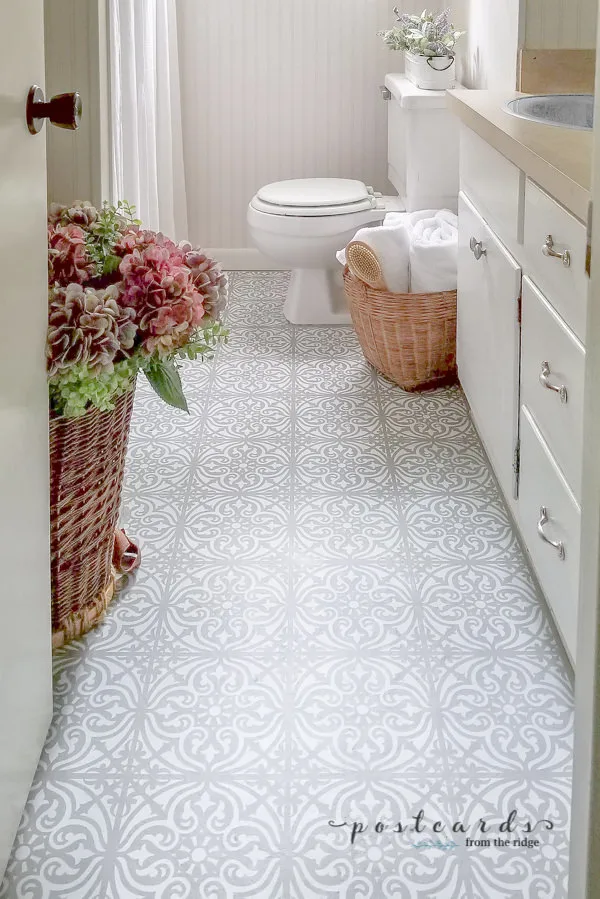 Painted Tile
As you can tell paint is a great way to update just about anything. You can use paint on tiles too! Just following the proper steps and using the right paint you can have new floors that will last many years.
My friend Melissa over at Create and Find updated her daughter's bathroom floor tile with this gorgeous paint and stencil.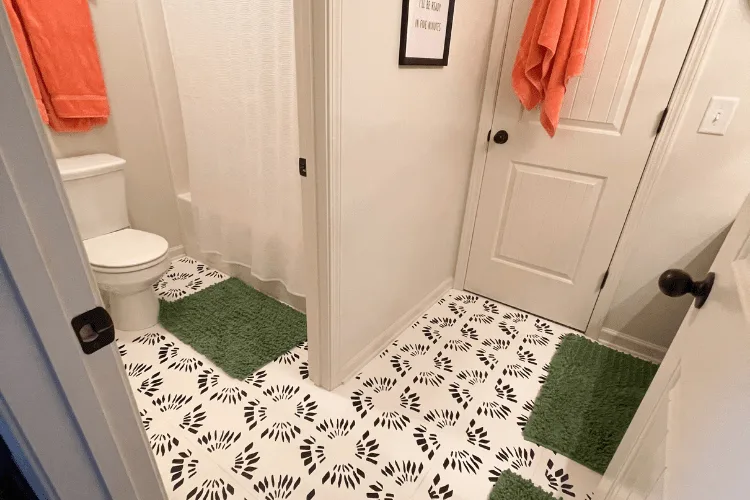 Painted Concrete Floors
Paint is also a great option for concrete floors. If you want to update a basement floor, or maybe a garage, as long as you use the right paint you can get that updated look for next to nothing!
Julie over at Julie Blanner used concrete floor paint to update her concrete floors. She really updated her laundry room by giving the floors a much needed facelift.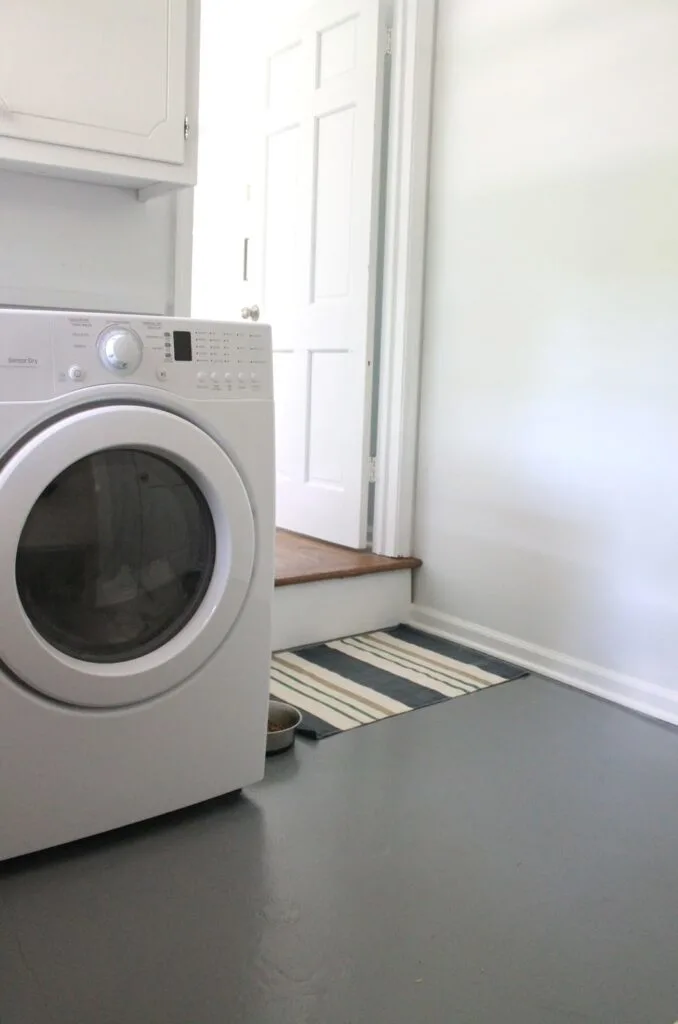 Stained Concrete Floors
Another option for concrete floors is stain. I did this in my basement family room/office space. When we moved in we had this ugly brown carpet. We had to pull up the family room carpet right after we moved in because my dog developed a bladder issue and used it as her own personal bathroom. Yeah, yuck!
I used a Rustoleum product to stain and seal the concrete floors to give it that epoxy floor look.
Tile Stickers
If you have ugly old tile and don't want to paint then give tile stickers a try. There are stickers that are made for going over tile that can instantly change the look of your room.
Aimee from Crazy Craft Lady used tile stickers to update her fireplace hearth. I love the new look and think this added a lot of value to her family room.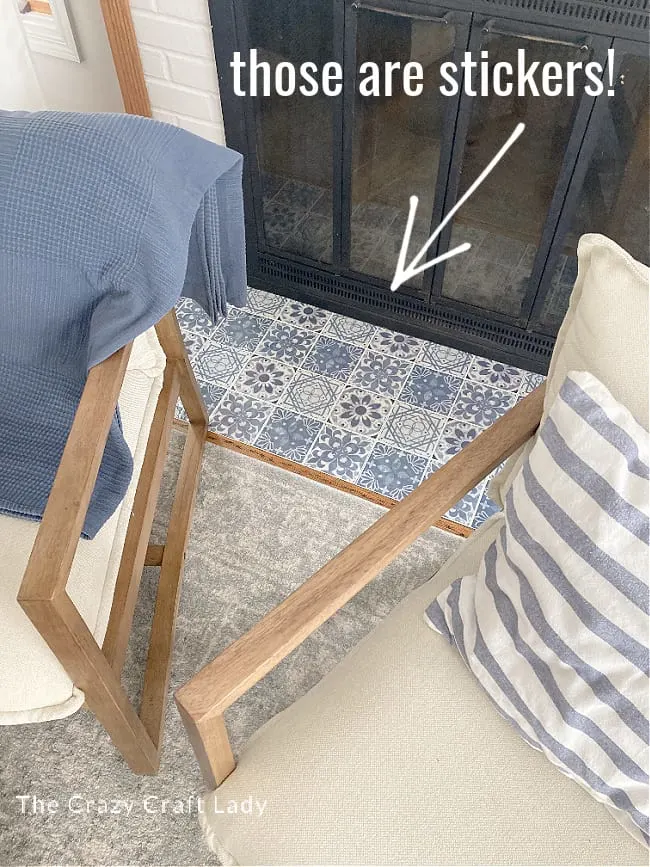 Sheet Vinyl Flooring
Vinyl flooring has come a long way over the last few decades. You can get sheet vinyl that looks like tile and your guests won't be able to tell a difference!
This gorgeous bathroom belongs to Lauren over at Blesser House, but I really wish it belonged to me! The vinyl she used here looks just like expensive tile.
Wallpaper As Flooring
Yes, you read that correctly, wallpaper on the floors! Wallpaper isn't just for walls anymore. I have seen it used in so many unique and creative ways.
Megan over at The Homes I Have Made used peel and stick wallpaper on her floors! I love the pattern. This is a fabulous way to change up your floors for not a lot of money.
Groutable Peel and Stick Floor Tile
Real tile can get really expensive and can be a big project to install. Groutable peel and stick floor tile is an inexpensive alternative and is easier to install.
Beth over at Avenue Laurel has used groutable peel and stick tile in her home several times. I just love this herringbone floor in her family room. The process is so much easier than using real tile and much more cost-effective!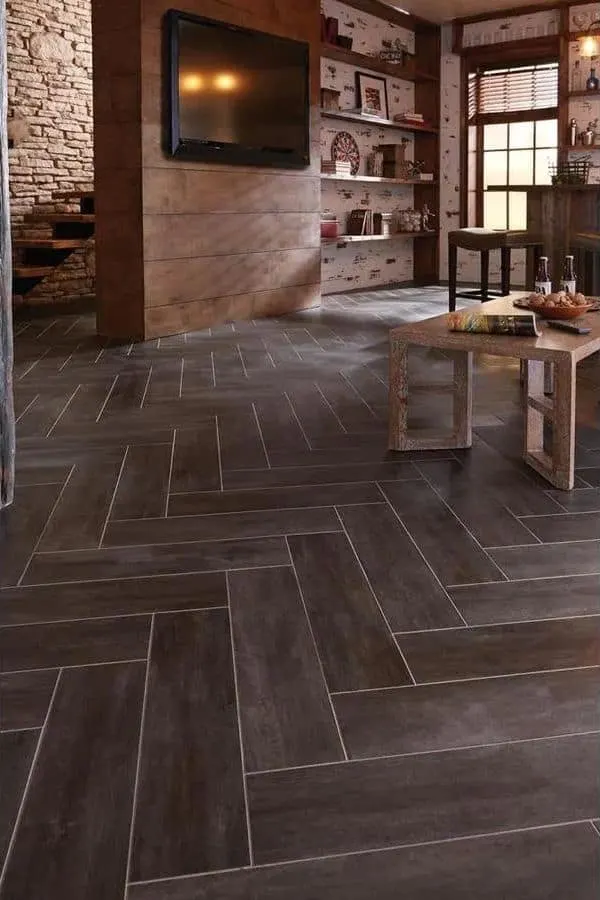 Luxury Vinyl Plank Flooring
I said that vinyl has come a long way and it really has. There are two different products that are made of vinyl that have become really popular, luxury vinyl plank flooring and luxury vinyl tile.
LVP is a product that looks just like wood but holds up better to the everyday wear and tear of wood. It's waterproof and comes in many different colors. You can get exactly the wood look you want without the cost of installing wood.
Jenna from Jenna Kate at Home installed this in her bathroom. She said it was very easy to install and has held up really well! I think they look amazing!
Luxury Vinyl Tile
Luxury Vinyl Tile, or LVT, is a product that looks like stone but is actually vinyl. It's more durable than real stone and is also waterproof, which makes it a great choice for kitchens and bathrooms.
This gorgeous kitchen is from Chris Loves Julia. They remodeled an outdated space into this modern beauty! I just love the floors, definitely bookmarking for my master bath reno in the future!
Refinish Hardwood Floors
Instead of replacing those hardwood floors why not revive them! By giving them a quick sand you can change the color and create a whole new look without replacing anything!
The guys over at This Old House have a complete tutorial on how to DIY this project. You can rent a sander from your local home improvement store and go from there!
Related DIY Posts: