Everything you need to know about Sherwin Williams Iron Ore in this paint color review!
Black has become one of the trendiest colors to use in recent years. It adds a class and sophistication to your home that is just so amazing.
Originally homeowners were just using this color on the interior of the home, on walls, doors, cabinets, etc. But in recent years black has become very popular as an exterior color as well.
What color is Sherwin Williams Iron Ore?
Iron Ore isn't really a true black. To be honest it's just as hard to find a true black as it is to find a true white!
Iron Ore is actually a very dark charcoal and is just a touch lighter than the other color by Sherwin Williams, tricorn black.
What are the undertones of Iron Ore by Sherwin Williams?
Iron Ore has green undertones that are very subtle. You can see it most prominently when you use a semi-gloss or gloss finish (especially popular on doors and cabinets).
Iron Ore LRV
LRV stands for Light Reflective Value and is a scale from 0-100 with 0 being the darkest black and 100 being the brightest white.
Iron Ore has an LRV of 6 which makes it a really really dark color. There won't be a ton of light bounced around a room painted with this color. Iron Ore will actually absorb light so it's really important how you use this color so that your home doesn't feel like a cave.
*This post contains affiliate links. For more details see my full disclosure.
How to know if a paint color is right for you?
The best way to judge if a color is good for you then you will want to put a swatch on the wall and look at it over a few days. Look at it in different lights and decide if you really like it.
You can do this by getting a sample from the paint store and using a brush to put it up on the walls, but then you are left with a can that you can't do anything with. Those samples are used with poor-quality paint and aren't meant for use on your walls permanently.
I recommend going with Samplize. They are a company that will send you a 12X12 peel-and-stick swatch of a paint color that you can stick to the wall. When you are done just peel it off and throw it away.
It's easy and much less messy!
What color looks good with Iron Ore?
To be completely honest Iron Ore looks great with just about every other color. It pairs really well with both warm and cool tones. Here are a few color combinations that you can consider.
If you like neutrals and grays this color combination is great! I love the crispness of this white compared to the darker charcoals.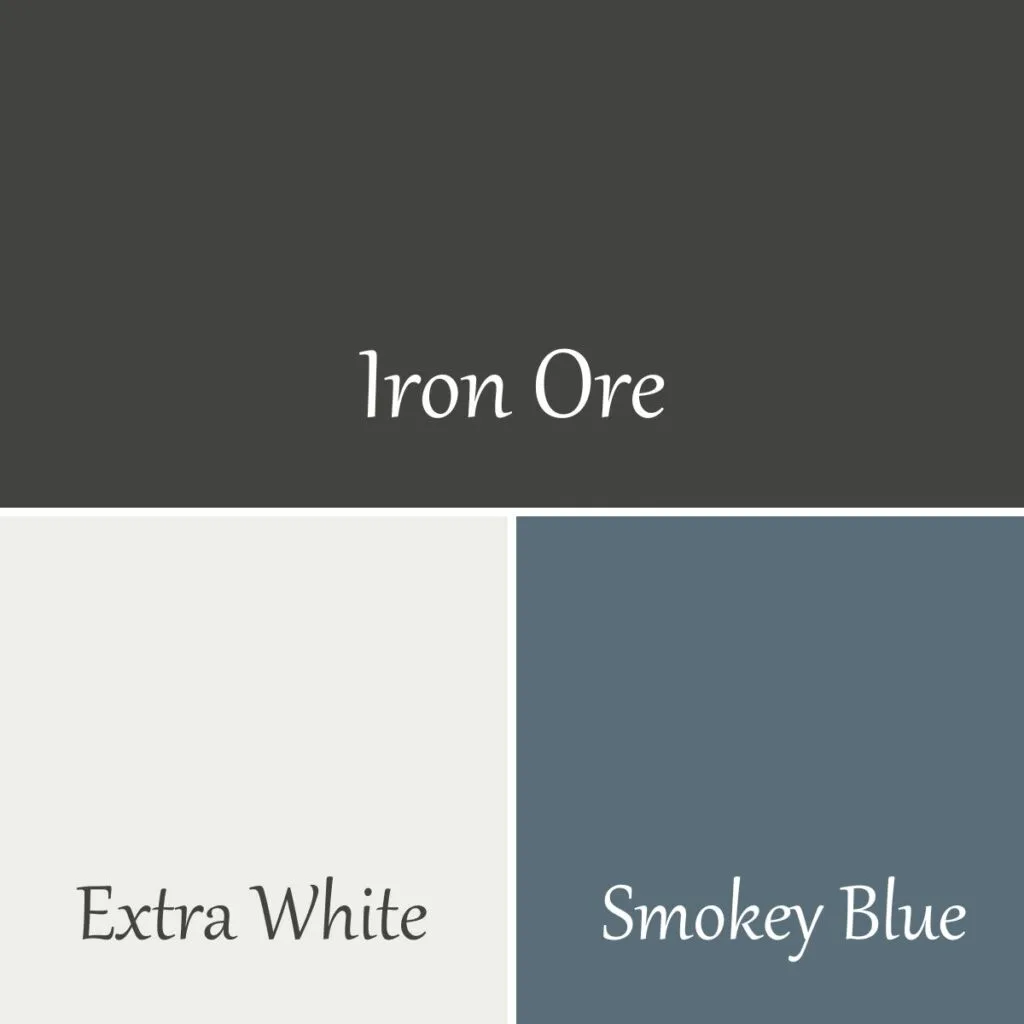 This combination is more cool-toned. Extra White is a crisp white which will let Smokey Blue and Iron Ore be the stars of the show.
This combination is definitely more on the warm side with Pure White and Latte. This combination will look great with warm toned hardwood and tile floors.
What is the best white to pair with Iron Ore?
There are a lot of great white colors you can pair Iron Ore with but my favorites are Sherwin Williams Extra White and Pure White.
Extra White is a more crisp white and will contrast nicely with Iron Ore.
Pure White is more softer of a white and has warm undertones. These colors will blend well together.
Sherwin Williams Iron Ore Whole Home Color Palette
Get this free whole home color palette for Sherwin Williams Iron Ore and you will also be part of the At Lane and High Community! You will receive weekly newsletters on new posts and you can unsubscribe anytime.
Where to Use Iron Ore in Your Home
There are so many options on where to use Iron Ore around your home. Here are some of the most popular places.
Iron Ore on the walls for a moody space
Having a dark and moody space is very popular in bedrooms and dining rooms. A darker color on the walls creates a more cozy and romantic environment. Not to mention it's great for sleeping!
Here the paint color is used on the walls to create a cozy moody bedroom. Notice how the furniture and bedding has been kept light to keep the room from feeling too dark.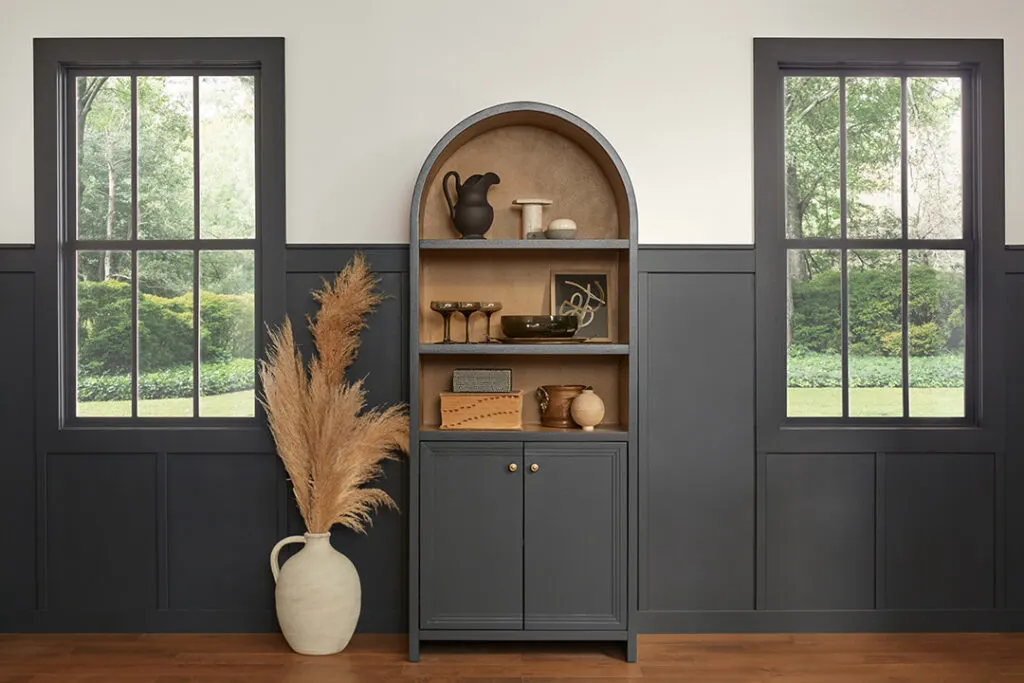 This dining room has a board and batten look with the lower 2/3 being Iron Ore and the upper 1/3 being a soft white. This also helps keep the room from becoming too dark.
Notice how well this color blends with the medium-toned hardwood floors!
Iron Ore on Doors
You can use Iron Ore on interior or exterior doors. Here are some great examples of homes that have lighter paint colors but Iron Ore on the doors which makes for a very dramatic look.
Ah this gorgeous entryway has white trim, light hardwood floors and iron ore on the interior of the front door. Thee lighter tones contrast wonderfully with the dark of the door.
Here you have a gorgeous juxtaposition of crisp white walls and dark Iron Ore on the doors.
Iron Ore on Cabinets
A great place to use Iron Ore is on cabinets either in the bathroom or in the kitchen. I just love this look.
Using Iron Ore on cabinets is a great way to add a pop of color to a room without making it too dark.
Iron Ore on architectural elements
When I say architectural elements I mean board and batten, shiplap, or different kinds of trim. By using a dark color on these elements it really brings them out and makes them the star of the show.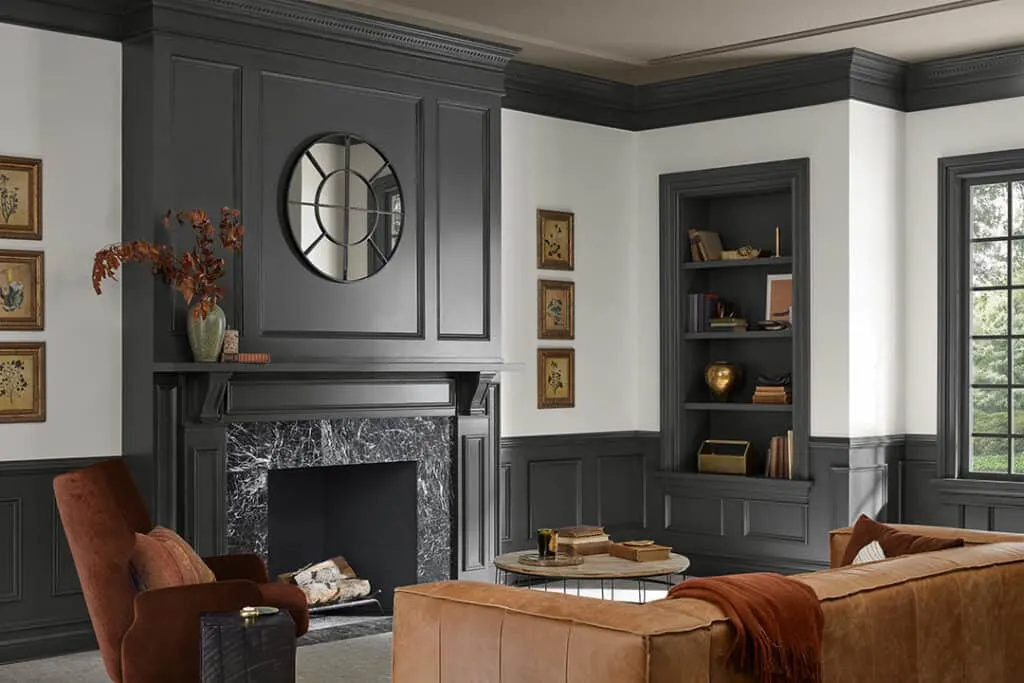 Here Iron Ore is used on the fireplace moding, wainscotting and trim while the walls are a nice white color. This really gives the room a lot of character.
Bathrooms are a great place to be dramatic with your colors and this bathroom with it's shiplap painted in Iron Ore is just that!
Iron Ore on the Exterior
I absolutely love a dark color on the exterior of a home and Iron Ore is the perfect choice.
I love the way Iron Ore looks with the stone exterior.
I just love the way Iron Ore pairs with different wood tones.
Iron Ore vs. Peppercorn
Iron Ore is definitely darker than Peppercorn which has an LRV of 10 (remember Iron Ore is a 6). Peppercorn has different undertones from Iron Ore too being slightly blue and purple.
Iron Ore vs. Tricorn Black
Tricorn Black is darker than Iron Ore with an LRV of 3. I haven't really seen much darker than that.
Iron Ore vs. Urbane Bronze
As you can see here Urbane Bronze has brown undertones as well as green which gives it a total different look from Iron Ore. It's also slightly lighter with an LRV of 8.
FAQ about Iron Ore
Is Sherwin Williams Iron Ore black or gray?
Iron Ore is a dark charcoal gray that is very close to black but not quite.
Does Sherwin Williams Iron Ore look blue?
No, Iron Ore doesn't look blue. It has green undertones so it won't look blue at all.
If you are planning to paint a room yourself then you will want to check out these DIY paint posts to help you get started and not make any mistakes:
Other Paint Colors You Might Like: