Trying to find the best paint colors that go with honey oak trim and cabinets can be a daunting task. You really have to consider undertones and both complementary and contrasting. Seems like a lot doesn't it?! But today I have done all the heavy lifting and found you 21 amazing options that will go perfectly with any honey oak you might have in your home.
I am a Real Estate Agent and I come across honey oak cabinets and trim all the time! There are several things you can do to make it look good without going to a huge expense.
Paint is hands down the best (and cheapest) way to update your home. You can do amazing things with paint and it's the best way to get a transformation!
You can always paint the cabinets or trim but that would be a lot of work.
If painting the cabinets and trim isn't something you want to tackle right now the best thing you can do is embrace the honey oak and make it work. You need a good wall color to do that.
*This post contains affiliate links. For more details see my full disclosure.
The home in this picture is a client of mine and we used paint to transform the whole home! You can see a glimpse of the honey oak kitchen through the cutout. Stay tuned for what we did to work around them.
What can you do to make honey oak trim or cabinets look good?
You have two choices, you can pick colors that have the same type of undertones that will be similar to the honey oak look. That way the colors blend together for a seamless look.
Or you can pick contrasting colors that will complement the undertones in the honey oak wood but tone down that orange look.
How to know if a paint color is right for you?
The best way to judge if a color is good for you then you will want to put a swatch on the wall and look at it over a few days. Look at it in different lights and decide if you really like it.
You can do this by getting a sample from the paint store and using a brush put it up on the walls, but then you are left with a can that you can't do anything with. Those samples are used with poor quality paint and aren't meant for use on your walls permanently.
I recommend going with Samplize. They are a company that will send you a 12X12 peel and stick swatch of a paint color that you can stick to the wall. When you are done just peel it off and throw it away.
It's easy and much less messy!
Paint Colors that go with Honey Oak Trim and Cabinets
Okay so now we understand you need to choose a color that has similar tones to it or contrasting tones. The similar tones will blend and make the orange/yellow undertones coordinate while the contrasting tones will tone down the orange and yellow undertones.
Sherwin Williams Paint Colors that go with Honey Oak Trim
Let's start off with Sherwin Williams, my go-to paint manufacturer. These will be colors with similar undertones that will go very well with any type of honey oak.
Agreeable Gray
Agreeable Gray is my go-to when painting a home with honey oak trim or cabinetry. I am a real estate agent and I was helping a client get her home ready to sell. The walls were very bright colors that needed to be toned down so more buyers would be interested.
We went with Agreeable Gray and it was the perfect color. The painter even told me that Agreeable Gray was not only the most requested color he used but the best one in his opinion for going with the honey oak they had in the trim, banister, kitchen, and bathroom cabinetry.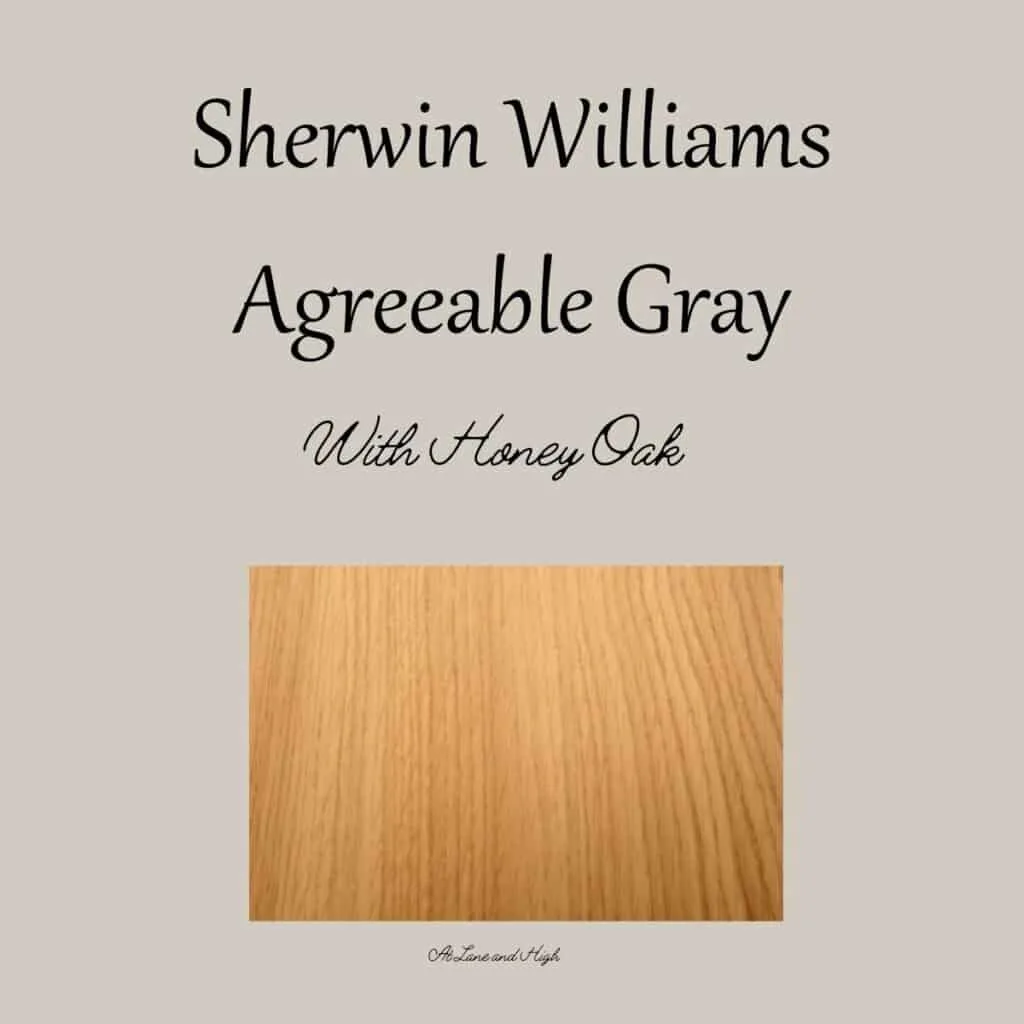 Oyster Bay
Oyster Bay is a neutral green paint color with a touch of gray in it. This makes it a neutral paint color and pairs really well with honey oak. Oyster Bay is in the same color family as Sea Salt which is one of the most popular blue-greens Sherwin Williams has.
Repose Gray
Repose Gray would probably be my second choice to pair with honey oak after Agreeable Gray. It's very similar to AG but a little more on the cool side. Having that coolness though really helps to tone down the orangey feel in the honey oak wood.
Comfort Gray
Comfort Gray is also a close relation to the ever-popular Sea Salt. It's slightly darker with more depth of color. It is a blue-green color but it has a touch of gray keeping it from being too cool and grounding it as a neutral paint color.
If you are looking for a color that is mid-toned and not a total neutral this one would be a great choice!
Canvas Tan
This is a very light gorgeous tan paint color with slight undertones of yellow. Because of these undertones, it pairs perfectly with honey oak wood.
Yes, beiges are no longer popular, gray is king. But believe it or not, beiges have been making a comeback but just in a different form.
The beiges of the 90s are gone and not coming back. What is popular now is light and bright and Canvas Tan fits that bill perfectly with an LRV of 64.
Oyster Bar
Not to be confused with Oyster Bay, Oyster Bar is a gorgeous creamy paint color that will pair beautifully with honey oak wood tones.
Oyster Bar is in between an off-white and a light beige. In a room with tons of natural light, it will be more washed out but in a room with less light, you will really get the full depth of this color.
Kilim Beige
Kilim Beige is more mid-toned so it won't be as light and bright as Canvas Tan. But as you can see from this photo it goes so well with Honey Oak that I would be remiss if I didn't include this amazing color!
Loggia
Loggia is what I would call a taupe. It's a mid-toned beige paint color with a heavy dose of gray to it. This addition of gray keeps it from pulling too warm and also gives it a beautiful neutral color.
Taupe paint colors have become very popular in the last few years and I think it goes so well with honey oak. This is the perfect color to update the outdated wood color and bring it up to today's design standards.
Latte
Latte is the perfect name for this color because that's exactly what it looks like! It has orange undertones which makes it a perfect pair for honey oak but it's not pumpkin orange, more of a beige orange.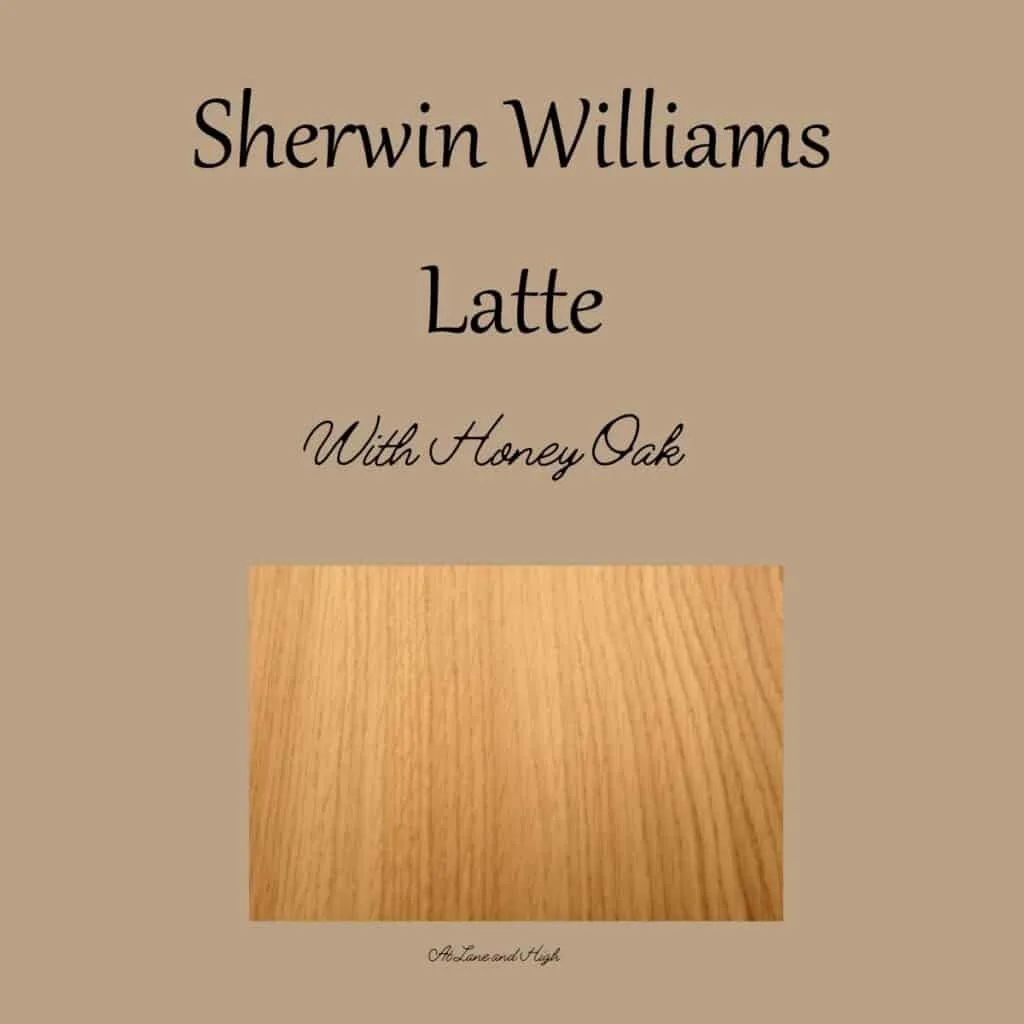 Anew Gray
I told you my go-to color for pairing with honey oak was Agreeable Gray but if you want something similar but with a little bit more depth then Anew Gray is your paint color! It sits one spot higher on the paint chip so it's very closely related but just a touch darker.
Benjamin Moore Paint Colors that go with Honey Oak
While my go-to paint is Sherwin Williams I often feel like Benjamin Moore has better colors. What's great is you can get Benjamin Moore paint at Sherwin Williams and vice versa. That's a total win-win!
Manchester Tan
Manchester Tan is a gorgeous mid-toned tan that was super popular 5-10 years ago but has died off a bit in favor of the light and brighter colors. However, it's still so pretty and pairs so well with honey oak I felt it needed mentioning.
Pale Oak
Pale Oak is one of my favorite paint colors! It's a gorgeous taupe with slight purple undertones. Those purple undertones are the perfect contrast to the yellow and orange in the honey oak wood colors which makes Pale Oak a perfect color to go with honey oak!
White Dove
White Dove is a warm white paint color with a pull toward greige. If you are looking for a white to go with your honey oak this one is great because of its creamy nature. It pairs very nicely!
Balboa Mist
Balboa Mist is a great neutral gray paint color with a touch of warmth which makes it a great partner to honey oak. It is considered a greige paint color which means it is a gray color that leans heavily towards beige.
It's very light and bright with an LRV of 65. So if you are looking to have a light and airy look this one will achieve that.
Abalone
What is great about Abalone is it's a very neutral gray paint color. It does have slight purple undertones but they aren't perceptible in most situations. Because of its neutral nature it is similar to honey oak.
Because of its slight purple undertones it neutralizes the yellow and orange. This might be one of the better colors to choose to pair with honey oak.
Antique Jade
Antique Jade is a cross between a similar color and a contrasting color. It is a blue-green color but isn't overly cool. When paired with honey oak the warmth in the paint color really comes out which makes it a very good coordinating color.
Bold Paint Colors that go well with Honey Oak
Remember, these bolder tones are meant to tone down the orange and yellow undertones in the honey oak. They will be the star of the show and the honey oak will become the supporting character.
Benjamin Moore Salamander
This is one of my favorite dark paint colors. It's a mix of black, green, and blue and is the perfect option if wanting to tone down those orange tones in honey oak wood.
I wouldn't use this color in a kitchen or room that gets little natural light, it will become too cave-like. I would only use it in a room with lots of natural light or as an accent wall.
Benjamin Moore Caldwell Green
Caldwell Green is a gorgeous dark green paint color that has a touch of blue in it. This is a cool-toned green but when paired with honey oak really helps to calm the orange undertones.
Benjamin Moore Newburyport Blue
This color is simply gorgeous! It's a navy blue color but more of a colonial navy than a true navy. When I see this color I see the colors used in Colonial America.
Because it's such a strong blue color it tones down the orange and yellows in the honey oak. I think they go so well together!
Sherwin Williams Homberg Gray
Oh, this color is so gorgeous! It's a dark gray with green and slight blue undertones, and if you read my post on green paint colors you know that these gray-green colors have taken the design world by storm!
This color is a perfect dark neutral color but because of the green and blue undertones, it tones down the yellows and oranges in the honey oak. They make a perfect pair!
Sherwin Williams Dorian Gray
Dorian Gray is a gorgeous mid to dark toned gray that has cool undertones. It's not too dark where it will make your room feel cave-like but it will give you the most gorgeous neutral gray color. Because of the cool undertones, this color will neutralize those warm tones in the honey oak woods.
Other paint color posts you might like:
Paint Colors that go with Honey Oak Trim and Cabinets Recap
We went through a lot today so let's do a small recap on the best colors to use with your honey oak.
SW Agreeable Gray
SW Oyster Bar
SW Comfort Gray
SW Repose Gray
SW Oyster Gray
SW Canvas Tan
SW Kilim Beige
SW Loggia
SW Latte
SW Anew Gray
BM Manchester Tan
BM Pale Oak
BM White Dove
BM Balboa Mist
BM Abalone
BM Antique Jade
BM Salamander
BM Caldwell Green
BM Newbury Port Blue
SW Homberg Gray
SW Dorian Gray
I hope you found some good options to use today. Honey oak is a beautiful color that when paired with the right paint colors and decor can really shine!