One of the hottest trends in decorating has got to be accent walls. Today I have several accent wall ideas you can do in your home to keep up with this hot trend.
Every year I attend the Central Ohio Parade of Homes where you get new ideas in building and decorating.
After attending the Parade of Homes that theory has been confirmed for sure! I think almost every house had at least one accent wall and most of those walls were behind the master bedroom headboard.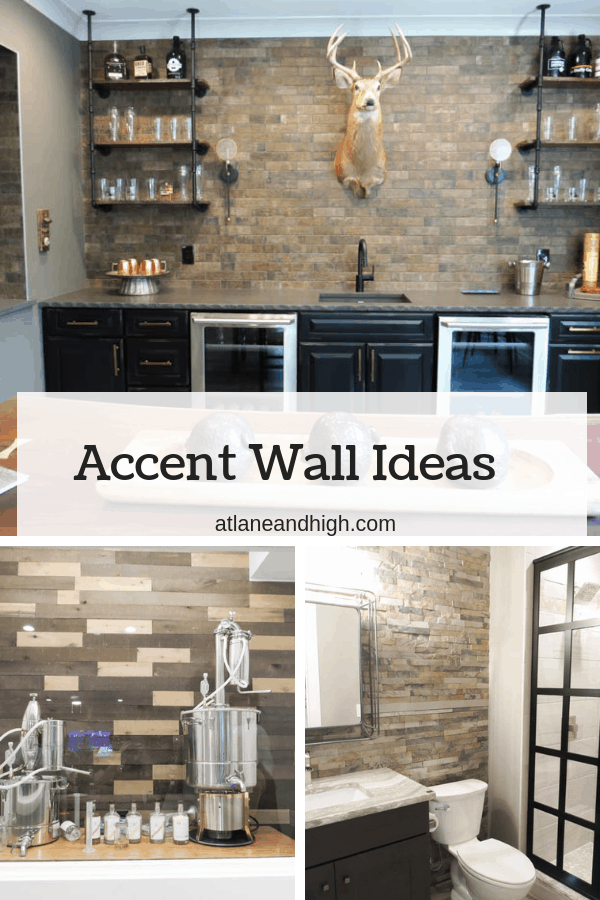 Accent walls don't just have to be one wall in a room that is painted a different color than the others. Accent walls are your spot to get creative! Go a little crazy, it's only one wall right?!
*This post contains affiliate links. For more details see my full disclosure.
Accent Wall Ideas with Wood
This ladies and gentlemen is a distillery, yes they put a distillery in one of the homes! Crazy right!? This is the first time I have seen anything like this. As you can see in the reflection they put it behind glass…..😂
But how about that cool accent wall behind it?! I love the different colors of wood, the light-colored ones against the dark make a real statement.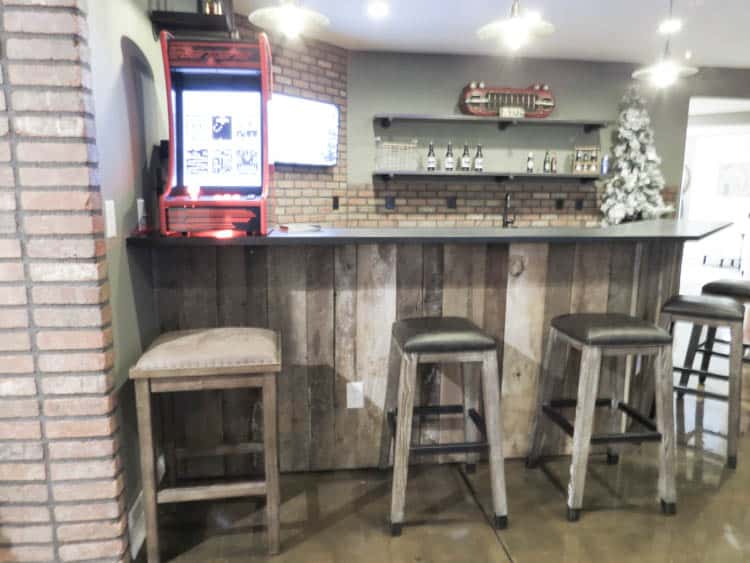 Sorry, this picture is a little fuzzy. I was trying to showcase the accent wall under the bar! What a great place to put an accent wall, it's a small space so whatever you put there won't break the bank.
This is also very functional because I don't know about you but when I sit on a stool, my feet dangle. I don't reach the floor. #shortprobs So this wood wall protects the drywall from my feet accidentally bumping into it!
This is my favorite, it actually was my inspiration for my wood wall that I created for the $100 Room Challenge. I love the texture this wood wall adds to the bedroom. It contrasts so nicely with the soft feminine headboard.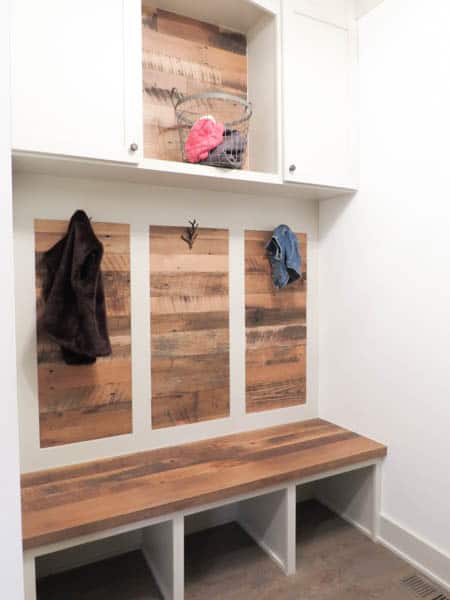 This wood accent wall is small but makes such a big impact! Right next to all that white paint it really stands out and I love how it really designates the three spaces here.
There is always a house with Christmas decorations, I believe it's the Coppertree Homes house every year. How about that wood wall though behind the Christmas tree? It makes such a statement with all the lighter decor. Dark painted shiplap is so popular right now!
Accent Wall Ideas with Tile and Brick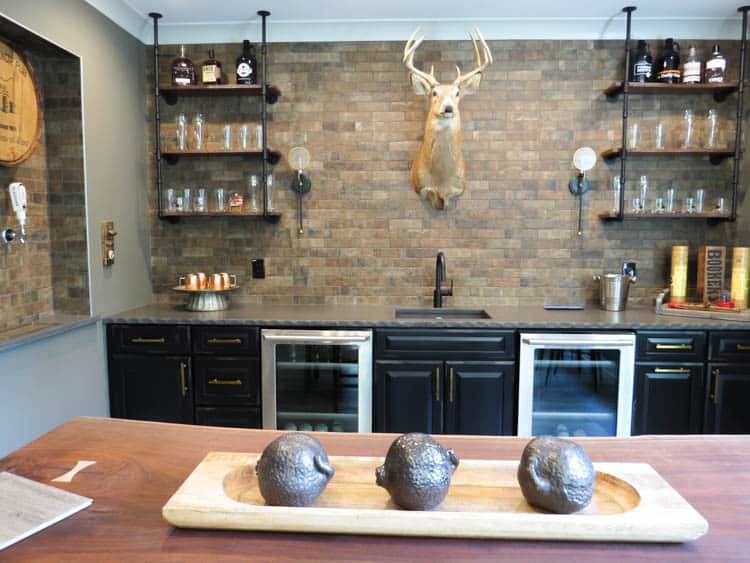 You would think tile accent walls would only be in the bathroom right? Well, there were a ton of accent walls with tile over the bar areas in the homes. The most popular material was brick!
I think this one might be my favorites, with the industrial shelves on the brick wall. I also love that countertop! On the left side of the picture, you can see the nook where there is a beer tap, they put that same brick inside that nook!
Everyone, this is my Mom! Isn't she a cutie! This is from the marble house, there was a ton of marble in this home. But I love the floating cabinets, with the lighting beneath, and the large marble wall.
That movement in the marble really draws your eye around the length of the bar. This is just about one-third of the bar!
And here we have Mom again, hi Mom! 🖐 She really liked this bar, it has a lot of character. I love the brick with the dark cabinets. Playing off the lighter floors, so pretty!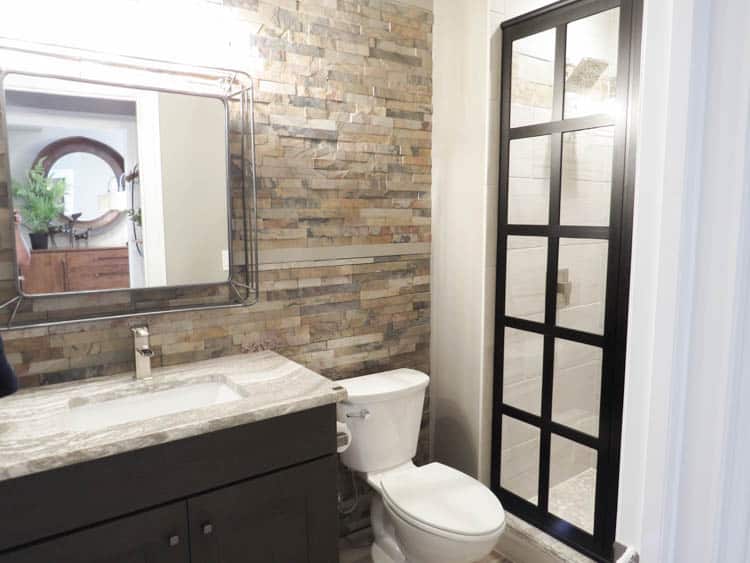 This bathroom was stunning. It was actually in a basement to be used as a guest bathroom. The stacked stone tile is amazing! I also love the countertop and the black shower doors! Lots of different materials throughout this bathroom!
Hello! Bring on the bling! This tile is stunning! 😍 We all love a little bling and this tile did not dissapoint! What a show-stopper!
Here is a great way to add accent wall tile without having to cover the whole wall! And you can use a more expensive tile here, in case you fell in love with something but couldn't afford to do it all over the wall, use it here in the nook where you put soaps and shampoo!
Accent Wall Ideas using Wallpaper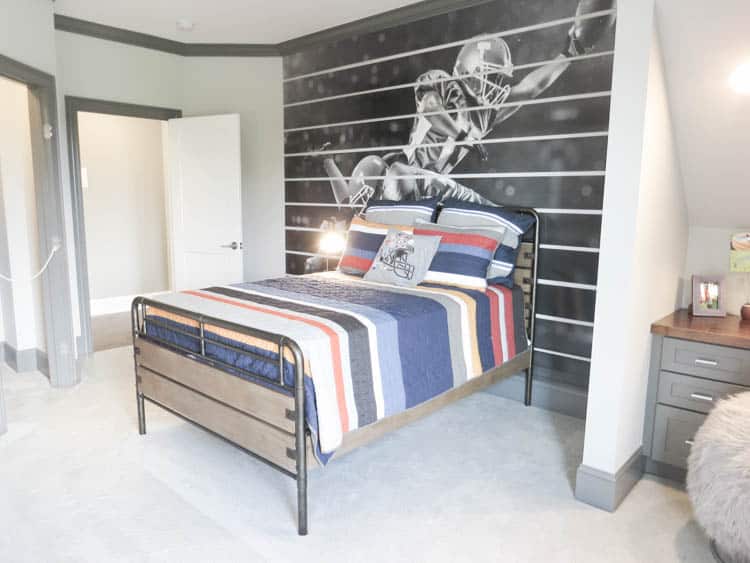 Is this not the coolest boys room you ever saw??? I think it's every boy's dream to catch the winning pass and get a touchdown at the Superbowl! This is a great mural for a boys room, you could find them for just about any sport.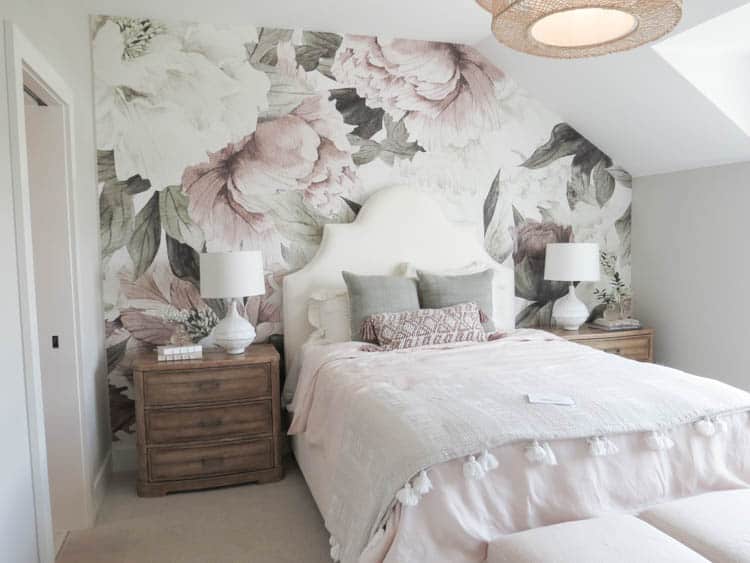 And we go from masculine to feminine. You don't get much more feminine than this. With the floral wallpaper and the blush bedding, the coverlet with pom poms. Another great example of wallpaper/mural for an accent wall.
Accent Walls with Paint
Speaking of feminine, check…this…out! Such pretty bright colors. The stripes on the accent wall really bring out the pink in the comforter.
I think my favorite thing is the sunglasses above the bed and how the lines match perfectly with the paint! What careful planning!
Hello kids space, what better kind of accent wall for kids is a chalkboard wall! Let the creativity flow!
I love the neutral color scheme of this painted accent wall. The geometric shapes leading up to the ceiling really bring your eyes up to that amazing beam! This is my kind of bedroom, neutral and calm.
I like how they painted the wall a different color then used the letters in such a large size to create wall art. It's simple but effective! This is a room all about creativity.
We have 16 different accent wall ideas here and only one of them is to paint the wall a solid color. Use your imagination and go for it! I can't wait to see what you do!
If you liked what you saw here today please pin it for later! And don't forget to follow me on Instagram and Facebook to keep up with all my projects!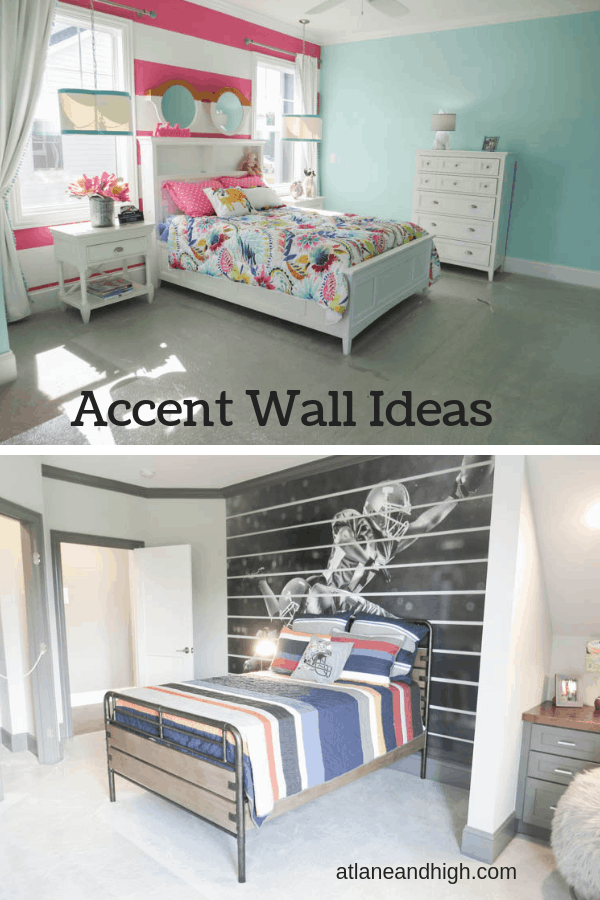 Sharing is caring!