Board and Batten can be used to create a box shape, also known as box molding, on the wall to add interest and architectural detail. I love seeing this kind of detail in stairwells. And I am thrilled with how this turned out!
The refinished stained stairs turned out great but once I added the box molding and painted, that's when the magic happened! The staircase wasn't dark and scary anymore.
*This post contains affiliate links, see full disclosure for details.
To see how I refinished the steps check out these posts:
This was the first part of my stairwell makeover. Now onto the Box Molding to finish it off!
How to Add Box Molding
Adding box molding is actually pretty easy. On a scale of 1 to 5 with 1 being easy and 5 being really hard I would give it a 2. As long as you have a miter saw it's really a piece of cake.
First, you need to decide how big you want the boxes. I decided I wanted them to be about 18-24 inches. I measured down from the top of the stairs 24 inches and used that as the bottom mark for my boards.
The interior of my boxes is 20 inches. If you have a very large wall you may want to make your boxes larger because if they are small it will look very busy.
I actually mapped out on the wall exactly where I wanted the boards so I could see it visually. This also really helped me to know exactly how much product I would need. All I used was a pencil, tape measure, and a level.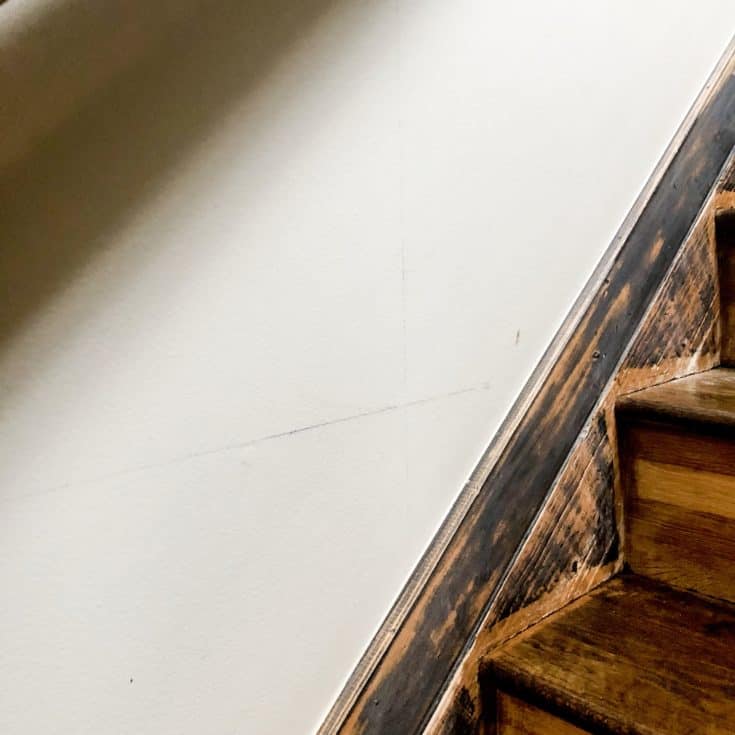 What kind of wood to use:
I used 1/2 inch mdf for this project from Home Depot. They ripped the wood down a 4X8 sheet into 4-inch strips. The guy at the store was able to get 12 boards out of it but only used 7 for this project.
You can choose to use 1×4 pieces of lumber but that is a bit more expensive. For my space, the 1×4 would stick out from the existing baseboards because it is thicker than the baseboards. So I went with MDF for practical and economic reasons.
How to attach the wood to the wall
I did the vertical boards first, measured and cut the boards with my miter saw. The hardest part was figuring out the angle.
I assumed it would be 45 degrees but nope. I am sure there is a better way to figure this out but I just did trial and error and figured out what my angle was…..hey, never said I am a mathematician!
Use liquid nails and apply to the back of each board. Put it on the wall and make sure it is level. Then attached to the wall with a nail gun using 2 inch nails.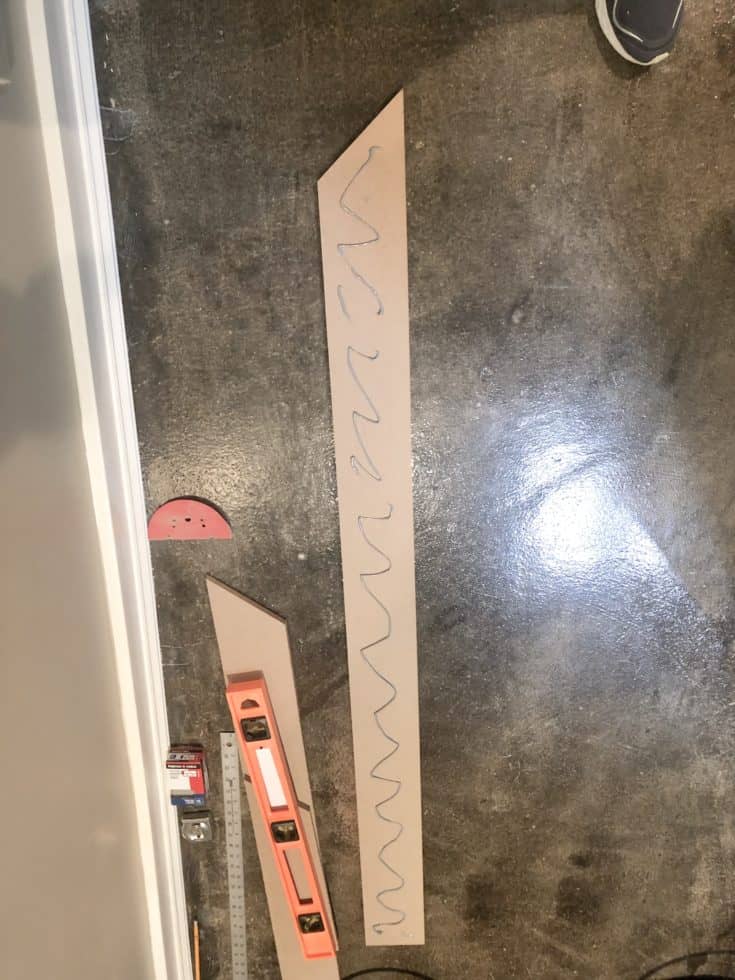 Then I measured the horizontal boards, cut and repeated the steps to apply to the wall.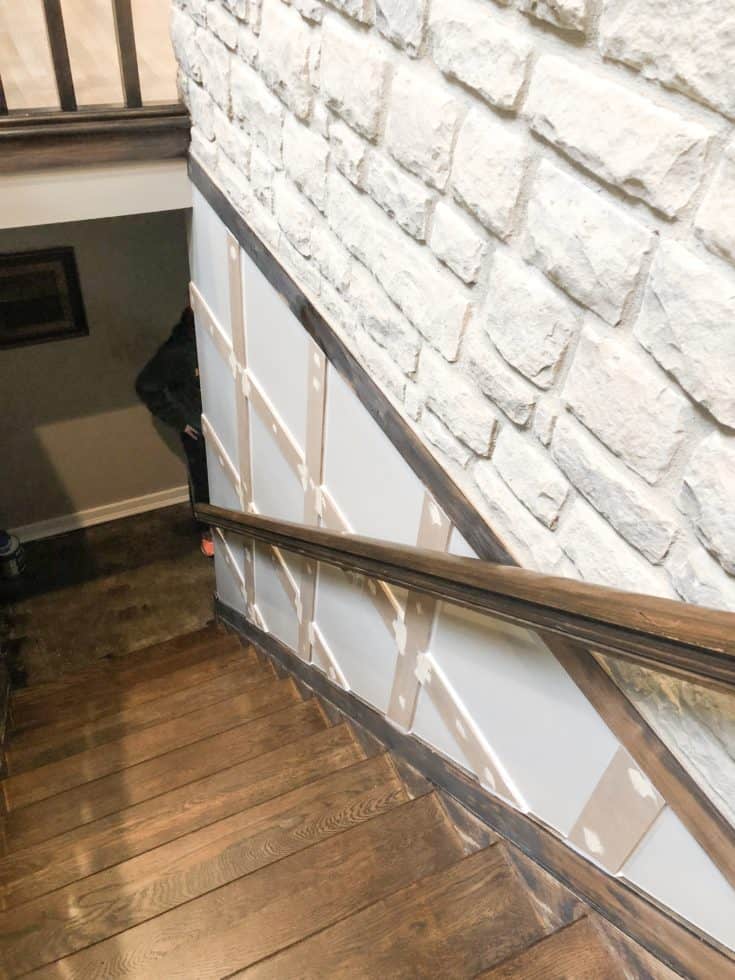 I caulked the corners where the wood met the wall, and used wood putty where the wood met wood. Once I sanded, and cleaned again, we are ready for paint!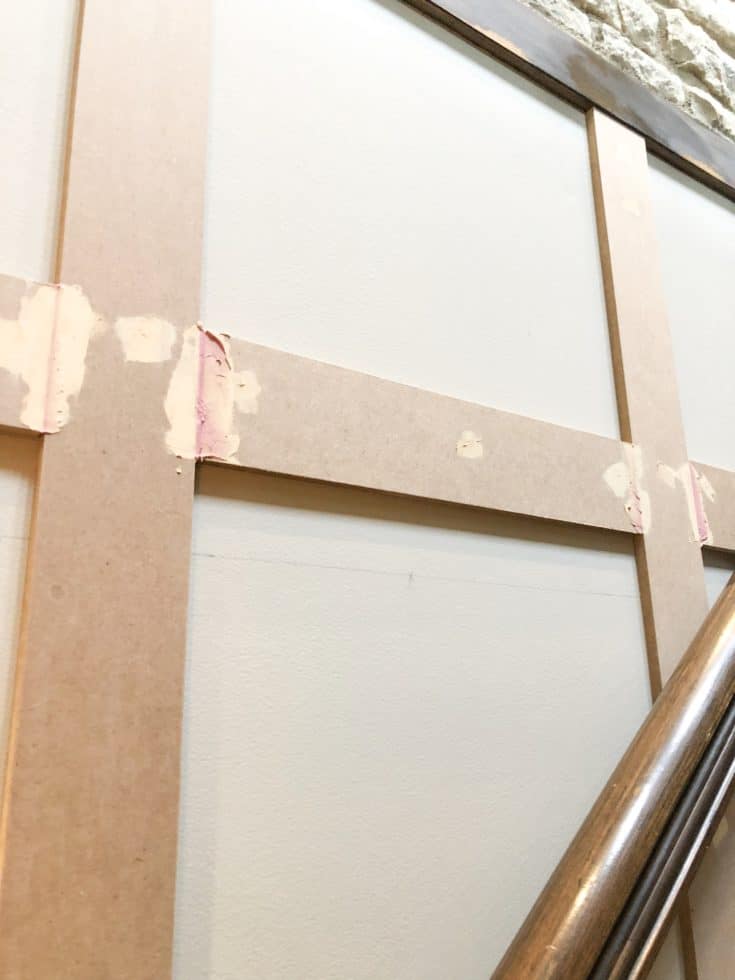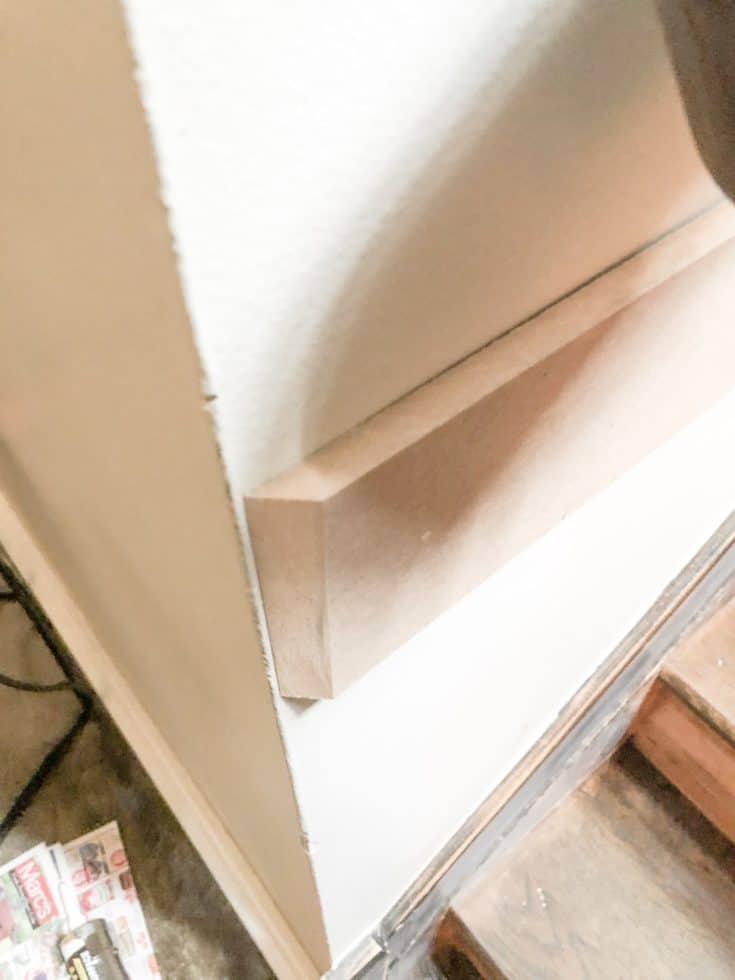 You can see in this picture above that I angled the wood by 45 degrees where it met the end of the wall. I accomplished this with my miter saw.
Time for Paint the Box Molding
Once the caulk is dry and everything is clean you need to tape off and cover these beautiful steps you just stained. I used just plain old newspaper!
I used some primer that I had on hand and covered the wood risers and MDF with it.
Once it was dry I used this new paint that the guy at the paint counter at Home Depot recommended. It's a combo of oil and latex-based paint. This product is said to level brush strokes, have a harder finish, and cleans up with soap and water.
It's called an alkalyd paint and most paint brands sell this product.
I am not sure about its leveling abilities but as far as cleanup goes, it did come off with soap and water but not very easily. I will see how well it wears and let you know if it takes a beating better.
*Update! This paint holds up amazing! I used it on all my baseboards and window trim. It's not totally chip proof but it holds up way better than regular paint does.
After three coats of paint, I am done and I cannot believe the change. This is such a big transformation and I couldn't be happier with it. From smelly brown carpet to beautifully stained wood with architectural features I would say this was a complete win!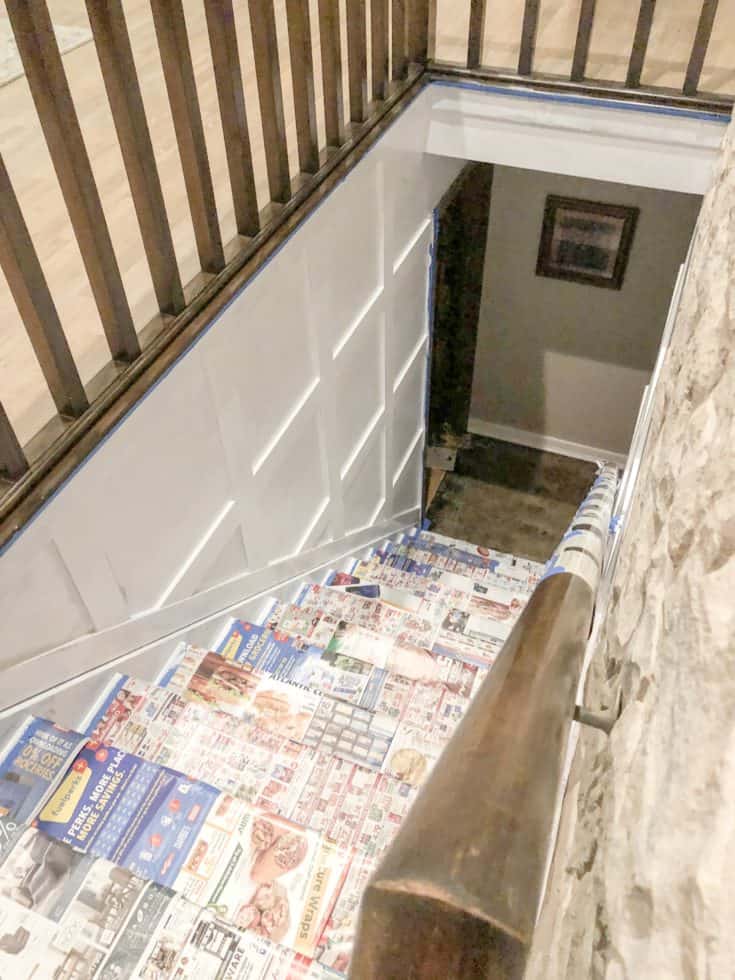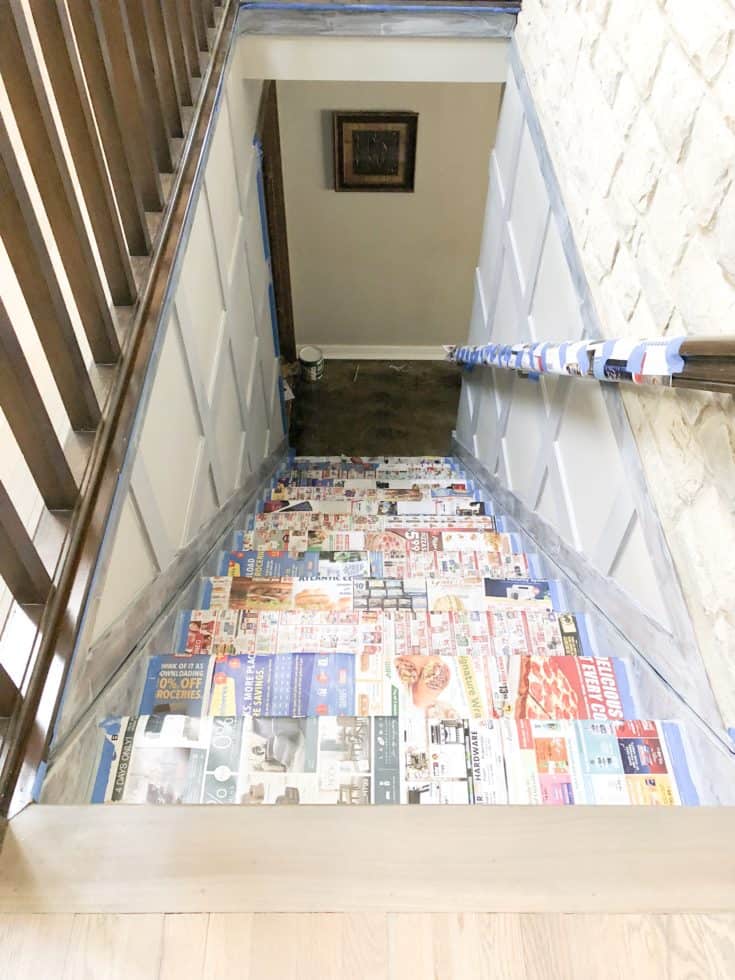 My Board and Batten Stairwell creating Box Molding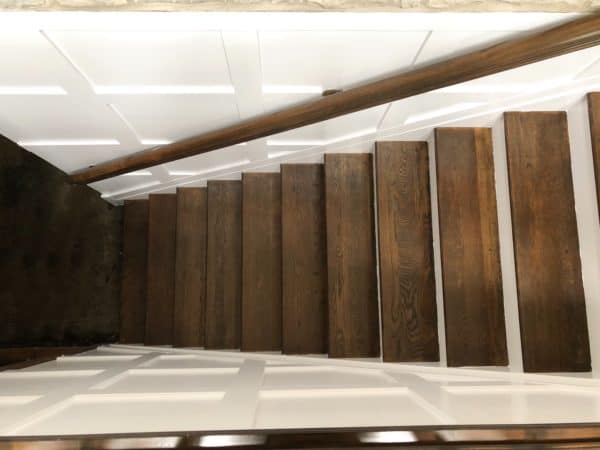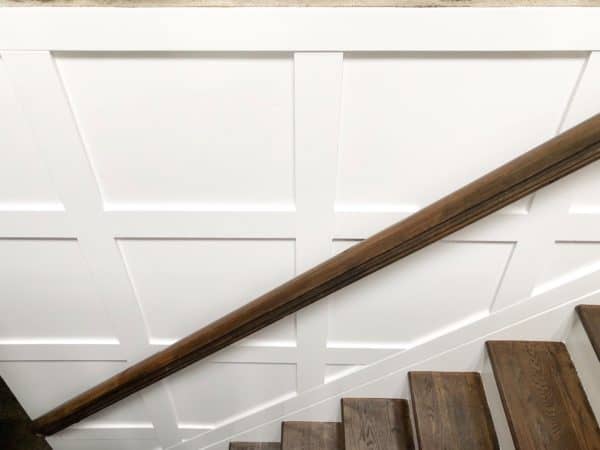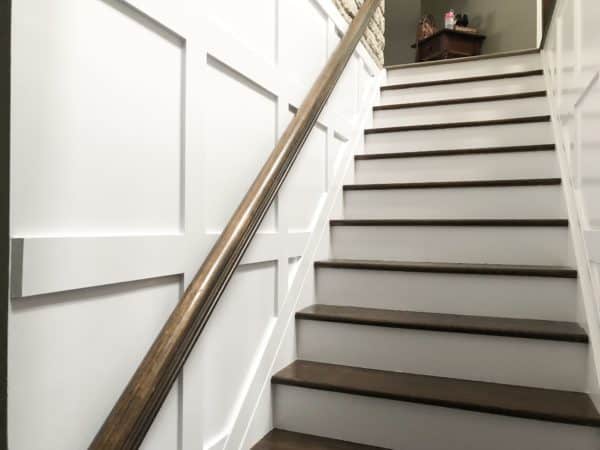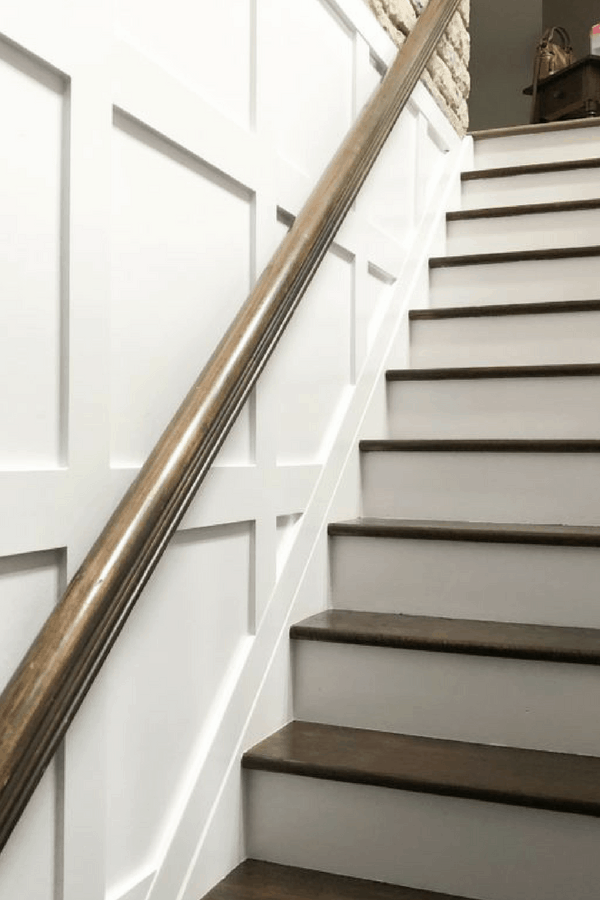 Board and Batten Box Molding
Materials
MDF
Liquid Nails
Caulk
Wood Putty
Paint
Primer
Pencil
Tools
Miter Saw
Nail Gun
Nails
Caulk gun
Paint Brush
Level
Tape Measure
Instructions
Purchase your wood and have it cut to size at the hardware store.
Decide how big you want your boxes and using a level and tape measure draw out the boxes on the wall.
Put liquid nails on the back of the board and put it on the wall, starting with the vertical boards.
Make sure the board is level and once it is nail it to the wall.
Continue for all the vertical boards then measure and cut the wood for the horizontal boards.
Using the same method attach the horizontal boards to the wall.
Caulk all the corners where the wood meets the wall.
Use wood putty on all the nail holes as well as the wood meets with wood.
Sand and clean up.
Prime the MDF and when it's dry start painting.
Now sit back and enjoy!
Related wall treatment posts:
Farmhouse Style Laundry Room Reveal
DIY Board and Batten in the Dining Room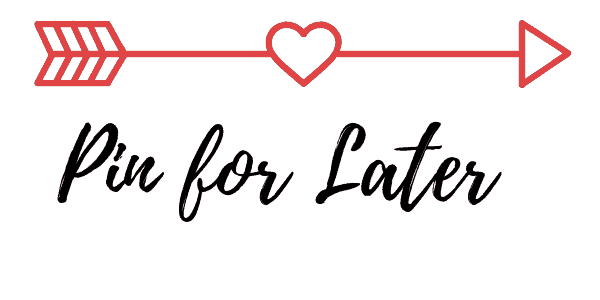 What do you think? Quite a transformation from greige walls and ugly brown carpet to beautiful wood steps and white box molding! Do you think you might give this a try?