Well that sure took longer than I expected! If you can see my first post on removing the carpet and sanding the wood here. The next step was to choose stain and get started, that went really well. Then came the poly……and that took forever to dry! But it's all done now and I can't wait to share my process on how to refinish stairs.

*This post contains affiliate links. See full disclosure here.
How to Refinish Stairs
Let's Recap
So last post I showed you how to pull the carpet up and sand down he steps. It is hard work so be prepared for it! Here is a brief description of it, please see the full post for all the details:
Pull up carpet and staples.
Sand down with 80 grit sandpaper, then 120 or 150 grit sandpaper then finish with 220 grit.
Clean it all up, and there will be a big mess everywhere!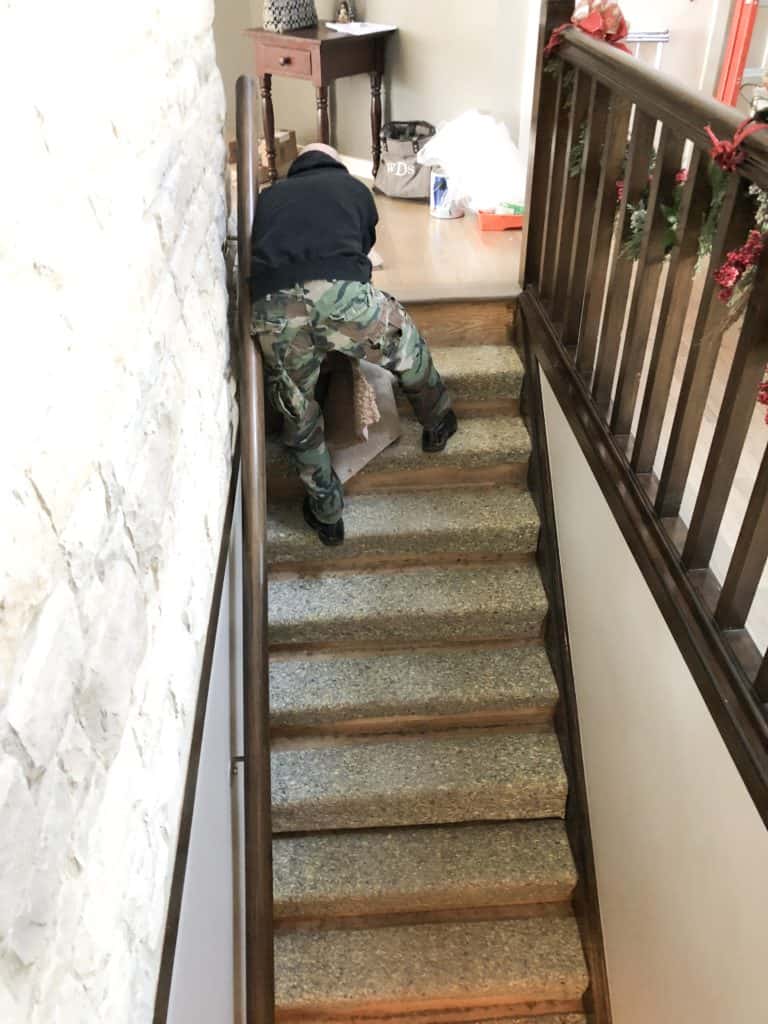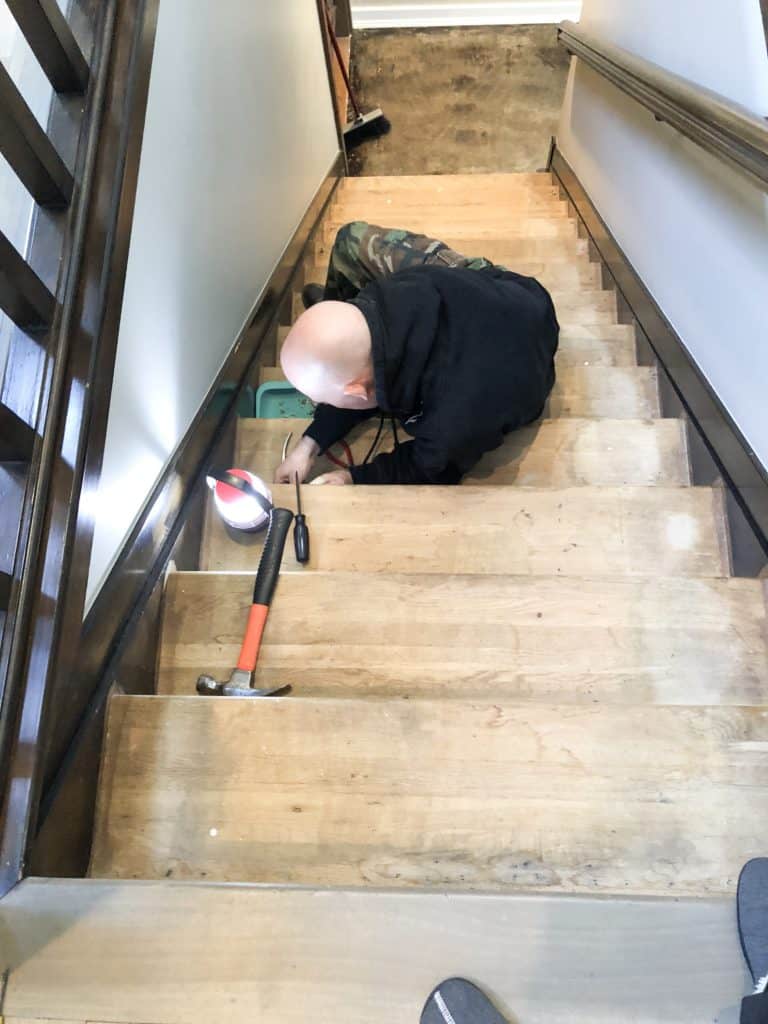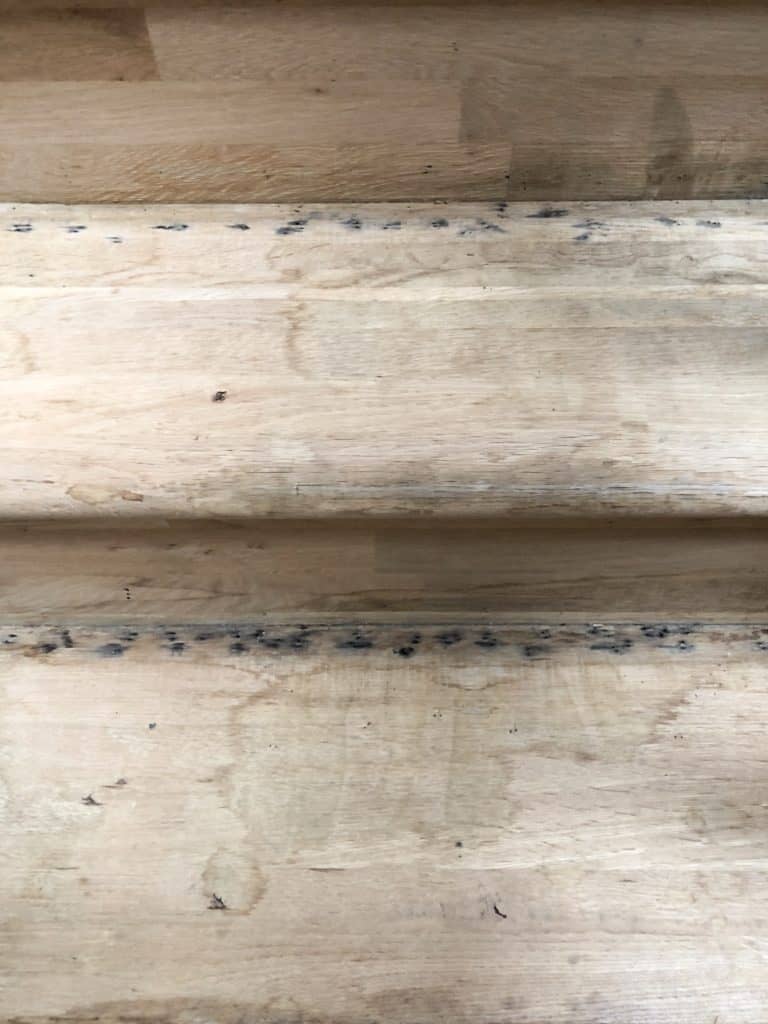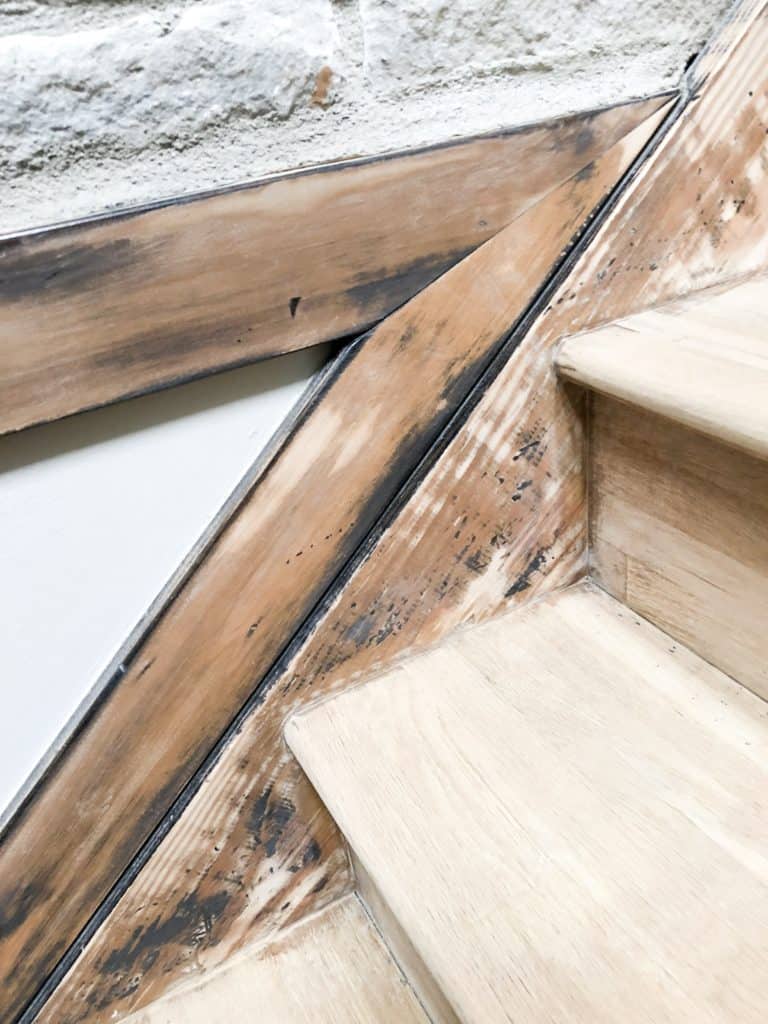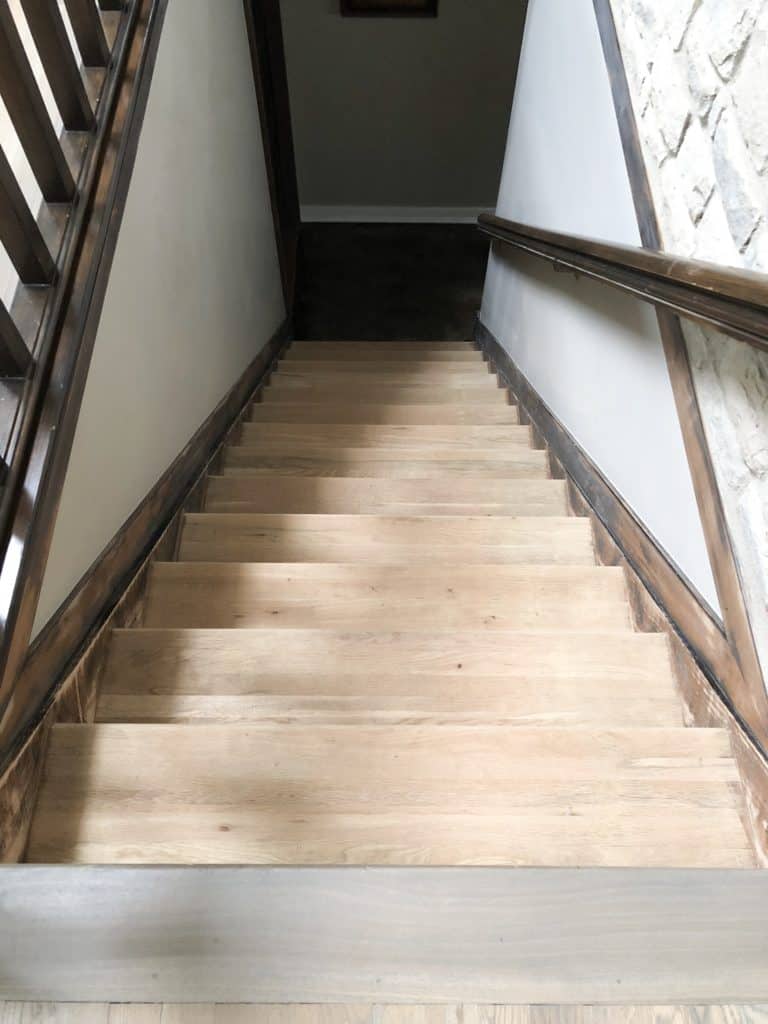 How to Stain Stairs
Next you need to stain the steps. First things first, the prep work. I hate prep work but it is truly the most important part.
You need to tape off the stair treds from everything else. I went through 2 rolls of tape for this whole project so stock up!
Then you stain. If you remember I was trying to decide between Jacobean and Ebony. I went with Jacobean and it was perfect!
First you use a rag or paint brush, personally I always use a rag or foam brush because I don't like cleaning oil based products up.
Put the stain on moving with the grain of the wood. Let it sit a few minutes for a deeper color. Then wipe with a clean rag, moving with the grain of the wood.
Let dry for whatever time your product says to wait and apply a second coat if necessary. Then let it dry a full 24 hours to be completely dry.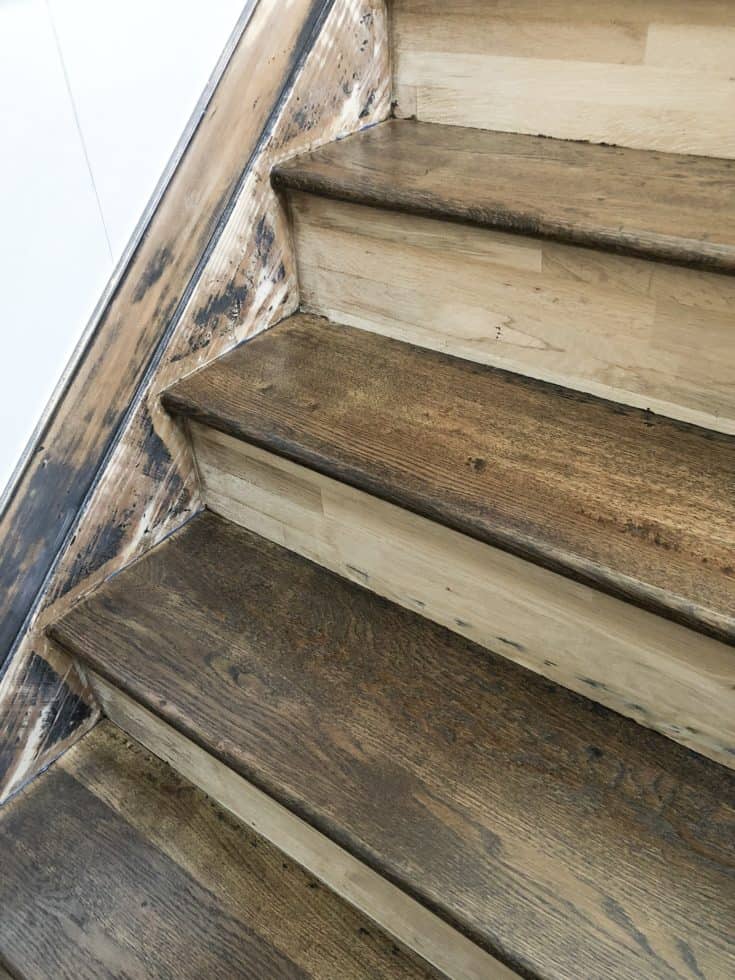 How to Polyurethane Stairs
Once the stain is dry it's time to Poly. You won't believe how amazing the wood looks after applying poly, it brings out the color and makes it shine! I like to use Polyurethane after applying an oil based stain, you can choose from several different finishes. Here is the one I used:
I used a foam brush to apply and then waited to dry. OMG the first coat took forever to dry! I believe it was mostly my own fault because I think I put it on way too thick, but there is also absolutely no air flow up and down these steps.
Once it finally dried I sanded with the grain using 220 grit sandpaper. I sand VERY lightly here. Then applied a second coat of poly.
Repeat this for a third coat if you want….I did.
This picture is of the steps with wet poly, when it dries it's even prettier!
Wait for 24 hours to be completely dry before walking. Yes this is reallllly difficult if you need to get up and down the steps. My daughters bedroom is in the basement! Some people say to do every other step which is a good tactic but my dog wouldn't be able to do that, go every other step. I chose to do it all at once and get it over with. My kiddo had to use the outside steps a few days but it was no big deal.
As you can see from the pictures the stair treds are done, and I am in love with the color! Next step is to paint the risers, and I will be adding some more architectural detail…..stay tuned!!!!