I have rounded up some amazing Farmhouse Christmas Decor Ideas that will definitely put you in the spirit of the season!
Decorating for the holidays is a lot of fun but each year I try to change things up a bit. This year I want to incorporate more Modern Farmhouse Style into my decor.
I have a post that explains how to incorporate Farmhouse Style into your home but today we are taking some of those specific elements and talking about ideas on how to incorporate it into your Christmas Decorating!
*This post contains affiliate links. For more details see my full disclosure.
Farmhouse Christmas Signs
Farmhouse Signs are a staple in Farmhouse Decor and today we are looking at how to use this in the Christmas theme. I love all the colors, some are vintage and some are new.
If you don't have the money or the skills to DIY a farmhouse sign you can look online and get a printable and put it in a frame and there you go!
*Just in case you don't know a printable is a picture that someone has created and all you have to do is print it out! Usually, them email it to you so you have it right there on your computer.*
The houseful of Handmade Christmas
This last one is my favorite! I did a wood sign this summer for the American Flag and I feel like I could totally DIY this sign, with the help of her amazing tutorial of course. If I have time I am totally going to give it a try! Keep watch on Instagram to see if I do it!
Farmhouse Christmas Front Porch
The first place your guests see when they come to your house is your front porch so why not make it as festive as you can!
I think you will notice a theme here….plaid, old-fashioned sleds, pretty plant containers with natural greens, and amazing wreaths!
These embroidery hoop wreaths are all the rage right now. In her post, she explains exactly how she created this. It's so cute you should check it out!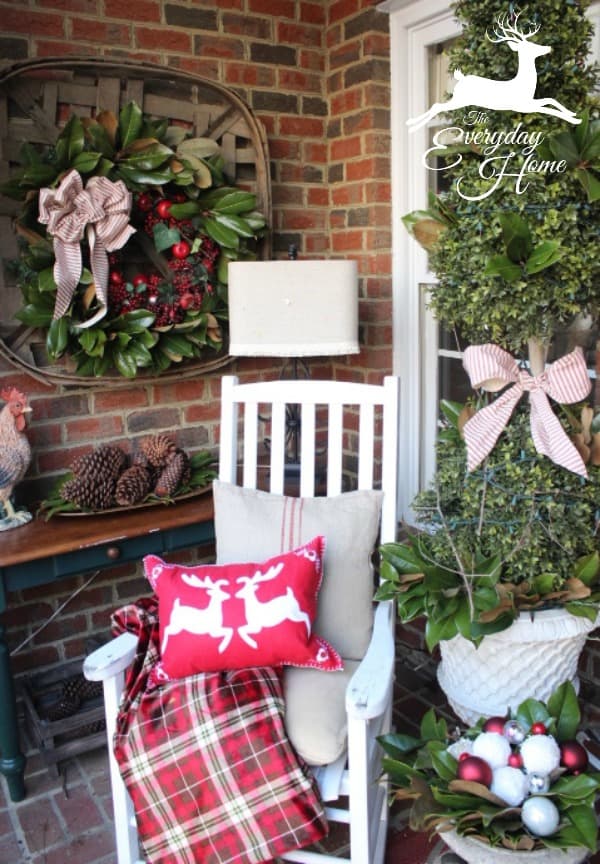 After seeing these photos I need a rocking chair on my porch!
Farmhouse Christmas Entryway
Immediately after your front porch, you enter the foyer or entryway. This is a great place to decorate and give your guests a "preview" of what's to come in your home!
Farmhouse Christmas Kitchen and Dining Room
I usually add Christmas Decor to my Dining Room but I rarely add it to my kitchen, but why not?! I was so inspired by the Worthing Court Blog that I am thinking up Farmhouse Christmas Decor Ideas for my kitchen and I can't wait to start.
This is such a cute DIY tray that she gives a great tutorial on. What a great gift idea don't you think?
Tiered trays are an essential element of farmhouse decor, check out my How to Incorporate Farmhouse Decor into your home for more details on that.
When I look at this photo I just love the bells. They take me to a time of old when things were slower and horse-drawn sleighs were a common occurrence.
Clean, simple and beautiful. That's what I think of when I see this. I LOVE that wreath on the cabinet!
See what I was saying earlier, why haven't I decorated my kitchen earlier?! 😫 It's so pretty!!!!!
Farmhouse Christmas Family Room
This is the room I usually go hog wild in, for decorating of course!
This is where my tree goes and I have my mantel so this is the concentration of holiday cheer. I love some of the neat DIY's you will see here and great Farmhouse Christmas Decor ideas for your tree and even for wrapping your gifts!
LOVE the buffalo check! Another staple in Modern Farmhouse Decor, make sure you check out that post I mentioned earlier for more deets!
Giggles Galore
Other Farmhouse Christmas Decor Ideas
Here are some other things you can do, use nature in a vase or bucket, create a vignette, decorate your bedroom with neutral Christmas decor and even DIY an advent calendar.
I hope you are inspired to do some amazing Farmhouse Christmas decor in your home this holiday season. If you have any questions feel free to leave a comment below.
IF YOU LIKE IT PLEASE PIN FOR LATER SO YOU CAN EASILY FIND IT!
I do have one favor to ask, how many Christmas trees do you have in your home? Trying to talk the hubs into getting more trees! LOL. Happy Holidays!