This week I am working on my patio table. I have completely refreshed the finish on the table and had to create a brand new DIY Table Top since the table flipped over and the glass top shattered. Stick around and see what I did.
Many years ago I had a patio table and chairs on my back patio (in my old house). We had a derecho come through and the table flipped over and the glass top shattered. What…A….MESS!
After that, I decided I wanted a couch and chairs since we rarely ate dinner outside so I put the table and chairs in the garage and bought a nice set of furniture from Home Depot.
Now I am in a new house and I have a second-story deck where I put the furniture and a patio underneath where I currently have nothing. I am participating in the $100 Room Challenge coordinated by Erin at Lemons, Lavender and Laundry and I thought this is the perfect time to spruce up this space and make it useable for my family.
If you want to check out the other weeks of the challenge and see the other projects I am working on click the links below.
Week 1 (plan) – Week 2 – Week 3 (this week) – Week 4 – Week 5 (the reveal)
*This post contains affiliate links. For more details see my full disclosure.
DIY Table Top Ideas
If you have been following along you will know I planned on cutting a piece of plywood and using peel and stick tile on top. Something like this.
I ran into trouble when I measured the diameter of my table. It is almost 50 inches in diameter. A sheet of plywood is 48 inches across.
AAARRRRRGGGGHHHHH!!!!!!!
So I needed to go to plan B. Isn't that always the case in DIY, it's always good to have a plan B.
I had this idea from some Pinterest posts to use wood as the top. I have a ton of leftover wood from previous projects and it's all free! Which is really in my budget for this challenge!
DIY Table Top Wood
I went into my garage and pulled down a bunch of wood, laid it out on my driveway and this is what I had.
I measured and it looked like I had enough! Just barely!
Next, I had the job of screwing it all together. I used my Kreg Jig and connected each piece. This took me a while.
Once I finished that I put a brace on the back just to add additional support. My patio table doesn't have any support except around the edges of the table for the top. I wanted it to be super sturdy.
Now I flip it over and cut out a circle. I just put a nail in the center and some string with a pencil and marked the circle. I couldn't really photograph this process because I needed all hands on deck. But here is the circle after being cut.
It's not perfect but it's close, LOL.
I did a light sanding all around the edges to make sure nothing was sharp.
Now its time to stain the rest of the wood that is unfinished. This was seriously the easy part! I went to my basement and grabbed all my leftover stain and some foam brushes that I always keep on hand for craft projects.
I used the stain I had to finish staining and put 3 coats of poly on it.
DIY Table Top, The Finished Product
For the table base and chairs, I gave them a good cleaning then used this spray paint to give them a whole new look.
It took 3 cans of spray paint (and a very sore hand) but I think the table and chairs turned out amazing! I love the new look.
Here is the finished product with the base and the new tabletop. And the only cost was for the spray paint! Isn't that crazy?!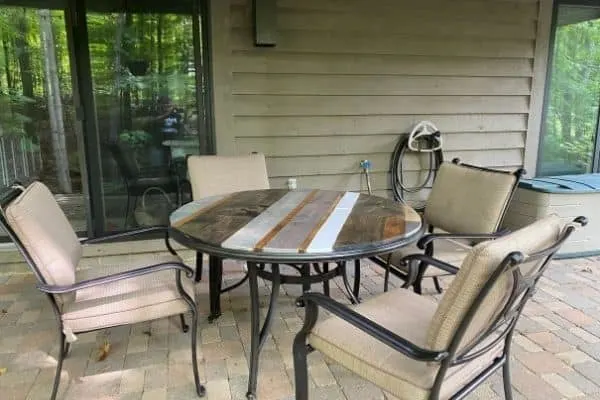 $100 Room Challenge Budget
This week the only cost I had was for spray paint at a whopping $19.25.
I am now at a total of $66.98 of my $100 budget. I have wall art and decor left to do with my $33. Wish me luck!
Other $100 Room Challenge Posts:
Teen Hangout Room is Finished!
Wine Cellar Ideas: Building a Wine Cellar in Your Basement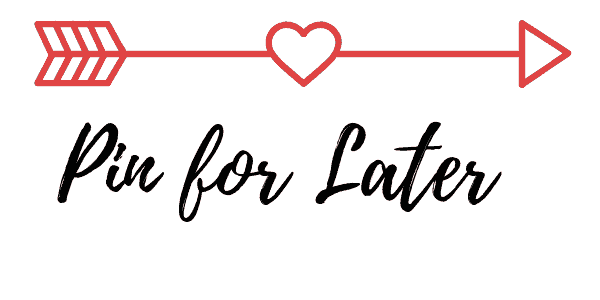 It's really easy to DIY a tabletop if you have a broken table. I encourage you to check out my Pinterest board for more inspiration. Until then, stick around for next week when I tackle the wall art!