Pine is an inexpensive wood that is readily available in most places. Today we will explore different colors of stains and show you which ones are the best wood stains for pine.
Because pine is so inexpensive it's used in a lot of projects. It is one of the lighter color woods and takes stain differently than other types of wood.
When working with pine it's important to use the right stain so your project doesn't look cheap. Today I will show you tons of examples of different stains on pine so you can determine which one is right for your project.
Each photo you will see has not been altered in any way except for me to add text so you know which color is which. I took the photos in the sunshine on a white background so nothing would alter the undertones in the wood stain.
*This post contains affiliate links. For more details see my full disclosure.
Best Wood Stains for Pine
I gathered a ton of different wood stains from Home Depot and Lowe's because they are easily found pretty much anywhere. If you don't live near one of these stores you can likely find one of these brands at your local hardware store.
I have included links to the products on Amazon so you can easily purchase them. Here are my favorite and what I consider the best stains for pine but I will show you all the colors I tested if you read on. Your opinion might be different than mine.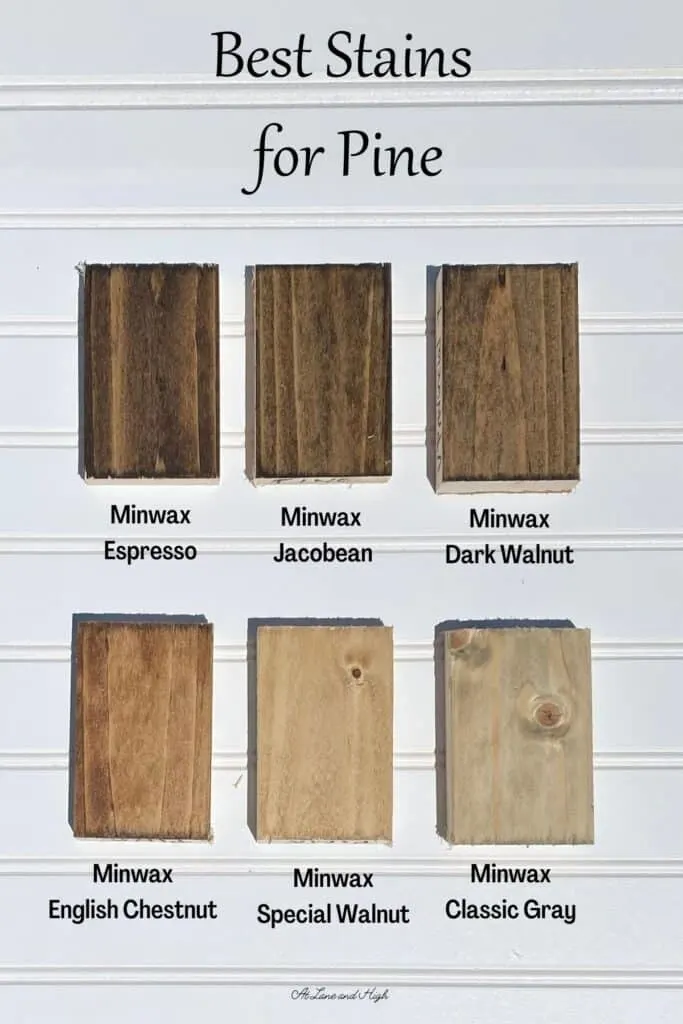 Yes, I chose all the same brand as my favorites, if you read on you will see why. This is no way saying I don't like Varathane stains. I just think the Minwax colors look better on Pine than the Varathane ones do.
If you read my other stain color posts you will see that I have lots of favorite Varathane colors for other types of woods.
Light Wood Stains on Pine
Pine is such a light wood that when you use a light wood stain on it there isn't a ton of change in color. I used Special Walnut which is normally a medium brown color on most other woods and you can see here it definitely comes off as a lighter color.
Medium Brown Stains on Pine
Similar to the lighter stains the darker colors come off as more medium brown on pine. Especially Varathane's Dark Walnut.
That being said, I really like the look of these stains on pine. The only one here I am not crazy about is Provincial. It brings out orange tones and that reminds me way too much of stains used in the 90s…very outdated.
If you are using pine and want a medium or dark look then these next two will show you how to achieve that.
Dark Stains on Pine
Here are the stains that came out the darkest on pine. You will notice that Minwax's Dark Walnut comes off much darker than Varathane's by the same name. I classified that in the medium brown category.
Another thing to note here is Red Mohagany doesn't look very red on pine. I have an antique end table that I stained in my home with this color and it's very red. It's so interesting how different woods take the colors so differently.
In my experience the Minwax brand has much more pigment than the Varathane brand. So if you are going for a darker color then you might want to stick with the Minwax line.
White Stains on Pine
I mentioned earlier that the lighter color stains didn't show up hardly at all on pine. Well the same is true for white stain. As you can see in the photo below they pretty much didn't do anything to alter the color of the wood.
If you are looking for a whiter color and still want to see the grain I suggest you do not use pine. If you are refinishing a pine project and want the white look then I suggest you try staining your pine piece with paint. If you are interested in how to do that you can get a full tutorial here.
Black Stains on Pine
You would think that black stain would be really dark but on pine that is not the case. The Ebony color hardly changed the tone of the wood at all!
On the Classic Black you might see a little blotchiness, I will go into how to prevent that later in the article.
Gray Stains on Pine
Minwax Classic Gray and Slate are the only ones here that really do anything to alter the color of the wood. This is a great example of how Varathane just doesn't have as much pigment in their colors.
The links below are all to Lowe's and Home Depot except for Minwax Classic Gray. It is the only one available on Amazon.
How to Stain Wood
The first thing I suggest is to test your stain on a scrap of wood to make sure you like the way it looks.
Then you should use a wood conditioner. Once it's dry apply stain with a rag or brush. I recommend wearing gloves for this so you don't stain your skin and nails.
I like to use a foam brush or chip brush that I can just throw away. Oil based stain is not as easy to clean up as water based products.
Once you have applied your stain wait a few minutes and wipe the excess stain off with a clean rag. It's important to not leave the stain on the fully dry as excess stain will become sticky.
Finish off your project with a wood sealer to make sure your wood stain lasts a long time.
How do you prepare wood for stain?
I mentioned earlier that in one photo of a black stain it looked blotchy. If you use wood conditioner then this unevenness in the color shouldn't happen.
Some people like to use water on the wood to open the pores before the wood conditioner. I haven't done this and I have never had a problem.
Do you need to sand in between coats?
For the stain process you do not need to sand in between. I recommend making sure your wood is thoroughly sanded before starting to stain so it's nice and smooth.
How many coats of stain is needed?
This is purely your decision. The more coats you do the darker the stain will become.
Also the longer you leave your stain on the wood before wiping it off the darker the color will be.
It all depends on how dark of a color you want.
How long should the stain set before wiping it off?
As I mentioned before it depends on how dark of a color you want. The longer you leave it on the darker the color will be.
If you are in a humid climate you can leave your stain on up to 10 minutes. If it's more of a dry day then I would say no more than 5 minutes. If you are anything like me you are impatient and wipe it off after only a couple! 😉
Other Stain Color Posts:
Stain projects I have worked on:
I hope you learned a lot about how pine takes stain. If you are interested you might want to check out my other posts on how different woods take stain!